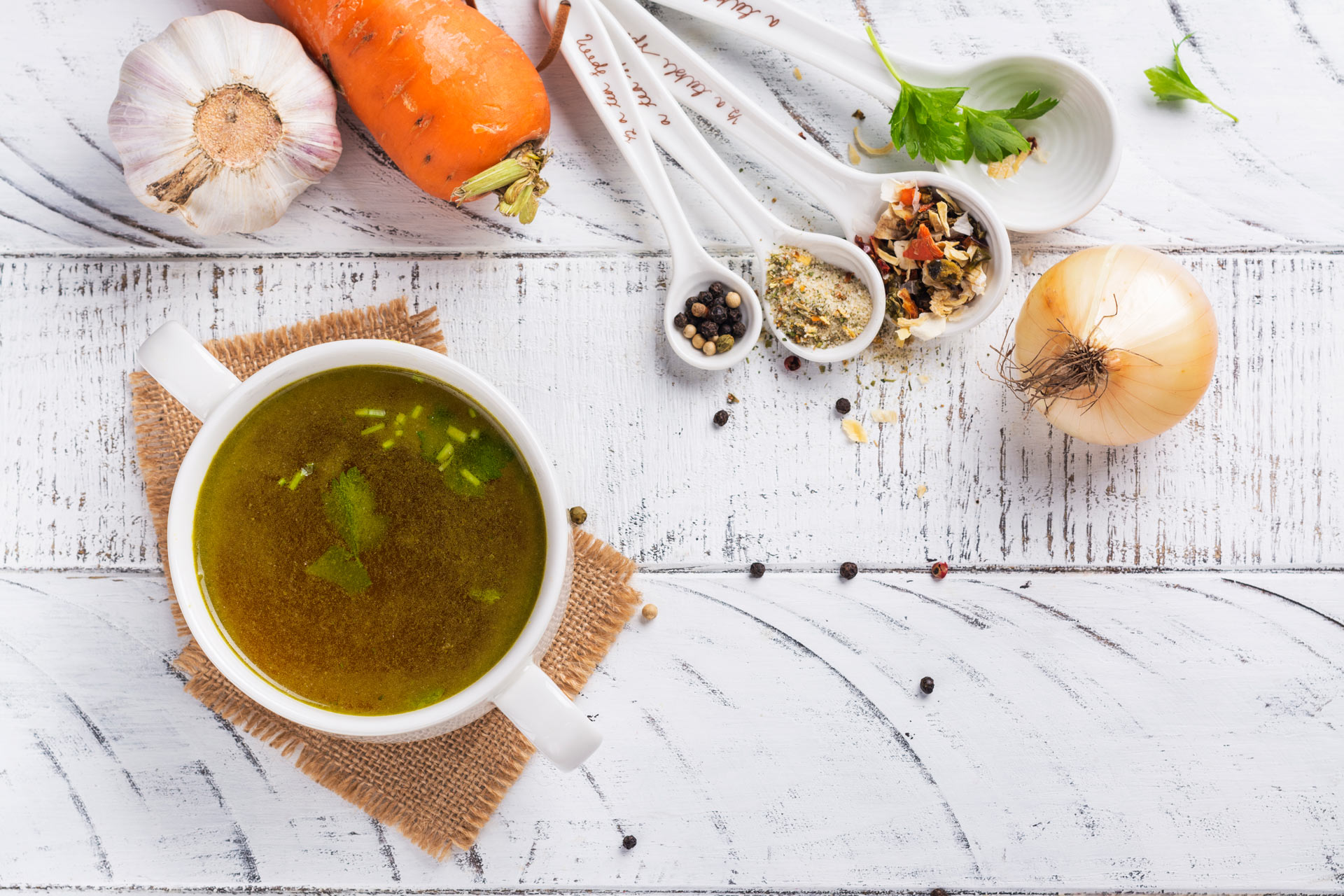 What's the Hype Surrounding Bone Broth?
---
A nutritionist explains the health benefits, plus shares a recipe
From butter boards to cloud bread and mug cakes, TikTok has brought us some of the biggest food trends of the moment. The latest to go viral? Bone broth. Of course, the substance itself is nothing new, but there has been a surge in interest recently, with #bonebroth amassing over 150 million views on TikTok – and a legion of celebrity fans from Gwyneth Paltrow to Kylie Jenner. But is bone broth really the magic drink it's being made out to be? We speak to a nutritionist to find out more.
What Is Bone Broth?
Bone broth is a rich, clear soup made with bones and connective tissue from animals, brewed for a long period of time – from an hour to two days. It's usually made with some vegetables, herbs and spices, and can be used as a stock for soups or sauces, but it's becoming increasingly popular to drink it by itself. 
What Are The Health Benefits?
Animal bones are loaded with nutrients, which are released when boiled. As integrative nutrition health coach Paola Langella, also founder of online wellness studio Shapes, explains: 'Bone broth is a pure concentrate of valuable nutrients, featuring an abundance of vitamin B, which helps with creating new blood cells, maintaining healthy skin, and improving cognitive functions.' Another big draw is the potential anti-ageing benefits, thanks to the naturally high collagen content.
Not only that, but bone broth might help stave off illness – and bring us back to health when we're feeling under the weather. 'Chicken broth in particular is a powerful natural antibiotic with anti-inflammatory properties, meaning it can help improve our immune system to defend us against colds and flus during the winter season,' says Paola. It's no coincidence that a rich chicken soup is often advised when we're not feeling tip-top.
Word is also spreading on TikTok about the potential gut health benefits of bone broth – but do these claims have backing? Yes, Paola tells us. 'The gelatine – which is the protein found in the bone broth – helps our intestine to better digest the food we eat and acts as an anti-inflammatory for the gut. So when made with some herbs and spices, like ginger, sage, thyme, parsley, bone broth can promote better gut health.'
What Should We Be Wary Of?
While there's no denying bone broth is a nutritious drink, it's not a magic bullet for health – and it's important not to over-egg its effects. Like anything, it should be consumed in moderation and as part of a balanced diet. 
How To Make Bone Broth
Paola shares an easy recipe below, which she learned from her mother (check out their joint blog soupdellamamma.com for more ideas).
Ingredients: 
500g of beef/chicken

A stick of celery

2 carrots

3 or 4 cherry tomatoes

1 potato 

1 red onion 

A pinch of sea salt and a tablespoon of extra virgin olive oil
Method:
Cook all the ingredients in a big saucepan with plenty of water.

Add a pinch of sea salt.

When the water boils, dip the meat (chicken or beef) and lower the heat.

Cook for between one and four hours, and then strain the broth.

For the vegetables leftover: you can blend them and put them in the broth.

For the meat leftover, it can be cut into small pieces and made into a salad, seasoned with extra virgin olive oil, salt, garlic, parsley and lemon and on top add a little rocket.
Is There A Plant-Based Alternative?
The clue's in the name: bone broth is derived from animal products – however it is possible to make a vegan alternative. While it won't be possible to get all the same nutrients as you would in a traditional bone broth, you can reap plenty of benefits from plants alone. Paola shares some ideas for what to include below.
Vegetables
Celery: rich in water, great for detoxification, contains antioxidants, helps with digestion and inflammation. 

Potato: rich in potassium and vitamin C, promotes bone health.

Tomato: rich in vitamin C, folate, vitamin K and potassium, powerful antioxidant, promotes blood circulation, boosts immune system.

Red onion: rich in vitamins B & C, antioxidant, anti-inflammatory, controls blood sugar, boosts bone density, antibacterial properties, helps with digestion.
Add:
Mushrooms: good source of protein, rich in potassium, folate, vitamin D, supports gut health, protects skin.

Thyme: anti bacterial, has antioxidant effects.

Sage: powerful antioxidant, reduces blood sugar, helps with menopause symptoms, improves brain health, helps lower cholesterol.
Featured image: Getty Images