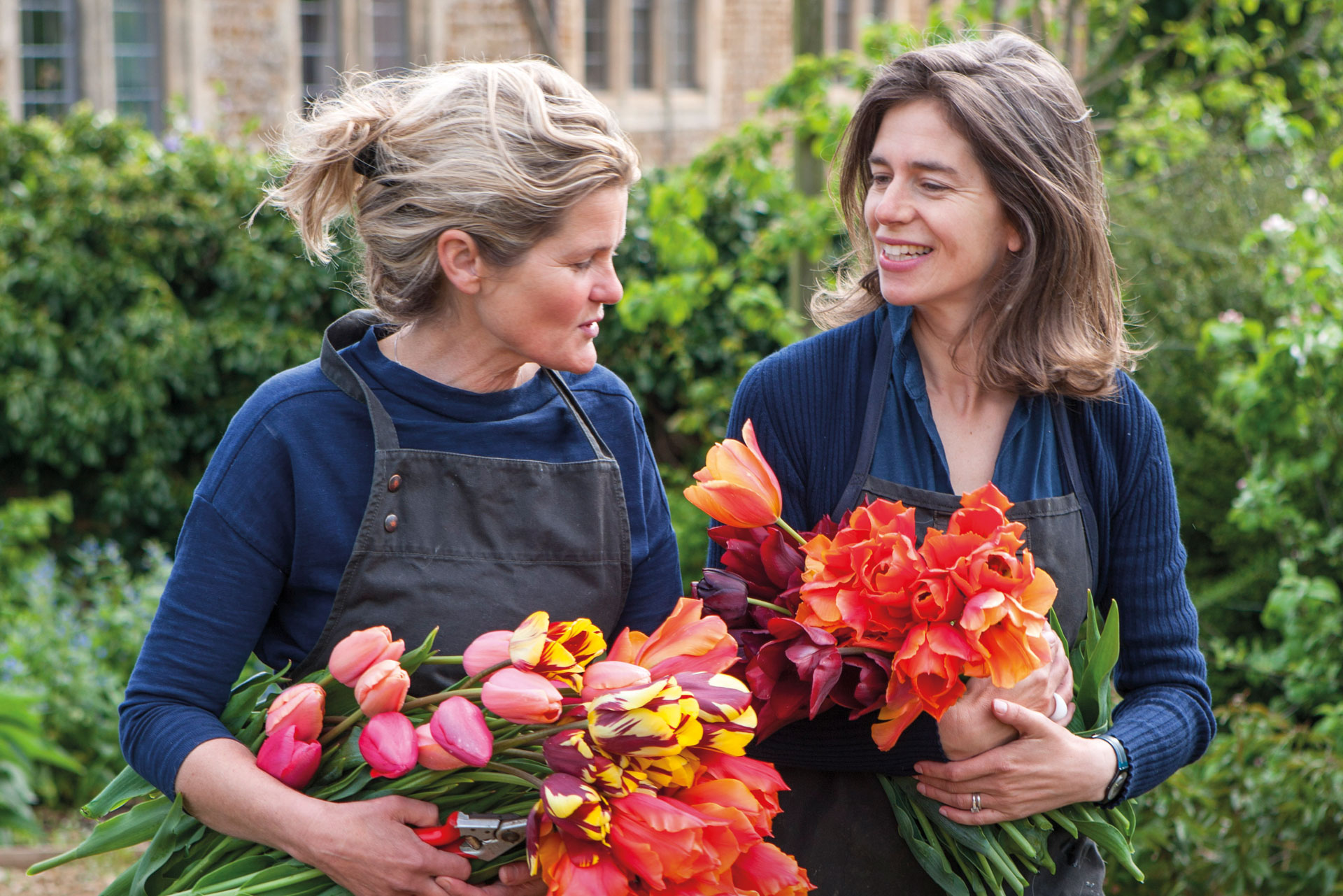 Interview with The Land Gardeners
---
Beautiful gardens from the ground up
Charlotte Metcalf talks healthy flowers, 'productive' gardening and how soil can save the world with The Land Gardeners
The Land Gardeners: From the Ground Up
Last autumn I came across one of the most beautiful table books I've ever seen. Opening the pages of Cut Flowers is to enter an enchanted, sunlit world of walled gardens, wild flower meadows, bluebell woods, abundant vegetable patches, façades crawling with roses and wisteria, and country house rooms brought alive by scented bulbs and blossom boughs. Every photograph, whether of a bucket of tulips or a bowl of dahlias, conjures up the joy that flowers bring. I bought several books and sent them to friends in need of cheering up.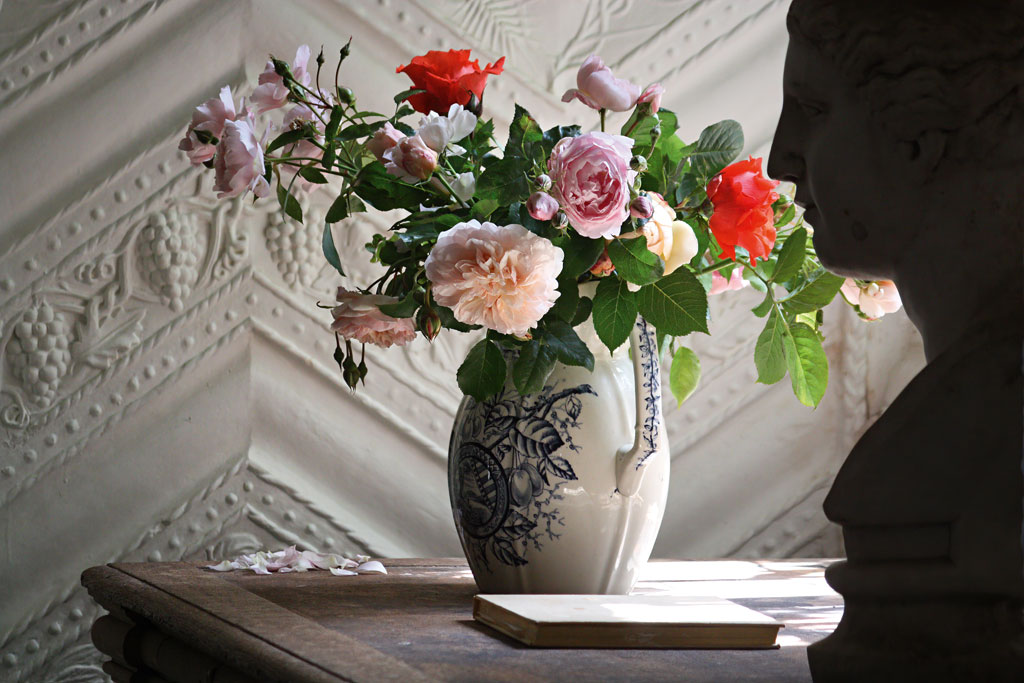 The authors of the book are The Land Gardeners, Henrietta Courtauld and Bridget Elworthy. For those without a copy, a daily floral boost can be had via their Instagram, which has attracted nearly 50,000 followers and brought them to the attention of Thames & Hudson, who published the book. The Land Gardeners are sought after for their gardens and floral arrangements, but it's their ability to transform a humble bunch of flowers into a sublime offering that has elevated them to far more than garden designers or flower sellers.
On one of their website blogs is a photograph of bulbs thrusting up from a battered tin tub. The caption reads: 'In they came to the warmth of the kitchen in early January and a few days later – tiny little green shoots of hope peeped through the soil.' It's poetry for the soul.
Courtauld and Elworthy met at the gates of their children's London nursery school and became friends. After a three-year spell back in her native New Zealand, Elworthy and her family returned to England, buying and moving into Wardington Manor, a Jacobean house in Oxfordshire with a generous walled garden and plenty of acreage for growing flowers. The women's partnership evolved naturally from their friendship and shared interests, and they now operate between Wardington and Courtauld's London home in Notting Hill, where a garden shed acts as their town studio.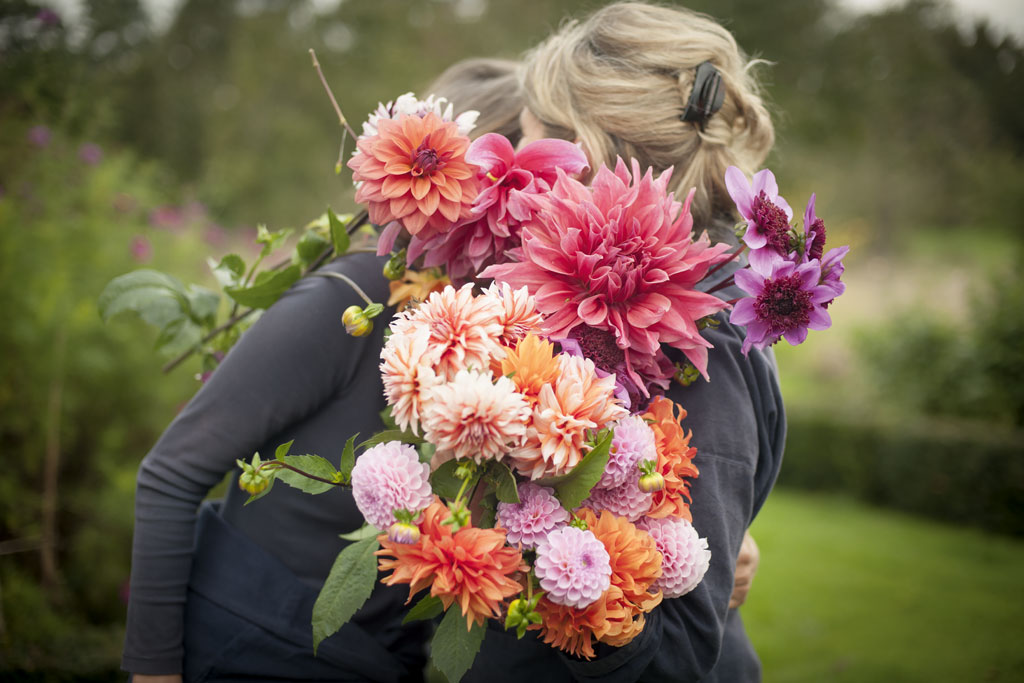 On a cold, wet February morning (before the world shut down), I finally arrive at Courtauld's house to meet the women behind the book. I am all set to talk about the beauty inherent in a rose petal or spray of lilac, but we are fast discussing earthier matters – soil, compost, microbes and faecal implants – bacterial balance being as important to the human gut as to soil.
Courtauld and Elworthy are not so much concerned with beauty as with saving the earth – literally. While they love creating gardens and the romantic, blowsy, overblown, joyous flower arrangements that have won them fans all over the world, their real passion is for healthy soil, which, they say, is the only way of ensuring we have a future.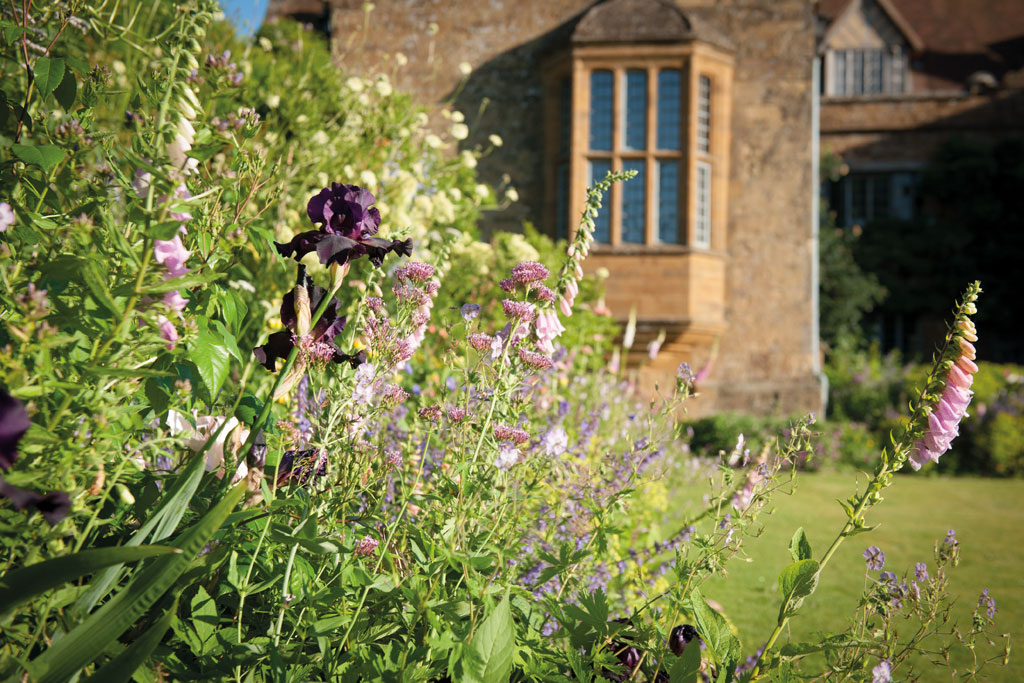 Good soil is crucial to good gardening because their non-negotiable rule number one is that a garden must be 'productive', meaning that it pulses with life and yields herbs, fruit, flowers, vegetables or essential nutrients for birds and bees all the year round. 'Even if we're planting a hedge, we'll make sure it fruits or feeds wildlife.
And then gardens should also inspire and make people happy,' says Courtauld. 'It's important we're doing people's gardens for them and not for us,' adds Elworthy, 'so we ask our customers to do a bit of homework to find out what makes their hearts sing. Someone gave us some French music as inspiration and someone else said they wanted to dance through their garden in a catsuit and legwarmers listening to Kate Bush. We work with a garden as if it were an orchestra, a moving, living thing.'
They were inspired by Beatrix Havergal, who established her School of Horticulture for Ladies from 1932 to 1971 at Waterperry in Oxfordshire. 'We love the Land Girls because that wartime generation of women had to learn to work the soil,' says Courtauld. 'And women are playing such a key role in our gardens and agriculture now – look at Eve Balfour, founder of the Soil Association, Helen Browning shaping the new agricultural bill or Minette Batters heading up the NFU.'
As their concern is making gardens productive, the duo's latest venture is working on making microbially rich compost – and then a new book on soil. 'Compost from a garden centre is usually quite light and fibrous,' says Elworthy, 'but the compost we're creating is dense and sticky from secretions of millions of protozoa and fungi, alive with microbes and nutrients. It will be a bit like a "mother" that you add to your compost or topsoil. We will have "teabags" of microbially rich compost that you can make a brew from to add to your soil.'
'It will lock carbon in and stabilise it,' adds Courtauld, 'and we've spent the last four years developing a composting tool kit that can be scaled up or down – it's being trialled by farmers now.' It's early days but they are trying to provide a solution to the problem of our topsoil eroding and nutrients disappearing, causing not just our vegetable patches and gardens to wilt but entire harvests to fail.
It's time for The Land Gardeners to don their uniform navy-blue smocks and get out into the garden, so I find my umbrella and reluctantly leave the sanctuary of Courtauld's warm kitchen, which has featured in several interior design magazines.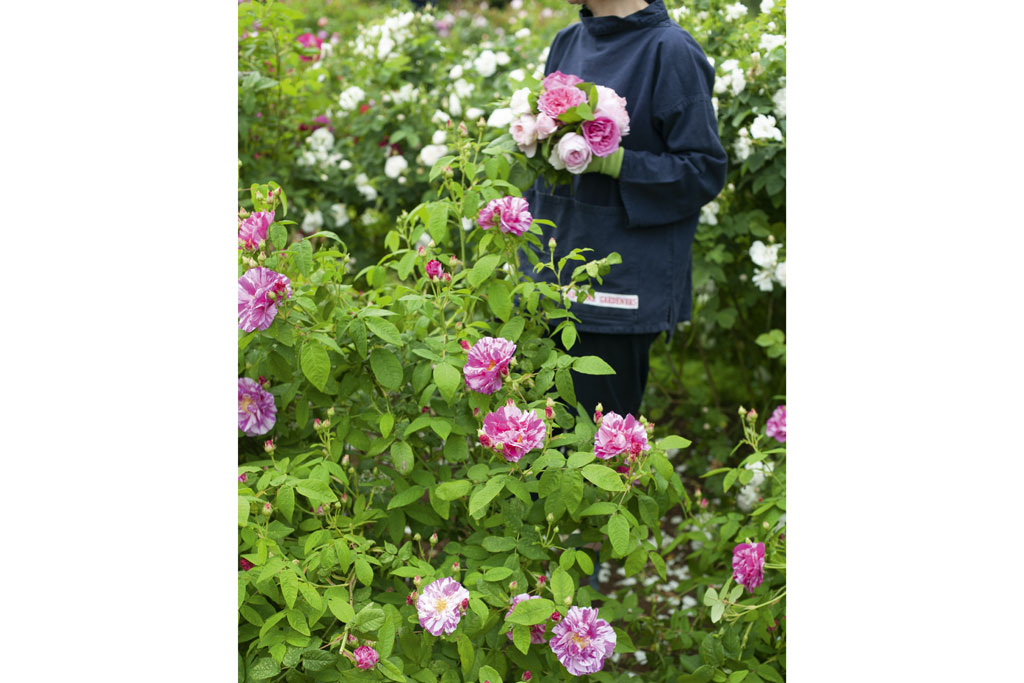 In normal times, The Land Gardeners move fluidly between country and town, as at home in an overgrown rural walled garden as in a stylish city terrace, and their strength lies in combining beauty with health. The flowers they plant and grow are exquisite because they are so vigorous and vibrant. If they can do for British farms what they're doing for our gardens, they could go way beyond being Land Gardeners to being Land Saviours.
The Land Gardeners: Cut Flowers by Henrietta Courtauld and Bridget Elworthy (Thames & Hudson, £39.95). thelandgardeners.com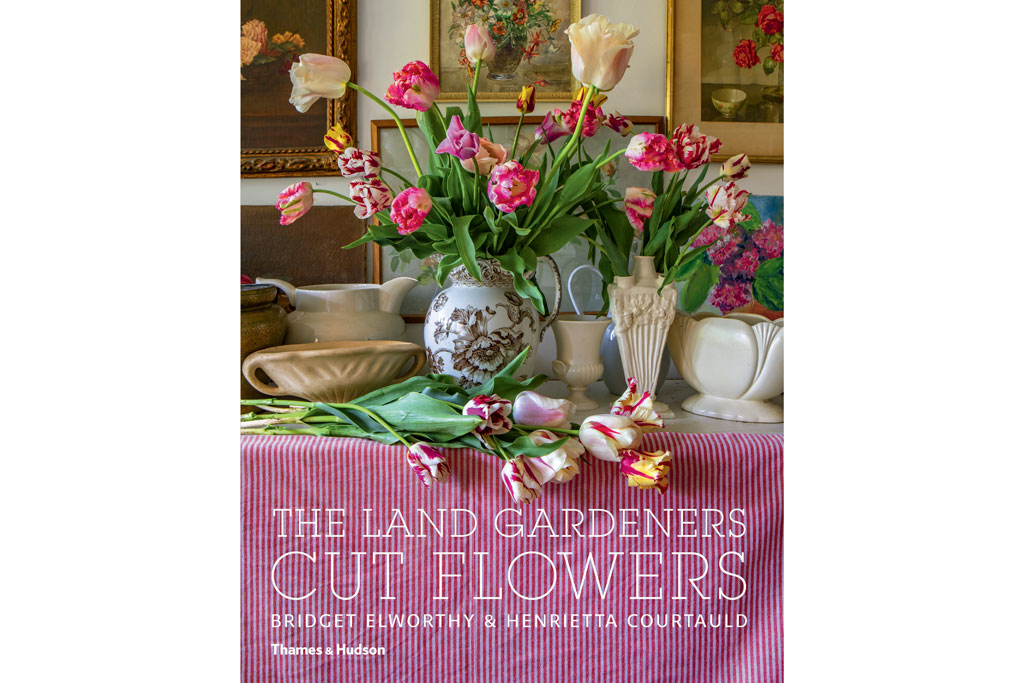 READ MORE:
A Model Manifesto: Interview with Arizona Muse / 10 Properties with Beautiful Gardens / Garden Design Dilemmas Solved