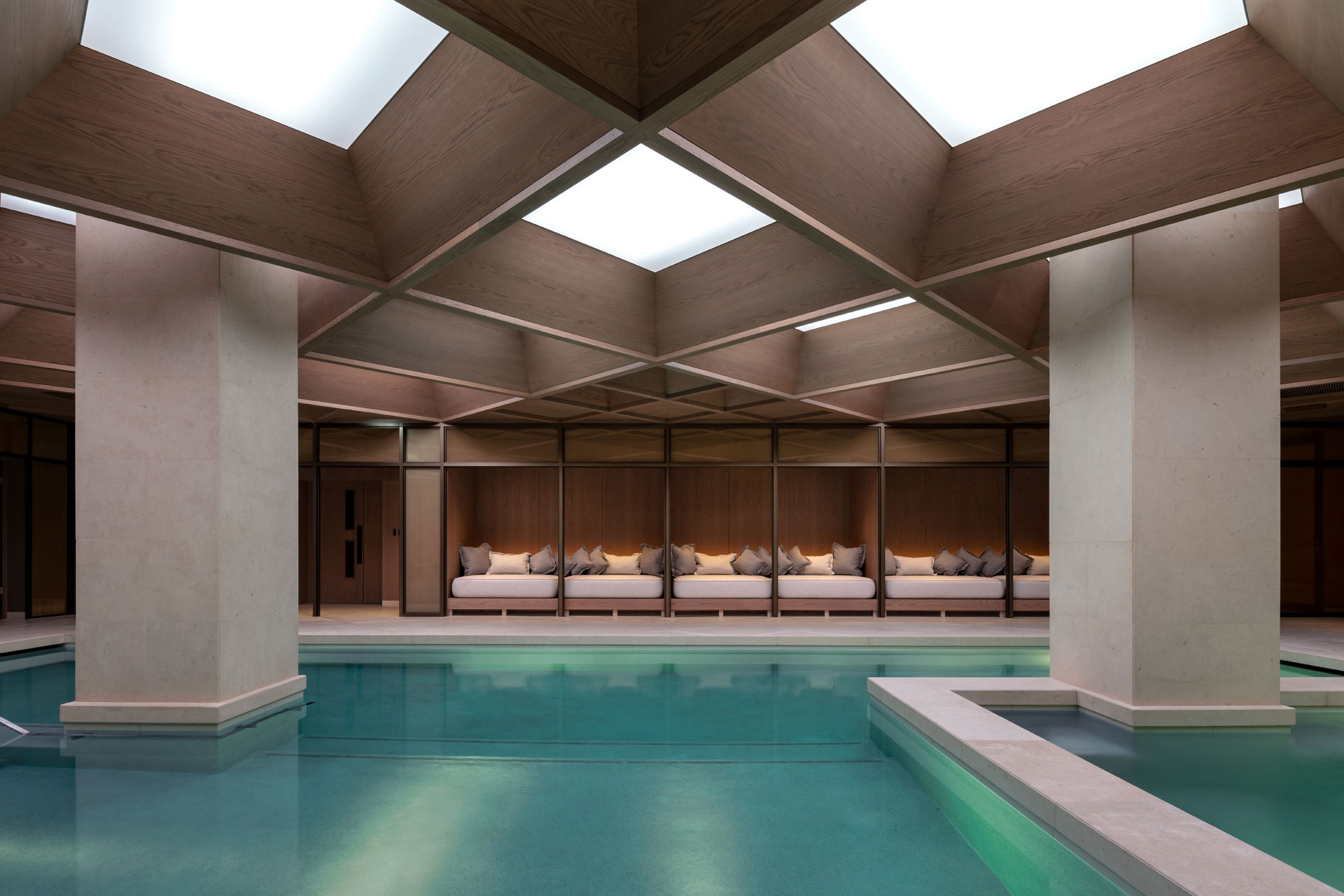 The Londoner: Leicester Square's Dazzling New Hotel
Off the beaten track? Maybe not. But you'd be hard-pressed to find a more luxurious stay.
Leicester Square, if we're honest, isn't quite what you'd call a 'hidden gem'. Flexible street performers, throngs of crowds and touristy trinkets are probably the images that you first conjure. But its newest hotel, The Londoner, is changing a few things around this piazza, says Charlotte Rickards, marking a new rebirth for the square as a refined go-to staycation spot.
The Londoner Hotel Review
Touted as the world's first super-boutique luxury hotel, The Londoner is in a league of its own down to its sheer scale and ambition. With a £500m investment, 10 years of planning, 350 rooms, 16 storeys (eight of which are below ground level), a secret whisky room (more on that later) and a whole floor dedicated to wellness, you get the idea that The Londoner is a titan of luxury hotel openings.
After passing the smiley doorman and shimmering blue-glazed tiles of the outside, all the clamour of the square stops as you step in. There's no awkward standing around at the reception desk either: you're invited to casually sit on any of the elegant sofas whilst a staff member completes your check-in. Within a few minutes, you'll quickly forget that Odeon Cinema and M&M's World are a mere few feet away.
The devil is always in the detail. And it's something that's done exceptionally well here, with interiors spearheaded by designer Yabu Pushelberg. If there's one artwork that summarises the hotel nicely, it's the smallest one which the majority of guests won't ever notice – and it's in the lift. It's a black button in disguise on the wall, the size of a nail, which when opened is actually a peep-hole of a tiny Victorian photograph of two pixies.
It's this level of detail which gives the hotel a boutique and intimate feel in spite of its sheer scale. There are over 400 artworks on display, featuring the likes of Antony Gormley and Idris Khan, with stunning immersive works. Cascading lighting and mirrored surfaces of the spaces give that cinematic Hollywood glamour (and it also makes you forget that much of the hotel is underground).
STAY
Calming wood-clad bedrooms are peppered with soothing pinks, with light flooding through the floor-to-ceiling windows. Lovely luxurious touches include a Dyson hairdryer (with a smart embroidered bag), a Roberts radio, as well as your classic fluffy slippers and robes. Pick up a pair of old-school binoculars poised on the table and admire the vistas of the city skyline.
The bathrooms are equally as slick. High-tech sophisticated finishes – hello heated 'smart' loo – are taken with a pinch of British humour. In my bathroom was a framed letter between the then prime minister Theresa May and Jeremy Corbyn with tongue-in-cheek word block outs.
DO
Sink down to the subterraneous floor and you'll find The Retreat. Comprising a steam room, sauna, and hydropool, you'll quickly get into the groove of slowing the pace right down. Even just lying still in the cushioned alcoves cocooned in a fluffy robe is enough to dial down the neuroses. If you're wanting to take it further, book yourself the 'Harmony' 60-minute full body massage. For those holding tension in WFH arched backs, or just want to decompress: this one is for you. Rather than a slightly too painful sports massage, it's tailored as much for your mental health as it is for your muscular. As well as a 24-hour gym, there's a flurry of other treatment facilities available, including a barber shop, a nail salon and a hairdresser.
Now, the ultimate Millennial catnip of the floor is wellness bar The Refuel Clinic, bedecked with scientific-made chic conical flasks and bell jars (and other vessels you haven't seen since chemistry class), with fresh turmeric and herbs aesthetically adorning the shelves. Sip on an 'Inner Peace' smoothie by the pool and you might just get close to achieving it.
If you're willing to prize yourself away from the pool, being right in the heart of the city, you're hardly short of cultural hotspots. The National Gallery is right around the corner that's currently exhibiting Baroque's big hitter: Nicolas Poussin. And a trip to the West End is an obvious choice; check out our C&TH edit of the ones to watch this November.
EAT
For dinner, you'll want to head to Whitcomb's (one of five restaurants on offer) that's all about French Mediterranean cuisine. They don't try and reinvent the wheel but what they do is cook dishes to perfection. Small plates you can share feature the likes of fried calamari, burrata with honey, escargots. For mains: pasta and fish is the raison d'être. Order the seared lobster with rigatoni and ask the waiter to suggest pairing your chosen dish with their recommendation of wine.
Don't find yourself limited just to Whitcomb's though. The 'Y' bar comes alive at night with wall-to-ceiling bold orange linework. Find yourself on that same floor and you can discover the secret whisky bar, where guests can lock in their own prized whisky to display if so desired.
FINAL WORD
The Londoner's opening is one of those rare occasions where the hype actually matches the calibre. If you're seeking a city break that promises uncomplicated relaxation in an elegant space, The Londoner is a failsafe choice.
Rooms from £545, thelondoner.com
READ MORE:
Best Hotels in London / Luxury