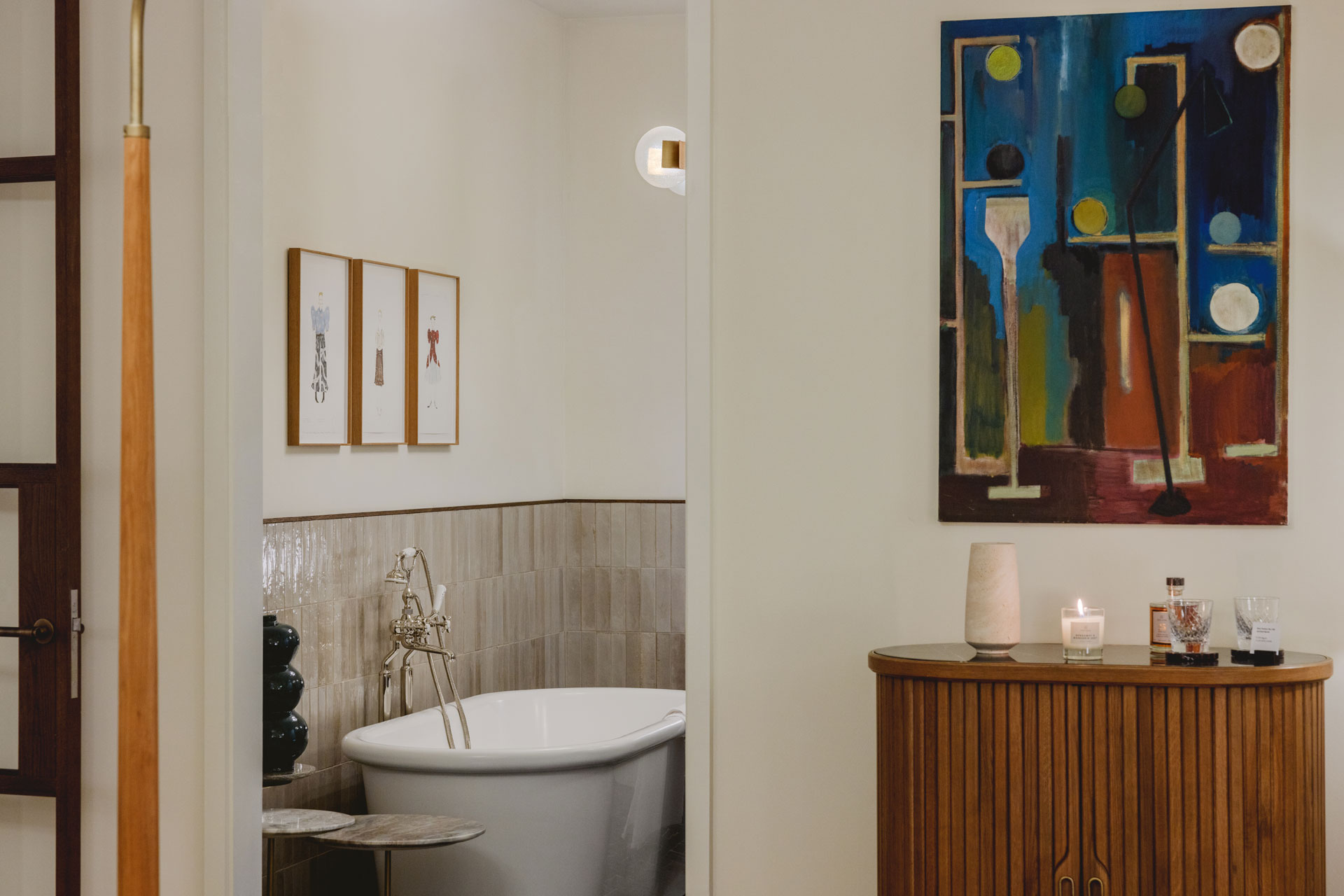 11 Hacks to Make a Small London Flat Look Bigger
---
It's 'petite but make it chic'
With 'spatially challenged' abodes; it's all about optics. Here are your hot 11 hacks to make your small London flat look bigger. But, disclaimer: you may not like some of them. 
Want Your Small London Flat to Look Bigger? Here's a Step by Step Guide
If you live in London, you'll already know that having ample space is simply: unattainable. So what we're going to do instead is use every hack in the toolbox to suggest otherwise.
There are plenty of easily avoidable things you may not have realised that optically shrinks your space right down (like hanging one stray painting on an otherwise empty wall, or a tiny small rug in a larger living room). We'll take you through a step by step guide on how to make your small space work for *you*, rather than you, around it.
1. Floorplans Are Your Friend; Don't Ignore Them
When we said you may not like the tips, it's because making small spaces beautiful requires a bit of effort and a bit of maths (ok, it's just measuring things, so it's not too bad).
(a) Request your Floorplan as Early as Possible
First thing's first: you'll need to ask for your floorplan as early as you can have it from your estate agent. Then, arrange to have another extra visit to the flat with a tape measure, and get everything down in lots of detail. Try and get this down as early as you can, as that'll give you more time for research and preparation.
(b) Overlay your Measurements onto Your Floorplan
Once you've got all your measurements down, then either print out your floorplan (or if you can digitally, do so) and scribe in all the detailed extra measurements you took during your measurement taking.
Once done, this is now your road map; your foundation. You'll be referring back to this before buying anything; or just any choices about how you're going to furnish and decorate your home.
Because, we tend to get all overly hyped up looking at beautifully impractical furnishings, and if we don't have the floorplan to leach us back to reality, it's a slippery slope to cramped conditions.
2. It's All About Preparation; Prioritise it
(a) Consider Your Lifestyle & How That'll Fit the Function of Each Room
So you've got your floorplan. Nice. Now it's all about prep work. You'll need to think realistically about your lifestyle, and how you want each room specifically to function. If you barely watch TV, don't bother buying one. If you hate working in your bedroom: don't think you'll be a different person when you move in and needlessly buy a desk. If you don't read that much: don't buy a book shelf.
Just think about all these types of things before committing time and money to furniture that you may not actually need (but feel you *ought* to buy). If it's helpful, so it's really clear in your head: you could list all the functions down room by room.
(b) Map the Furniture's Measurements to the Floorplan Before you Buy
Cutting corners and doing everything last minute is fast tracking yourself to the land of overcrowded claustrophobia. Make a list of the things you actually need as your base to start with. When browsing online, always check a furniture's measurements and if it fits into the space (even it's its jaw droppingly beautiful). It's boring, but you'll be saving yourself the stomach wrenching stress of when it arrives in a van and inevitably doesn't fit through the door.
(c) Get Your Vision Clear; Clutter Thrives in Indecision
There are plenty of other ways to crystallise your vision of how you want to curate your space. Mood boards, Pinterest, you can make an Instagram saves folder, or a TikTok inspo folder for it. Speaking of, there seems to be a trend on TikTok where people are taking this planning stage to the extreme and moving mini styrofoam furniture in a miniature mock flats to fully understand how the space could work. Each to their own. All we're saying is: the option's there if you want it.
Another way you can prep in advance, is if there's a particular piece of furniture you're after, set search term alerts on eBay for it. Then you'll be the first to know about it, and save time poking in the dark on the search bar.
2. Don't Hang Small: Go For Either One Big Painting or a Gallery
The easiest faux pas to swerve in small flats, is only buying very small and sparse pieces. It seems counter intuitive, but if you hang just one small artwork in the centre of an otherwise empty wall, you'll visually shrink that space right down.
(a) Flood the Wall with a Knock Out Immersive Painting
Conversely, if you flood one wall with one knockout large painting for a smaller living room, it's going to open that space right up. For artists who do big pieces who are on the more affordable(ish) side: have a look at Nina Brooke prints or originals (for seascapes), Venetia Berry, Philipa Jeffrey, Ruby Bateman, and for large landscapes, have a look at Martha Holmes, and photography: see Lucy Laucht.
(b) Immersion Out of Budget? Think in Sets
If you've just got a clutch of small prints and paintings, and you don't want to invest in a massive statement piece if you're renting: that's fine too. If you're going to do a gallery of smaller paintings, always think in sets of around eight to ten pieces, or 20 pieces.
If you need some extra paintings or prints, have a look at Petri Prints, Iota Edit, and Tatiana Alida. You could also throw your hat in the ring, and see if you can find anything on 1st Dibs. Think also about your framing too, as this can be the difference between a nice wall, and a knock out statement part of your home.
The Best Places to Buy Affordable Art Online
3. Too Small a Rug Shrinks a Room: Measure it Properly
Any way you can swerve past visual shrinkage: the better. And what goes with walls, is the same for floors. And if you just put one small rug down on a larger living room, and there's loads of gaping space, it's going to give that 'cropped' effect that you really don't want.
It's much like the classic 'style' tips in fashion where if you want to look taller, you'll often be recommended to opt for wide-leg trousers to the floor. It's the exact same illusion for your rug, believe it or not. So this is where your floor plan comes in, and measure carefully before you buy.
10 Beautiful Rugs for Your Living Room 
4. Getting Curtains Right, is Crucial
(a) Go Long (Not Cropped)
There's a theme here: if you buy cropped curtains that are too short. It's going to visually shorten your wall. If it makes sense for your windows, think long.
(b) Light Breezy Linens Over Bulky Dark Velvets
There's also the type of curtain to consider. Anything bulky, velvety with dark colouring, is a big no no. You want thin, light, airy, breezy neutrals that'll open up the space. Anything bulky will do the opposite. We're quite into linen curtains at the moment; and we're taking our cue from The Secret Linen Store, to make a small London flat look bigger.
5. Mirrors are Magicians of Space
It's a well trodden trick but it's true: mirrors will give a mocking illusion to a maximised space. That's why you'll often see mirrors lining restaurant walls. And since you're already in the market for a mirror, you may as well purchase something quite beautiful.
If you've got a sharp narrow corner, why not indulge it with a convex mirror? Our suggestion would be to look at Vinterior's and eBay's offerings.
6. Got Any Leftover Art? Hang High
We got this hot tip from art curator, Domenica Marland, who's an expert in making a small London flat look bigger. Since illusions and optics are the name of the game in opening up a cramped London flats, if you hang a stray piece of art unusually high, like maybe above a large chest of drawers, is going to lead your eye upwards, and add some delight. Something to consider.
7. Sell on Narchie & Depop Before You Move in
This goes without saying: but before you move in, you'll need to do a proper audit of what you're going to take with you. Sometimes you'll have Aunts and Uncles, or whovever suggesting you can have their coffee table. But seriously think about what's going to work before you start moving (as it's also an expense that's avoidable).
If you're selling furniture: go for Narchie, or the classic: eBay. Then for clearing out wardrobe space: Depop and Vinted are your best bet.
8.  Opt for Bold Statement Furniture Pieces
In much the same vein as artwork, having a stray collection of ditsy furnishings here and there isn't going to do much. You're better off having one or two bold feature furnishings over a flurry of many tiny trinkets flooding up the home and will make the space feel even more cramped.
9. Let Light Do the Work
It's a cliché, but lighting really is everything. Let light influence pretty much all of your buying decisions when making a small London flat look bigger. When buying paint: opt for lighter, creamy colours (dark colours are going to really squeeze your space down). The same goes with decoration and furnishings.
10. Galvanise with Glass, Perspex & Lucite
It's worth checking out lucite and glass as materials for your home. Especially with side tables, magazine racks, and coffee tables, as you can literally see through them; it lets light through the room; and avoids too much visual disruption. It's also helpful that their quite stunning objects of design.
11. Let Storage Do The Heavy Lifting
It's all about storage when it comes to maximising space in a small flat. If you're on the fence about what bed to buy, maybe go for the one with better storage.  The same applies for things like one night stands (large drawers please). The list goes on.
SEE MORE
Beautiful Rugs to Buy / The Best Picture Frames to Hang Your Prints in
Main Image: Soho House. Photographer: Mariell Lind Hansen