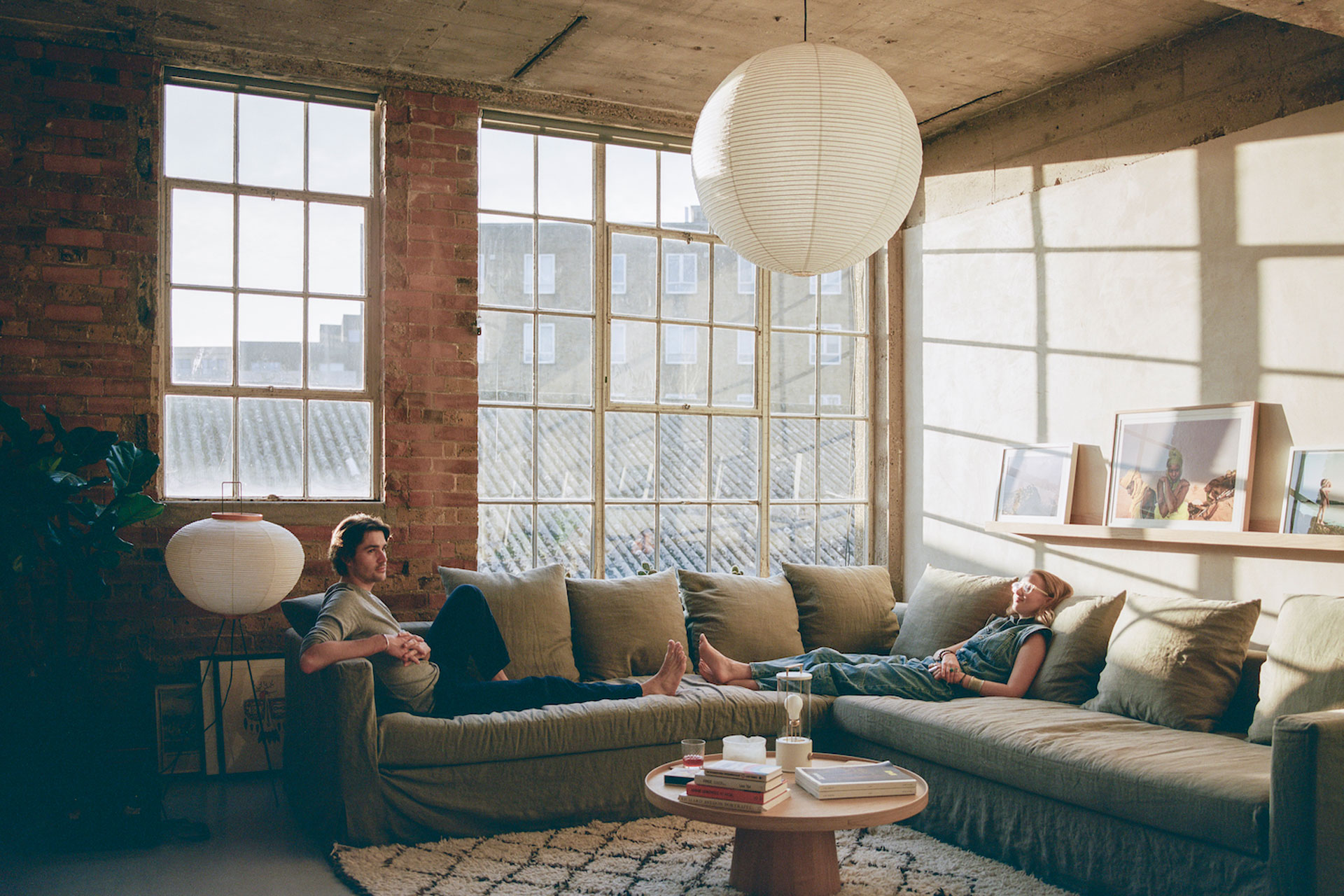 Alice Aedy & Jack Harries' House Nails 'Climate Chic'
---
Fiddle leaf trees feature aplenty
Take a look inside the home of Jack Harries and Alice Aedy, and you'll understand what aspirational living looks like for a climate conscious generation.
What's 'Climate Chic'? Alice Aedy and Jack Harries' New 'House Meets Office' is the Perfect Example
Biophilia, earthenware ceramics, and a swanky stainless steel coffee machine: these are just some of the things in Alice Aedy and Jack Harries' new Hackney home that show what happens when a climate-anxious generation takes on interior design.
Shafts of cascading light, ample space, and neutral palettes are all part of this new-age zeitgeist. It's a kind of 'climate chic' that the pair – of Earthrise Studio, a climate storytelling platform that has a following in the hundreds of thousands – has nailed to perfection.
The creative brains behind this historic Hackney shoe factory turned home-meets-work space is architecture duo Greg Walton and David McGahon, from Studio McW. 
The 1924 East London space is set over two floors, replete with exposed brickwork, concrete beams, and floor to ceiling steel windows. It's all very open plan: there's a flush of reclaimed wooden work surfaces and shelving and concrete kitchen islands where you'd chop organic vegetables, or maybe work there for an hour or so, similar to a hot-desking spot you'd find in Soho Works.
It fits in with that coveted lifestyle – where it's vocational, creative work that blurs into your home in an effortlessly chic way (yet it still retains that hard-to-grasp work-life-boundary).
The brief presented by Aedy and Harries to the Studio McW duo was a space that could do just that: host friends, dinner parties, work events, photo shoots, record podcasts, and also be a space to hold weekly meetings. And it seems like the architects have pulled it off.
You'll see abstract linework paintings, vintage cameras, objects from the couple's travels, and books, plus monstera plants and fiddle leaf trees aplenty. It's minimalist, soft, laissez faire living (with cocoon ceiling lights, prints propped on a shelf, concrete floors layered over with a hygge-esque textured rug).
Aedy (@aliceaedy) is known for her work documenting and campaigning for the rights of refugees, a problem that, she argues, is inextricably linked to climate change, and that we haven't fully woken up to that fact yet. Harries found meteoric rise to fame as a Youtuber with his twin brother, Finn Harries, and has since set up Earthrise Studio with Aedy.
Earthrise Studio features short, documentary-style YouTube videos about the climate crisis that give viewers an accessible run-through from scratch, in a non-patronising (and not the usual 'this is the apocalypse') way. Earthrise Studio also posts Instagram infographic carousels, as well as podcasts; it's all perfectly packaged for the digitally native audience it's speaking to.
Harries also looks at the fascinating link between mental health and climate change – now called 'climate anxiety' – and has interviewed a star-studded list of people, from Barack Obama at COP26 in Glasgow, Sir David Attenborough, as well as up and coming activists like Clover Hogan.
SEE MORE
Biophilia isn't a Trend, it's a Movement / The Best Luxury Coffee Machines