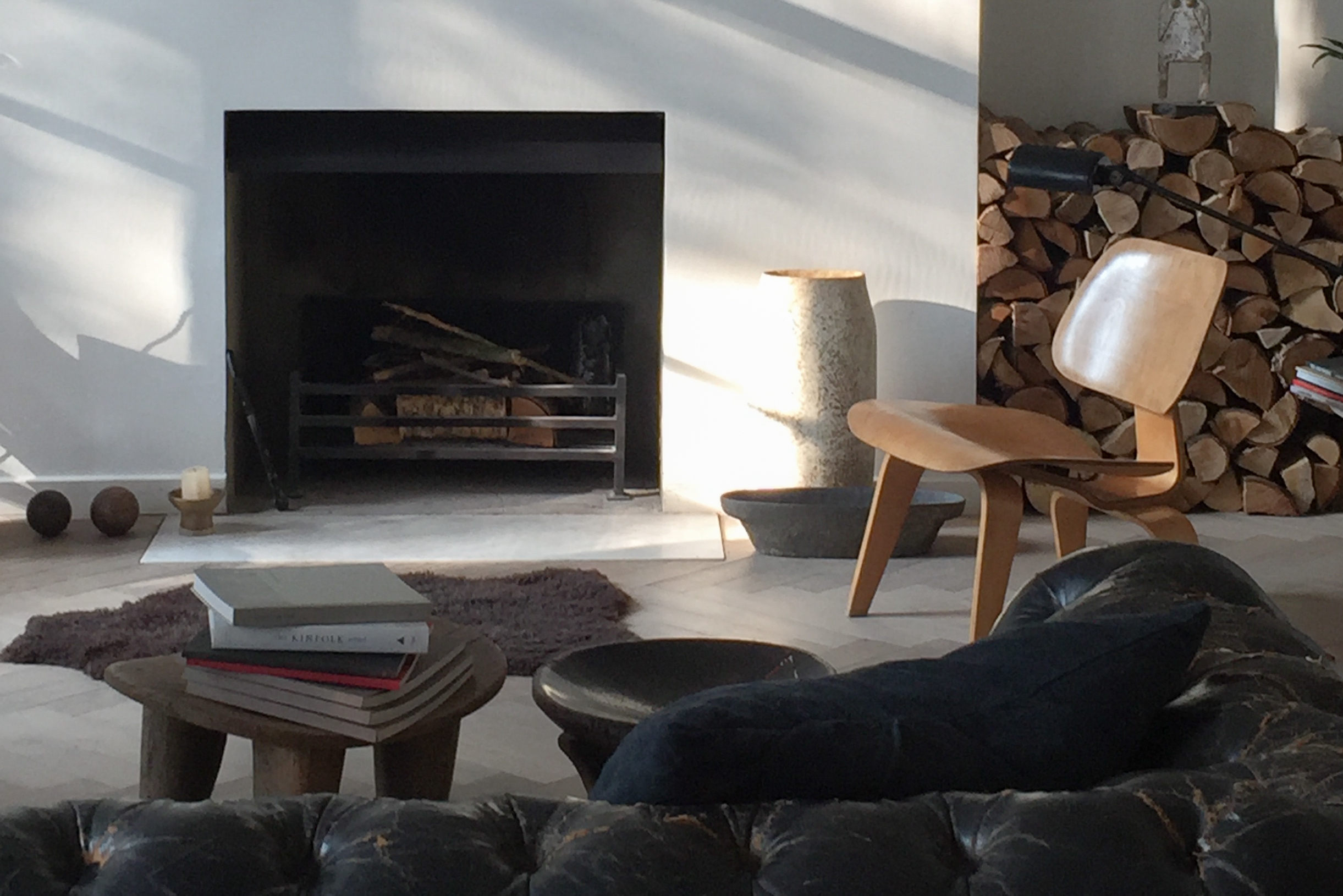 At Home With… Anna Valentine
---
Step inside couture designer Anna Valentine's soulful, art-inspired home
Couture designer Anna Valentine's Marylebone home is inspired by paintings by Danish artist Vilhelm Hammershoi, and filled with artisan ceramics
At Home With Anna Valentine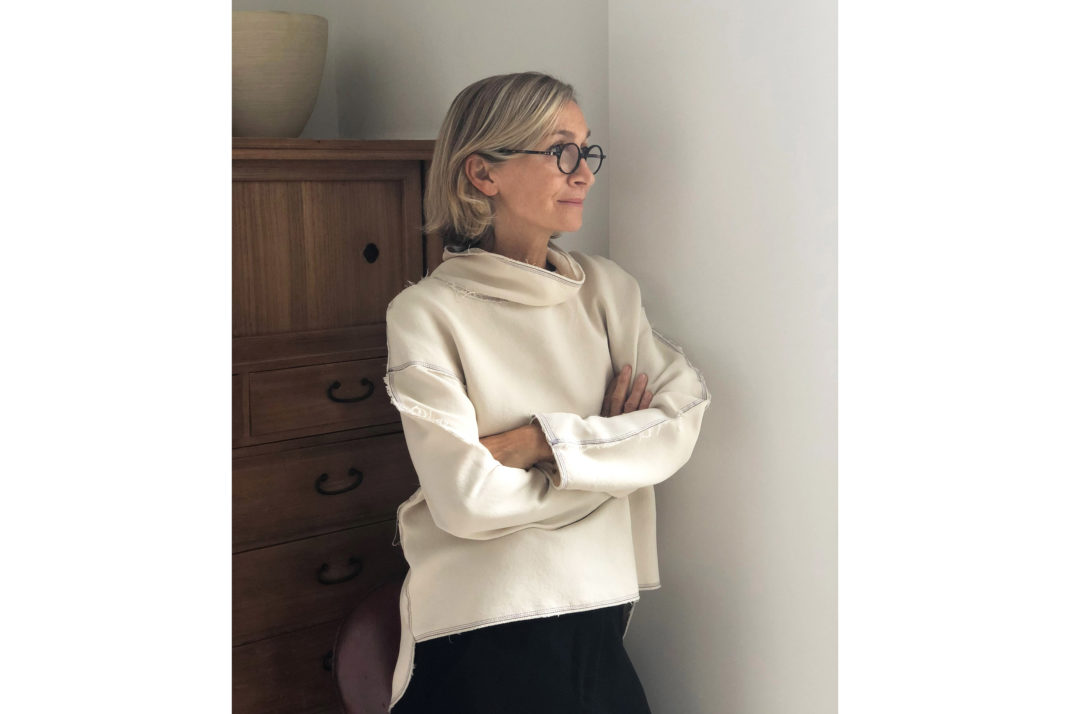 What's the story behind your home?
We moved to Marylebone in 2007 shortly after I relocated my business (annavalentine.com) to a mews off Marylebone Lane. We loved the area both for its central location and the wonderful architecture, and managed to find a first floor apartment in a Georgian house overlooking a garden square which hadn't been touched for over thirty years. Although it was tired and dated with Sixties fittings and badly divided spaces, it had great potential.
What was your inspiration when it came to designing it?
We commissioned the architectural practice DRDH to help us restore the apartment. The inspiration was the Danish artist Vilhelm Hammershoi's paintings of his home interior, Strandgade 30, with the design echoing the sparsely furnished stillness, tonal colour palette of his work and doors of varying scales.
Do you have any interior brands that you love and always go back to?
I love ceramics and mix pieces in varying textures and shades of white from different ceramicists. We used Karen Downing's hand thrown porcelain trays, mugs and bowls for everyday use. Freight Household Goods is excellent for all sorts of things – we recently bought three 18th century salt glazed urns from Charant from them. Studio Oliver Gustav in Copenhagen has great pieces, our sofa is one his designs, and Stuart Paterson has a great eye for interesting antiques from Europe. Our glassware is Usuhari glass, they're hand-blown in Tokyo by Shotoku who originally made the glass for electric lightbulbs.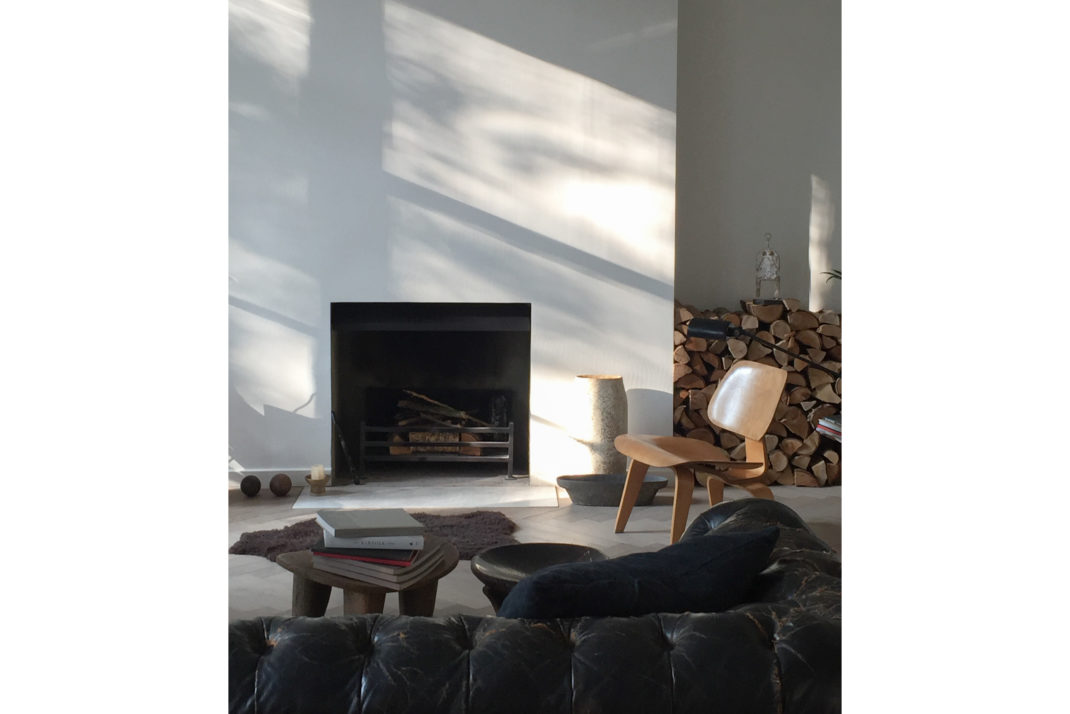 What is your favourite room in your house?
It depends on the time of day, in the morning it's the bedroom where I can enjoy the east facing aspect and in the late afternoon evening the west facing open plan living area. I also love to sit at either my kitchen or my bedroom table and see through the whole apartment.
Does your house in any way reflect your business?
There is definitely a similarity between the way I approach designing my home and my collections. Both are pared back with a quiet calmness, but with strong attention to detail.
What's your best view?
My kitchen, which is part of the main living space, overlooks the garden square full of the most wonderful London Plane trees.
What's your signature dish – can you share the recipe with us?
On a hot summer's day there's nothing more refreshing than a salad of watermelon, feta cheese and rusks, mixed with mint, olive oil and pumpkin seeds. It's a salad I originally ate in Greece, and it's now one of my summertime standby recipes.
Share your top five books with us if you were to start a book club and why?
The Magus, by John Fowles – I read this book on my first trip to the Greek islands and have never forgotten it.
Fashionopolis, by Dana Thomas – a recent read that resonates with my philosophy and business ethos.
In Praise of Shadows, by Junichiro Tanizaki – anyone interested in architecture will love this book.
The Hare With Amber Eyes, by Edmund de Waal – his writing is as poetic as his ceramics.
When God Was a Rabbit, by Sarah Winman – which made me laugh out loud.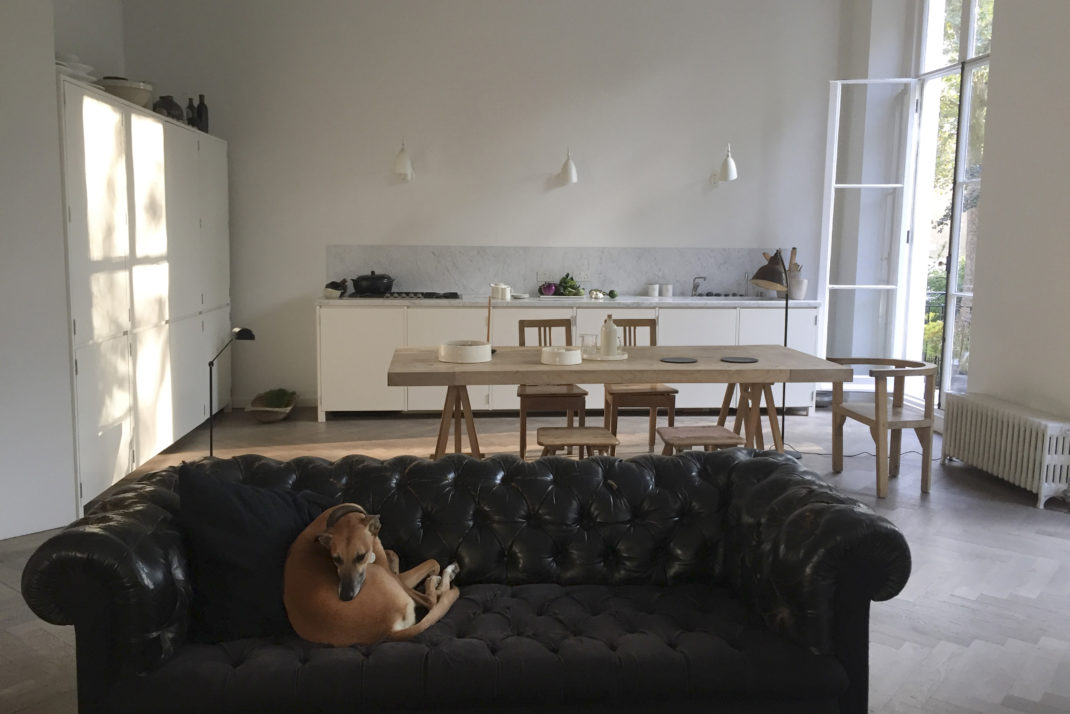 Share your must see TV and movie list:
I always enjoy Nordic Noir. I also really liked the recent version of A Star is Born, Whiplash, Jean de Florette, Manson de Sources and most films with Meryl Streep.
Describe your office space?
I have a small office space at home, but prefer working at my studio which is a converted grain store five minutes away. Arranged over four floors it houses everything I need and more: inspiring books, fabric swatches, sketches and piles of work! When it comes to creating a good working environment, the people are what make the place.
What's the first thing you do when you get up in the morning?
I wake up to birdsong with Tweet of the Day on Radio 4, swiftly followed by a walk in either Hyde Park or Regents Park – both of which we have the luxury of being near to – with our two lurchers Genghis and Safi. Pre lockdown I would go to either a spin or pilates class at 7am three mornings a week, but now it's walking or zoom yoga with Kirsty Gallagher at home instead. I like to be at my studio by 9am, after stopping off at Monocle Café on Chiltern Street to pick up a coffee.
And how do you love to spend your evenings?
Evenings are usually spent finishing emails that I didn't get around to during the day followed by supper and a dog walk with my husband and an earlyish night. Pre-lockdown we would go to Sadler's Wells to see contemporary dance and often meet friends locally for supper.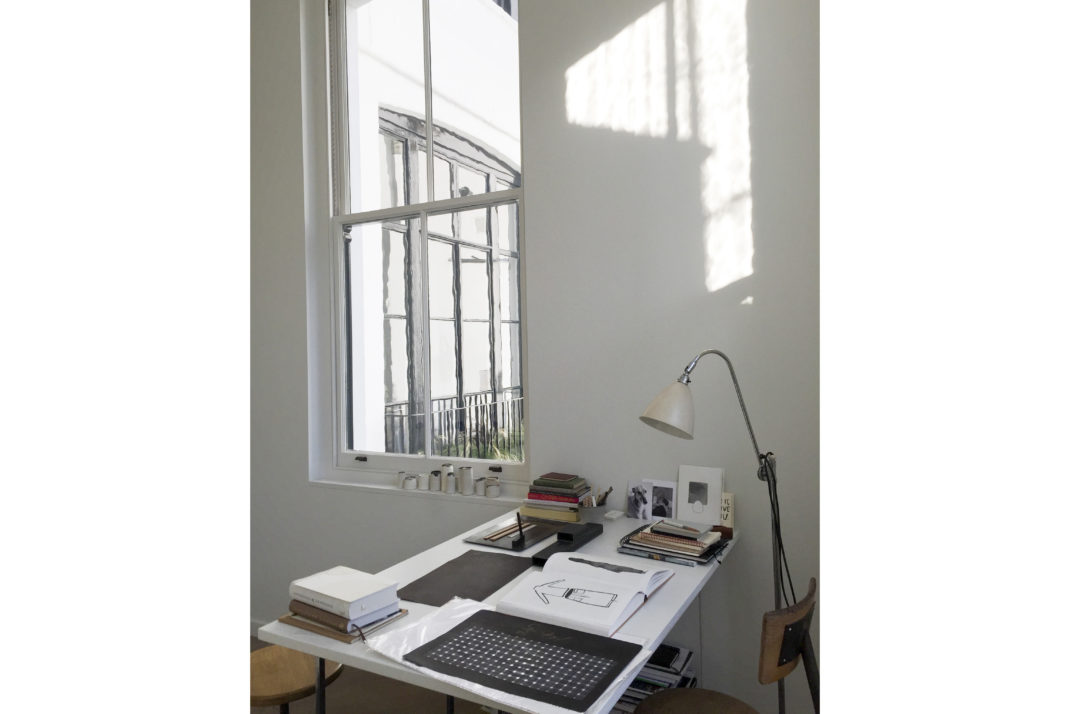 If you were to throw a party at home what are the key ingredients to make it go with a swing?
I prefer dinners at our home with friends, with good food, wine and great company.
What gadget could you not live without in your home?
Our projector, which is housed in the ceiling and comes down with a lift mechanism and disappears out of sight when not in use. I find a television screen an ugly focal point in a room – it's the perfect solution.
How is your garden behaving at the moment?
I don't have a garden myself, but I benefit from the use of the communal gardens. The grass is very dry after this spell of hot weather, but there's still a beautiful canopy of leaves to give shade.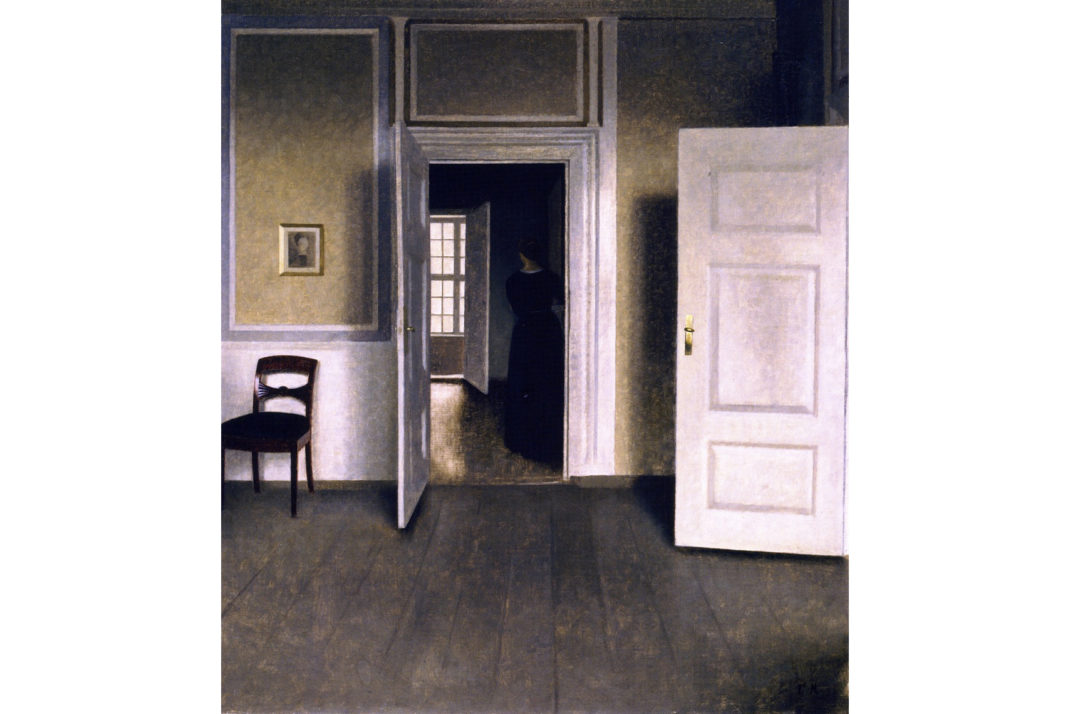 Whose home would you like to be a fly on the wall in and why?
I'm inspired by Lucie Rie's work, so would love to have observed how she went about creating her ceramics. She lived close by in Albion Mews.
Has lockdown made you reassess your work and home life balance?
It has made me appreciate the work and home life balance I have.
What makes a house a home?
It must have soul.
MORE AT HOME WITH: