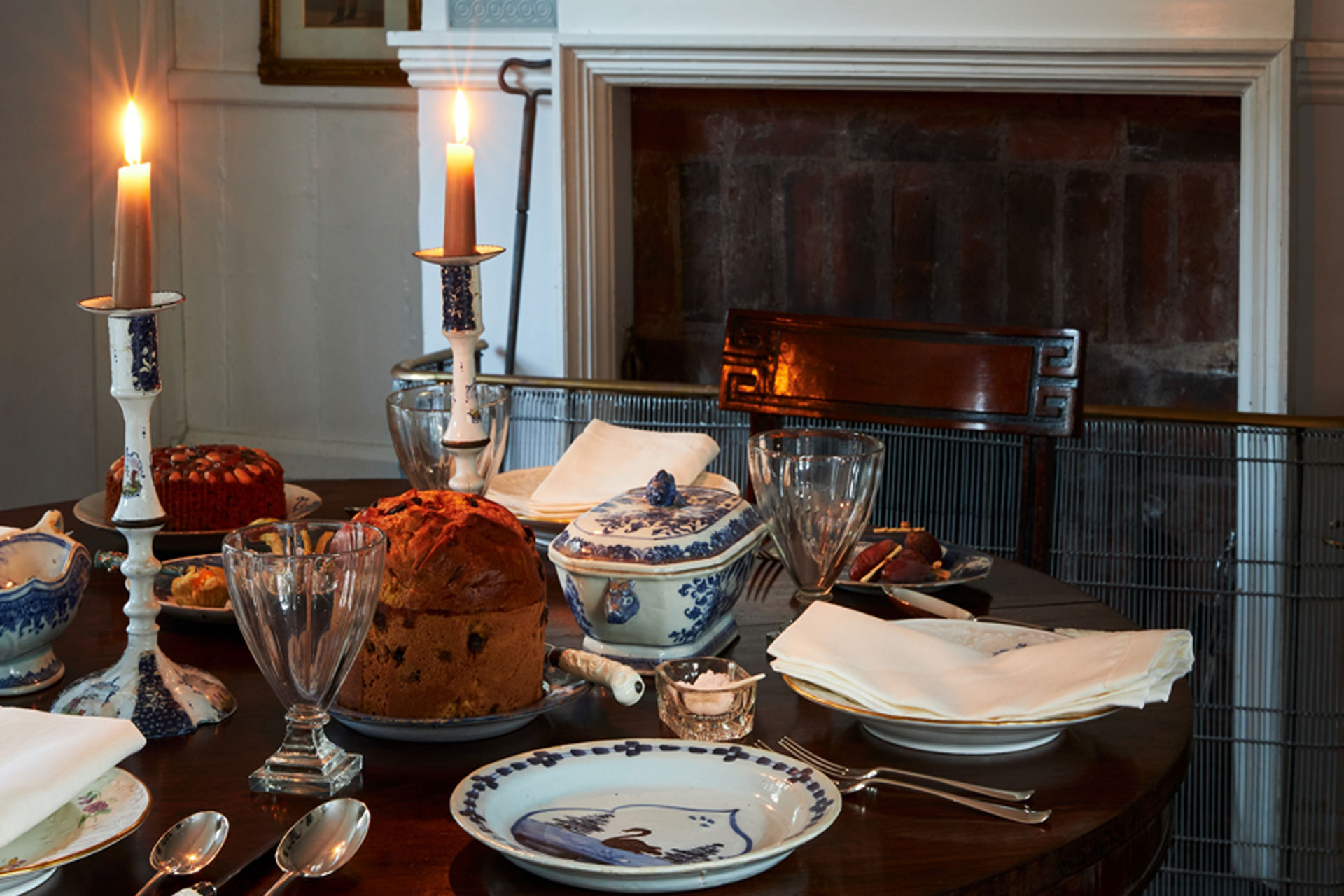 How to Decorate using Antiques this Christmas
---
'Perfection is Passé; Embrace the Irregular'
If there was any year to deck the halls with antiques, it's 2021. After COP26, it's never been wiser to steer clear of single-use décor that's destined for the landfill or a dusty attic. But that doesn't mean we should abstain from all things merry and bright. Antique expert and creative polymath Benedict Foley shares his top tips for mindfully decorating this festive season.
The Best Places to Buy Antiques Online 
How to Decorate using Antiques this Christmas
Eyes on Size
Think about the size of your table. Christmas is a time for entertaining and feasting so having enough space to seat all your guests, decorate it, and laden it with food will be that much easier with enough surface area. If you've got space for a bigger dining table it's a great time to buy a new-to-you one – there are lots of well-priced extendable tables at auction which can be made smaller as required. I personally love a drop leaf table, they can be added next to your existing table for a big party, or you can have two tables set up in the same room. Drop leaf tables can be folded against a wall and used as serving tables if you've got fewer people, so they really are a flexible piece of kit!
Galvanize the Guest Room
Crank up your guest rooms. I know in reality they may be the place where boxes go to live before being recycled or more usually decorated with drying laundry, but no one needs to know that! You want your guests to have a good time, so amuse and entertain them with quirky finds from the auction. It makes a much better conversation starter than who's doing the washing up! I love things like portrait miniatures – a good looking or amusing face never goes amiss. A couple of small tables by the bed, a chair or two for people to lay their clothes out, a couple of prints in antique frames on the walls – you can buy inexpensive and charming things, but if you've considered the basics your guests will feel much more considered by turn!
Switch That Painting
Swap your pictures. Some subjects feel more seasonal than others, so if there is something you think is particularly festive try swapping it to a more prominent place. You just need something of a similar size and shape to go on the same hook. During our shoot with Cheffins I swapped in a South American School painting of an angel, perfect for Christmas! But I could also love it all year round, perhaps in a bedroom. Any artwork with a decent frame and a reasonable estimate can generally find a place to live in our house – remember to be spontaneous and enjoy buying because something catches your eye!
Perfection is Passé; Embrace the Irregular
Antique tableware is perfect to create a sense of occasion. You can buy large services relatively inexpensively from auction in comparison to modern made items, and it's a very sustainable choice to boot! We have had a huge amount of pleasure buying ceramics from auction over the years, some things match, others don't. I love a varied table and the process of selecting what to use on the table when laying is a small joy I can't recommend highly enough!
During our shoot with Cheffins, we selected a host of blue and white ceramics, some Delft, some Chinese export, there is plenty on offer in their Fine Sale, and you don't need to be purest about it, have fun! I love the irregularity of hand-made pieces, and the variety of shades you see in the glazes. The scenes depicted on them range from the exquisitely detailed through to almost impressionistic pieces made by people who could only paint what they knew from life, a swan or a bird, a cottage or a boat in sail. The charm of seeing how some now long-gone hand made these design decisions and knowing that these pieces were made to enliven interiors in daily use makes them my perfect high-low choice. Beautifully made but not too perfect! A collection on a table used to serve delicious treats amongst friends, slowly revealed as the dinner moves on through its courses – what could bring a more delightful sense of occasion!
Make it Sparkle
Really finish off the job with some beautiful antique cutlery and glassware – these were items designed to catch candlelight and so they really do add visually to the whole. It will make your guests feel like you have really pulled out the stops for Christmas lunch! I always use wonderful linen napkins from Volga Linen folded for each guest at the centre of each setting – picking it up as you sit down marks the beginning of the fun, you can look over the table and know you're in for a treat!
All images include items that will be on sale at the Cheffins Fine Sale on the 8th and 9th December. cheffins.co.uk
SEE MORE
How to Master the Art of Tablescaping / A Season To Change: How to Make Christmas Sustainable