Bedroom trends to snuggle up with this winter
In case you plan on hibernating this winter...
We bring together the hottest bedroom pieces right now so you can find a style to update your boudoir.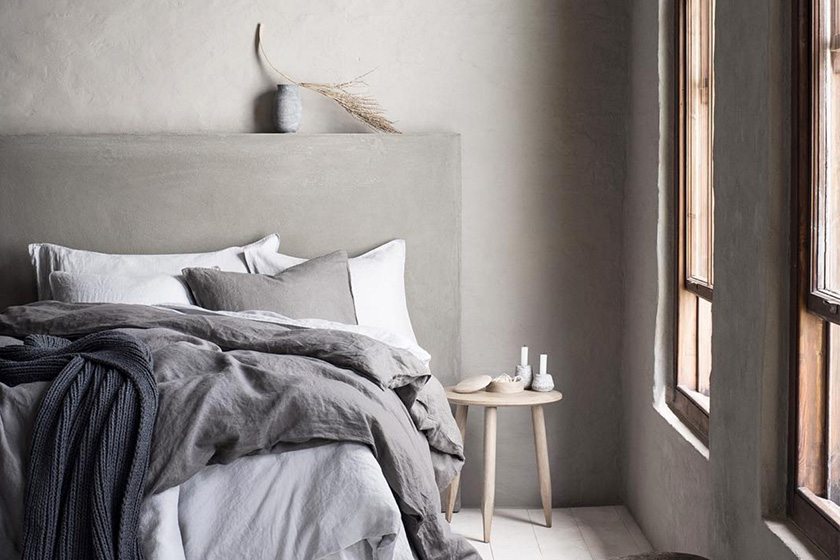 Instagram @designstuff_group
It's so important to get your bedroom right, it's where you should be comfortable and relaxed. Keeping it contemporary isn't hard, with a few edits your room can feel more sumptuous and trendy as ever, perfect to snuggle up this autumn.
COUNTRY HOUSE
With trends veering towards washed, reclaimed-feel woods, don't be afraid to mix them with dark traditional textures. Next year bedsides are being supersized, and symmetry is in. Try a large chest of drawers topped with a tall mirror and lamp on either side of the bed to make a grand, dramatic impact – great for high ceilinged bedrooms.

Left to right: Neptune Hestercombe Bouquet £289, Guinevere Italian Wing Back Armchairs price on request, Soho Home Lombard Matelassé Blanket in Smoke from £135, Loaf Lordy 100% Belgian Linen Bed Linen Bundle £285, Savoir Harlech Bed price on request, David Seyfried Ltd. Berkeley Coffee Table Stool £770, OKA Mazarin Mirror £595, Brissi Oversized Glass Lamp £249, OKA Jubilee Chest of Drawers £965.
TOWN HOUSE
Jewel tones are going to be big next year and they're perfect for a contemporary townhouse bedroom. Juxtapose brass and emerald green to create a dramatic and sexy effect. This cashmere robe is the perfect autumn evening attire for this decadent look.

From left to right: Lindell & Co Riviera Diamond Cushion £165 from Liberty London, Morpho & Luna Cate Cashmere Robe £1,340, Happy + Co Bondi Palm Beach Half Cushion £45, Soho Home House Bed Linen from £20, Savoir Beds Virginia Bed price on request, Gandia Blasco Trenzas Pouf Ivory £750 from Heal's, Baobab Max White Pearls Candle £229 from Harrods, Jean Louis Deniot Iron Eye Nightstand price on request from Bakers, Visual Comfort & Co Nina Tapered Table Lamp £169
TRENDING
Headboards are the new sofas, big, plush and sumptuous – make it a statement in your bedroom. Headboards are especially exciting if big and dramatic in an otherwise neutral room.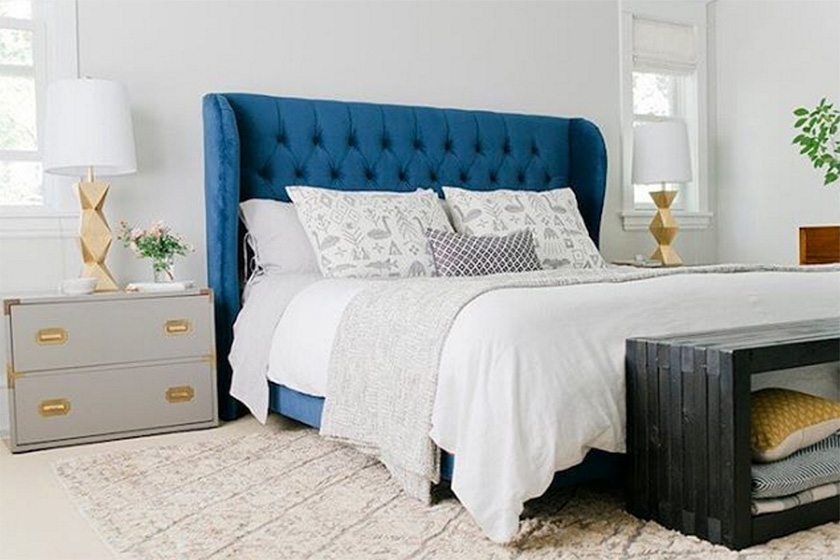 Instagram @em_henderson
READ MORE: Kitchen interiors you'll love for your home this autumn
READ MORE: Get the Soho House look with the new interior collection
---