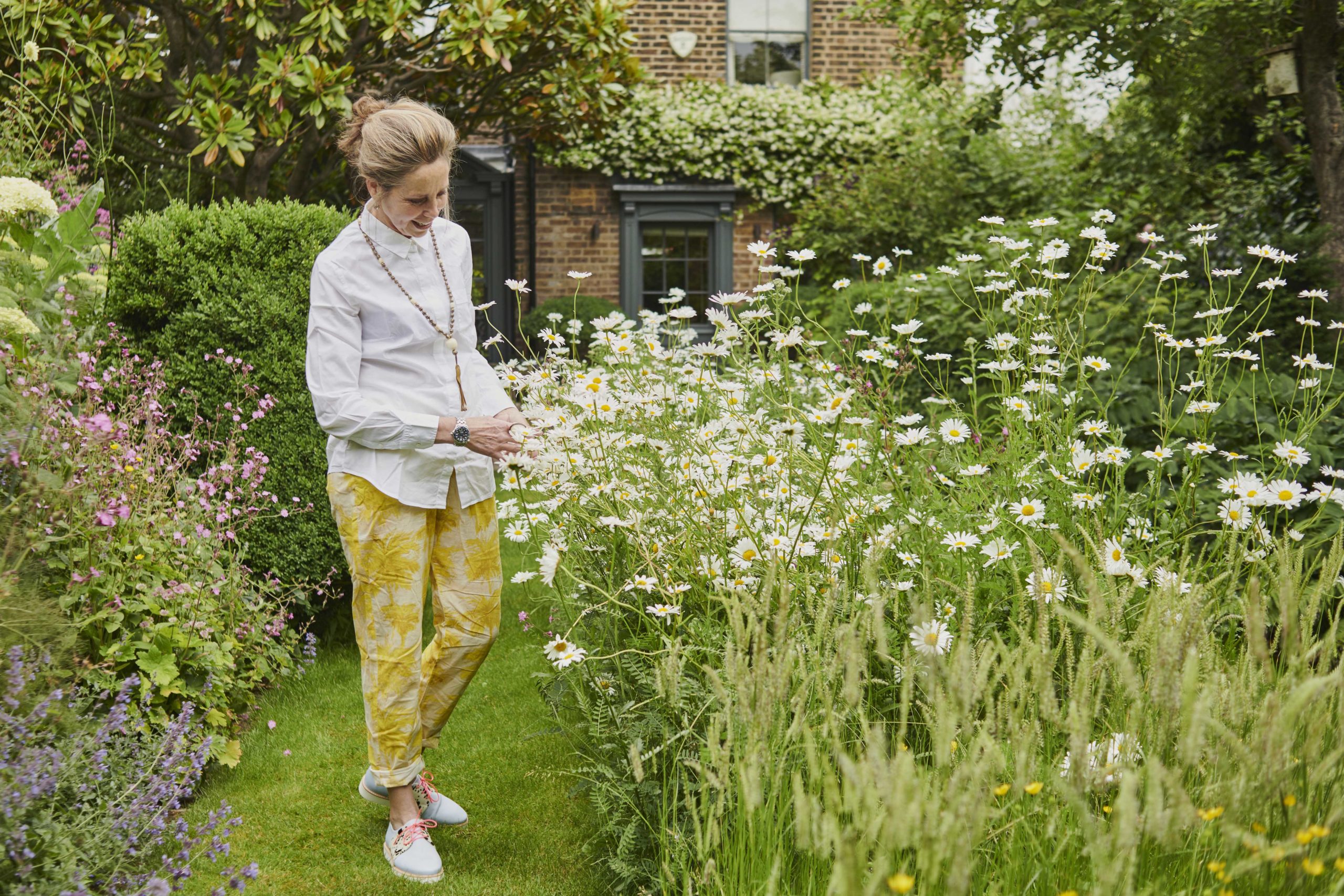 At Home With… Butter Wakefield
---
London-based garden designer Butter Wakefield shows us around her Shepherd's Bush home and garden meadow
London-based garden designer Butter Wakefield uses wildflowers, lush greenery and distinct botanical motifs outdoors and indoors
At Home With Butter Wakefield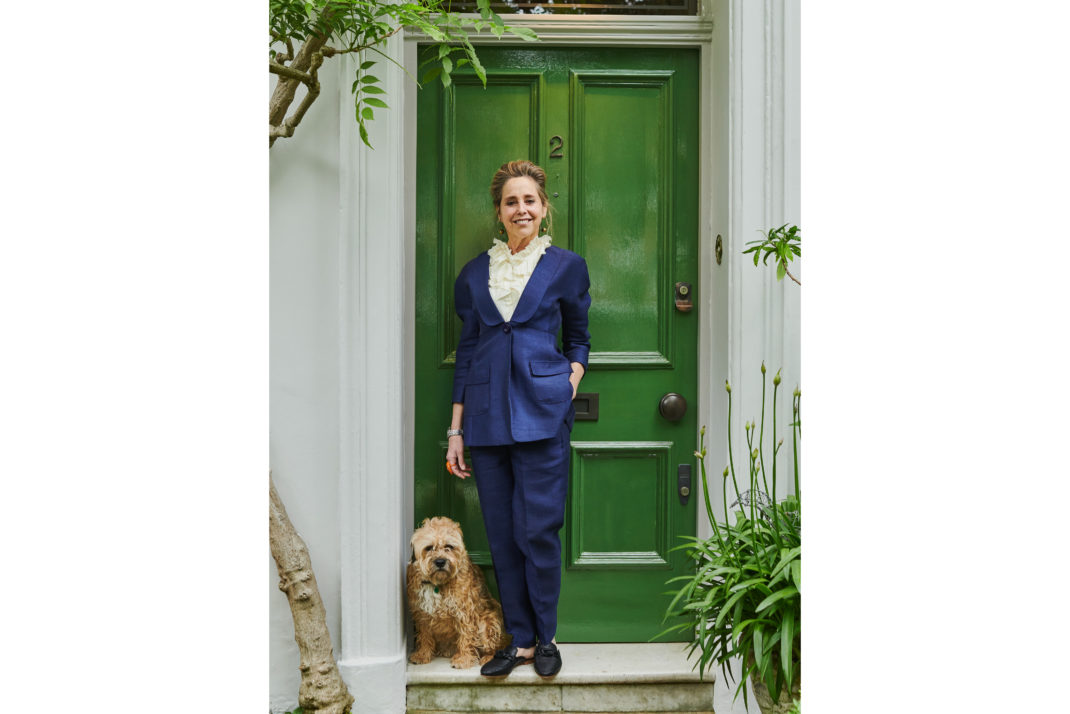 What's the story behind your home?
I'm American, and moved here as a young bride in 1988. For the last 28 years I've lived in this house in Shepherd's Bush, the first 18 with my English husband (who is now my ex-husband) and our four children. Now it's my complete sanctuary and the place that holds our happiest family memories: we gather here to cook, eat, celebrate occasions big and small and realign as a family. When I started to rebuild my life as a single person, it was important to make the house feel like my own. I began with my bedroom, removing the rather tired wallpaper and painting the walls a calming colour from the Paint and Paper Library called Wattle IV. I added plain linen curtains edged with cream coloured pompom trim, and replaced the worn sage green carpet. The room instantly took on a whole new personality: it's warm, friendly and all mine.
The 50 Best Interior Designers
What was your inspiration when it came to designing it?
My black and white floor tiles were the inspiration and starting point for the ground floor, I've always adored the combination of green, black and white. One of the first things we did was to lay oversized black and white diamond linoleum squares running from the front door down the length of the hall. I had the idea to add a leafy green wallpaper, and enlisted the help of my dear friend and interior designer April Russell (aprilrussell.com). She gave me the confidence to install a wonderful black and white stripy stair runner which runs up to the top of the house. Above the dado rail is wallpapered with Cole and Son Palm Leaves, and the bottom half is painted vivid Sage & Onions green by Little Greene.
Do you have any interior brands that you love and always go back to?
I'm a big fan of fabrics made by Manuel Canovas, and I've used their gorgeous, rich colours and vibrant patterns in my drawing room: Belinda Absinthe on a comfy old chair, and Grimaud Turquoise with contrast panels in a velvet Marmande Emeraude on a pair of new armchairs. I also can't resist the charms of an Ian Mankin ticking, and I recently refreshed some tired lamps with delightful colourful card shades made by Rosi de Ruig.
What's your favourite room in the house?
My double drawing room is so happy and fresh, filled with bright green and blue fabrics with bits of orange here and there. It's always warm and welcoming, cool in the summer and cosy in the winter. The main hub of our home is the kitchen and conservatory – we couldn't afford hanging cupboards when we redecorated, which turned out to be an unexpected bonus as it allowed me to cover the walls with black framed botanical prints. There's a big deep shelf above the cooker full of pretty botanical plates and my crazy collection of black and white Staffordshire dogs. I love filling the few remaining gaps with fresh flowers from the garden. Currently it's full of light and dark pink cosmos, which I grow every summer. I adore their daisy-flowered, carefree demeanour.
What's your best view?
Both my bedroom and kitchen are at the back of the house overlooking the west-facing garden. The morning light only just reaches the far end of the garden, and provides me with a profound sense of pleasure and joy. It has several interesting features and two gorgeous trees that were here when we arrived; one a glorious old craggy apple tree, the other an evergreen Magnolia grandiflora which gives us the most heavenly scented white flowers all summer long. I recently added a wide strip of wildflower meadow which runs down the middle of the garden with long grass at either end. It's humbling to watch the wildlife come and go.
What's your signature dish?
I make a rather delicious puy lentil dish which is very popular with my family and friends. This serves six people as a starter or a side:
Ingredients
3-4 tablespoons organic extra virgin olive oil
3-4 stalks organic celery with leaves, chopped
3-4 organic leeks, rinsed and chopped
2 organic garlic cloves, minced
1.5 cups of organic puy or black lentils
2 bay leaves
1 bouquet garni
5-10 whole black peppercorns
Glug of red wine
Bunch of flat leaf parsley roughly chopped
Salt and pepper to taste
Optional extras: roasted chopped walnuts or pistachio nuts and crumbled goat's cheese
Method 
In a small sauté pan on a low heat, add the first four ingredients. Once gently bubbling, add one teaspoon of pink himalayan salt and pepper, cover with a lid and sauté gently until soft and translucent, for approximately 30 minutes. In a separate medium pot with a lid, add the lentils and three cups of water (double water to lentils), the bay leaves, a heap of ground pepper and the bouquet garni. Bring up to the boil, once bubbling put the lid on and move to a low heat, cook for 20-30 minutes until the lentils are soft but remain firm. Drain lentils of any excess liquid, season with salt and ground pepper and combine with the leek and celery mixture. While still hot, add a splash of red wine. When cool, add chopped parsley and/or roasted walnuts and crumbled goats cheese. Serve on a bed of wild rocket and olive oil with zest of one lemon.
Share your top five books with us if you were to start a book club:
Bel Canto by Ann Patchett, all of her books are fantastic reads.
The Secret Life of Bees by Sue Monk Kidd, which is one of my absolute favourites.
Frenchman's Creek by Daphne du Maurier, an engrossing, enchanting read set in the west country.
The Hidden Life of Trees by Peter Wohlleben, a fascinating read about the importance of trees and the way they grow, communicate and care for their own.
The Essays of Ralph Waldo Emerson: an outstanding collection of beautifully-worded essays on love, self-reliance, friendship, manners and nature.
Share your must-see TV and movie list:
I am currently watching Succession, which I find deeply anxiety-inducing, but compelling viewing. Big Little Lies I and II, Killing Eve and Great British Bake Off are all also highly entertaining and addictive. More recently, I loved Little Women and Ford v Ferrari.
If you are working from home, how have you designed your space?
I run a small design practice and have always worked from home. My office isn't very big, but it's equipped with lots of big shelves for files, samples and projects. On the opposite wall I have a pinboard covered in Sanderson's Manila fabric in Green Ivory: a lovely green, leafy fabric which I've covered in photos, hand-rendered drawings and cards – happily it's generated a lot of intrigue during Zoom meetings.
What's the first thing you do when you get up in the morning?
During the week I get up between 5:30 and 6am. I'm definitely a morning person, but I hate rushing. I always check the weather so I know what to wear if I'm on site or planting. On the weekends, I love nothing more than a strong cup of coffee (Monmouth Organic Coffee is my go-to) made in an old fashioned cafetière together with steaming hot Oatly oat milk (Barista version – not all oat milk is created equal). I take it to the kitchen table to plan my day, which always includes a dog walk with Wafer my border terrier. I also love to do tapestry and peruse magazines and industry journals while still in my dressing gown – such a luxury!
And how do you love to spend your evenings?
My favourite evening activity is pottering in my garden. I do a bit of dead-heading, water my pots, and pick flowers for the house. Or after a long day planting and if I'm too tired for much else, I sometimes retreat to the conservatory for a bit of mindless TV.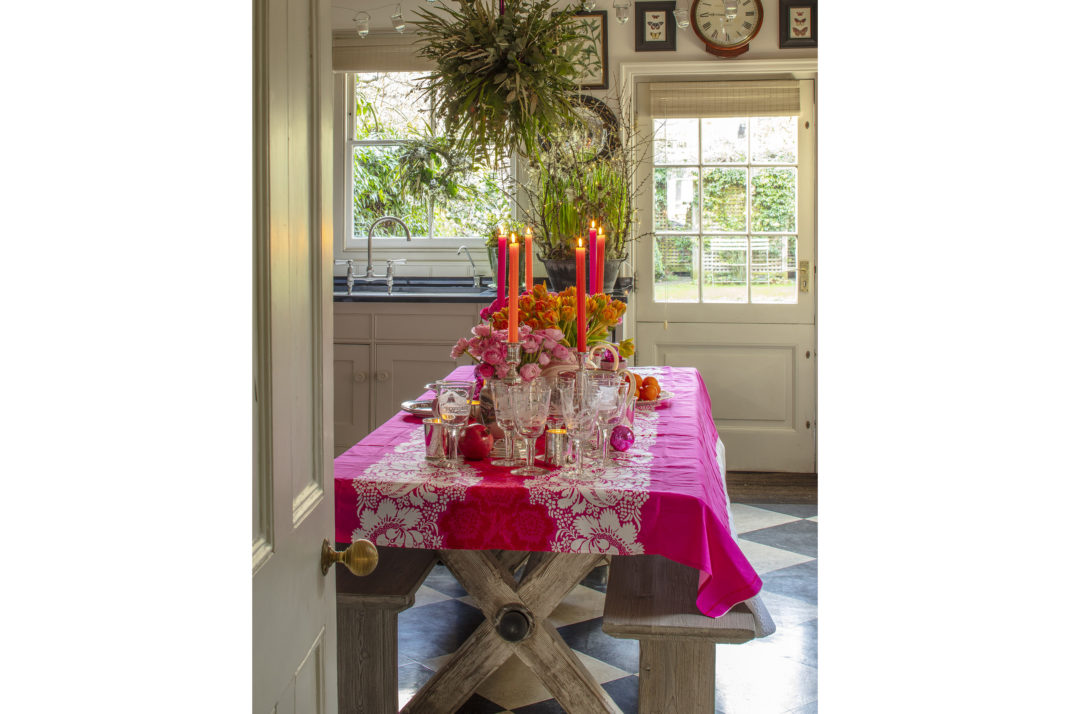 If you were to throw a party at home, what are the key ingredients to make it go with a swing?
I don't think a house is ever properly dressed without beautiful fresh flowers from the garden throughout. I'm not a fan of styled bouquets from a florist, so I scatter several bottles of wildflowers from the meadow down the middle of the table. I love laying the table full of big boards of yummy eats. An overflowing cheese board will always be laid out, with homemade everything else.
What gadget could you not live without?
I have several microplaners that I use daily; they're brilliant for garlic and lemon zesting.

How do you keep fit?
I skip rope for 30 minutes or so in my conservatory when time allows,  afterwards I do a little weight and yoga routine. It's quick and easy and keeps me in pretty good shape.
Whose home would you like to be a fly on the wall and why?
Ben Pentreath and Charlie McCormick's house in Dorset; they've created the most stunning home and garden and I hugely admire their work, style and creative zest.
What could you really do with now you're spending more time at home?
I would love a big walk-in flower room with a butler's sink, reclaimed flagstone floor and walls lined with shelves and flowery wallpaper for all of my jugs, bud vases, and bottles.
What makes a house a home?
I'm of the strong opinion that homes which are too ordered, matching and full of shiny new objects all too often lack character and charm. Randomly discovered bits and pieces, antique porcelain, the odd old chair, collections of Great Aunt Telka's silver spoons and a copious array of houseplants in old glazed pots are what make a house feel like a home.
Follow Butter on Instagram @butterwakefield. butterwakefield.co.uk
MORE AT HOME WITH