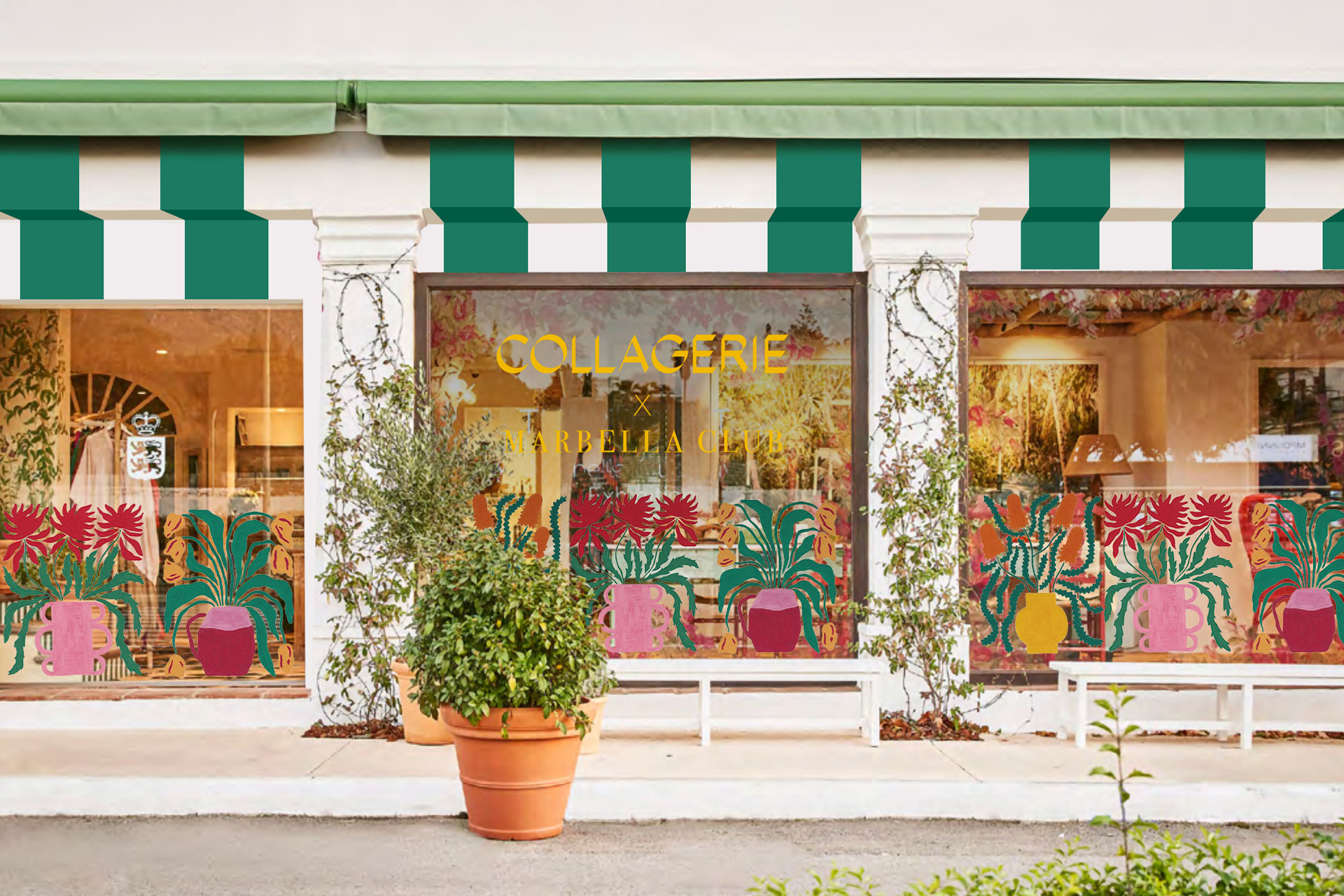 Collagerie Sets Up Shop at The Marbella Club
---
Collagerie has opened a pop up shop at the fêted Marbella Club 
The Marbella Club x Collagerie Launch an Exclusive Collaboration
'I'm cheating on fashion with furniture'. Carrie Bradshaw from Sex and The City was the first to call for fashion and interiors fusion, and it's showing no signs of slowing down. The latest iteration is The Marbella Club's collaboration with the much lauded luxury interior brand Collagerie.
Collagerie, founded by Lucinda Chambers, who was at the helm of British Vogue as Fashion Director, sells wares that are more like jewellery for the home. It's not your go to place for stocky furniture, but more a aesthetically stunning statement accessory pieces you'll want to magpie and treasure.
Collagerie was a bit of a no brainer choice for The Marbella Club (one of Spain's most gorgeous hotels). Since the store's aesthetic is all about zingy serotonin drenched colours, that works as the perfect accomplice to the sun-spilled Spanish city.
Offering an ever-changing jewel-box blend of fashion and lifestyle treasures alongside in-store installations that conjure new and enticing worlds, Collagerie's sartorial stories will weave their way through summer at El Patio – Marbella Club's beloved boutique. In the coming weeks, you could find yourself beguiled by lemony, sun-drenched delights, browsing a glamorous global souk or seduced by opulent style, all inspired by the hotel itself – its colour, its energy, its mood.
It was whilst visiting the Marbella Club last summer that Collagerie's co-founder, Serena Hood, fell in love with the magic of the hotel. She felt an instant synergy between the two brands and the idea was seeded for this unique collaboration. It is the first pop-up Collagerie has curated and it will feature fashion and lifestyle brands with a mix of high and low price points, which has always been a part of Collagerie's USP. Collagerie will be shining a spotlight on the brands they love, introducing new niche designers as well as championing local and international artisans: a celebration of craftsmanship for guests to enjoy.
Silk painted sun hats by Spanish brand Romualda and colourful placemats by heritage Majorcan textile makers Teixits Vicens will sit beside the unique British tableware brand, K.S Creative Pottery on its first venture outside of the UK. Also featuring will be British swimwear darling Cossie & Co (beloved by fashion editors); lifestyle brands Cocol, Arbala and Colombia Collective, which collaborate with artisans across Spain, Morocco and Colombia respectively; and Agua by Agua Bendita, the environmentally conscious label that celebrates the allure of Latin America and artisanal designs.
The pop up store is open until October this year. 
SEE MORE
Mayfair's New Hotel, The Twenty Two, is a Lesson in Maximalism
Main Image courtesy of Marbella Club x Collagerie