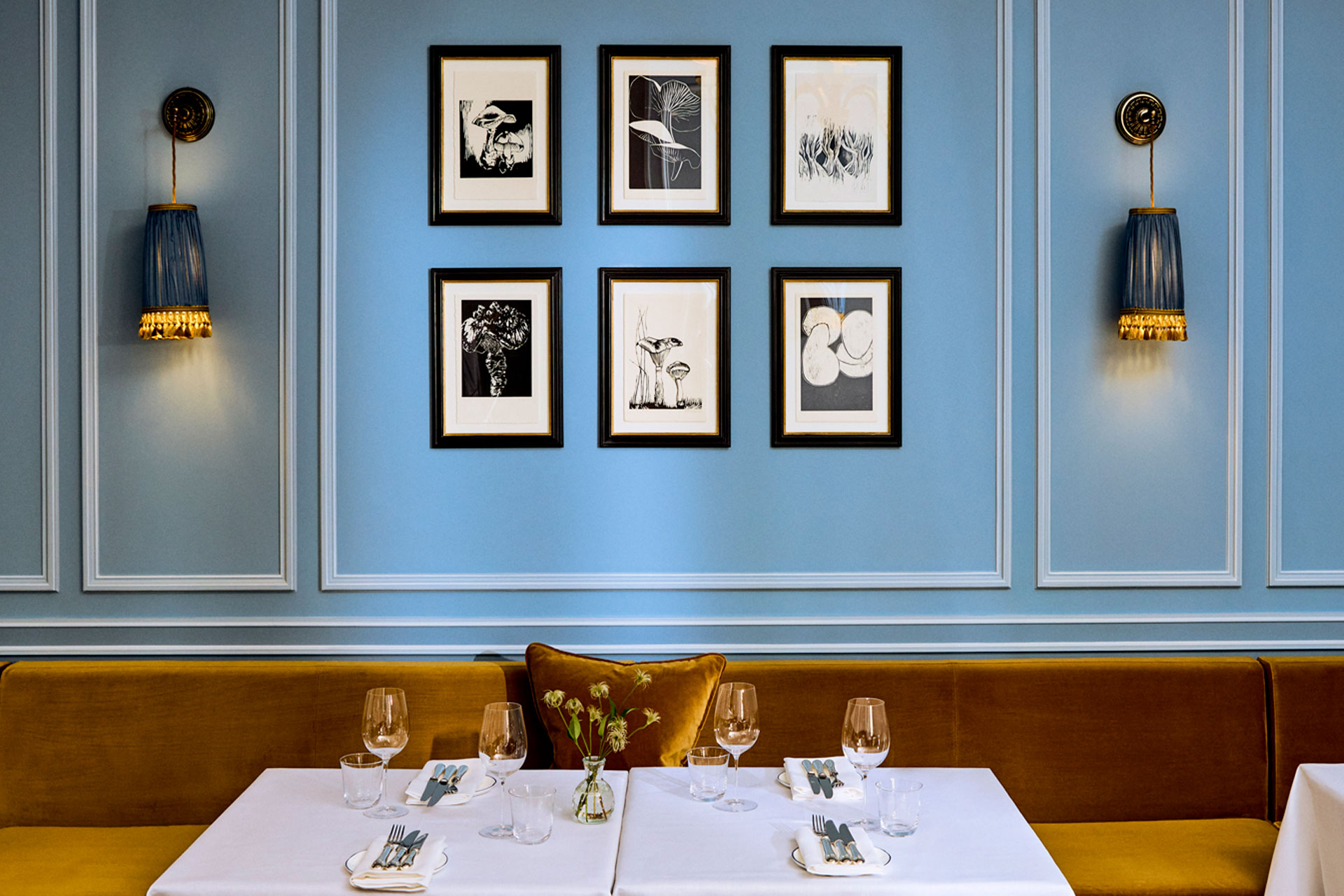 Mayfair's New Hotel The Twenty Two is a Lesson in Maximalism
---
Think Bonaparte, bevelled mirrors, and the colour blue
18th Century gilded France meets polychromatic maximalism at Mayfair's slickest new hotel, The Twenty Two 
 Mayfair's The Twenty Two Hotel is a Lesson in Maximalism
It's official: kitschy kaleidoscopic interiors is the new 'it' way to furnish luxury interiors. And Mayfair's newest hotel meets members' club, The Twenty Two, that opened this May, is a lesson on how it's done to perfection.
A string of new hotels opening up in the nearby stomping grounds of Chelsea and South Kensington, such as Beaverbrook Town House (designed by Nicola Harding) and The Other House (its library is curated by Pandora Sykes), have taken a similar cue with their interior design.
It seems what's all de riguer nowadays is piping, pattern and fringes, with some nod to a grand historical past. And it works. The interiors trend is the ultimate Instagrammable fodder for the young, hip, creative set these hotels are looking to bring in.
Blue is king at The Twenty Two. And this is no less obvious in the restaurant, where the colour was chosen as a way to bring out the architecture and 19th Century panelling. You'll also see when you enter bespoke chandeliers in cadets of handblown blue glass adorning the ceilings.
The brains behind the design is architect and designer Natalia Miyar. It's her first foray into designing hotels (she's previously mainly worked with private clients), which also goes some way to show the growing value placed on perfecting the space in the hospitality industry.
The Twenty Two, the hotel itself, is a Grade II listed former family home in Mayfair's Grosvenor Square. The space spans 42,500 sq ft, comprising of 31 decadent bedrooms, suites and even its own muse house, plus a restaurant (that's open to the public), and a members' club.
Natalia's specific inspiration for the interiors came from the French elegance of Châteaux de Malmaison, home of Joséphine Bonaparte (that's the Bonaparte Empress, with Napoleon Bonaparte). You'll see some unsubtle nods to the muse in question in the entrance hall's dramatically monochromatic cabochon marble, as well as the highly saturated dopamine brushed walls within the bedrooms, and restaurant of the hotel.
Lots of rich velvets, piping, fringe, vintage crystal chandeliers, and bevelled mirrors' is how Natalia Miyar sums up objects of inspiration, which you'll see peppered throughout the interior design.
One of the two elegant 'Deluxe Rooms' takes the Napoleonic aesthetic to the nth degree. Taking the Bonaparte's private room in Châteaux de Malmaison as a direct reference, expect to see the double black framed windows swathed in fabric by French textile houses Pierre Frey and Turrnel & Gigon.
SEE MORE
Soho House Members: You Can Claim a Free Interiors Consultation / Best London Members Club Interiors