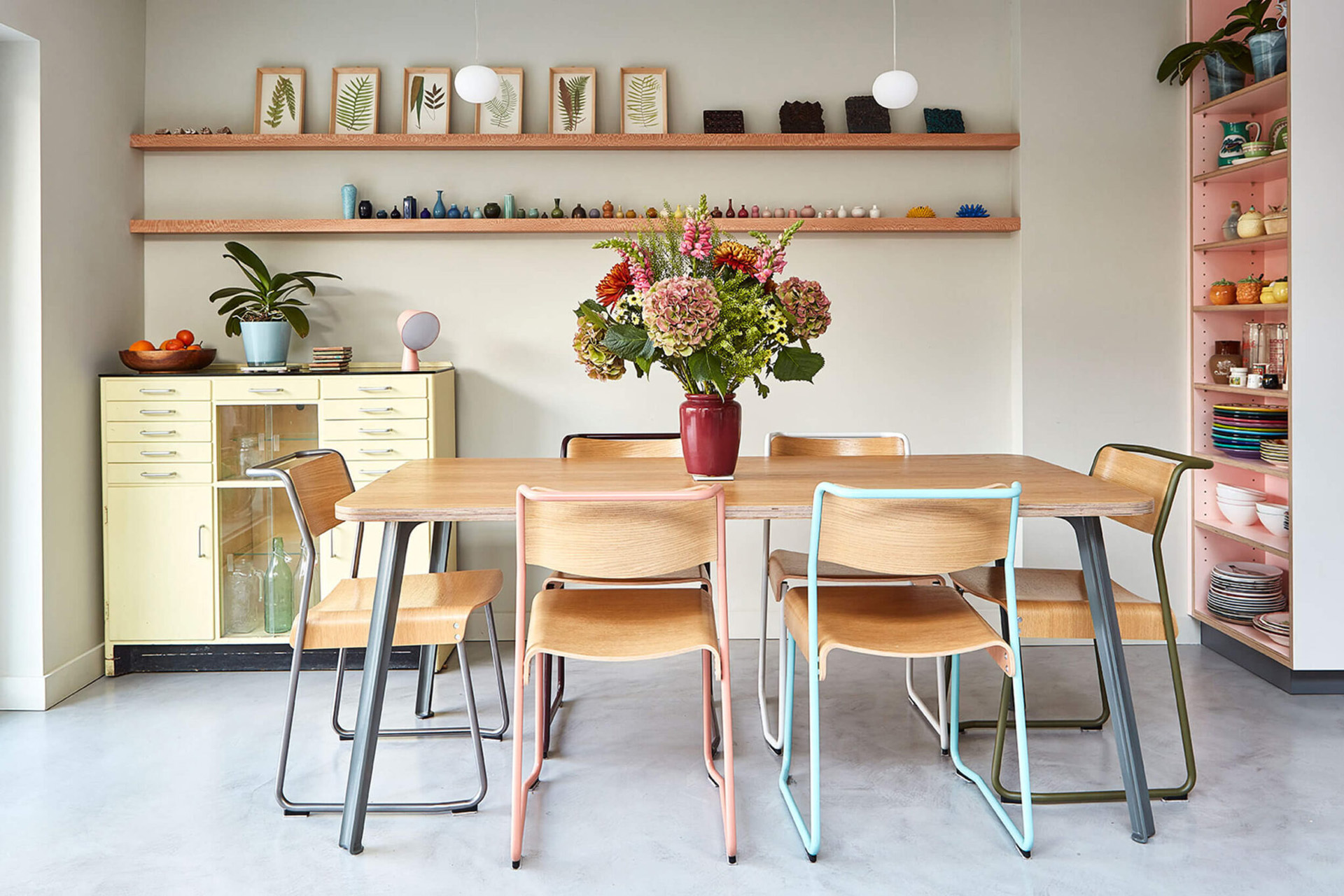 The Most Colourful Home Accounts To Follow Now
---
Maximalism in the new minimalism
Time to ditch the eggshell matte emulsion and sofas you can't let a glass of wine near – thanks to the mesmerising rainbow of Instagram accounts breaking all the rules with nostalgic, candy-hued palettes, colour is back on. Love the look but don't know where to begin? These are the best accounts redefining what 'interior design' means in 2021, embracing pink walls, power-clashing shades and an assemblage of technicolour prints. 
View this post on Instagram
NHS doctor Geraldine Tan has styled her London home around a lifelong passion for colour and decorating. Her award winning blog and feed is a textbook lesson in how to blend pastels with high-voltage shades, mix up retro shapes and style small areas like coffee tables and shelves into works of art. We love her eye for a vintage furniture find and beautifully organised 'gallery' walls of posters. Follow @littlebigbell. 
View this post on Instagram
Love the trend for colour but want a subtler feel? Blogger Kate Spiers' account is the place to look for inspiration. Her three bedroom Glasgow tenement flat, made over in an enchanting yet muted palette of sage, ochres, plaster pinks and sunny yellows is a perfect example of how to mix colours for a more laid back look. There are also an abundance of fun small scale ideas to experiment with – from ditsy William Morris-style prints to colour co-ordinated bookshelves and flowers spilling from every surface. Follow @katespiers.
10 Pink Wallpapers We're Loving
View this post on Instagram
Part interiors influencer, part renovation account, @thehousethatcolourbuilt chronicles the renovation of a 1930s semi detached in a larger-than-life palette of bright shades, with a particular penchant for pink. Not only will a scroll through this account instantly brighten a rainy day, but it's also full of crafty ideas for how to incorporate second hand pieces into your home and upcycle for a bespoke look. We especially love the DIY panelling, painted radiators and cornflower-blue woodburner. Follow @thehousethatcolourbuilt. 
View this post on Instagram
A ray of sunshine in home decor format, @homewithhelenandco is an interiors account packed with inspiration for colour lovers. Our favourite example? This sunny-side up bathroom, which would be the perfect plant-filled nook to relax in at the end of the day. What could be a better pep–up than soaking in bubbles here, among these zingy, zesty orange walls? Follow @homewithhelenandco.
View this post on Instagram
Just because you're still renting (in London – who isn't?) doesn't mean you have to miss out on trending interior styles. TV presenter, stylist and colour addict Zeena Shah has demonstrated how to suffuse a rented home with individual style and personality on her interiors account @heartzeenahome. Think: quirky prints, plants fronds spilling off of shelves and coffee tables, and bathscapes and 'shelfies' laden with bright bud vases, fashion books and a stylish assortment of kitschy objects. Follow @heartzeenahome. 
Wallpaper Ideas For Every Room
View this post on Instagram
What do you get when you combine a penchant for patterned wallpaper, bright pink kitchen units and some leopard print dotted stairs that are impossible stop thinking about? We imagine it would be something exactly like @kate_rose_morgan's punchy, technicolour home. Brimming with cheerful accessories that have a touch of rock'n'roll about them and a funky, feminine vibe, this is a brilliant account to get some ideas from if you're doing a colourful home makeover or just tackling one room. We love the Disney-fied blue and pink sitting room with a feature wall botanical mural. Follow @kate_rose_morgan.
View this post on Instagram
Anything goes in @homewithsisi's scheme of neon orange, lime green and parma violet purple (it shouldn't work, but it does – trust us). Described as 'tropical boho maximalist' this home account takes pattern and colour clashing to the next level, sensationally pulling off strong colour combinations and matching monochrome, geometric patterns with busier floral prints. Energetic shades, an abundance of greenery and the occasional animal print rug or wallpaper tie Sisi's sunny aesthetic together – keeping the overall feel cheerful and joy-inspiring. Follow @homewithsisi.
Pluck Kitchen's Tips For Colourful Interiors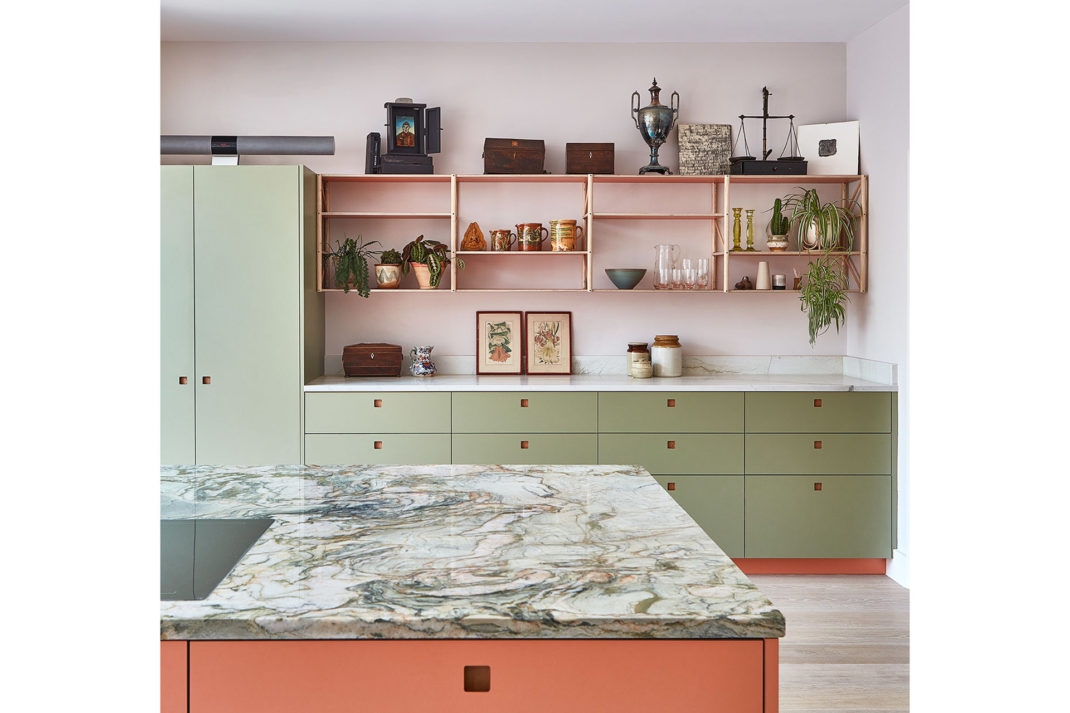 Need some help incorporating pops of colour into a room? George Glasier, Designer and Co Founder of London based kitchen studio Pluck gives his top tips:
'The right colour in your kitchen can be curiously comforting and mood enhancing. Firstly you have to genuinely like the hues that you choose, try to avoid being driven by fads, as there is potential to go off your choice should it go out of fashion.

Think about the natural light in the room, dark colours reflect less light so will make a space feel moodier; depending on the room's size this may not be an issue. To achieve a balanced palette, use a warm and cool colour to complement each other and keep in mind that quantities vary. Colour can be used sparingly and still make an impact in a kitchen by using pops here and there amidst a white or monochrome scheme for a sense of cheekiness and playfulness.'

Follow Pluck on Instagram @pluckldn. Find out more at pluck.kitchen
READ MORE
The Guide to Sustainable Interior Design / Trend Alert: Cheeky Nudes / The Best Outdoor Furniture: Spring Edit