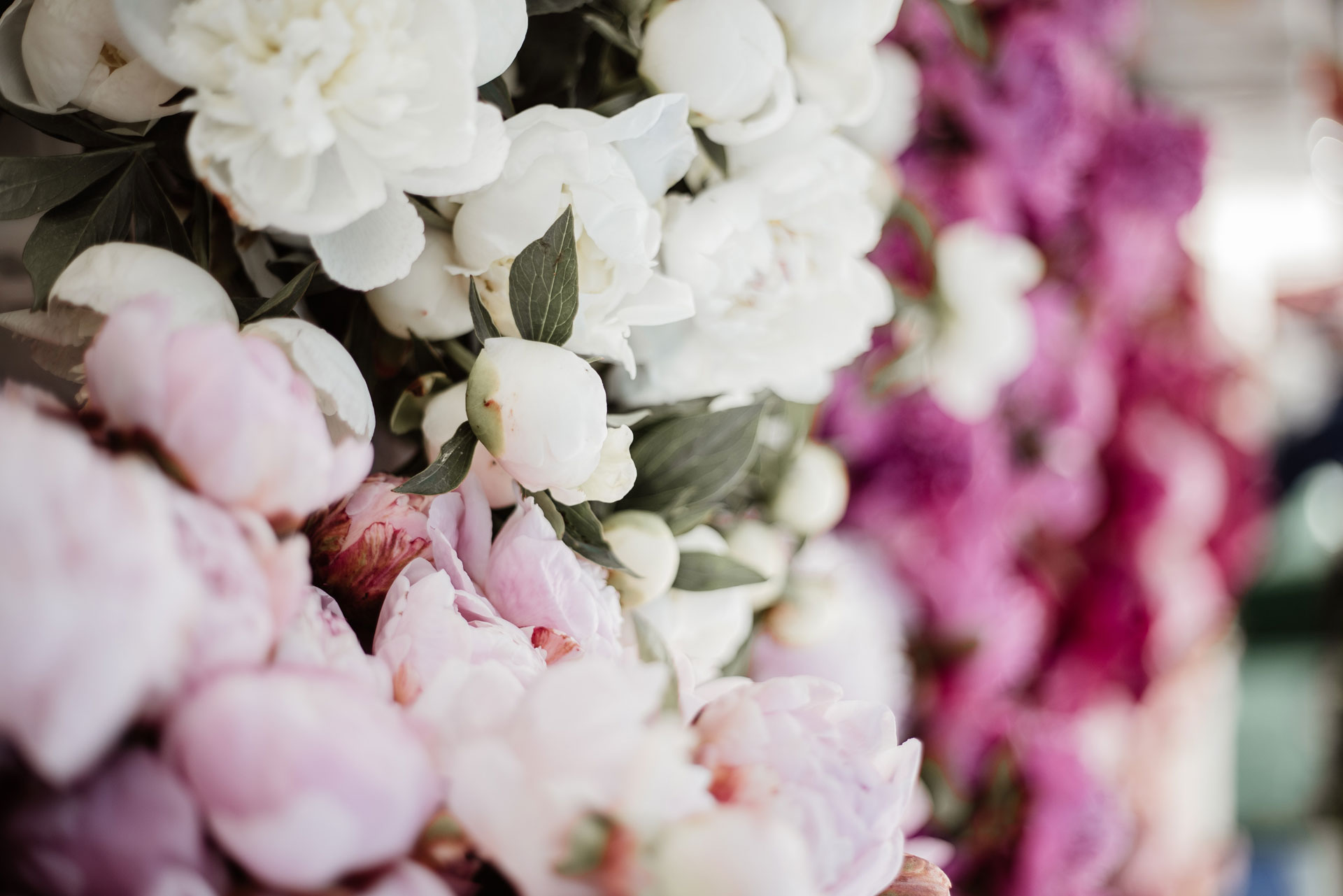 How to Create the Perfect Peony Bouquet
The experts give us their guide to displaying this floral favourite in your home
British-grown peonies are in season from May to early July – that is, right now. Make the most of this beautiful blousy bloom with our guide to putting together the perfect peony bouquet, featuring tips from the experts.
Creating The Perfect Peony Bouquet
Why Does Everyone Love Peonies So Much?
'One of the most sought-after flowers on the planet with layers upon layers of delicate ruffled petals, these fabulous flowers are available in a range of exquisite colours including white, light pink, cerise, coral and red,' says celebrity florist Larry Walshe, creator of Bloom. 'Hugely exclusive owing to their very short season, it is no wonder they are a favourite of celebrities such as Meghan Markle, Kylie and Oprah.
'As their buds open, they reveal the most beautiful blooms, which are both large, romantic and impressive. Hugely feminine, they are a popular choice within a wedding and will fill any interior with huge impact and colour.'
'When you first collect your fresh peonies this season, buy them closed to experience their metamorphosis from a golf ball sized bundle to a massive, voluptuous flower,' says Bloom & Wild. 'When you get them home, if there is a sticky substance surrounding the peony head, simply take a moist, warm sponge and tap it around the flower, this will allow the flower to open more easily. In the wild, insects, typically ants, will often be found on the flower head to collect the sap and loosen the petals.'
What Is The Best Type Of Peony?
'My favourite peonies are Coral Charm, as their colour fades from the most incredible, striking coral hue to a delicate soft peach tone as they evolve,' says Larry. 'Peonies do not have a long-life expectancy, so do be prepared to enjoy them for between three and seven days, depending upon the conditions and the weather. That being said, they pack a real impact, so more than make up for their somewhat fleeting nature.'
Pairing Peonies With Other Seasonal Stems
'Always try to find other seasonal stems to add to your bunch, especially if you can pluck them straight from your garden,' Bloom & Wild suggests. 'We're loving the scent, texture and colour of lilac combined with white double peonies or Sarah Bernhardt varieties. The lilac stems will also support the weaker peony stems within the arrangement! If you can't find lilacs, cherry blossoms will add more of a wild feel to your arrangement, as well as height variance.'
View this post on Instagram
'Peonies pair well against roses, ranunculus, tulips and other seasonal delights,' Larry adds. 'Their large flower heads are balanced well with generous roses and spray roses. Adding foliage will also incorporate a further layer of texture that may be desirable. 
'Equally, I love to display peonies on their own in glorious abundance in a vase at home,' says Larry. 'In my opinion, there is nothing more beautiful than the simplicity of this style of decorating to bring any interior to life.'
What About Mixing Types Of Peony?
'We love a mixed peony bouquet, but do be aware that different variations of peony open at different times,' says Bloom & Wild. 'For example, coral charm peonies will open quite quickly and grow in size whilst changing their colour over a few days. These look fantastic with Miss Piggy roses and apricot coloured stocks. Sarah Bernhardt peonies on the other hand, do tend to take a bit longer to open, but will last longer for you. These look fantastic with textural foliage such as green bell, lime green bupleurum and ranunculus.'
View this post on Instagram
What Do Peonies Represent?
Different peonies mean different things. Larry breaks down the symbolism…
White Peonies
White peonies symbolise bashfulness, so they're great for those times when you've said or done something wrong and want to apologise. No one can hold a grudge when a beautiful bouquet of white peonies shows up at their door!
Pink Peonies
We adore pink peonies, and they're super popular for wedding bouquets as they symbolise good luck and prosperity.
Red Peonies
Red peonies symbolise love, passion, honour and respect. Whatever stage in your relationship you're at, I'm sure your partner will love a big bouquet of red peonies!
Coral Peonies
Coral peonies are a unique type of peony that can change colour as they bloom. In terms of symbolism, coral peonies are often associated with elegance, good fortune, success, and strong relationships. They can also represent happiness and abundance.
Purple Peonies
Purple peonies are often associated with royalty, nobility, and dignity. They can also represent admiration, respect, and romance. In some cultures, purple is believed to symbolise power, ambition, and luxury. A beautiful and elegant choice for many occasions.
Featured Image: Photo by Allie Smith on Unsplash