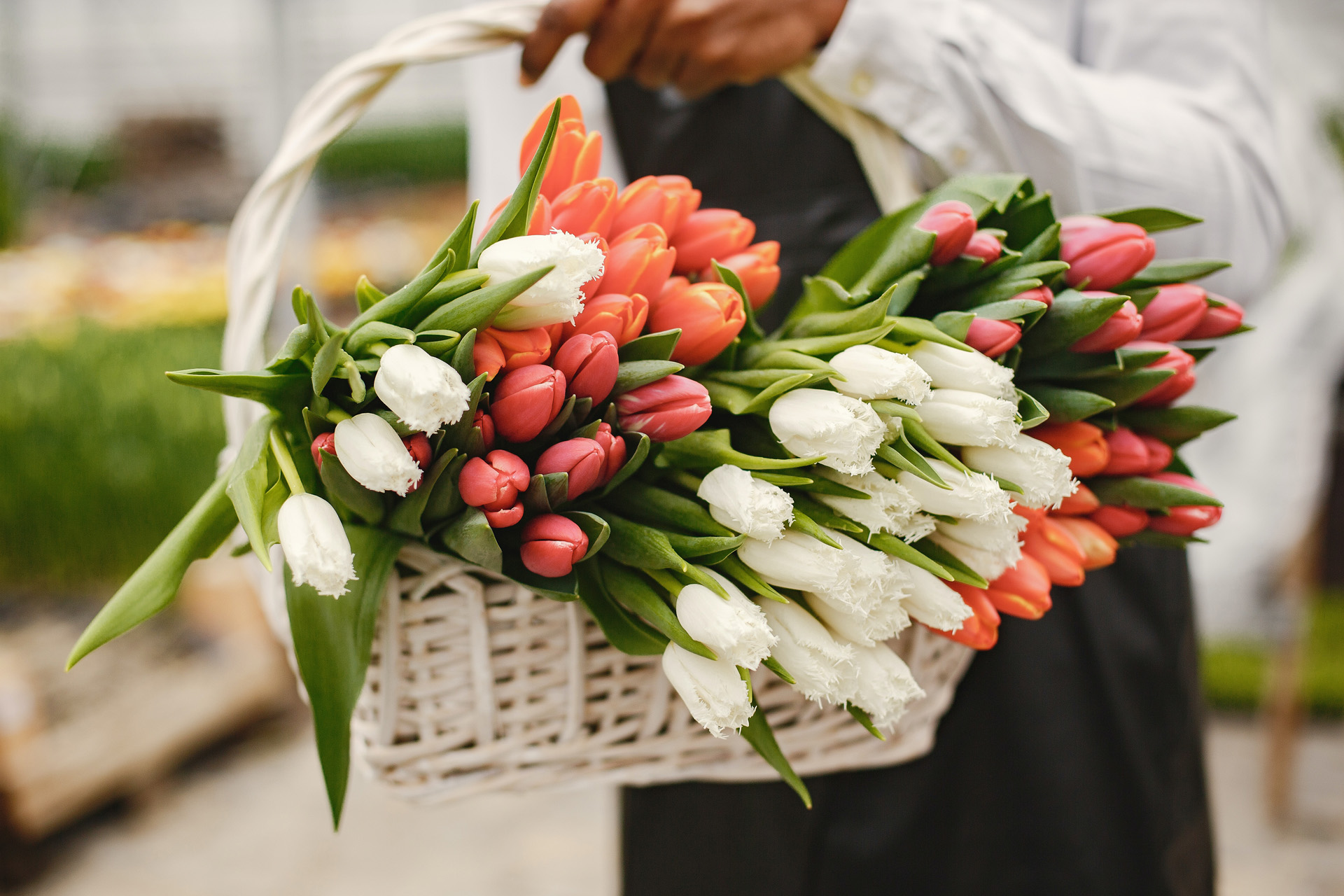 Where To Find The Best British Flowers
---
Nothing brightens up your home quite like a bunch of flowers – but which to choose? If you're looking to support homegrown businesses, and reduce the carbon footprint of your bouquet, opt for British flowers. But which flowers are native to Britain, and where can you find them? We asked Hannah Bryce – one half of the team behind the small seasonal and sustainable flower company, Minnow and Wolf Flowers, set in the South Downs – for her insight. Here's everything you need to know about British flowers, where to find them, and which pair best in a bouquet.
Where To Find The Best British Flowers
Which Flowers Are Native To Britain?
We have so many beautiful native plants in Britain. Some of my favourites are: 
Digitalis (foxgloves)

Snake's head fritillary

Lily of the Valley

Aquilegia

Honeysuckle

Cornflower

Dog rose

Primrose

Oxeye daisy

Common daisy

Cowslip
The fields near my cottage in Hampshire are full of wild cowslip and buttercups at this time of year, and look so bright and gorgeous. I've also noticed dog roses popping up along the hedgerows and the foxgloves are just starting to flower in my garden. 
A great British wildflower is the dandelion. Most people dislike them and just look at them as annoying weeds, but they have so many health benefits. The leaves act as a diuretic and are used to stimulate the appetite and help digestion. The flower is full of antioxidant properties but most importantly, they are an essential pollen and nectar source for bees. Each bright yellow head contains around 100 individual flowers, meaning an essential food for bees, butterflies and hoverflies.
View this post on Instagram
Which Flowers Are In Season, When?
Spring
Seasonal flowers in spring include: 
Tulips

Narcissus (daffodils)

Muscari

Peonies

Hellebore

Ranunculus

Anemones

Lily of the Valley

Solomon's seal

Icelandic poppies
We were lucky our tulips came really early in our polytunnel this year, bringing much needed beauty and colour after a very cold winter. Daffodils also come in a variety of shapes and colours. Ones to look out for include 'Precious,' 'Apricot Whirl,' 'Belle Song,' 'Coral Light,' 'Extravaganza,' 'Cromacolor' and 'Crystal Mountain', if you are looking for something different to the traditional yellow flower. 
Summer
We are spoiled for choice when it comes to summer flowers. Our field is full of: 
Scented sweet peas

Garden roses

Foxgloves

Nigella

Poppies

Larkspur

Lupins

Hollyhocks

Lavender

Cosmos 

Dahlias
Autumn
The dahlias continue into early autumn, along with: 
Chrysanthemums

Sunflowers

Japanese anemones

Verbena

Rudbeckia 

Cobea scanden 
We grow our cobea scanden up trellises and arches. The best thing for me about autumn is the abundance of tomatoes, squash, rainbow chard, beets and kale. This year, I'm growing Black Russian, Tigerella, Chocolate Cherry and Green Zebra tomatoes, and so many different varieties of ornamental squash, from Turks Turban to Crown Prince and Black Futsu. I'll eat some and use some for floral decoration when working on installations and events.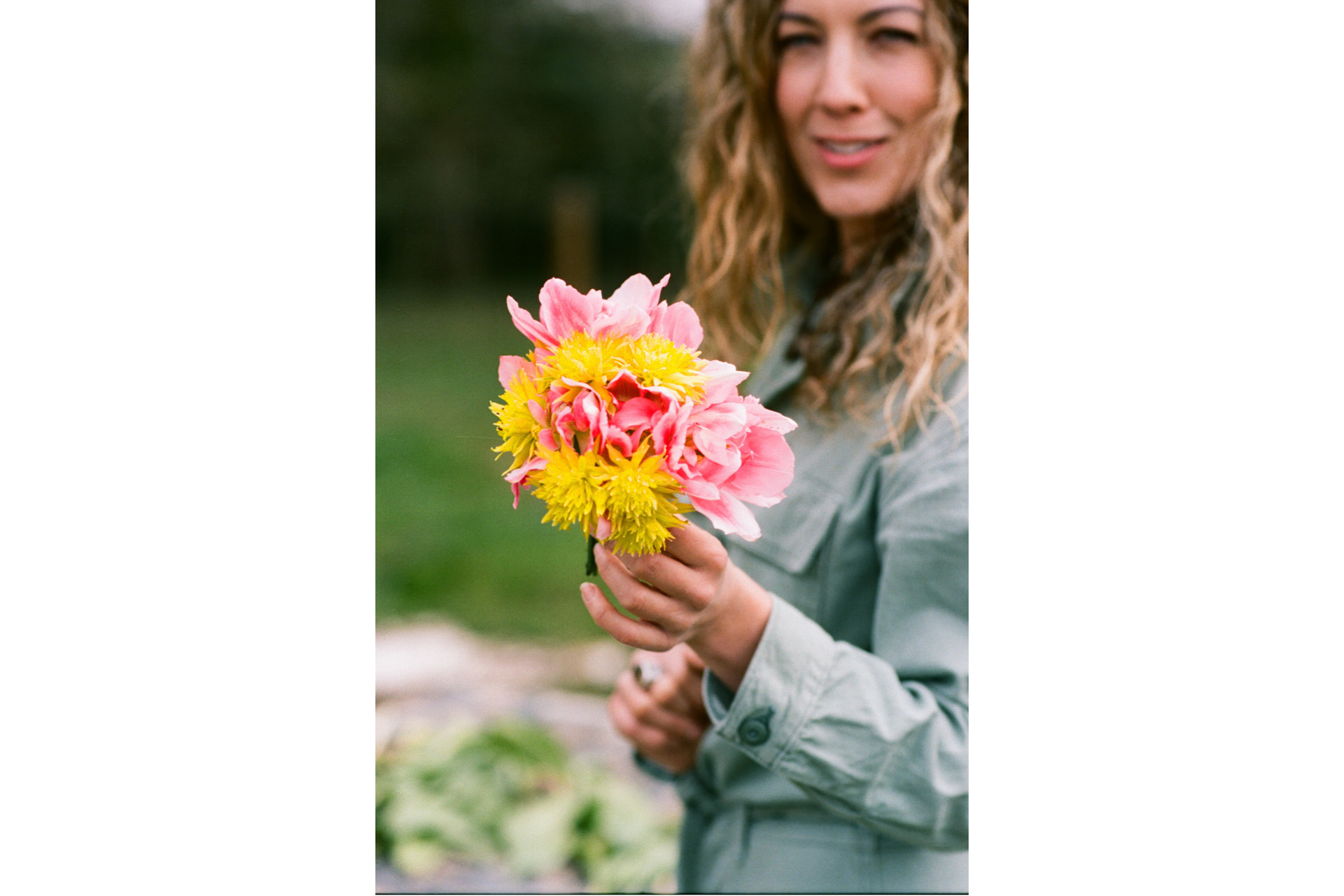 Winter
Winter flowers are precious and include:
Hellebores

Paper white daffodils

Amaryllis

Winter jasmine

Pansies

Snowdrops
I use a lot of holly with berries, ivy, scented pine and lichen branches to decorate the house in winter. A large branch covered in lichen looks really striking. As we come into January, branches with catkins or witch-hazel also look fantastic displayed in a large vase. 
If you want to add a touch of colour to dark January and February days, it's worth looking out for chicory. This is delicious to eat, but it also makes a really beautiful table decoration if you are hosting a dinner party and want the table to look pretty. We grow Chicory Rosa Isontina, Rosalba and Rossa di Treviso Precoce, which are all different shades of pink. The seeds are from Italy, but grow very well in the UK as they are hardy and don't mind cold winters.
Which British Flowers Pair Best In A Bouquet?
At the moment, my late spring-early summer bouquets are full of larkspur, orlaya, cornflowers, sweet peas, ranunculus, peonies, lupins and poppies. Over the next few weeks, I'll be adding nigella, delphiniums, foxgloves, snapdragons, roses and cosmos and lots of dahlias. 
It's nice to mix height and texture into a bouquet along with foraged foliage. You can also add rosemary, mint and sweet rocket to bouquets to add something a little different. It smells great, too.
Where Can We Shop For British Flowers?
There are so many wonderful British flower farms growing seasonal, chemical free flowers. Take a look at flowersfromthefarm.co.uk to find a grower in your area. Many offer nationwide delivery, but I think it's nice to buy as close to home as possible. 
If you are in London, our flowers are available from Wild at Heart, Turquoise Island in Notting Hill every Saturday.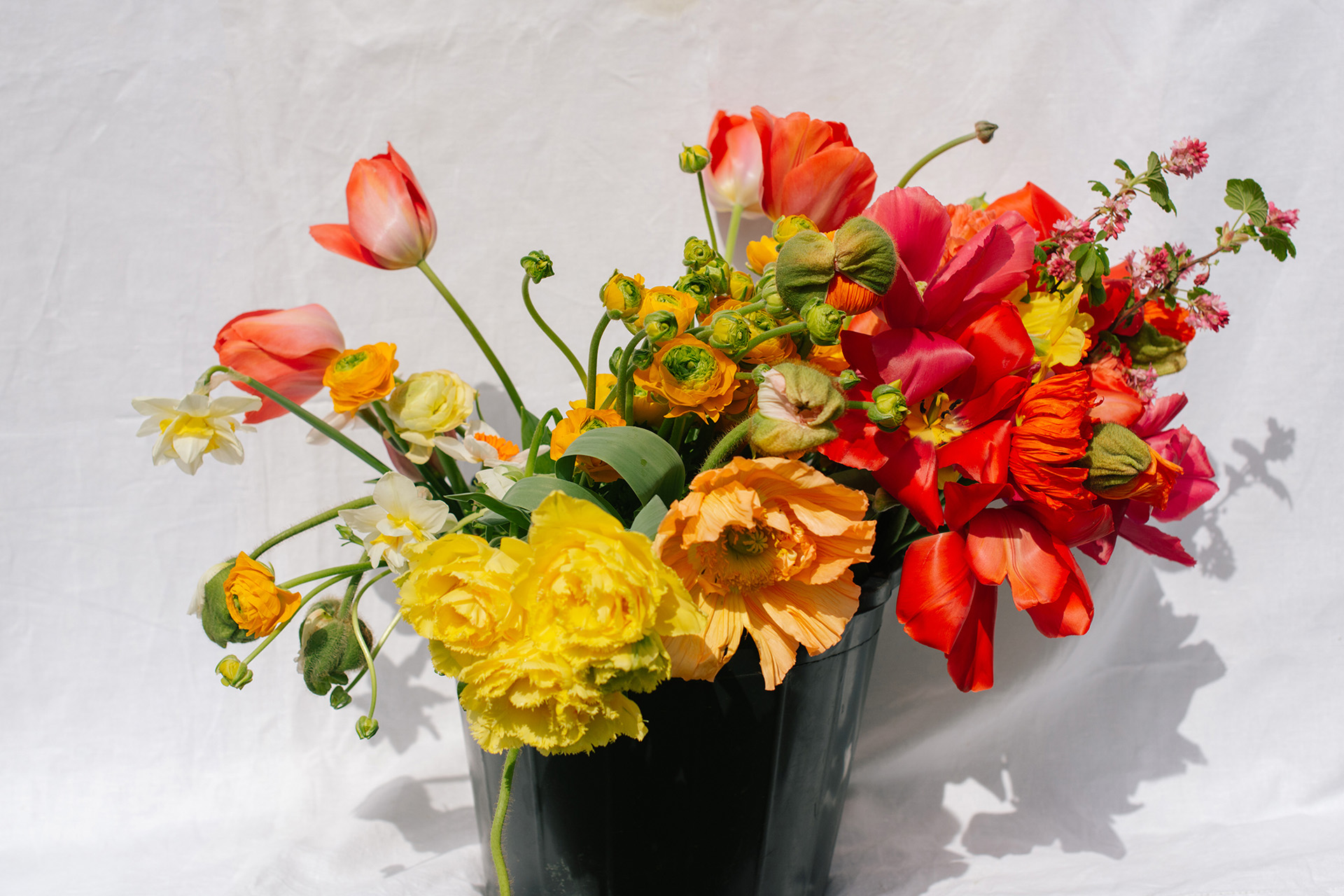 It's always worth supporting local growers at farmers markets, too. The flowers are often picked early the same morning, so are incredibly fresh and full of scent. 
That's a big thing for me: I find British-grown flowers to have so much scent. Even my tulips this spring smelt incredible. A good tulip to plant this autumn for next year is Flaming Margarita. I've never smelt anything like it. English roses have a completely intoxicating scent too, as do sweet peas. 
Sadly, many commercial rose breeders have bred their roses to guarantee durability (for long-haul travel) and vase life, rather than scent. Some roses flown in from overseas have no scent at all. Today, an estimated 90 percent of the flowers sold through florists, supermarkets and wholesalers are imported not just from Holland but flown in from growers as far afield as Ecuador, Colombia, Kenya and Ethiopia.
Some supermarkets sell British flowers if you look hard enough – especially daffodils at the start of the year. Something to consider when buying flowers, though, is packaging. Sadly, most supermarkets still wrap flowers in plastic. If you buy locally from a farmers market or from a flower farm, you will rarely see plastic wrapping.
Discover more about Minnow and Wolf Flowers at minnowandwolf.com
Featured image by Gustavo Fring