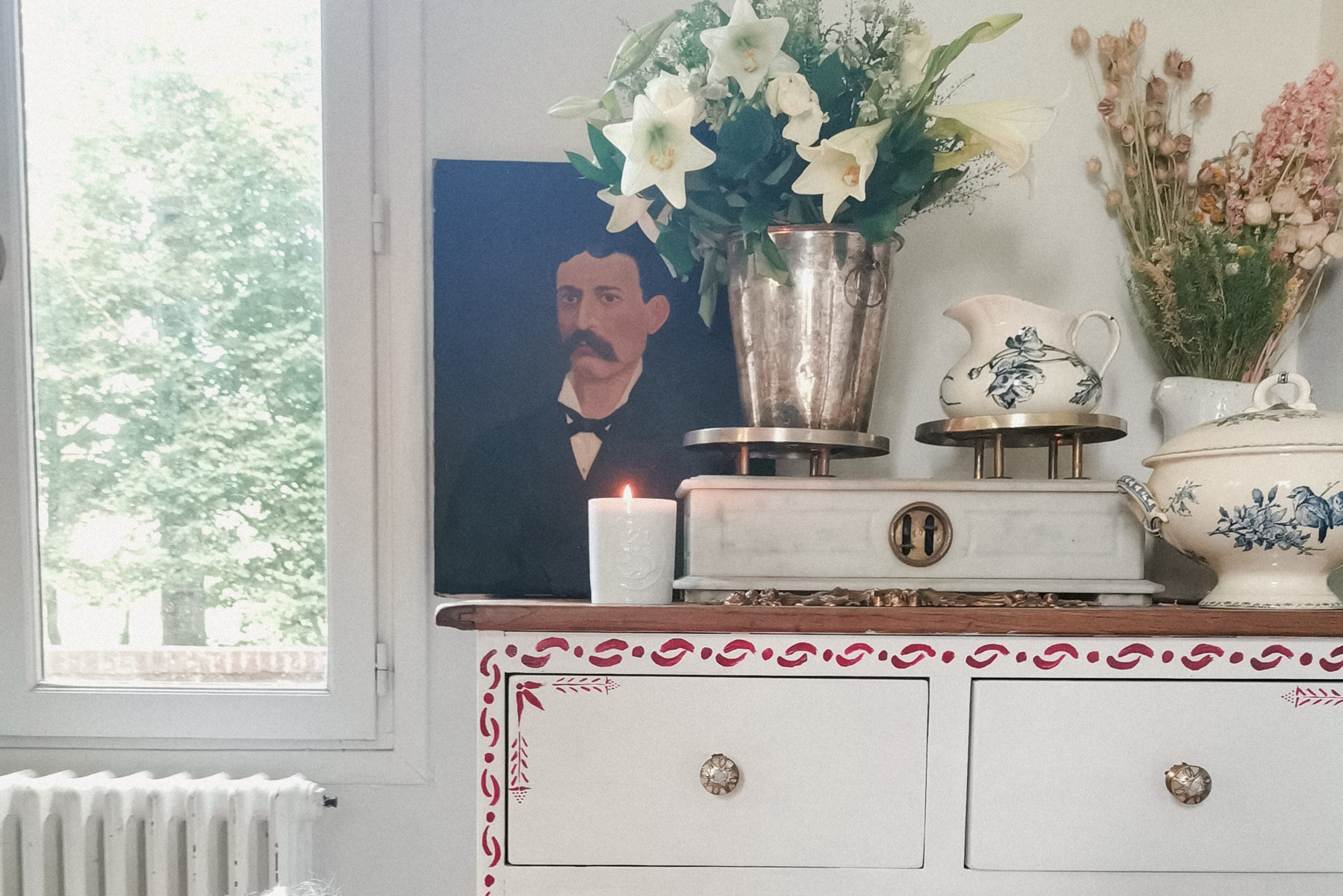 At Home With… Héloïse Brion
---
Héloïse Brion, the lifestyle guru behind Miss Maggie's Kitchen, shows C&TH around her French country bolthole
A short drive from Paris you'll find Héloïse Brion's beautifully restored 19th-century Anglo-Norman home, shared with her husband Christophe, their two sons, and goldendoodle Rose
At Home With Héloïse Brion

What's the story behind your home?
Our house is Anglo-Norman style, built in 1895 on a domain with a castle, farm and stables. In 2015 we were looking for a country escape close to our home Paris – I was pregnant with our second son, and we definitely needed space and nature. We fell in love with this property the moment we visited, it has quite a past – there are inscriptions in beautiful handwriting from the early 1900s in the stone in the basement. Because of its British style, we christened it Miss Maggie, and so 'Miss Maggie's Kitchen' was born.
What was your inspiration for the design?
I wanted to respect the style of the building – its architecture, story and location. When we renovated the kitchen, the aim was to optimise the space, and for the energy to flow, to create a look that felt as though it had always been there. A local artisan neighbour helped me to choose Pierre de Bourgogne stone for the countertop, backsplash and shelf which blends seamlessly with the building, and I experimented with five different paint tones from Mériguet-Carrère for the cabinets to find what worked best with the light. We also added a characterful piece of furniture hand-painted by Christophe (we're launching a small collection of one-of-a kind pieces soon). I don't like to follow trends, it's important for a design to reflect the existing space, and your personality.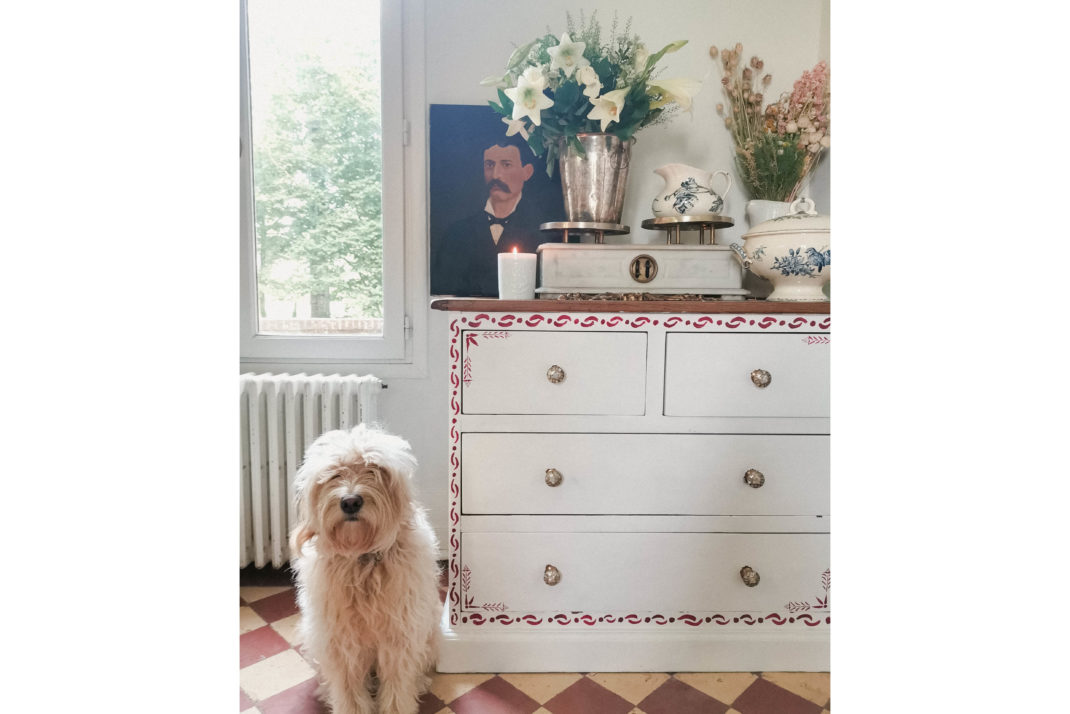 Do you have any interior brands that you love and always go back to?
I love pieces that tell a story, so we have a blend of pieces inherited from my family and others from brocantes and fleamarkets. I'm always sure to find treasures at Maisons de Vacances, Démodé and CFOC.
What's your favourite room in the house?
The kitchen, of course! That's where I spend most of my time. There are three big windows so it's very bright, and has beautiful views of the outdoors. I also adore the living room which is quite the opposite, darker but very cosy. We love to spend time there as a family.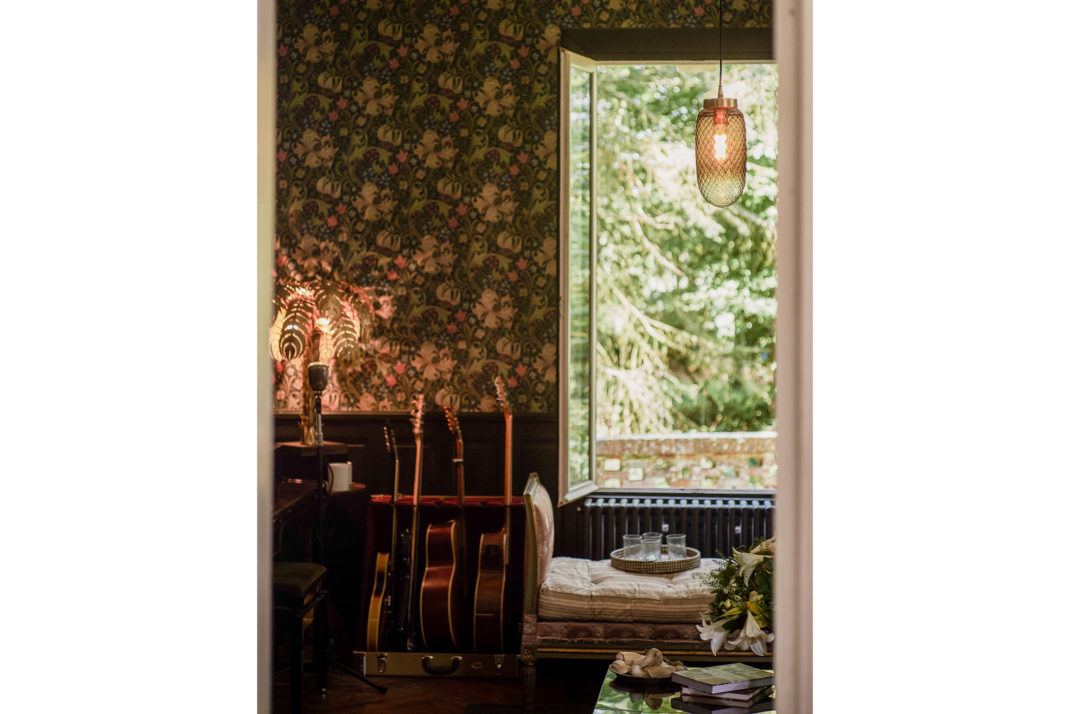 What's your best view?
The view from our bedroom. We have big, centuries-old trees in our garden, and it borders the forest, so I almost feel like I could touch the trees. I also love to watch the boys play from up there.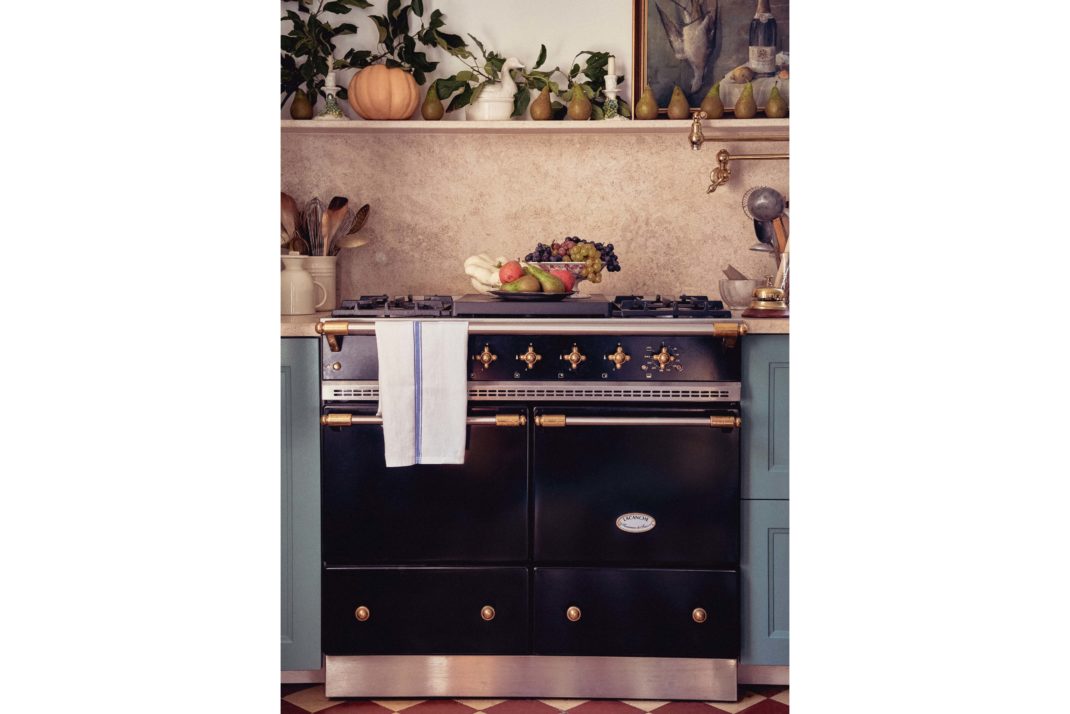 What's your signature dish – can you share the recipe?
Oh la la – it's tough to choose just one. I'm going to go for the white truffle-scented zucchini tart, you can serve it at cocktail hour or as an appetizer or main dish.
White Truffle-Scented Zucchini Tart
Ingredients
1 sheet puff pastry (rectangle or square)
3 tbsp (3 oz./80 g) basil pesto
3–4 zucchini or yellow squash
1 egg yolk, beaten
1 handful pine nuts
1 ball burrata cheese (250g)
1 handful arugula
A few leaves of fresh basil
Zest of 1 organic lemon
3½ oz. (100 g) shaved parmesan
1 white truffle or a drizzle of white truffle oil
Coarse salt
Freshly ground pepper
Method
Preheat the oven to 350°F (180°C/Gas Mark 4) and line a baking sheet with parchment paper. Place the puff pastry on the baking sheet and spread with a thin layer of pesto, leaving a narrow border around the edges. Using a vegetable peeler, make long, thin ribbons of zucchini and/or yellow squash and arrange over the pesto. Brush the edges of the pastry with the egg yolk and sprinkle the tart with coarse salt and pepper. Bake for 20 minutes, until the zucchini and /or squash is tender and the crust golden. Meanwhile, place a dry skillet over medium heat, add the pine nuts, and cook until lightly toasted. Remove from the pan. Remove the tart from the oven, cut the burrata into pieces, and scatter over the top. Distribute the pine nuts, arugula, basil leaves, lemon zest, and Parmesan evenly over the tart. Finish with a few shavings of white truffle or a drizzle of white truffle oil and serve.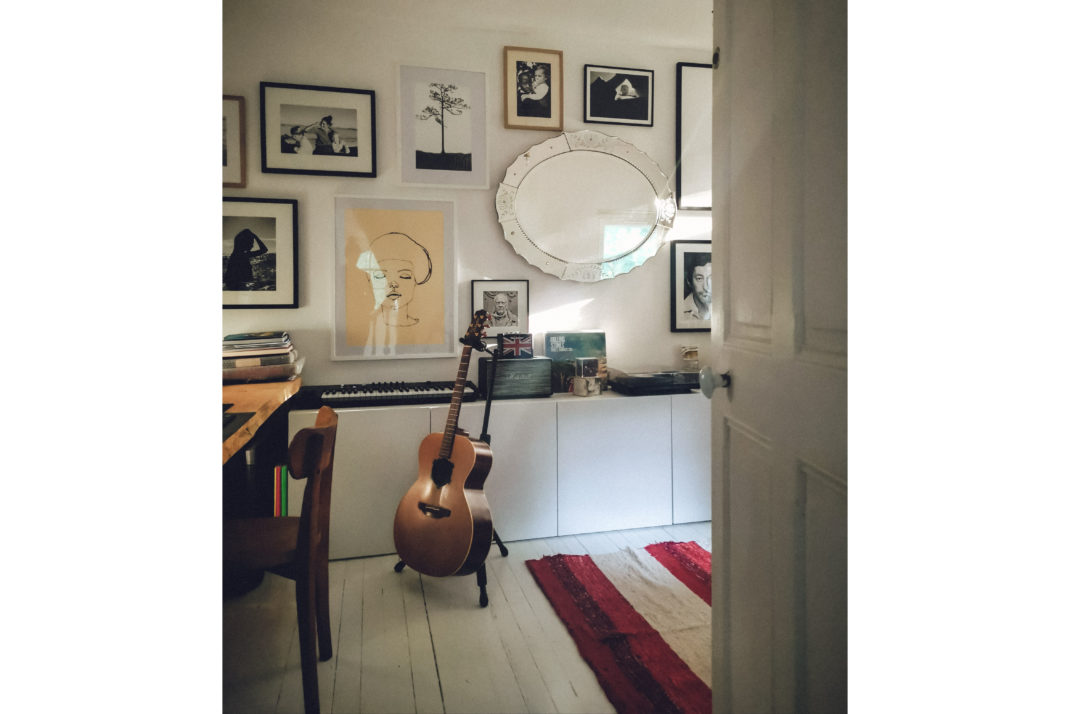 Share your top five books with us if you were to start a book club and why:
Little, by Edward Carey – an absolutely magical story that will transport you to another time
What Miss Mitchell Saw, by Hayley Barrett – a great book for kids about how Maria Mitchell became America's first professional female astronomer
Shantaram, by Gregory David Roberts – If you have time (it's very long) and love India and adventures, this is the book for you
The Alchemist, by Paulo Coelho – a book I first read as a teen – it grows with you. You can interpret the story at different levels based on your age and experiences
The Truth about the Harry Quebert Affair, by Joël Dicker – a brilliantly written detective novel that you won't be able to put down
Share your must-see TV and movie list:
I don't watch TV but I can easily get hooked on Netflix series' like Big Little Lies, You and The Sinner. For movies, it has to be Stealing Beauty for the ambiance, Liv Tyler and Tuscany, Babel, La Gloire de mon Père, and Cinema Paradiso… there are too many to list.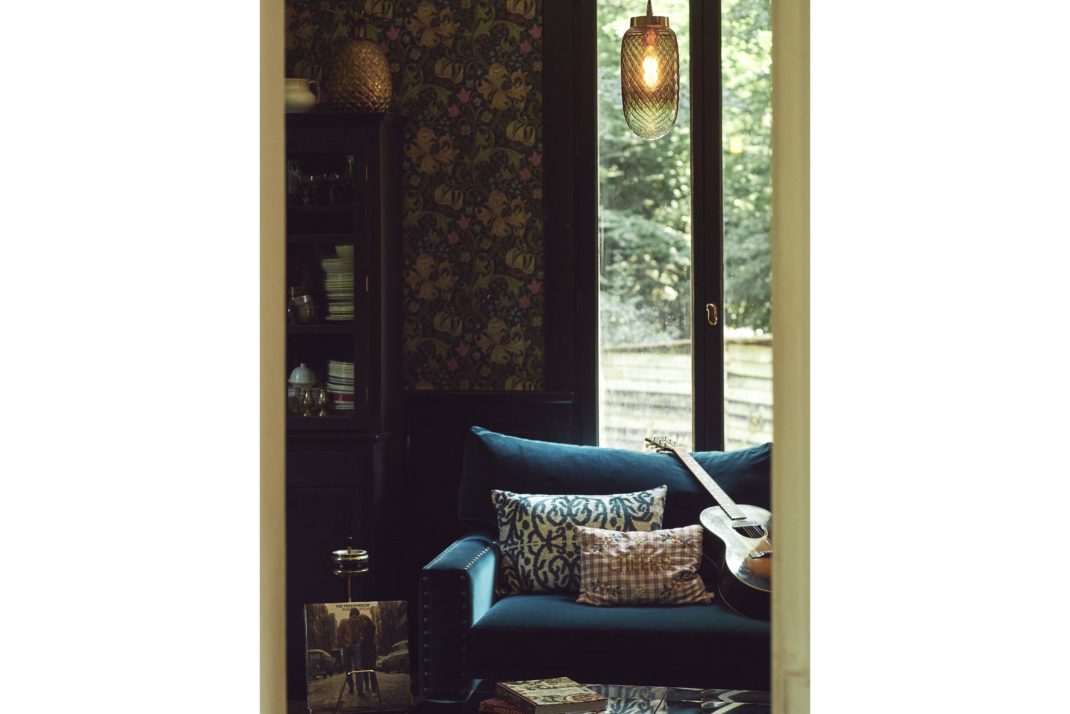 Describe your office space?
I'm lucky to have three office spaces – the first, of course, being the kitchen. When I'm not testing a recipe, cooking, shooting or filming, I love to sit at our long wooden farm table to write. Rose, our goldendoodle, is usually at my feet, and during the winter I light a fire in the kitchen fireplace. I share a first floor office with Christophe (my husband), who is a photographer, film director and composer . I usually sit on the couch and we'll develop our projects together, edit photos and films, or listen to music scores he's creating – it's a time that I love. I also spend a lot of time in our wooden garage where I keep  my treasures for styling, it's sort of my Ali Baba cave.
What's the first thing you do when you get up in the morning?
The boys sneak in to our bed for morning cuddles, we let Rose out and then we have breakfast in the kitchen. The boys love to do our coffee which I never object to. When the weather is nice out, we'll go outside and listen to the birdsong: it's the best way to start the day.
How do you love to spend your evenings?
During the week nights are very quiet and calm – other than the nights when the boys decide we should all dance in the kitchen. But usually, evenings involve an early dinner, some relaxation time, a story or two and bedtime. Weekends are a bit different, before lockdown we'd either have a house full of friends which calls for big dinners, marshmallows in the firepit, or go to the beach for a sunset picnic.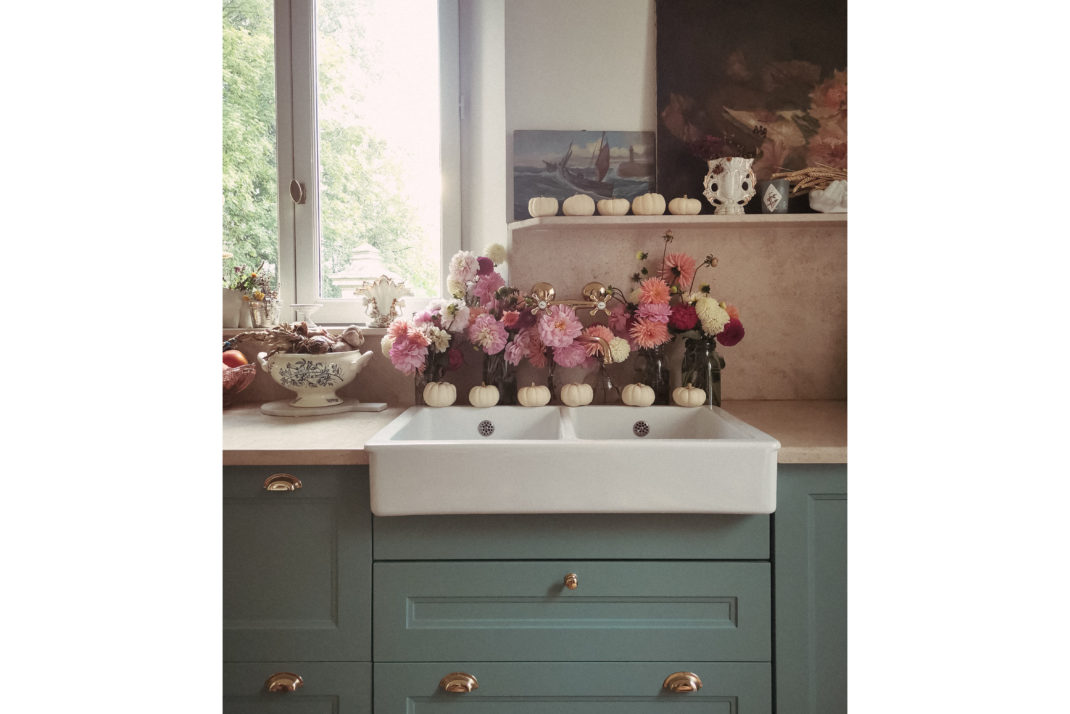 If you were to throw a party at home, what are your key ingredients to make it go with a swing?
We love having parties at home, especially in the spring and summer. The key ingredients are good company, good food and wine and good music. When you have a lot of people over it's important to not carry everything on your shoulders – let friends bring some of their signature dishes, or the wine and champagne, prepare simple dishes and big cheese and fruit boards. Set a beautiful table with vintage sheets, some flowers and branches from the garden, and mixed real glassware and crockery if you can. Enjoy it, as these times fly by.
What gadget could you not live without in your home?
I love the water faucet I have over my Lacanche stove. It's not something you see in France, but I'd seen them growing up in the US. It's so convenient – for filling big pans, adding a little water while you're cooking, or filling a large vase. I couldn't live without it.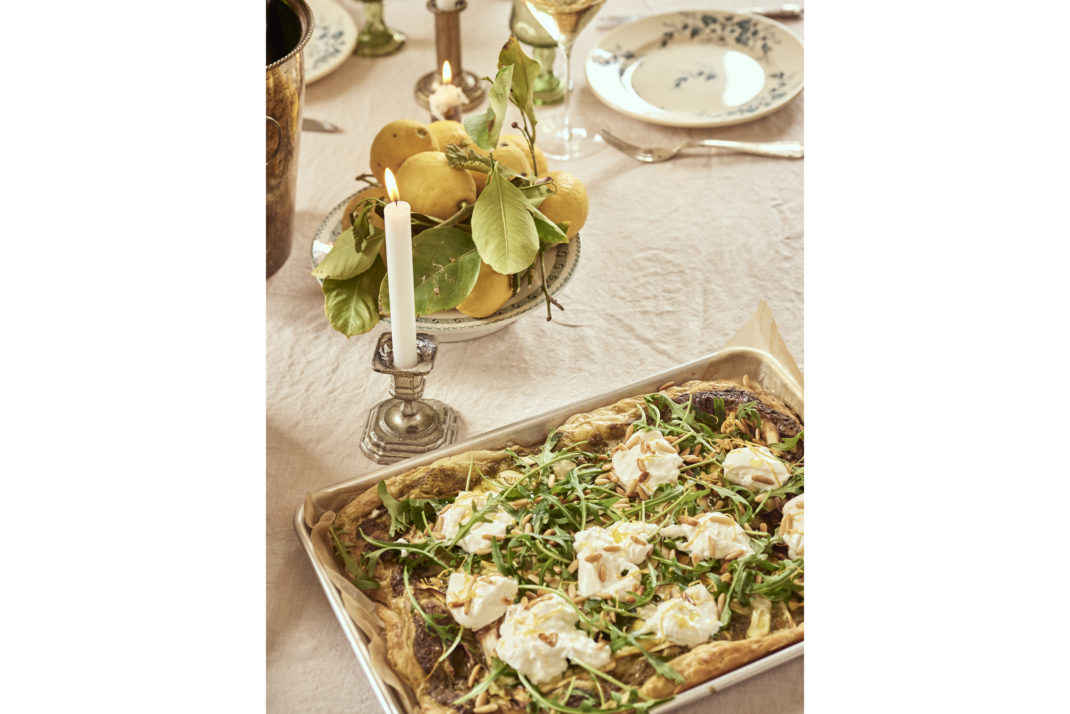 How is your garden behaving at the moment?
The vegetable garden is still offering some courgettes and tomatoes, along with a couple of pumpkins. The leaves have changed colour on the trees, and it's becoming quieter as the wildlife and surrounding nature begins to hibernate.
Whose home would you love to be a fly on the wall in?
I would love to have a peek inside the Downton Abbey kitchen. On screen it looks incredible, and I'd love to overhear all the stories. It's the ultimate dream kitchen for anyone who loves to cook.
First place you're going after lockdown lifts?
We're still being very careful. Over summer we went to my family home in the Pyrenees – which is very isolated in the mountains. I feel this whole experience is teaching us to live one day at a time, plan less in advance and stay rooted. Perhaps there is some positive in it all.
What makes a house a home?
It's a mix of two key elements. When you first visit a house, you automatically feel at home or not. It's difficult to explain, but I find it is often true, and on the flipside there some houses you want to run away from. Most importantly, it's the people who live in it and the parts of themselves that they put into it that make a house a home. We are often attached to places because we link them to memories and the best times of our lives. It's the love and individual energies combined that make a house a home.
Follow Héloïse on Instagram @missmaggieskitchen. Héloïse's new book Miss Maggie's Kitchen: Relaxed French Entertaining is out now (Flammarion, 2020). amazon.co.uk.
READ MORE
At Home With Hannah Cecil Gurney / At Home With Claire de Quénetain / At Home With Henrietta Holroyd