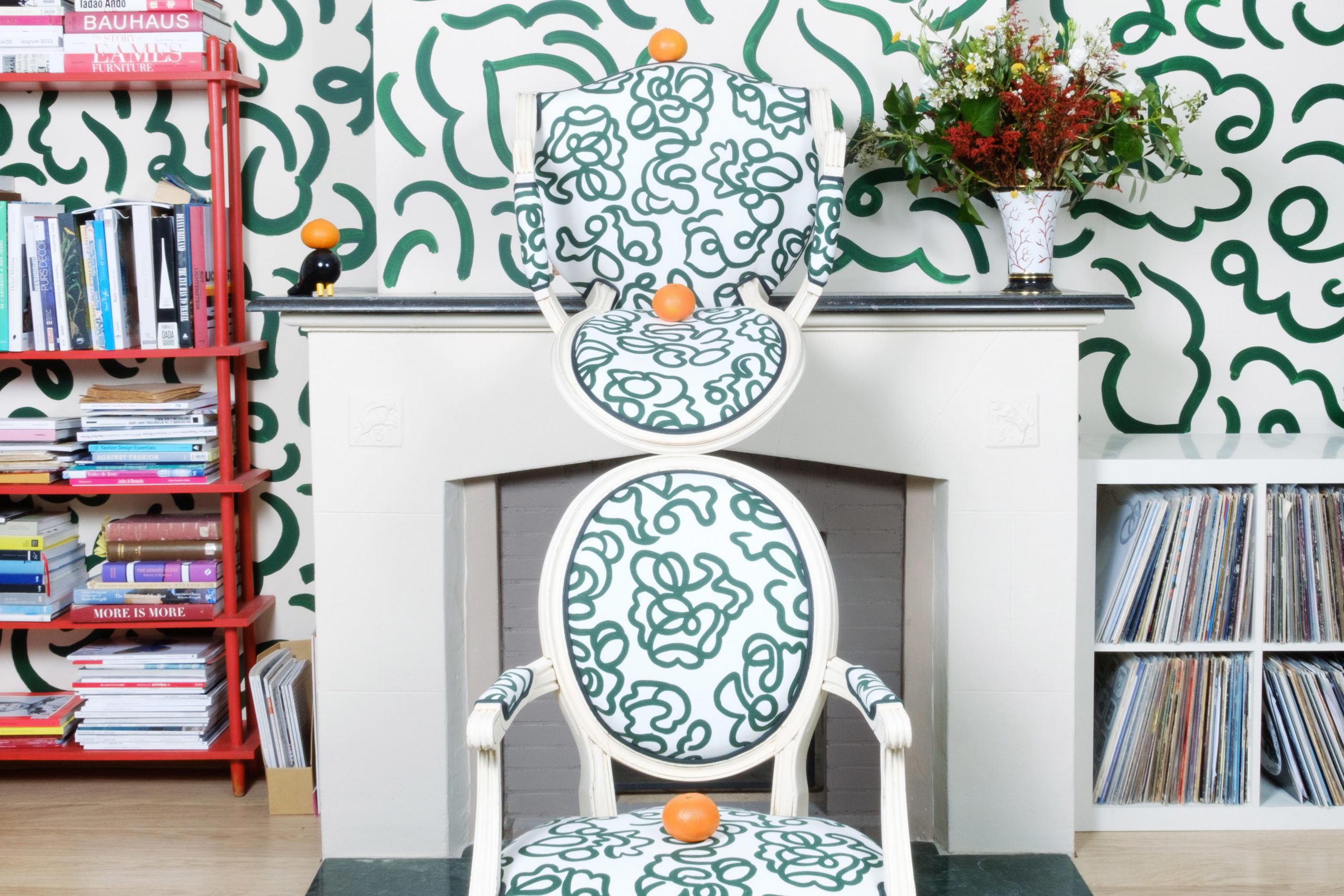 At Home With… Claire de Quénetain
---
Take a tour of Claire de Quénetain's home, and see the designer's latest collaboration with Bonsoir of London
Artist and textile designer Claire de Quénetain on lockdown in Normandy, a new collaboration with Bonsoir of London and Gilles Clément's garden
At Home With Claire de Quénetain

What's the story behind your home?
Three years ago we moved from London to Brussels, where at first we rented a flat, and then started looking to buy. We visited our future flat last summer and I knew straight away that it would be the perfect place to live. It was full of light and warmth, and I felt this was the place where we could create a cosy home.
What was your inspiration for the interior design?
It's a work in progress – I recently bought a Moroccan carpet full of colours, which will be the starting point to define the colours in the living and dining room. I also plan to paint a big mural in our living room, and I've chosen the curtain fabric. I take my time finding the right furniture and objects for our home, I don't do any research – I just come across things that I love.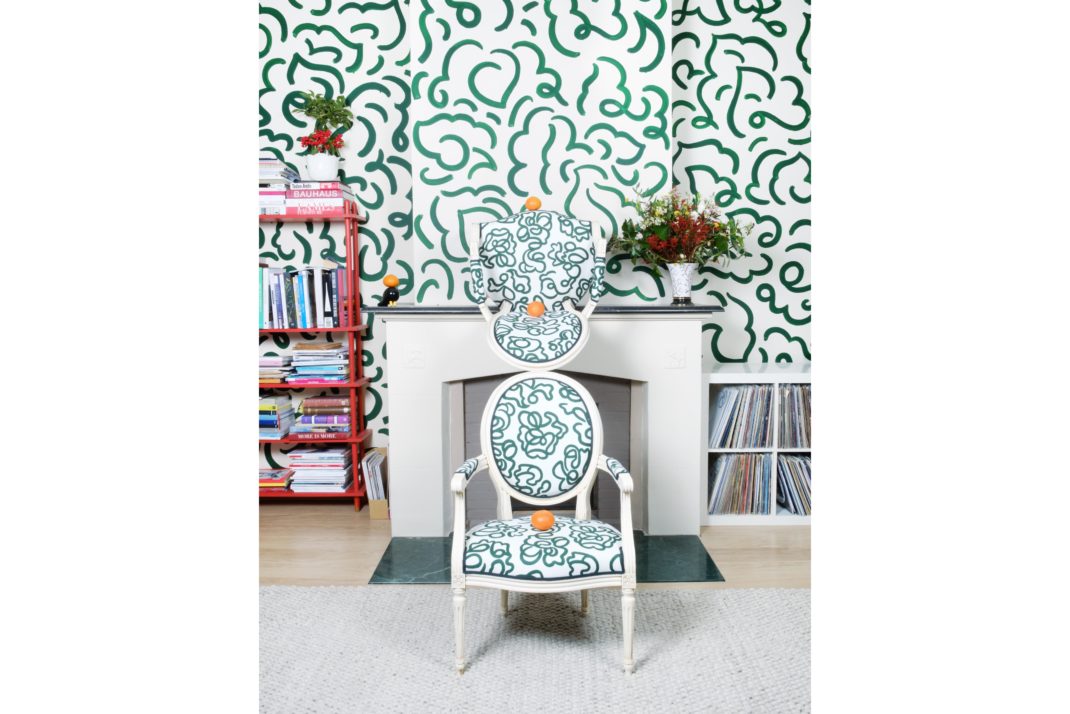 Do you have any interior brands that you love and always go back to?
Lisa Corti or Simrane for soft furnishings, tablecloths and cushions, and Royal Copenhagen for tableware.
What's your favourite room in your house, and why?
At the moment it's our bedroom – it's full of light colours which creates a beautiful atmosphere.
Does your house in any way reflect your business?
Yes – you can find my textiles everywhere, and I plan to paint a different mural in every room! In our old living room I painted a mural to match the upholstery fabrics.
What's your best view?
The top of the trees and sky.
Share your top five books with us if you were to start a book club – and why:
Le Jardin en Mouvement, by Gilles Clément
Eloge des Vagabondes, by Gilles Clément
Dream Plants for the Natural Garden by Piet Oudolf (all three of the above are my main inspirations for my work).
Raoul Dufy: Tissus et Créations, by Snoeck – a book showing his paintings and all his projects, textiles, set designs and murals.
Artists Textiles 1940-1976, by Richard Chamberlain – I found this book at the Fashion and Textiles Museum, at one of its shows for collaborations of artists and textile manufacturers. It has some beautiful designs.
Describe your office space?
My office is at home, with big tables where I can put all my things. I'm terrible at tidying so there are piles of drawings, paintings, books, art and furniture everywhere. I've not yet found the right way to organise my work. When I'm in the studio I'm in my own world working away – so I don't really think about it! There is one piece in my studio which I love – an armchair covered with one of my textiles from last year's collection.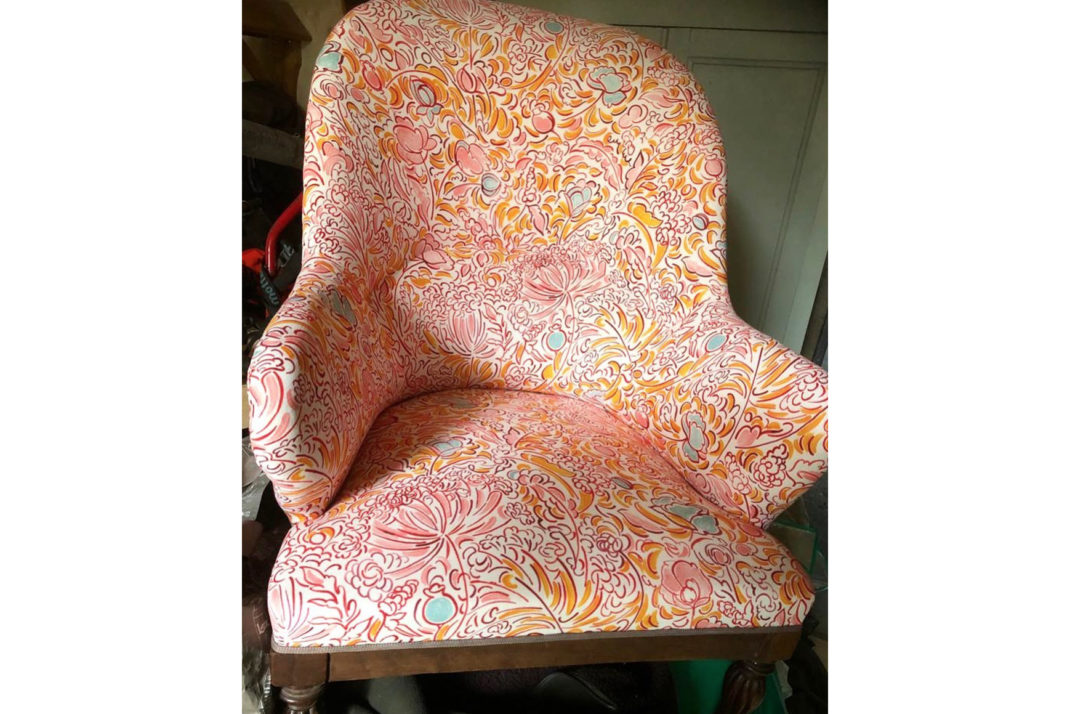 What's the first thing you do when you get up in the morning?
My two girls (who are 4 years and 16 months old) always wake me up. We have breakfast together and then they can play on their own for hours. I love seeing them creating their own little worlds.
And how do you love to spend your evenings?
In the evening I work in the studio with Mads, my husband. He's like a personal advisor, I value his way of looking at things and to listen to his opinions. It's like going back to the old days when we had plenty of time to talk about art, life and work!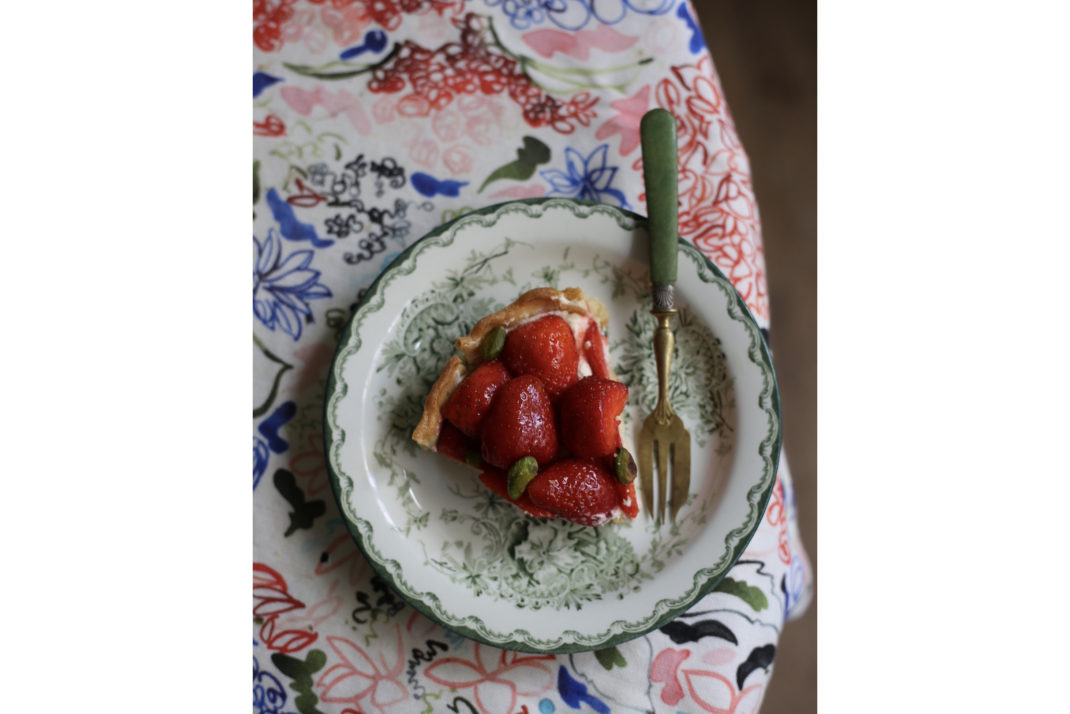 If you were to throw a party at home, what are the key ingredients to make it go with a swing?
When I invite friends to our home – I like to be preparing the party while they arrive. It creates a messy dynamic that I really enjoy and I think friends feel more comfortable that way. I don't feel alive when everything is perfect. I often ask my friend from Bouchée Double to help me with the food, she creates a perfect blend of playful and delicious dishes.
What could you not live without in your home?
My Bonsoir of London x Claire de Quénetain nightwear! We recently worked together on an exclusive new print for Bonsoir's winter collection which includes a dressing gown, pyjamas and nightshirt.
How's your garden behaving at the moment?
At the moment we don't have one – but I dream everyday, to have a garden one day.
Whose home would you like to be a fly on the wall in and why?
Piet Oudolf or Gilles Clément – their experimental and beautiful gardens are entirely an integral part of their homes.
Has lockdown made you reassess your work and home life balance?
Yes – we went to my family home in Normandy for two months and had a very slow daily routine. I had much more time for painting, which I really enjoyed. My way of painting has also changed since lockdown, and we have a beautiful new collection of furnishing fabrics which will be ready soon.
What makes a house a home?
To create an environment that makes you live harmonious moments.
READ MORE
At Home With Martin Brudnizki / At Home With Henrietta Holroyd / At Home With Anna Valentine