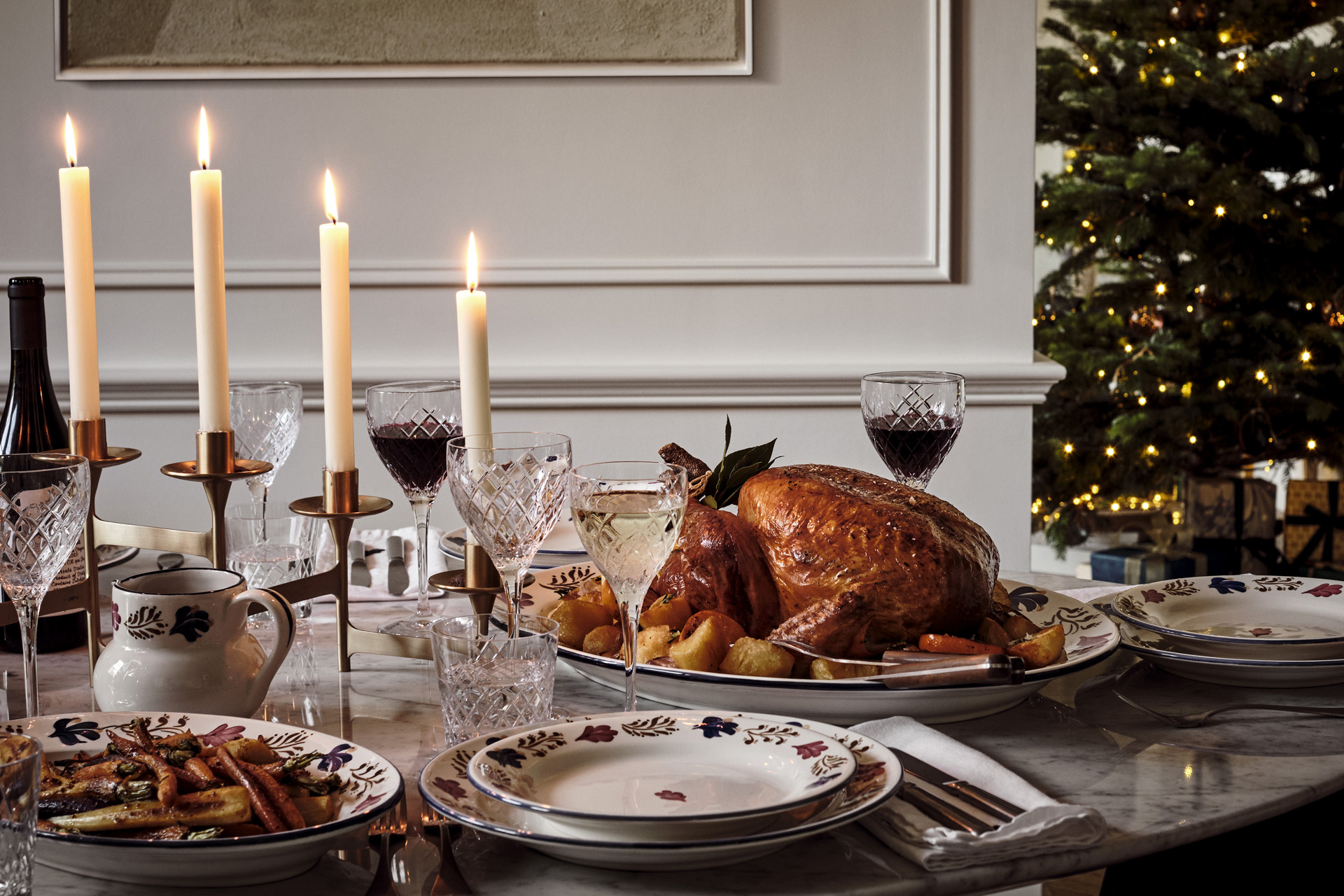 7 Hosting Tips For The Holiday Season With Soho Home
Soho Home designers share their hosting tips for the holiday season
By Megan Murray | 1 year ago
Interiors brand Soho Home was quite literally born from successful entertaining, created after Soho House members requested to purchase the beautiful glassware behind the bar and the comfy pillows in the bedrooms. So, they know a thing or two about good hosting, especially for the incoming party season. Here, Megan Murray and the Soho Home team share their hosting tips for the holiday season, including how to prep your home and how to make your guests feel extra special.
Hosting Tips for the Holiday Season with Soho Home
Autumn is fading fast and, just like that, we're in the thick of entertaining season. Family feasts, cheese and wine nights with friends, cocktails with colleagues, and hosting for the weekend: it's an exciting time but, to be an excellent host, planning is essential.
At this time of the year, Soho Home offers interiors advice on how to optimise your space for the festive season, and draws on the techniques of its members' clubs for ideas on how to throw a great gathering. These include different concepts for a beautifully laid table, how to set up your drinks trolley and how to prepare the guest bedroom, as well as tips for scenting your home and organising the bathroom for friends and family.
Here are Soho Home's top techniques to be a brilliant host, including the homeware that will refresh and enhance your space for entertaining.
1.
Be Mindful of Social Seating
'While aesthetics are important, your guests will remember how your home made them feel, as opposed to just how it looked,' explains Jessica Sims-Wilson, Soho Home's Lead Interior Designer. 'This is the basis for our Houses: comfort comes first. So, if your living room needs to cater for more people, plan where everyone will sit beforehand to ensure that each person has a comfortable seat.'
Arrange seating in a square or circle – never a straight line. Ideally, our designers recommend positioning a sofa opposite a pair of accent chairs with a coffee table in the middle, so that everyone can see each other.
'The Garret armchair is a favourite because of its interesting form and cocooning shape – and boucle is a great texture for winter,' says Sims-Wilson. 'And the Theodore armchair with velvet upholstery, a birch wood frame and brass detailing always looks sophisticated, as well as comfortable.'
If you need extra seating, a footstool – such as the Romi or Eldon designs – looks considered in the day-to-day, and offers a perch to be pulled in for extra guests.
2.
Give the Dining Table a Generous Feel
This time of year calls for a well-dressed table, but Soho Home's Art Director, Harriet Howarth, stresses that meal times needn't be fussy. Focus on good conversation and food, and the rest will come.
'Our Castelo tableware, inspired by Cecconi's, is the perfect set for winter entertaining,' she says. 'Each piece is handmade by Italian artisans, so every plate and bowl is different. But, mostly, I love the rich tones and decorative patterns that instantly transform the table.
'I like a table to look generous, so load up with serving platters,' Howarth adds. 'Then guests can get stuck in, and everyone's happy. With Castelo, you don't need excessive table linens, but complement with brass candlesticks at varying heights in the centre to add atmosphere. Group in an odd number, like five or seven.'
3.
Add Personal Touches in the Guest Bedroom
There are lots of ways to make your guest bedroom feel like a home away from home. Thierry Lepinoy, Soho House's Bedrooms Director, has spent years perfecting the comforting touches that welcome members staying overnight in the Houses. 
'To give the bed a hotel feel, try our signature pillow formation: three medium, square pillows along the back, two large, firm pillows layered in the middle, and two medium, long pillows at the front,' Lepinoy recommends. 'You can find the exact ones we use on Soho Home, which should be complemented with two decorative cushions and a blanket for the end of the bed.'
We like to create atmosphere by setting up a Roberts radio to softly play classical music as members arrive, with a few dimly lit lamps switched on to produce a comforting glow. If you're unsure on where to position the lamps, either side of the bed is a must. We'd also recommend creating a dedicated bedside space for a carafe of water, a cup of tea in the morning and a scented candle.
Go the extra mile and leave your guest a hand-written note – we sometimes do this for returning members to show how excited we are to host them again. You could share the Wi-Fi password, or what time to expect a hot drink in bed the following morning.
4.
Make 
Your Drinks Trolley 
a Feature
For party season, a drinks trolley is a fun centrepiece for cocktails or hosting guests overnight. Stock accordingly with a selection of spirits, liqueurs and mixers, pre-mixed cocktails and garnishes, and finish with quality glassware. Then let your guests help themselves for an interactive feel.
Or try our 'one while getting ready' idea – in certain Houses, our team wheels a drinks trolley along the corridor on the bedroom floors, offering a cocktail to those dressing for dinner. Imagine your guests' delight at being mixed an impromptu Eastern Standard.
5.
Prepare the Bathroom
There's always something a guest has forgotten so, in our Houses, we ensure members feel taken care of by providing a range of wellness and beauty products in all of the bathrooms. An easy place to start is with a full set of fluffy towels, a robe and a pair of slippers. A welcome hamper with some bathing products, a toothbrush, a razor and a comb would be a thoughtful addition.
When staying in a House overnight, each member is also given the Discovery Set from our new skincare brand, Soho Skin. Created for members, Soho Skin focuses on the impact of fast-paced living, with formulas that multi-task to restore and regenerate skin. This kit's seven mini products form the basis of a healthy skincare regime, so that members and guests can look and feel their best even while they're away from home. It's the perfect take-home gift to see them through the weekend.
6.
Surprise Guests With Baked Treats
There's nothing more inviting than something delicious baking in the oven, which is why every Soho House member is welcomed with freshly baked cookies in our bedrooms, and why we serve complimentary afternoon tea every day in selected Houses.
Do the same in your guest bedroom or, once guests are settled, surprise them with cake and a cup of tea. Present it on our Hillcrest platter or cake stand, and keep on a kitchen worktop under a cloche for those who fancy a nibble later on.
7. Don't Forget to Toast
Give your dining table the finishing touch with a weighty Champagne coupe, like our iconic and newly back-in-stock Barwell cut-crystal glassware range. Yes, it looks beautiful, but it also conjures a sense of occasion that can be overlooked during the chaos of hosting. 
Place a glass at every table setting, and don't reveal what it's for until the end of the meal, surprising each guest with something fizzy for a toast. Taking the time to thank everyone for coming will be a lovely moment you'll all remember later on.
Images courtesy of Soho Home