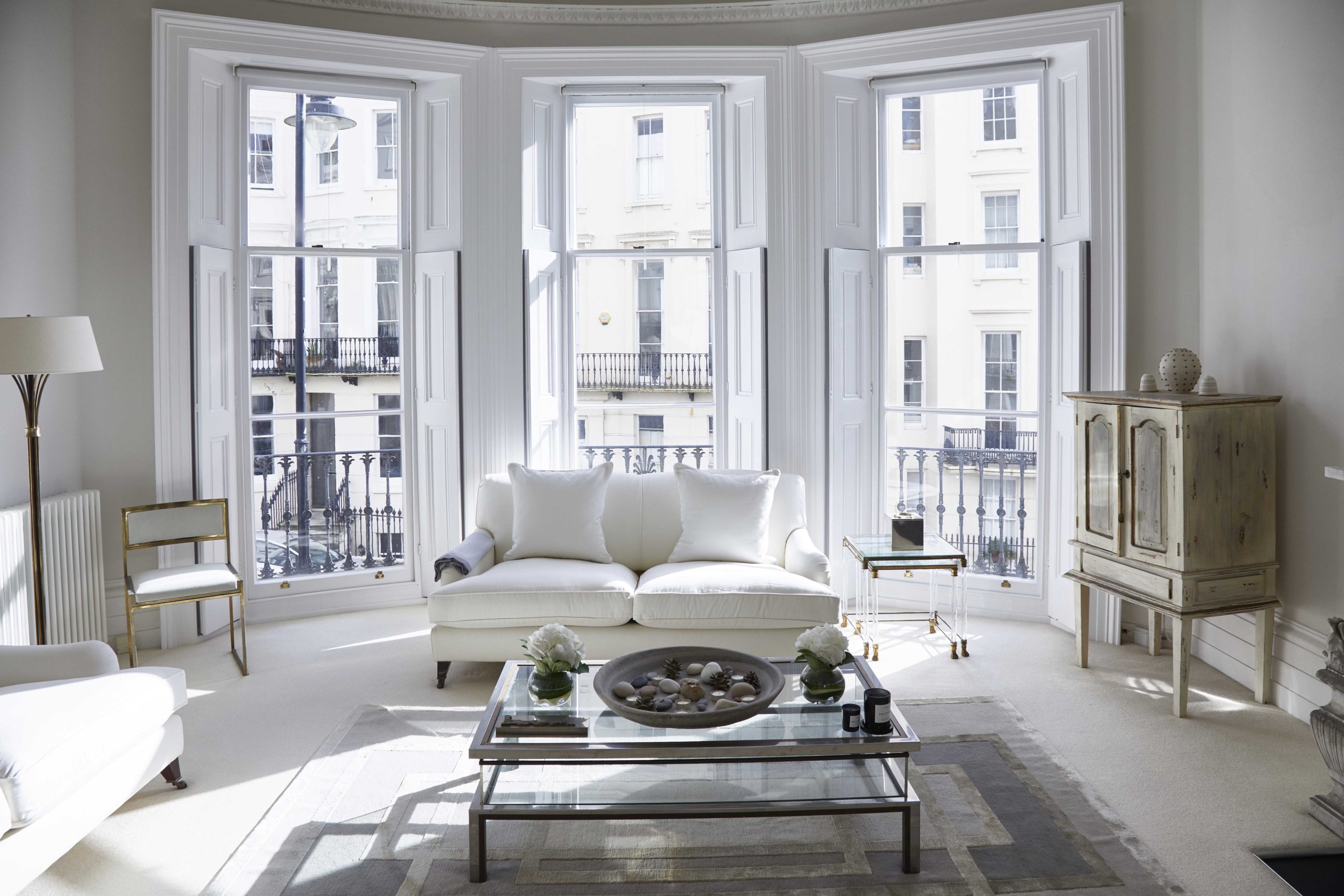 At Home With… Justin Fisher
---
Inside Justin Fisher's Thomas Cubitt-designed townhouse
Justin Fisher's Thomas Cubitt-designed townhouse in Brighton has been redesigned meticulously around its brilliant light and regency proportions, with swathes of 'Dior grey' and objects collected throughout Fisher's vibrant career working with the world's top luxury brands.
At Home With Justin Fisher
What's the story behind your home?
It was designed by Thomas Cubitt in 1837 – I've always adored the scale and proportions of Regency architecture and been drawn to the sea. When I bought it in 2009 I had zero intention of buying but one of my old university friends owned an estate agents that was holding an open day for the private seller. He had a top London buyer drop out the night before and begged me to make up the numbers, so I reluctantly went along. I was briefed to stay mute and look the part, but as soon as I was led up the staircase beyond the summer room and into the first floor drawing room, I knew I had to have it. My friend thought I'd gone mad! But I believe in love at first sight.
What was your inspiration for the design?
I'm a perfectionist, so to furnish and design a house I'm happy with takes time. I'm lucky to have an excellent black book to fall back on but, spookily – often things come to me. One example is the 1950s Italian mother of pearl mosaic mirror, hung in Cubitt's masterpiece drawing room, which has become one of my favourite pieces. The walls are painted in a soft pale grey emulsion, inspired by an invitation to Galliano's last runway show as creative director for Dior. David Collins [of David Collins Studio] describes it as 'Dior grey'. My true inspiration, though, is the natural light this house is blessed by – I wanted to showcase its brilliance while respecting the original features.
Do you have any interior brands that you love and always go back to?
It depends on the interior and space. My friend David Collins was known for posing the question 'But is it beautiful?' It may be viewed as a shallow and not very democratic question but, taking inspiration from David, if I try to create something beautiful (in itself is a very personal and subjective goal) I can at least justify its existence. Beauty is all around us, but often hidden. I try to expose it. For fabric, Loro Piana Interior is my personal favourite. My sofas and 950s tall lamp are both covered in the Clifden ecru linen, and my 1970s Will Rizzo brass chair in the Nubuck Perle.
What's your favourite room in your house and why?
I love them all for different reasons, but the gold tiled master ensuite which leads from my walk in wardrobe is very special. It has the feel of one of my favourite private members' clubs: Alfred Dunhill's Bourdon House, albeit filled with products to preen and pamper (just like the excellent Dunhill barbers).
Does your house in any way reflect your profession?
I had never thought about it, but yes. I've been lucky enough to work with many of the world's luxury brands, and they each have some sort of reference point within my home, combined with salvage yard finds, treasures from antique dealers in France and Lecce, and personal pieces from my childhood. Woven together they tell a narrative, creating moments as you walk through the house. Everything has a personal provenance.
What's your best view?
The sea, and it's beautiful. No two days are ever the same.
What's your signature dish?
I prefer simplicity and quality. I can make a decent ragu, but my Great British Bake Off showstopper would be an excellent recipe from the 1970s which my mother gave me, and has been regarded for 40 years as 'the best chocolate cake' ever. The secret ingredient is corn oil – no butter.
Share your top five books with us if you were to start a book club:
The Great Gatsby, by F Scott Fitzgerald
American Psycho, by Bret Easton Ellis
Midnight in the Garden of Good and Evil, by John Berendt
Just Kids, by Patti Smith
And of course – Hollywood Wives, by Jackie Collins.
Share your must-see TV and movie list:
I actually hate most TV– I find it mind-numbing, but I was transfixed by American Horror story: The Hotel Cortez, the styling is beyond brilliant. My other must sees are A Single Man, The Talented Mr Ripley, The Big Blue, Rumble Fish, Wings of Desire, Tie me Up, Tie me Down,  My Own Private Idaho, Some Like it Hot, and last but not least, The Wizard of Oz. After all: 'There's no place like home.'
Describe your office space?
As a creative soul I've always preferred being free range: the office can be the pavement, penthouse or in my pyjamas. Office spaces can drain every creative fibre in your body, so surround yourself with objects of creative inspiration. I have pieces from McQueen, and as a founding fashion donor to Central Saint Martin's I have a photo of the late Professor Louise Wilson OBE's mood board by my desk. Alongside that is a 1930s fan, and hand written postcards from everyone from the original brigade at Chiltern Firehouse, a doodle from Hotel du Cap-Eden-Roc, and an insider's guide to Ibiza with a rose quartz crystal given to me by the only Clef d'Or on the island – Lisandro at Nobu. Scent is also important, I spritz everything with my own scent to inspire my creativity and to mask the scent of anti-bac.
What's your morning routine?
Spookily – its probably quite similar to Patrick Bateman's in American Psycho: alarm off at 5am, and then gym four times a week before work. As Bateman says during his morning routine: 'I can now do 1,000 stomach crunches.'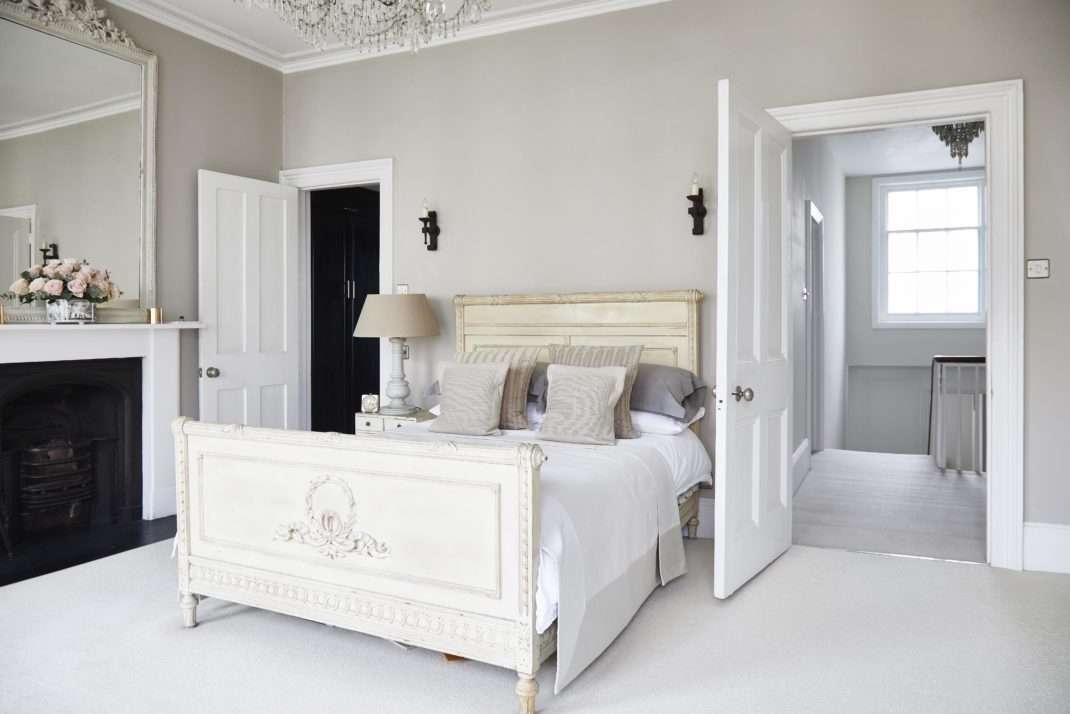 And how do you love to spend your evenings?
At home, with no phone, no people, a long soak in my French bain bateau bath, the fires lit, music on and scented candles everywhere. Bed time is before 10pm without fail.
If you were to throw a party at home, what are the key ingredients to make it go with a swing?
Ironically, although it's a large aspect of my professional life, I don't ever throw parties at home. Akin to Jay Gatsby – if I was to throw a party at home, you'd be unlikely to see the host. Friends say I invented social distancing before it entered the public vernacular.
What gadget could you not live without in your home?
A Dyson vacuum cleaner.
Whose home would you like to be a fly on the wall in and why?
Rather than a home – I would have loved to be 'a fly on the lapel' of Halston, Warhol or Tom Ford at Studio 54 ten days after it opened in the Seventies. Particularly for the famous Bianca Jagger birthday celebration when she arrived on a white horse.
Has lockdown made you reassess your work and home life balance?
Totally. Whilst I'm fortunate to be a Covid survivor, it reinforced what and who is important in life and how my home, filled with design and decorative provenance, truly is my sanctuary from the crazy world we live in.
What makes a house a home?
They say an Englishman (or woman's) home is their castle. Which has never been more true than in present times. For me, home is a sanctuary from the world. It should be authentic, a reflection of the owner and provide comfort, calm and a warm welcome – every time.
READ MORE
At Home With Martyn Lawrence Bullard / At Home With Matthew Williamson / At Home With Martin Brudnizki