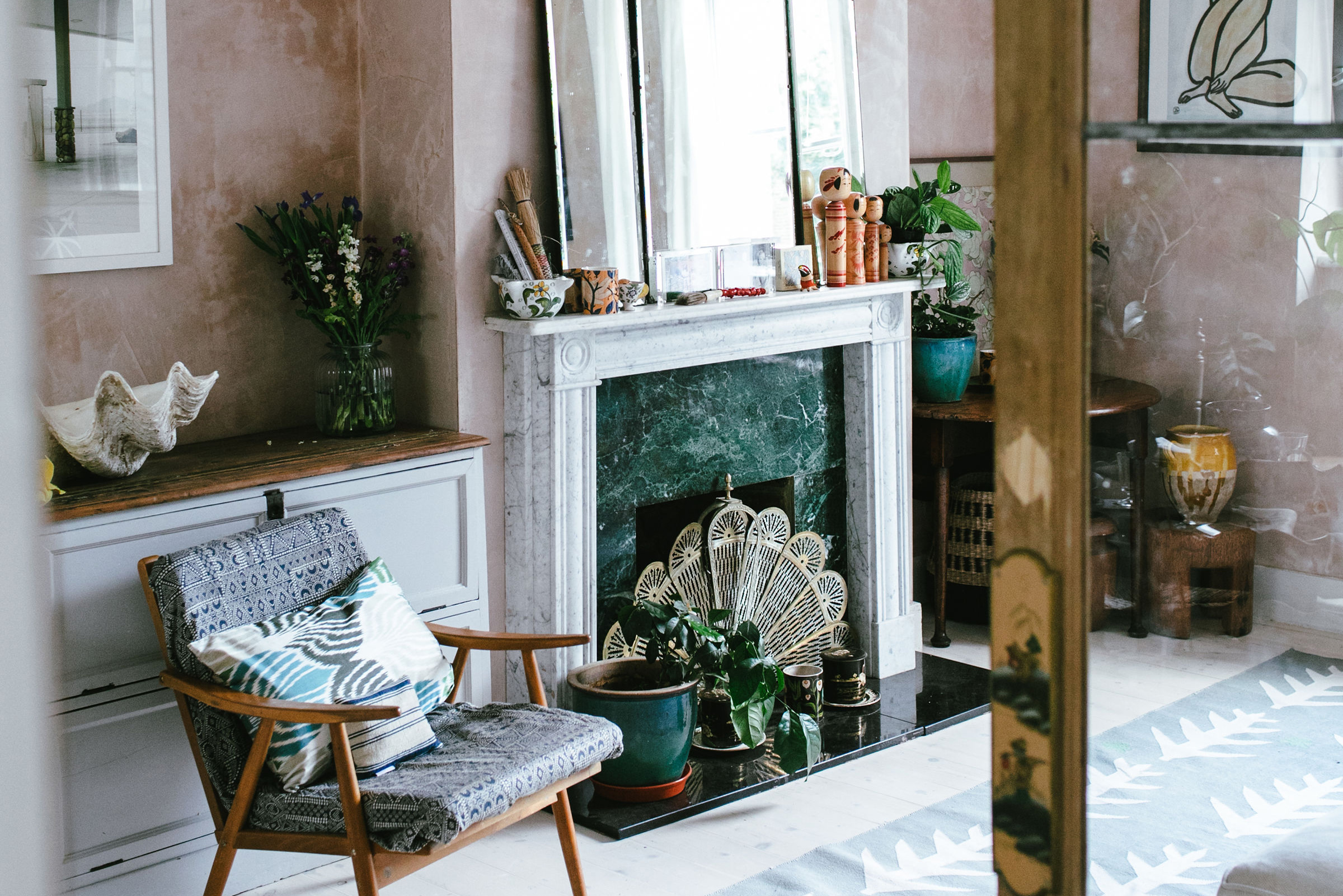 At Home With… Lizzie Crocker
---
Inside Polkra co-founder Lizzie Crocker's Peckham home
With faded pink plaster walls and an expressive mismatch of bohemian antiques, second hand pieces and art – Polkra co-founder Lizzie Crocker's Peckham home is giving us fresh inspiration for spring 
At Home With Lizzie Crocker
What's the story behind your home?
After living in Rio de Janeiro for five years, my husband and I moved back to our two bed flat in Notting hill when I fell pregnant with our first son, Cassius. We needed more room but Notting Hill had become so expensive, so we looked further afield – most of our friends had moved to south east London. We only viewed one house in Peckham and immediately made an offer. It's a Georgian end of terrace, the previous owner had lived here for 42 years. When we moved in we had a four week old baby and renovated the entire ground floor – everything else has been in stages due to budget.
What was your inspiration for the design?
The starting point for the design was really the large amount of furniture and artwork I've collected over the years. I don't follow trends – I buy what I love and somehow it all fits together. My background is in set design, so I applied some of these principals to designing the interior, forever rearranging corners and evolving the 'set'. For inspiration I always look to Axel Vervoordt and Rose Uniacke, I wish I was as disciplined as them – but I love art, objects and textiles layering up to a soft, washed-out palette that looks good, but is most importantly comfortable.
Do you have any interior brands that you love and always go back to?
As we design and make homeware products at Polkra, naturally I have a lot of our things. I have some great bed frames from the Naturalmat x Homes and Gardens collaboration and I love Pinch London and Neptune. I'm a big believer in buying second hand and reupholstering – my sofa was bought for £150 on Ebay. I like to find vintage crockery on Ebay, Tat London, Vintage on the Vine, and other pieces on Penny Morrison and Oka. I really like LSA International's super thin glass and simple designs, and for something fancier, Edition 94 make some beautiful hand blown tumblers. Polkra have some brilliant linen embroidered and Ikat cushion covers, and I like In Casa by Paboy for colour and frills.
Sign Up to the C&TH Interiors Newsletter
What's your favourite room in your house and why?
Our living room is probably my favourite room, owing to its high ceilings and light-giving front and rear windows. We left the walls in raw plaster which has created a dusty pink patina. It's the heart of our home and where we spend most of our time as a family, full of bits and bobs – every one with a story, which I love.
Does your house in any way reflect your business?
Very much so! As an interior stylist and creative director of Polkra, most of my furnishings are things from Polkra which I've either designed or collaborated with artists to make. An interior is a big reflection of your personality – personally I'm a believer in going second hand for furniture and fixing, stripping, repainting 0r upcycling. It's a mix of old and new.
What's your best view?
Our kitchen faces the garden, which I spend a lot of time in with the kids. Next door there is a park with a huge conker tree, my sons and I love watching the family of squirrels that climb over and across into our garden to bury their goods.
What's your signature dish – can you share the recipe with us?
A classic: Delia Smith's banana and walnut loaf. You can find the recipe here.
Share your top five books with us if you were to start a book club – and why:
The Neapolitan novels – Elena Ferrante's series of four books, which tells the tale of two girls' friendship across their lifetime in Naples
The Heart's Invisible Furies, by John Boyne – for being screamingly funny one minute and heartbreaking the next
The Goldfinch, by Donna Tartt – for its wrenching suspense
A Little Life, by Hanya Yanagihara – which is impossible to put down and impossible to forget
The Snail and the Whale, by Julia Donaldson – for all of the happy times reading it for my kids
The 50 Best Interior Designers
Share your must-see TV and movie list:
For TV, Sopranos, The Undoing and I May Destroy You. For films, Little Women, True Romance and The Thomas Crown Affair.
Describe your office space?
Presently, my office space is the dining room table on the ground floor! But I recently bought a faux bamboo desk to go on the landing of the top floor, which my husband worked from during lockdown. It's important to feel comfortable – I don't like complete silence so I usually light a Polkra candle, make a cup of tea and put some music or the radio on. Make sure you have good light, don't position yourself somewhere where you can be easily distracted, and have everything you need organised in one place.
Wallpaper Ideas for Every Room
What's the first thing you do when you get up in the morning?
I usually get to have a cup of tea in bed while Charlie takes the boys down for breakfast, so I can get myself together and check my emails for the day. Then we switch and I dress the boys while he gets ready. He'll then take Cassius to nursery by bike, and I head down for breakfast with Cosmo.
And how do you love to spend your evenings?
Like all of us at the moment – I'm really missing dinner with friends. So for now, it's a Holy Cow curry and lots of red wine with Charlie.
If you were to throw a party at home, what are the key ingredients to make it go with a swing?
The first thing is a big tidy up to hide all kids toys! Then I make sure it smells amazing as soon as you open the door. Lighting is essential to set a comfortable, cosy atmosphere and make sure your guests are relaxed, and it's important people have somewhere to put their drink so lots of side tables. Finally, some great music!
What gadget could you not live without in your home?
Our sound system – it makes Charlie so happy.
How's your garden behaving at the moment?
Pretty drenched, to be honest. Our garden is long, thin and west-facing so one side gets lots of light and sun and the other is entirely shaded. I can see daffodils growing though, which makes me look forward to spring.
Whose home would you like to be a fly on the wall in and why?
Lucinda Chambers – for her style and creative eye.
Has lockdown made you reassess your work and home life balance?
Freddie, my business partner and co-founder at Polkra, and I have worked remotely a lot over the years so I'm used to it. I think certain people love it or hate it, but I love it. I find that I'm so much more efficient.
What makes a house a home?
I'd say my family! However, I'm also very attached to 'my things', that I've collected or inherited over the years.
READ MORE
At Home with Petra Palumbo / At Home with Katharine Pooley / At Home with Earl of East