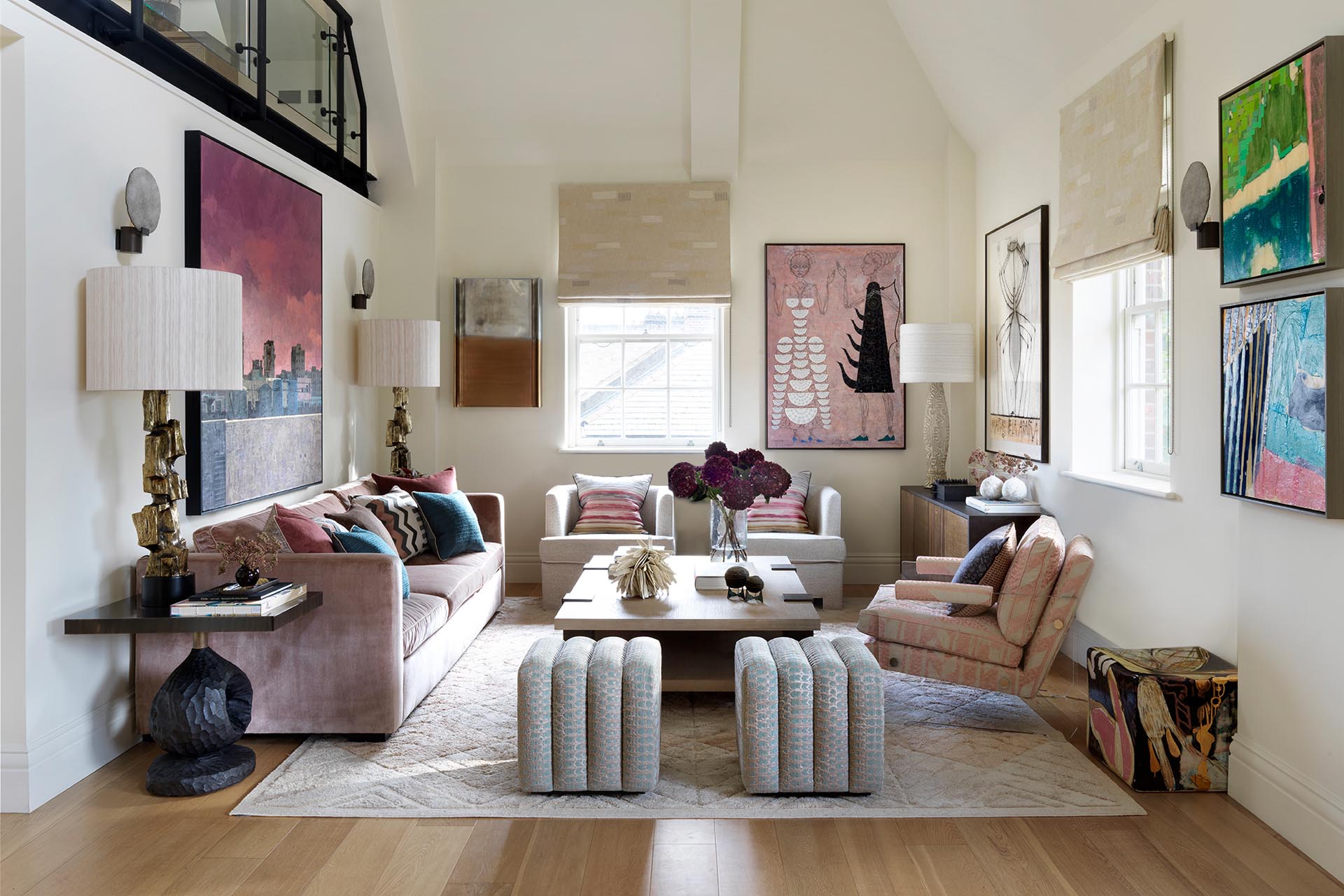 At Home With… Natalia Miyar
---
Natalia Miyar shows us around her galleried Battersea flat
Interior Designer Natalia Miyar on art, blending vintage and modern style and why the next item you need for your home is a piece of custom-made furniture…
Sign Up to The C&TH Interiors Newsletter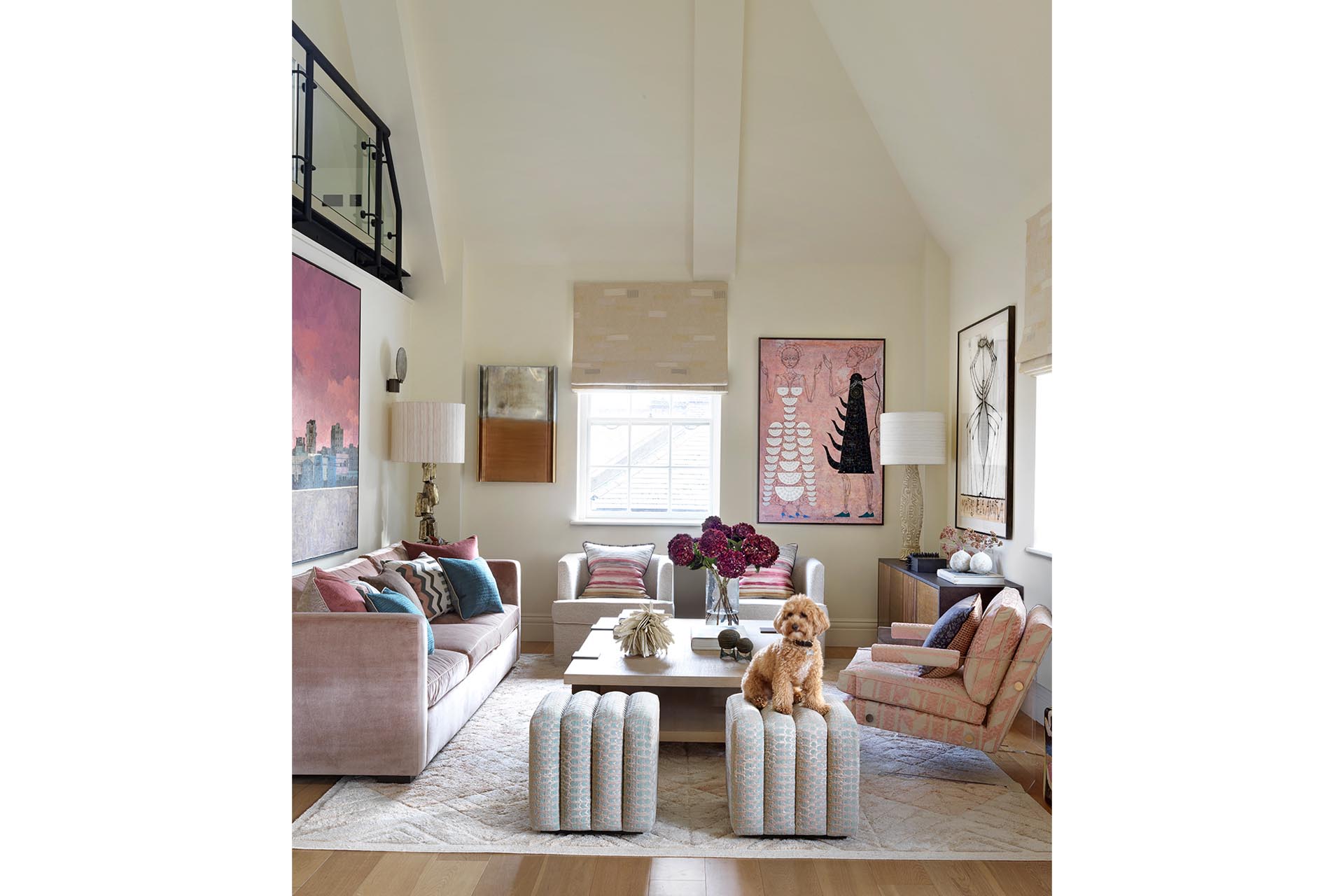 At Home With Natalia Miyar
What's the story behind your home?
My flat is right on the doorstop of Battersea Park, which is where I spend my free time walking my dog and meeting friends. It has a mezzanine which is both architecturally interesting and practical – the double height living space is perfect for hosting and entertaining, and it has an interesting gallery overlooking the living area which houses my home office. Windows on both sides flood the flat with natural light, creating an open, illuminated feel. At the moment I'm renting, but the next step is to buy somewhere where I can make more substantial changes.
What was your inspiration for the design?
I always tell my clients that your home should be a haven and a place to escape to after a long day. I have a busy life and travel a lot for work, so having somewhere beautiful and comfortable to come back to is really important. I wanted a scheme that balanced luxury with a personal touch. It's the first time I've used pink as the dominant colour, although I often use it as an accent. Pink has many associations but it's not typically used for grown up spaces. I wanted to work with it differently to create some sophistication and glamour.
The 50 Best Interior Designers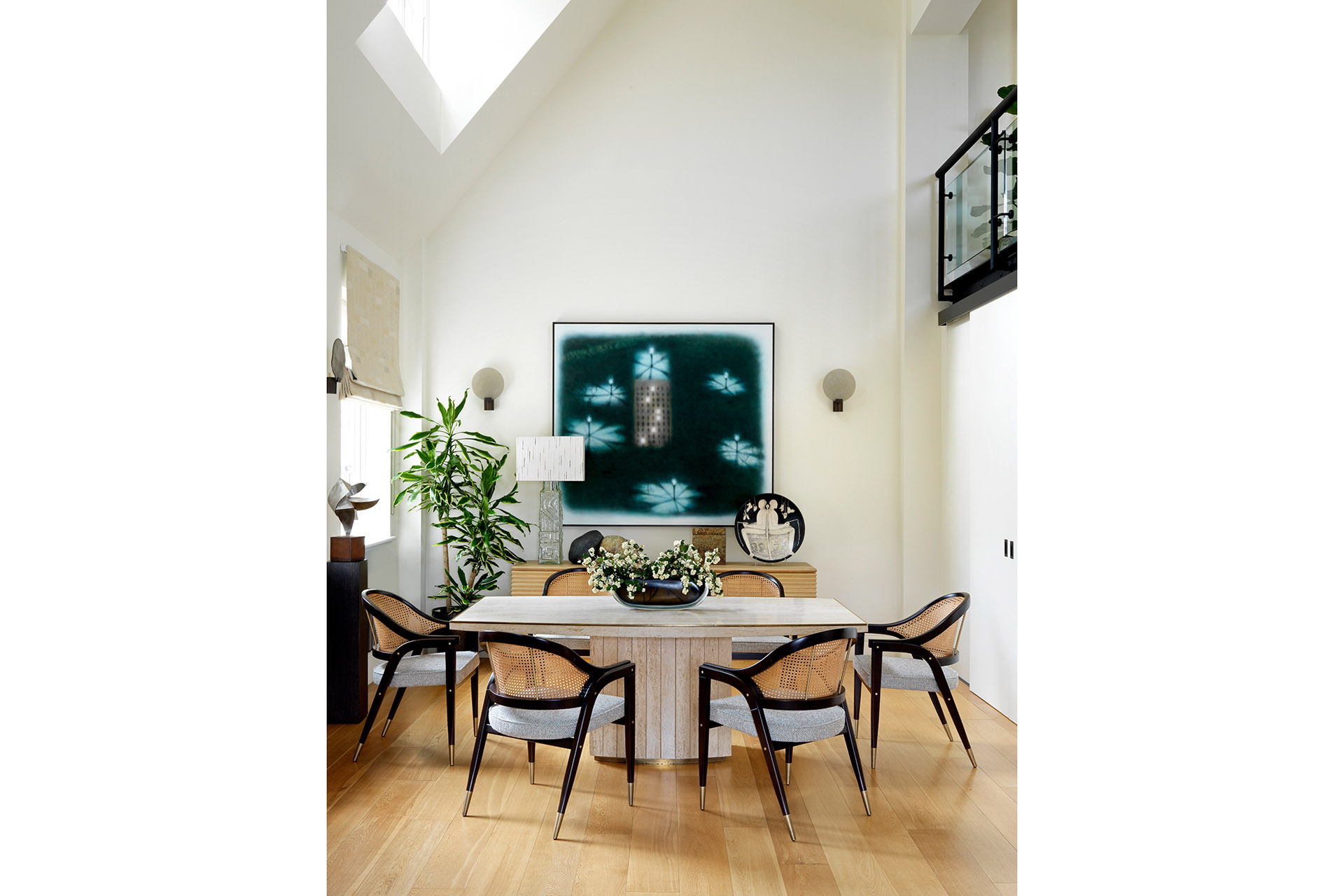 Do you have any interior brands that you love and always go back to?
One of my favourite pieces in the house is a beautiful bespoke silk woven and shaggy rug by Sinclair Till. I try to experiment with different ideas at home, a lot of the pieces like the sofa, coffee table and side cabinet are custom made and I've mixed in vintage finds. Matthew Bray and Matthew Collins created the side cabinet with a beautiful and very unusual multi-tone finish on the doors. My bed is upholstered in a heavy, textured fabric by Dedar. In the guest bedroom, I upholstered the headboard in a bold, bright fabric from Pierre Frey.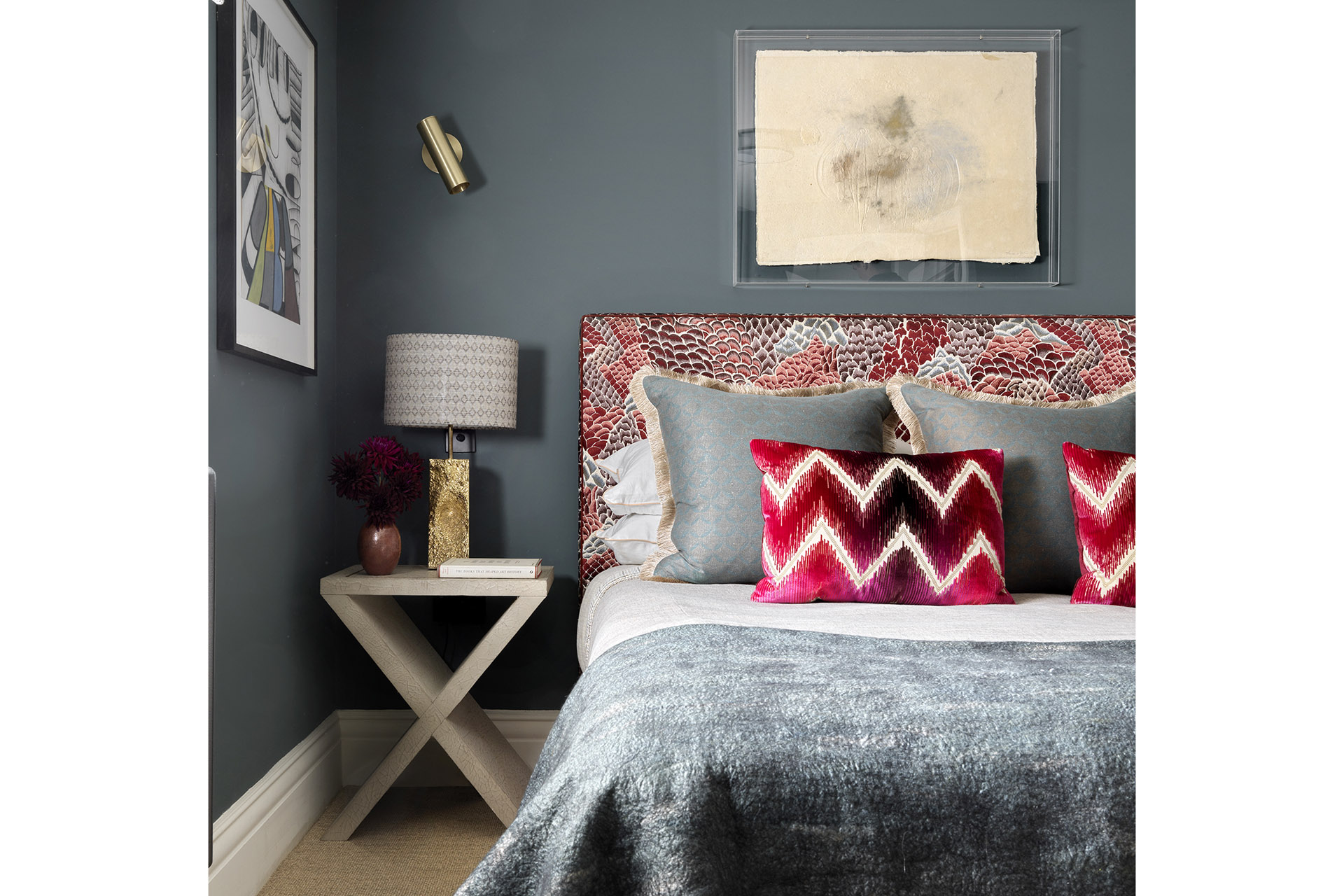 What's your favourite room in your house and why?
I love my bedroom, it's dark and moody with a colour scheme that goes against the grain. The walls are almost black which creates drama and interest – I wanted to express myself and push the boundaries a little. The art selection is personal, and a nice foil to the soft furnishings. There's a lovely work by Ibrahim Miranda above the bed. The bedside table has a stone finish which I commissioned to look like turquoise, and I introduced some colour with teal cushions and throws.
Does your house in any way reflect your profession?
Creative expression is my profession, so it reflects what I love to do. This apartment represents my lifestyle and personal style. It's my very own little sanctuary in the heart of London.
What's your best view?
I can see Battersea Power Station from my bedroom. I completed the interior of the penthouse there two years ago, I couldn't quite keep an eye out on progress, but it wasn't a long commute from home!
The Best British Textile Designers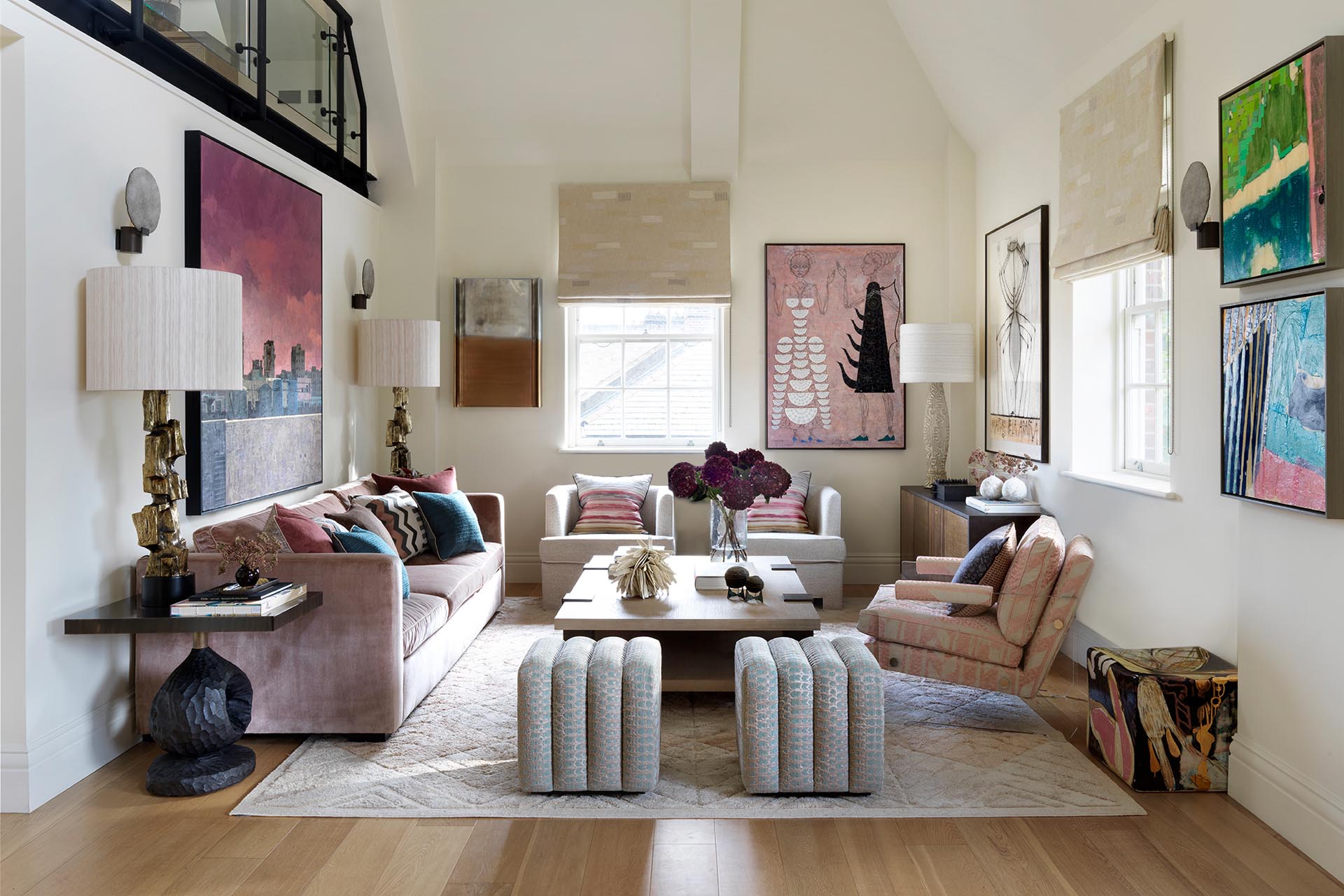 What's your signature dish – can you share the recipe with us?
My signature dish is duck confit, it has to be left for a month in the fridge before eating so I can only do it when I have time to plan ahead. It's deceptively simple but never fails to impress. There's something about the slow process that I enjoy in such a fast world.
Share your top five books with us if you were to start a book club:
Love in the Time of Cholera, by Gabriel Garcia Marquez
Becoming, by Michelle Obama
The Zahir, by Paulo Coelho
A Gentleman in Moscow, by Amor Towles
Circe, by Madeline Miller
Share your must-see TV and movie list:
The English Patient 
The Queen's Gambit 
Call My Agent!
Mare of Easttown 
The Guide to Sustainable Interior Design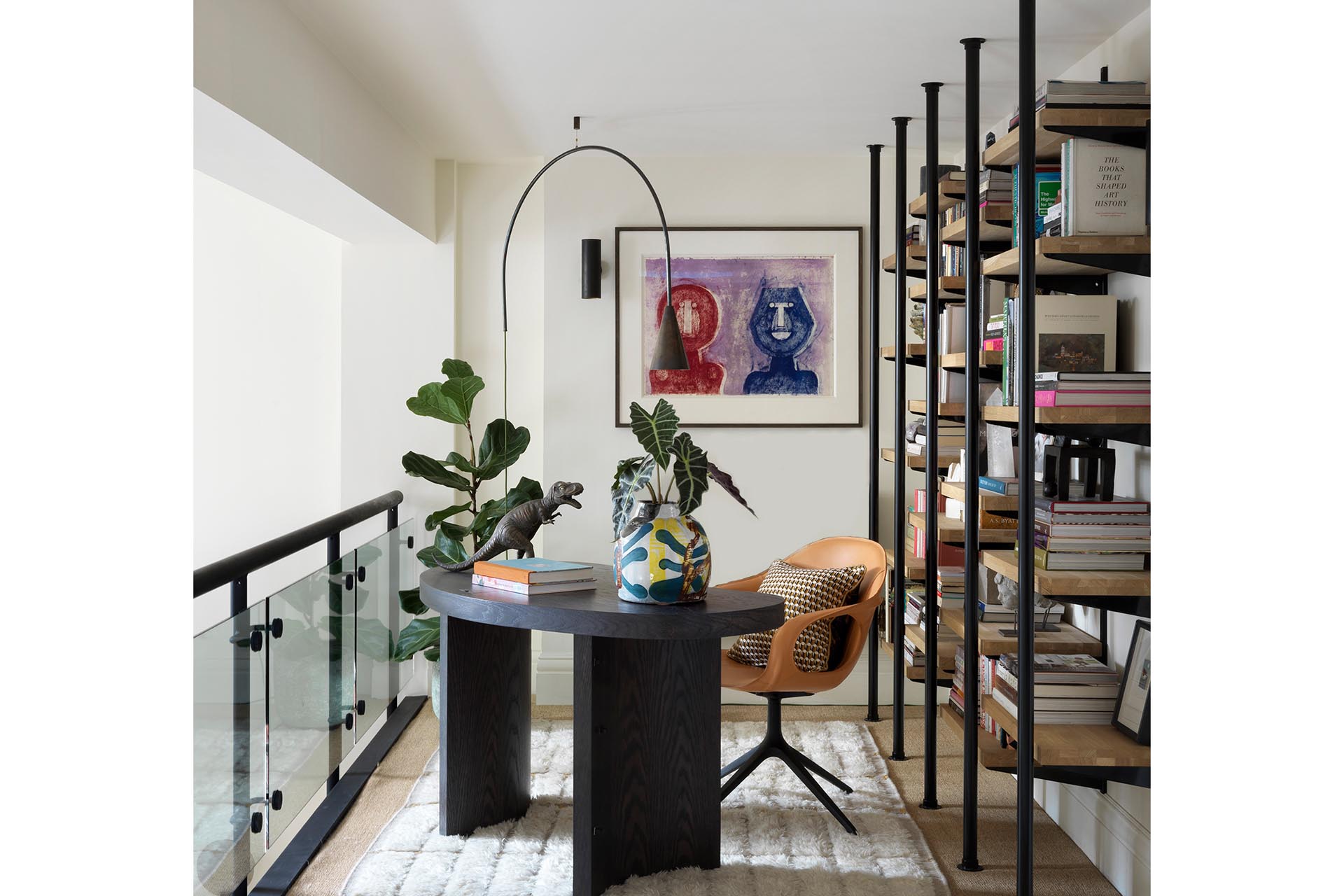 Describe your office space?
My desk overlooks my living room and is surrounded with colourful art, accessories, and reference books on interiors, architecture and art. It's filled with natural light which makes it a great place to work. The desk is my own design, when I can't find something I design and make it myself. My chair is from Kristalia Design and the chunky textured rug is Anthropologie. There's a very special lithograph on the end wall by the Mexican artist, Rufino Tamayo, which was given to me by my father. He bought one for me and one for my sister when we were little girls. I also have a bronze dinosaur on my desk which was made by my great friend, Tyson Bennison. Whenever I'm on a Zoom call with my nephews they always ask me to hold it up so they can see it!
What's the first thing you do when you get up in the morning?
The first thing I do is take my dog to Battersea Park, then I work out with my personal trainer. After that I make myself a large cup of coffee and start going through emails.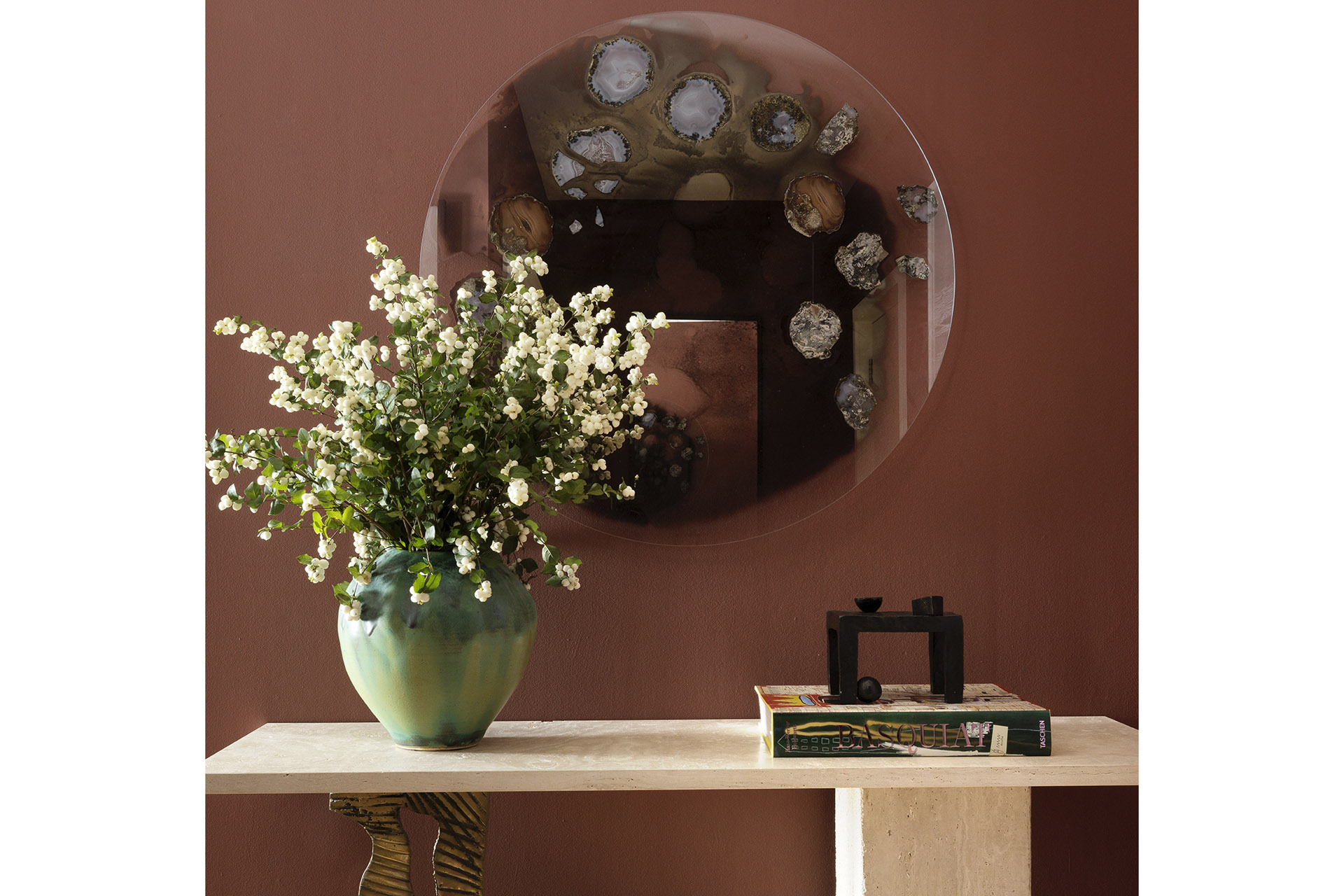 And how do you love to spend your evenings?
My evenings are low key, I'll change into something comfortable when I get home after drinks or a bite to eat with a friend and call family before heading to bed.
If you were to throw a party at home, what are the key ingredients to make it go with a swing?
Before my guests arrive I decorate the table to create something special. I use coloured crystal glasses and tableware with beautiful detailed edging, and mix vintage pieces with modern. It's key to have flowers and greenery in elegant vases for a natural element and freshness. For me flowers are non-negotiable, I can't entertain without them. I sometimes place large pieces of greenery on the table and dot small sharing plates among the foliage. I love making beautifully presented cocktails; my mantra is if it looks beautiful, it'll taste even better.
Tablescaping Ideas That We Love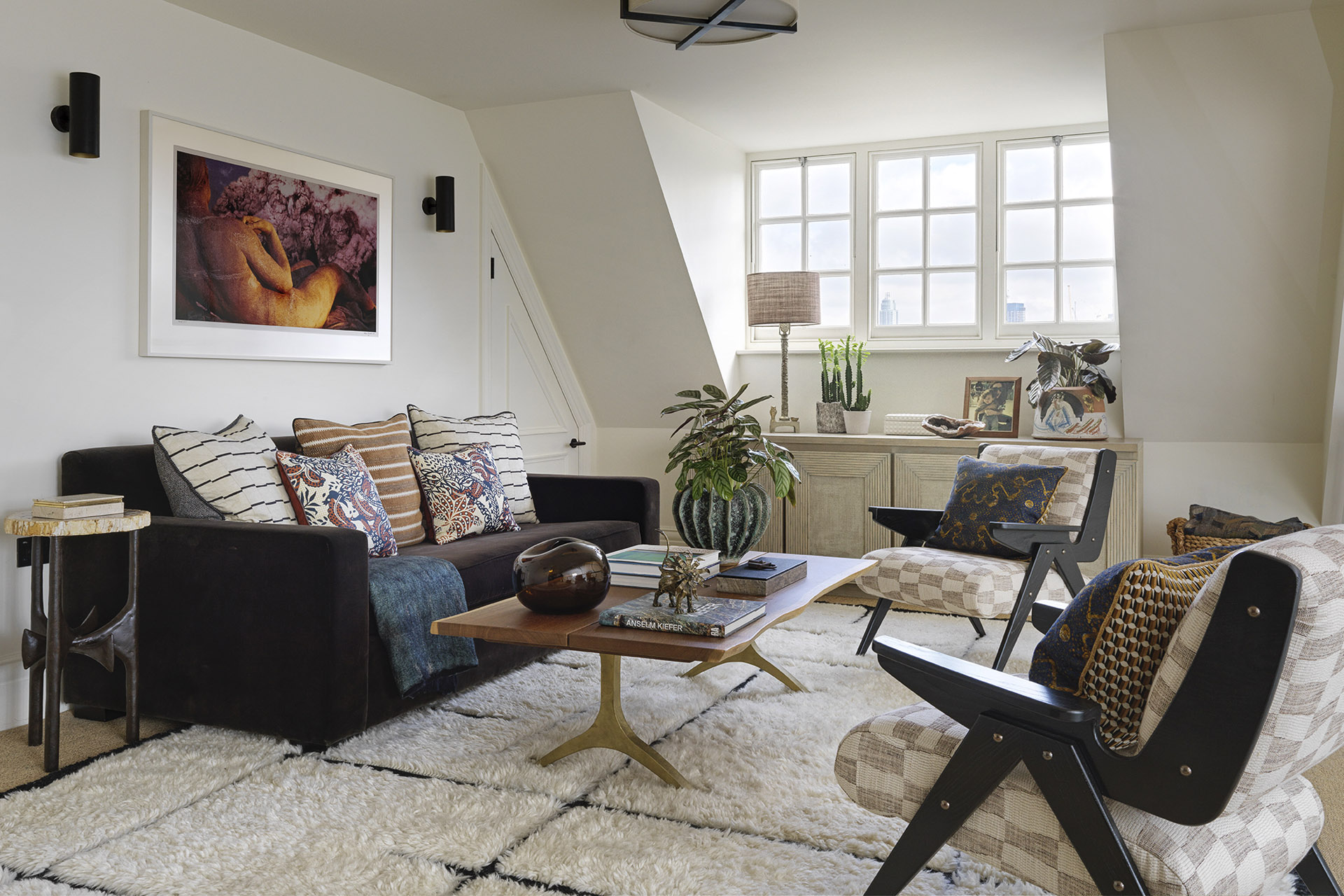 What gadget could you not live without in your home?
I love playing music, so it would have to be my Sonos.
Whose home would you like to be a fly on the wall in and why?
I would have loved to have seen Oscar De La Renta's home. He had such brilliant style, I imagine his home would have been filled with beautiful fabrics and endless inspiration for his gorgeous designs.
The Best British Furniture Designers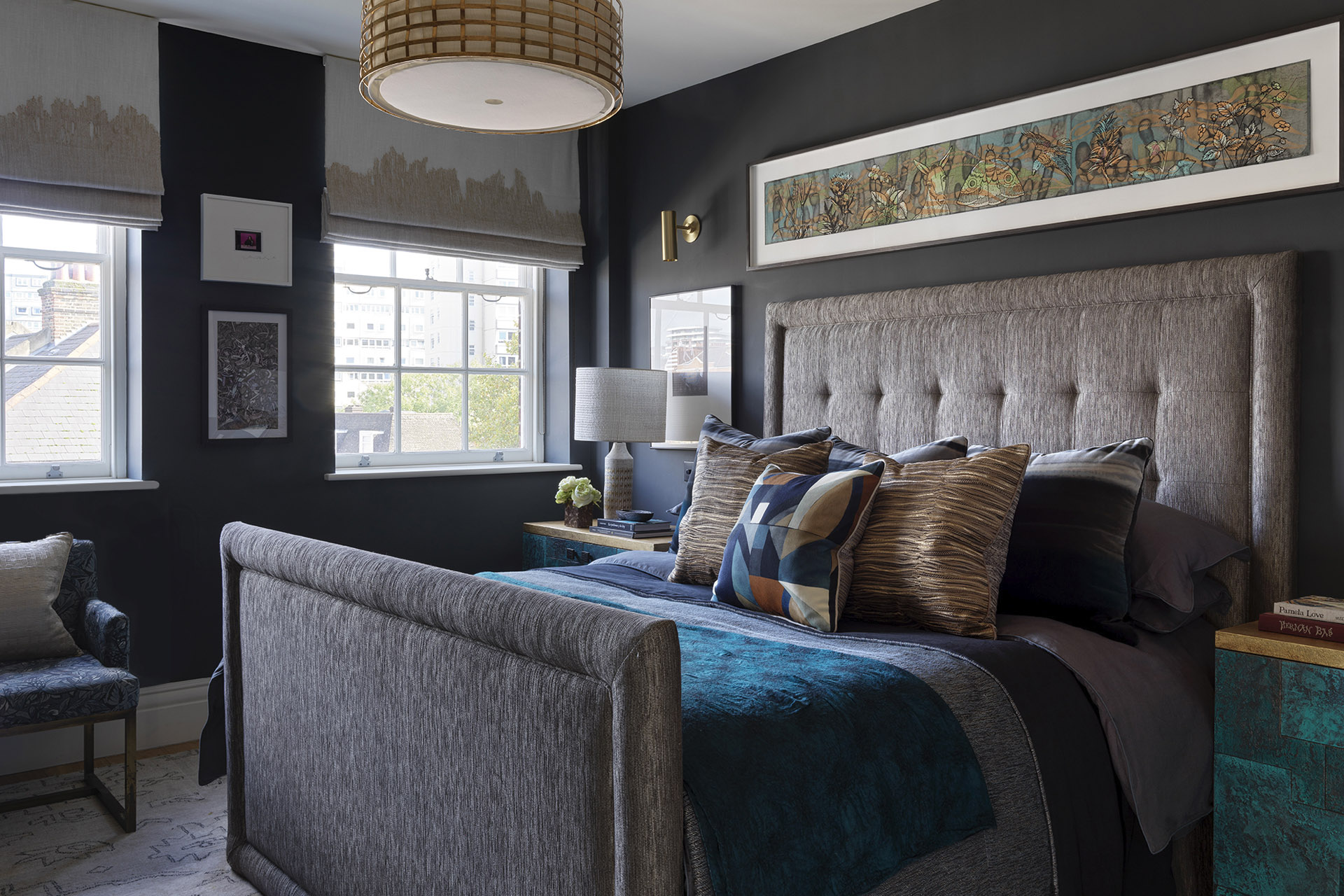 Has lockdown made your reassess your work and home life balance?
I spent lockdown in Miami working on my new home in Coral Gables. I appreciated the opportunity to focus and spend more time with my family, but I was mostly preoccupied with the worry of work. Like most people I've realised that meetings can be done more efficiently on virtual platforms, but my job is still very hands on and nothing is going to replace that. It's a relief to return to face to face meetings, site visits and the office where we achieve so much more in a day.
What makes a house a home?
Integrating familiar and personal objects, art and photographs that create a connection to the interiors. Items that stay with you as you move from house to house will make you feel at home wherever you are. When I'm designing for clients, I start by asking lots of questions about their lifestyle, family and history. With a Brazilian couple I designed for recently we spent time researching collectible Brazilian design, as well as identifying up-and-coming artists to invest in. Custom-made pieces of furniture also make a home feel unique and special.
READ MORE 
The 50 Best Interior Designers / At Home with Chrissie Rucker / The Best British Textile Designers