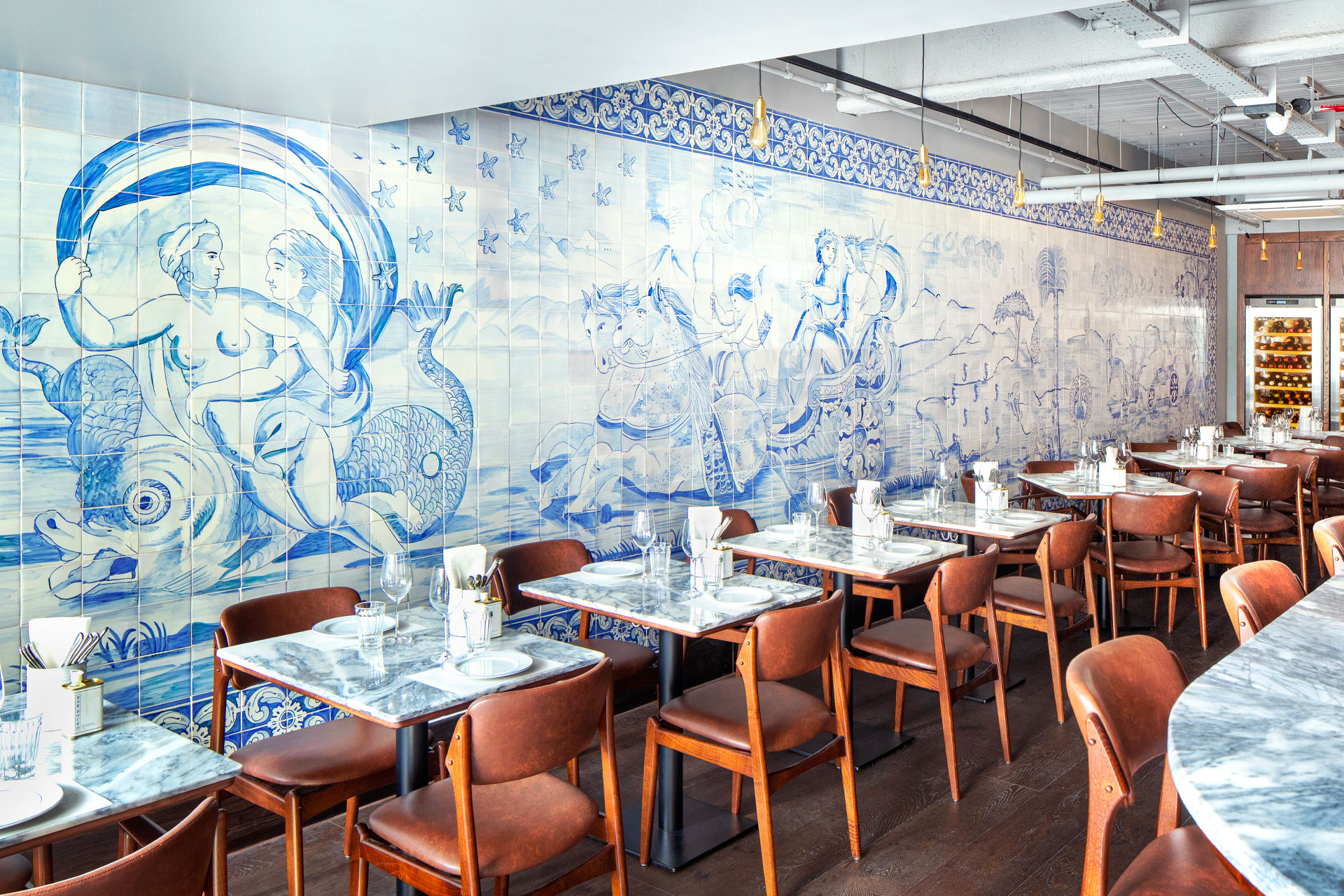 London's Most Aesthetic Restaurant Interiors
Feast Your Eyes
Care more about décor than dining? Who's to blame you with the dazzling array of London's aesthetic restaurant interiors. It also just so happens these restaurants serve food that's an equal feast for the eyes.  
London's Most Instagrammable Bars
London's Most Aesthetic Restaurant Interiors
There are two people in this world: those who look up the menu beforehand, and those that look up the aesthetics of the interiors on Google images. If you're reading this, you're almost certainly in the latter camp. And as you should, what's good food without a suitably beautiful interior to pair it with?
From maximalist statement spaces built for the gram grid Beaverbrook Town House, Sketch, and Isabel Mayfair are your go to choices. For the designers catnip, head on over to The Red Room at Connaught, Maison Francois, and Sessions Art Club). A lover of biophilia? Spring, and Silo are your spots. Here's the low down on London's aesthetic restaurant interiors.
The Best London Members' Club Interiors / The Best Restaurants in London for Art Lovers
Bar Douro, Finsbury Avenue Square
You might only be moments from London Liverpool Street, but on entering Bar Douro, you'll find yourself transported over 800 miles away to Iberian Peninsula. This Portuguese offering, a tapas bar with an open view into its bustling kitchen, is a veritable treat for interiors-nerds-cum-foodies.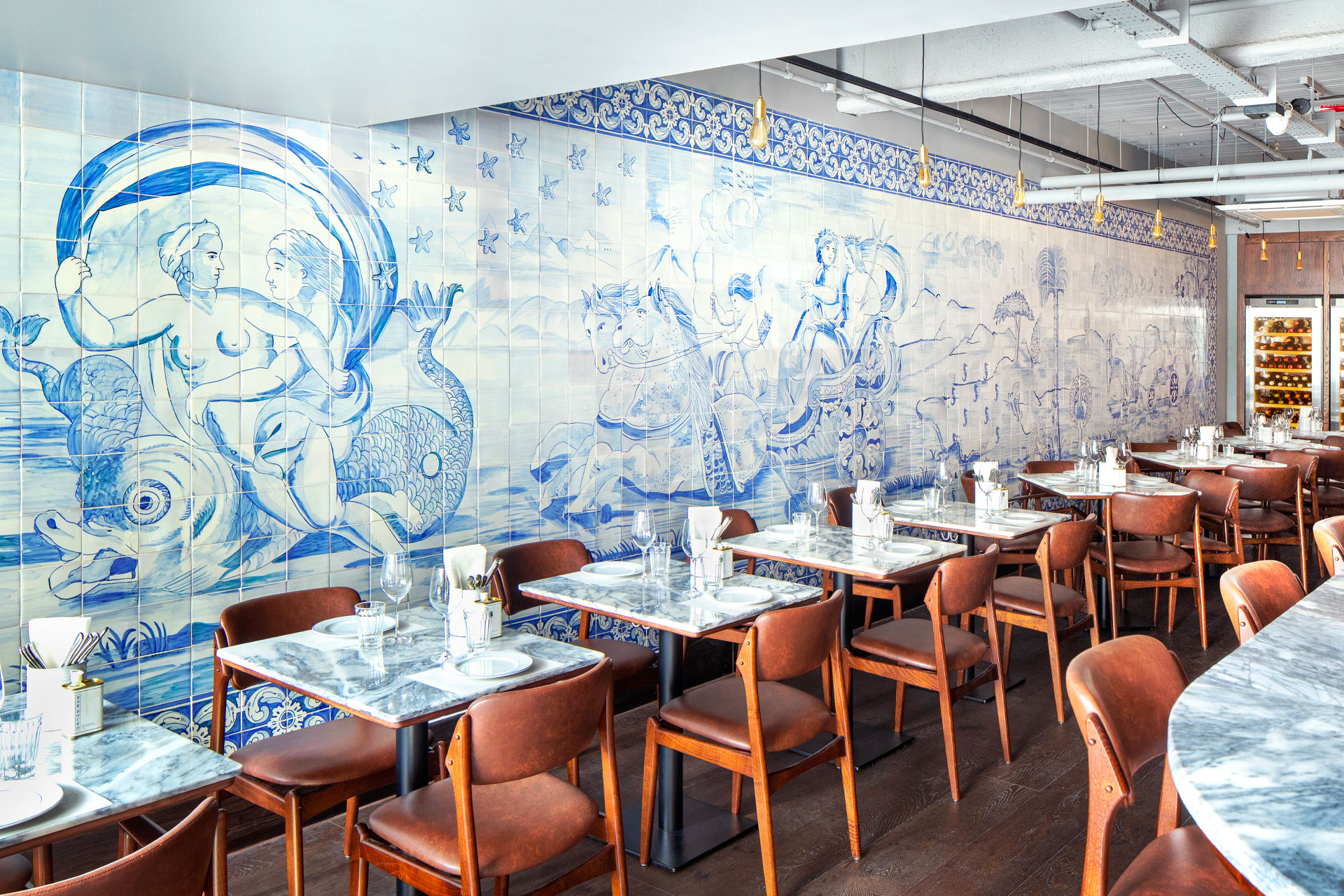 This place is all atmosphere. From the shack-like ceiling, sat low above your head, to the smart leather chairs, to fetching blue-and-white hand painted azulejos tiles (literally 'little stones'), it communicates a lot via its interiors – with very little wasted breath. It's almost the sort of place you accidentally ducked into one year on a family holiday, documented with a battered disposable camera. In other words, there's a real nostalgia to the ultra-European interiors.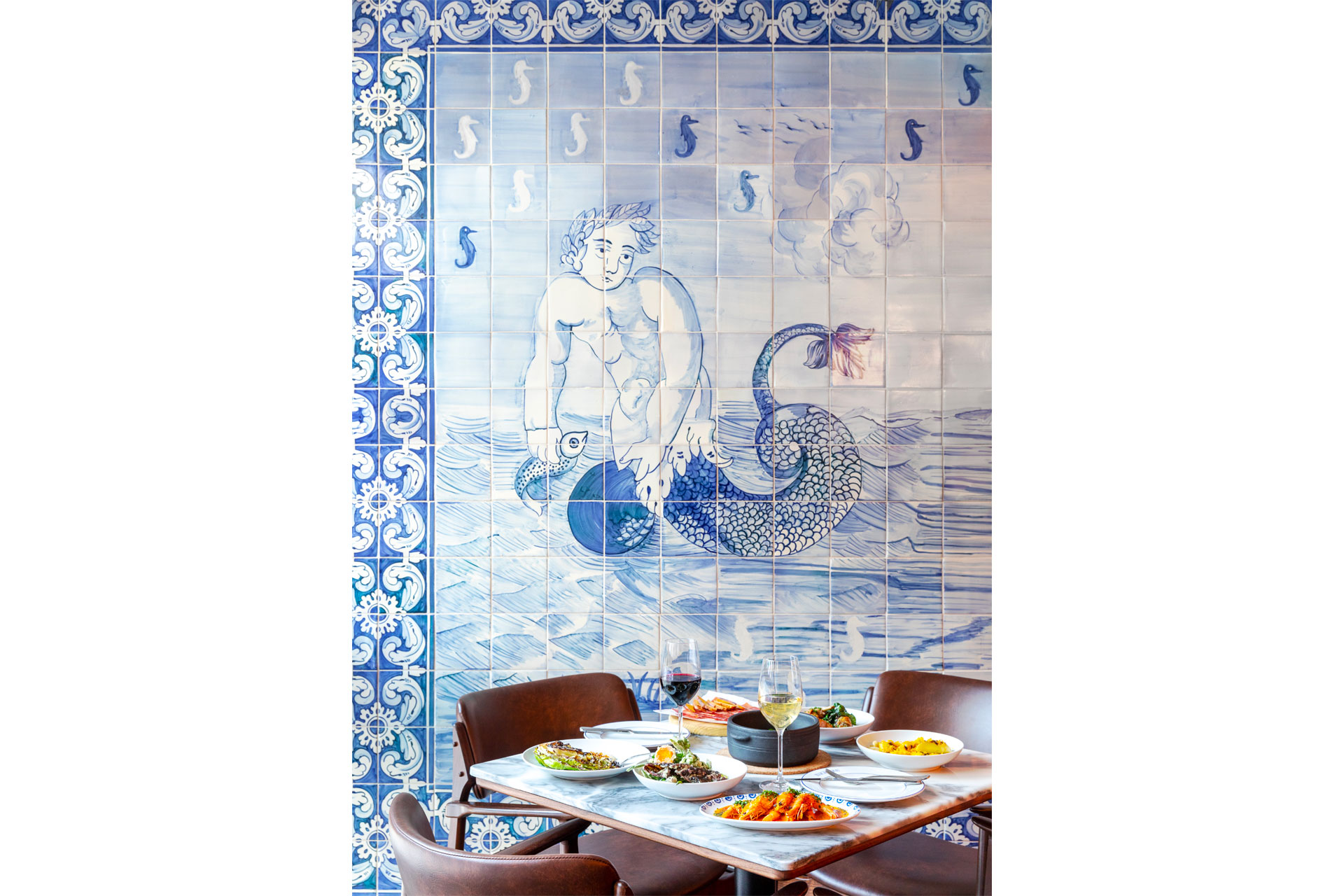 The food is as aesthetic as the space itself. Your food arrives on neat, bold type-faced plates in streams, as and when, in no particular logical order – you're recommended to get a sharing selection – and they present a mouthwatering regional offer. From particularly punchy potatoes (bataras a murro), which are herby, buttery and smattered with green sauce, to the drowned gambas à la guilho, each of these bites are as picture-perfect as they are powerful. You'd be remiss not to try a perfectly paired wine, too, while here: founder Max Graham comes from a family of Portuguese wine producers, and the vast selection of local wines on offer are therefore expertly curated.
A charming, nostalgic hideaway in Finsbury Avenue Square – with interiors fit to transport you to sunnier climates. bardouro.co.uk
Tattu, Tottenham Court Road
Some restaurants stick up a painting and call it quits when it comes to interiors. But you'll be hard pressed to find a Chinese restaurant in London that's had more painstaking aesthetic precision than Tattu restaurant.
The interior's concepted around recreating a traditional Chinese courtyard house; borne for the creative brains of Joyce Wang (of acclaimed Joyce Wang Studio). But of course, this isn't just any 'Chinese courtyard', it's a Joyce Wang one, so think of it instead as this ultra lux immersive aesthetic experience.
First off, to get there you'll need to take a swish lift from a statement minimalistic reception on ground floor. So from the get go it's all wrapped in this bond girl mystique, that we're certainly not complaining about.
It's a got somewhat of a slick sultry feel to it. Subdued, soft lighting emanates from hanging lanterns plus there's the odd pop of a glimmering light projection that's all perforated through meticulous traditional Chinese lattice work.
There's plenty of details at Tattu that pack an aesthetic punch. You'll immediately clock the statement bespoke cherry blossom tree installation hanging overhead. Then of course plenty of delicious details, like the many Ming vases strewn around and leopard print seating that prowls over in another section.
And it won't surprise you that the food's of equal aesthetic skill. To complete the spectacle, we'd finish the night off with their signature pudding, the Cherry Blossom. You'll see what we mean when it arrives (iPhone cameras at the ready). tattu.co.uk
Sessions Art Club, Clerkenwell
Originally one of the most reputable courthouses of 18th Century England, Sessions Arts Club is the latest 'it' restaurant everyone's talking about. The Palladian style building that once played host to Dickens when he was a court reporter, is now a culinary playground for creative folk without the club members exclusivity.
Swede duo, Ted and Oliver of Sätila meticulously restored and repackaged the space to give it an artsy commune, restaurant meets art gallery reimagining, but with subtle nods to its heritage (you'll see series of green leather banquettes reflecting the courthouse's past).
In the dramatic, double-floor height space, expect a chic eclectic array of beautifully battered armchairs and the like that's all been magpied from various antique markets and salvage yards. Ted and Oliver of Sätila worked with SODA Studio, directed by Russell Pottery who's won many accolades (and who's previous clientele feature the likes of Soho House, among others).
sessionsartclub.com
The Best Restaurants in London for Art Lovers 
Sketch
Though often fêted as London's most Instagrammable restaurant, Sketch has an intriguingly historic past. Once the venue of both Christian Dior atelier, and HQ of the Suffragette movement (not at the same time), Sketch's interiors have more than meets the eye than its pretty IG post reputation.
With the likes of Tracey Emin, Martin Creed, and Yinka Shonibare (among many others) displayed on the walls, Sketch can be described as an easy choice for London's aesthetic restaurant interiors, since it's catnip for artsy Instagrammer types.
Tracey Emin on Fighting Cancer and her Margate Art School 
The Gallery (one of five rooms), is Sketch's most well known. Yinka Shonibare (a British-Nigerian artist), and architect India Mahdavi reimagined their iconic pink into their now equally as iconic yellow that sent trend forecasters into a spin, declaring the hue to be the 'it' colour for the rest of the year. sketch.london
London's Most Instagrammable Bathrooms
The Red Room, Connaught
The Red Room, otherwise known as the bar that's everyone has on their TikTok saves, is perfectly poised within The Connaught Hotel in Mayfair. The bar, of all London's aesthetic restaurant interiors, has likely played host to the chicest of guests (Rosie Huntington Whitley launched her makeup line, Rose Inc, at The Red Room, for instance).
Brush away a fluttery velvety red curtain to enter, and you'll be met with an interior that's plush with a clutch of artworks in red, all crafted by internationally acclaimed women artists (Louise Bourgeois' 'I am Rouge' is the statement piece, which hasn't ever been exhibited until now).
Expect a pink onyx bar (because, what else would you expect in this space), amongst a marbled flecked fireplace, and a smattering of beautifully perched objects d'art strewn about the place. All this was formulated by the creative mind of interior designer, Byran O'Sullivian. the-connaught.co.uk
Beaverbrook Town House
Bold, clashy, chic: dining at Beaverbrook Town House should be on anyone's list if they're after a bit of maximalist zing. Consider their bar, (they call it Sir Franks bar), a result of an aesthetically chaotic magpie with a penchant for 19th Century woodblock prints. Of all London restaurant interiors, Beaverbrook Town House is maybe the most surprising for its cacophony of colour, from its unassuming brick façade.
Review: Omakase at Beaverbrook Town House, Chelsea 
Chequered floors and plush upholstered furnishings pop against the minty Poirot-esque walls. It's kitschy, it's loud — but boy does it still manage to pull off the feel of effortless Bond Girl glamour. It's all the result of the much fêted interior designer, Nicola Harding, whose Midas touch gives that feel of whimsical sumptuousness you'd be hard-pressed to find elsewhere. beaverbrooktownhouse.co.uk
Review: A Stay at Beaverbrook Town House
Ave Mario
Ave Mario often does the rounds in the the most striking of restaurant spaces in London. Think Italianate church meets the bold red of an Amsterdam red light district, that meets a hall of mirrors at the circus, but in the best way possible. You certainly won't be short of conversation when you enter Ave Mario's mirrored halls.
With a bar framed with 3,5000 bottles, psychedelic duomo-striped walls, and the red reportedly inspired by the slippers of the Pope, this isn't for the faint-hearted nor wallflowers. Designed by their in-house team, Studio Kiki, led by Apolline Lugger, Ave Mario is for those who want to drink in the atmosphere of a chaotically chic destination as much as delve into their Italian menu. bigmamagroup.com
The Best Healthy Restaurants in London
Ottolenghi, Chelsea
Peachy pinks, reds, and whites seem to be the colours du jour in restaurant design these days. With Ottolenghi's fifth deli iteration in Chelsea, think: gently curved walls of pastel-orange brush strokes, a floor of plaster and crushed recycled bricks, all designed by Alex Meitlis, long-time Ottolenghi collaborator. Out of all London restaurant interiors, this one's for the minimalists among you who love a brush of colour. ottolenghi.co.uk
Maison Francois
Taking cue from Ricardo Bofill's architecture (known for its bold colourful, rectilinear urban design), this brasserie, Maison Francois, designed by John Whelan, is all about bold arches, terracotta stuccoed walls, and a wooden-lattice structures to cocoon in the clientele.
Minimalism is king at Maison Francois: see cylindrical chandeliers and lacquered floors. It's a delight for anyone who's into precision, Wes Anderson, and restaurant interiors that pack an architectural punch. maisonfrancois.london
How to Get The Wes Anderson Look
Silo
Considering it's tipped as the world's first zero-waste restaurant, it's only natural a green ethos would spin into the design of Silo. The furnishings and fittings are created from a desire to re-use, choosing upcycling before recycling.
 The table tops, for example, are made from upcycled Smile Plastic, the bar front from recycled leather, and the wall lights crafted from crushed wine bottles. All products delivered to the restaurant come in re-useable crates, pails, urns or containers. silolondon.com
The Zero Waste Food Trend: Interview with Douglas McMaster, Founder of Silo
Spring
Blonde wood and blush-toned fabrics, gauze hangings and cloud-like chandeliers are just some of the things you can expect at Somerset House's restaurant, Spring. Brimmed with almost trees peppered amongst the tables to give an intimate feel, expect also Spring's signature art installation, of white porcelain petals fluttering down its walls, by a female artist, Valeria Nascimento.
Although the room itself, within the majestic precincts of Somerset House, is loftily impressive, it's far from overwhelming. Walking in, you'll be intrigued that the small groupings of tables offer a surprising amount of privacy in a high-ceilinged space. springrestaurant.co.uk
The C&TH London Restaurant's Hub
Isabel, Mayfair
Inspired by the hedonism and bright lights of the 1930s, Isabel Mayfair is all about the spectacle of light. The glitzy Art Deco space is the result of designer, Juan Santa Cruz, where it's best described as a kind of wood-clad-club that upholstered with decadent Napoleonic blue seating. Isabel Mayfair has welcomed a clutch of star studded clientele (Sienna Miller, Robert Pattison, Noel Gallagher, to name a few).
Main Image courtesy of Bar Douro.