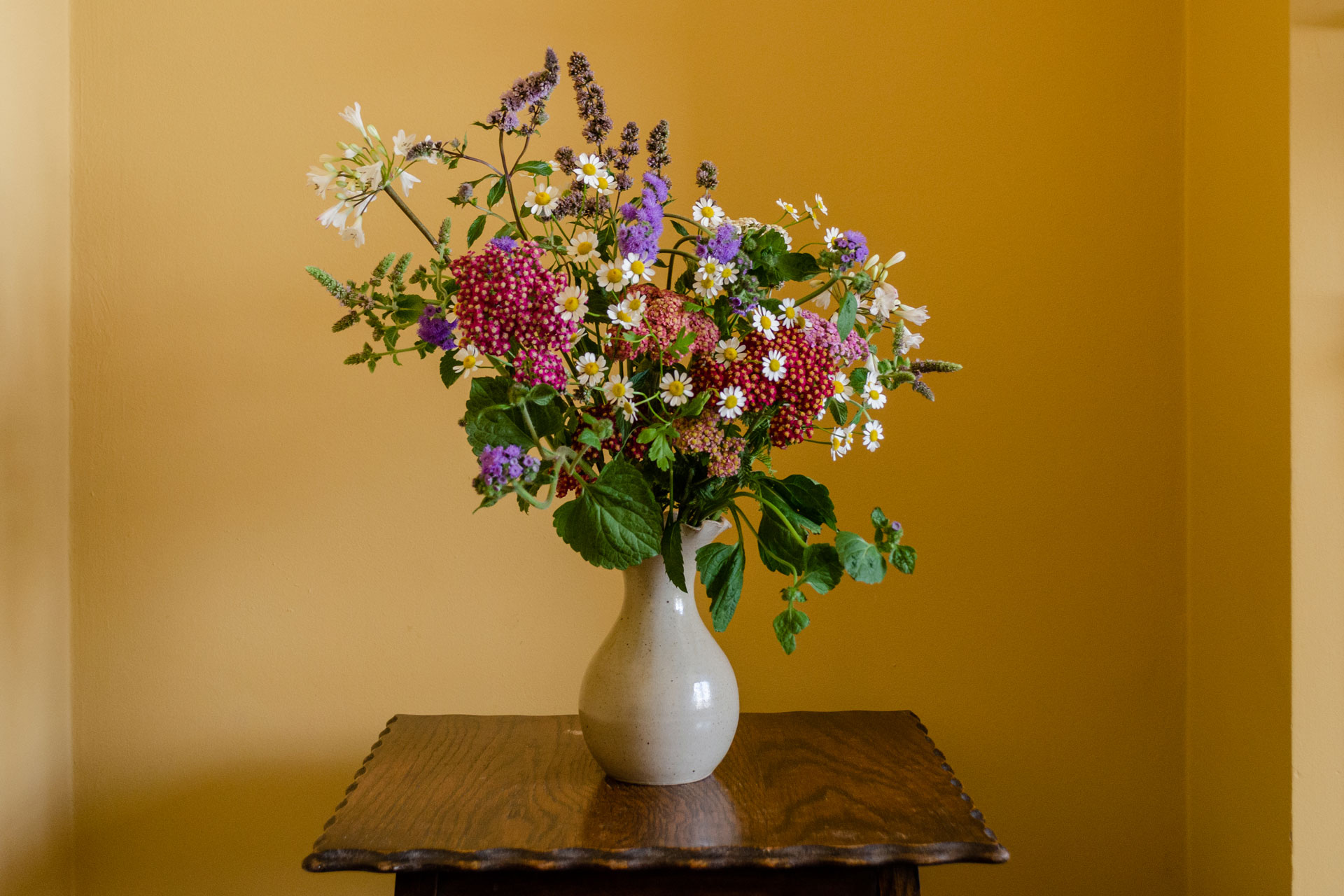 Why the Floral Fashion Pack are Picking Uncut Stems this Autumn
---
Uncut Gems? Nah, it's Uncut Stems now.
Anything spindly, tumbling, and wild looking in a bouquet, is the style du jour. And, preferably, delivered in a bucket. Here's why we're taking our cue from the relaunched flower subscription brand, Uncut Stems. 
Where Do the Fashion Get Their Bouquets Now? In a Bucket, of course.
Monthly subscriptions for vegetables, meals and date nights has been a bit of a hit ever since the pandemic. Now, it seems the latest thing we're subscribing to since home working has become the norm is floral bouquet subscriptions.
The seasonal flower club, Uncut Stems, reached feverish success during the pandemic, and is back to reopen for 23 September. And you'll need to add your name to the (somewhat sprawling) waiting list.
Launched after starting life as a lockdown-club between friends, Uncut Stems is a sustainably focused flower club and something of a terribly-kept secret among the fashion pack and aesthetes of the capital, including folk such as Laura Jackson and Lucy Williams.
Laura Jackson: Here's a Realistic Guide to Tablescaping 
Uncut Stems, takes inspiration by the transparency of vegetable subscription boxes like Oddbox. Where it's all about the provenance of each legume.
CEO and Founder of Uncut Stems, Vicki Baker, is all about provenance, so much so, in her weekly letter makes clear where each of the flowers come from (since the air mileage of floral bouquets is a typically swept-under-the-carpet topic in the floristry world).
It's so easy to become desensitised to the seasonality of flowers, especially if you're an urbanite. So in these letters, Uncut Stems teaches members about seasonal flowers from spring bulbs through to Christmas wreaths, as well as care and styling skills along the way.
It's also nice to know that throughout the seasons members will recognise flowers from Uncut Stems in the parks, gardens and hedgerows around them, learning about each in the letter with illustrations drawn by Vicki, that accompany deliveries.
Uncut Stems was borne from frustration from the CEO and founder, Vicki. Who, as a former creative producer and stylist, found the world of floristry lack in sustainable, transparent options that were also creative and unique.
For Vicki, it's about us changing our expectations on what a bouquet should actually look like. The pristine, glossy, perfectionistic bouquets can often remove the reality of nature, the seasons, the passages of time over the year, and all the rituals that come with it.
So with Uncut Stems, each bucket incorporates flowers and foliage sourced as locally as possible, every flower traced back to the region it was grown. This can mean imperfect flowers, like those grown in a garden, or found in the wild. It's a re-education on how flowers should look and feel.
For those keen to get a taster before September, spare buckets are released weekly from space created by customers pausing their subscription. This helps avoid waste but also means that those on the waiting list can get access to a one-off delivery.
You can sign up to the subscription waiting list (and check if Uncut Stems delivers to you) here. 
SEE MORE