North Bridge House Senior Hampstead & Senior Canonbury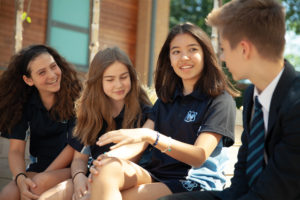 Address: Senior School Hampstead, 65 Rosslyn Hill, London NW3 5UD | Senior & Sixth Form Canonbury, 6-9 Canonbury Place, London N1 2NQ
Website: northbridgehouse.com
Founded: 1939
Number of Pupils: Hampstead – 440 | Canonbury – 230
Ages: 11-18
Fees: (annually) 21,855 – £23,148
Head Teacher: Christopher Jones, Charlotte Tassell-Dent
Religious Affiliation: Non-denominational
Entrance Procedure: Assessments and interview
Contact: Admissions office; 020 7428 1520
Email: [email protected]
School Visits: Open events held year-round; check northbridgehouse.com/open
The Curriculum
Highly qualified teachers deliver broad academic and creative curriculums, tailored to challenge and stimulate pupils according to individual needs. The curriculum is designed to promote resilience and adaptability while ensuring real-life issues, such as BLM, are brought to the forefront. Students prepare for 16+ and university with one-to-one mentoring, careers fairs and the Inspiring Futures Programme.
Games & The Arts
The broad-ranging games curriculum is designed to promote pupils' physical and emotional wellbeing and provide a sport for everyone. Students frequent world-class facilities for outdoor adventure and water sports, compete in national fixtures, and exercise the body and mind in yoga and martial arts. From Photography and Ceramics to LAMDA and NBH Rock School, the arts are key to the curricular and extra-curricular offering. Plays and concerts are regularly staged and art exhibitions are an annual event.
Pastoral Care
Pupil wellbeing is at the heart of everything. The school day is tailored around the teenage body clock to provide a later midweek start, and an onsite counsellor enables free communication in an environment where pupils feel seen and heard. Staff are committed to nurturing character, wellbeing and a warm community, so that every pupil thrives on a strong sense of belonging and security.
University Places
Pupils receive offers from a range of places, usually accepting from Oxbridge and Russell Group institutions.
Head Teacher's Philosophy
We pride ourselves on really getting to know each individual child on their journey to the next school milestone and beyond. It is through truly knowing the individual, cultivating their character and promoting their wellbeing, that we can help each child to achieve their full potential.
Outstanding Characteristics
Students benefit from a later start on Wednesdays in line with leading research into the teenage brain. Oxbridge preparation and 'World of Work' guest speaker events best inform students for successful futures, while staff work with UCL's Institute of Education on research-informed teaching methods.
---
---