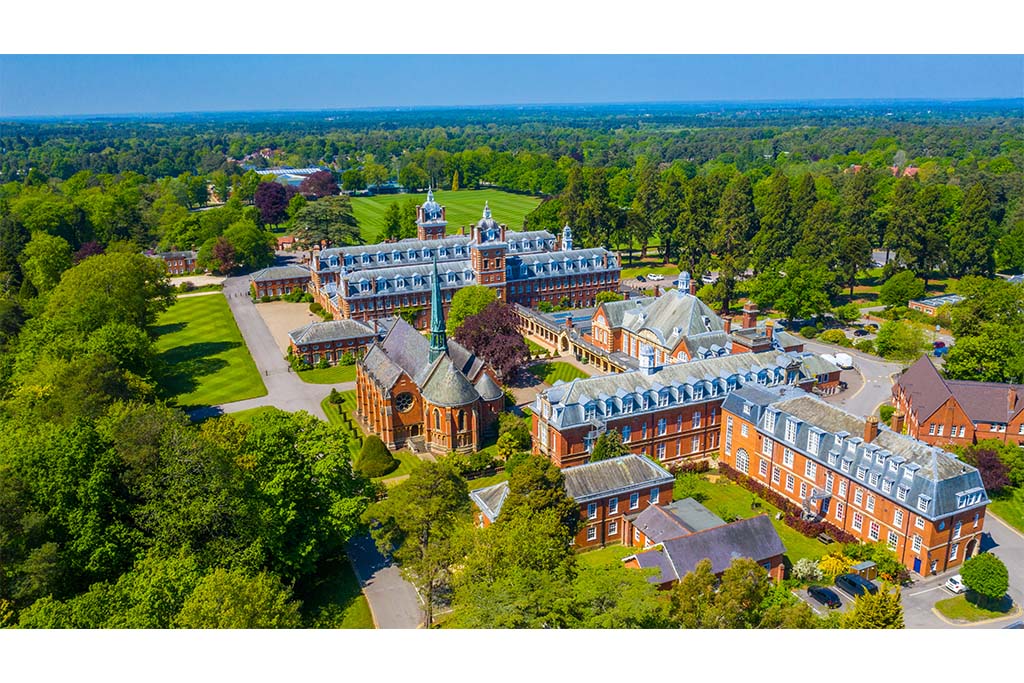 Address: Duke's Ride, Crowthorne, Berkshire RG45 7PU
Website: wellingtoncollege.org.uk
Founded: 1853
Number of Pupils: 600 Boys; 500 Girls
Fees: Boarding: £45,090; Day (in boarding house): £35,760; Day £32,940
Ages: 13–18
Head Teacher: James Dahl, MA
Religious Affiliation: Church of England, although open to and respectful of all religious faiths.
Entrance Procedure: Main entry ages 13 and 16. ISEB Common Pre-test in October or November of Year 6; assessment day at Wellington Lent Term of Year 6 for interview, lessons and group activities. No specific Year 8 Entrance exam favoured or required.  Own scholarship exam offered. For sixth-form entry, registrations from June to September at end of Year 10. Competitive exam, interview, group activities and GCSE grade 8 in sixth-form subjects.
Contact: Admissions, 01344 444013
Email: [email protected]
School Visits: Visitors Days, Master's Receptions and College Tours may be booked via the College website.
The Curriculum
In 2022, at A Level, 22 students achieved straight A*s; 39% of all grades awarded were A*, 76% were A*/A and 95% were A*-B.  The IB cohort achieved an incredible 41.3 average, with twelve students achieving the maximum 45 points; 75% scored more than 40 points. At GCSE, 75% of all grades awarded were 9/8 and 91% 9-7.
Games & The Arts
National reputation in rugby, hockey, netball, cricket, squash, rackets, polo, athletics, golf and shooting. Over 15 productions every year: musicals, dance shows and student-led plays. Vast number of musical ensembles and concerts. Awarded Artsmark Gold by The Arts Council.
Pastoral Care
Regularly described as outstanding in OFSTED and ISI reports. Pastoral care is overseen by Deputy Head (Pastoral and Wellbeing) and delivered through Houses, each with resident Housemaster/mistress and assistant, as well as Matrons. Every House year group looked after by a Tutor; 'buddy' system pairs new pupils with older years; all Houses have older pupils committed to looking after new pupils. Nationally acclaimed Wellbeing programme for all years.
University Places
100 Wellingtonians have been offered Oxbridge places over the past five years, while on average 25-30 move on each year to American universities, including several to Ivy League universities.
Head Teacher's Philosophy
At Wellington we are proud of our values, tradition and history, but uncompromising in our quest to seek out the best all-round education for both girls and boys. Our mission is to provide young people with the knowledge, skills and character to serve and help shape a better world.
All that we do is rooted in our five College values – kindness, courage, respect, integrity and responsibility – values which underpin every aspect of life at Wellington. We also passionately believe that the coeducation of boys and girls has never been more important, because when boys and girls are learning together, they are also learning the value of respecting new and diverse ways of thinking. We are uncompromising in our ambition to provide our pupils the opportunities to flourish and become their very best selves.
 Outstanding Characteristics
Set in 400 acres of beautiful parkland 40 minutes from Heathrow
Founded as the national memorial to the first Duke of Wellington, the school is imbued with the history of Waterloo
Renowned for innovation: many lessons follow the Harkness principle; pioneered the teaching of wellbeing and resilience
Service remains central with service activities from Year 9 onwards
Genuine commitment to an education that extends far beyond the classroom ensuring that every Wellingtonian leaves school equipped for the challenges and opportunities of tomorrow's world
Strong commitment to independent learning through scaffolded project qualifications
---
---