Keen angler Kate Fensterstock heads to the wilds of Argentina to deploy many different fishing techniques to try and hook the elusive golden dorado.
The Beauty of Argentina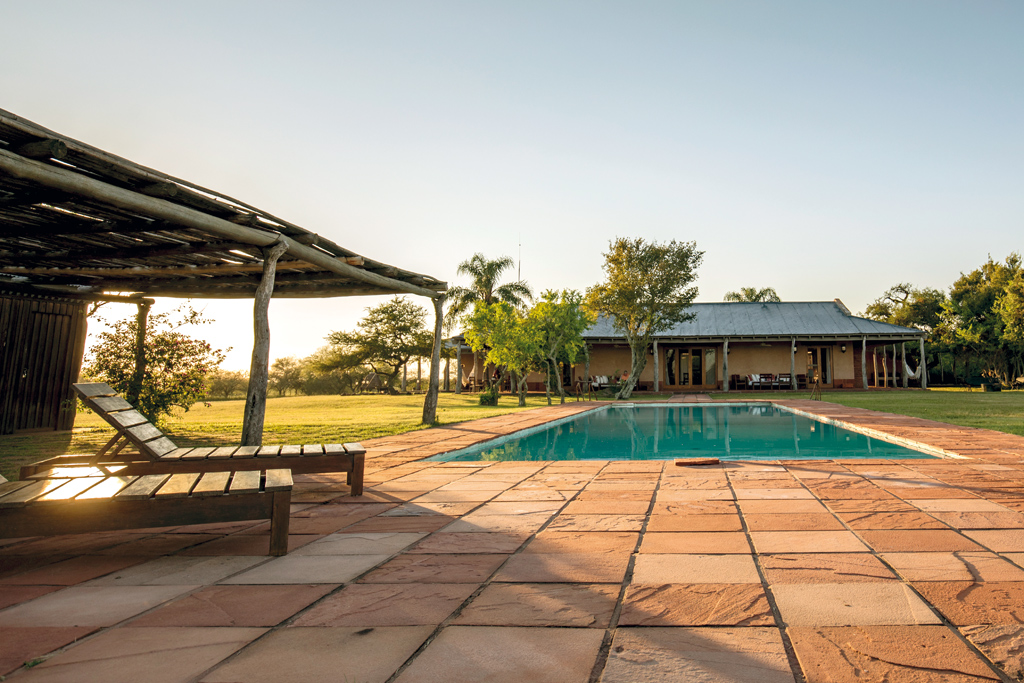 Quietly crawling through marshland with my rod balanced on my shoulder and doing my best to stay out of sight, I was reminded of stalking chalkstream trout in the British countryside, not a technique I had anticipated when fishing for the aggressive golden dorado in the Ibera Marsh of northern Argentina. But I was in fact after that elusive river tiger, and this morning's delicate approach to fly-fishing in the small, intricate channels of the marshland was one example of how folden dorado fishing constantly keeps fisherman on their tows, trying new techniques in varied, unapologetically wild environments.
What's On in the Country? Read our Culture Diary here
The lush landscape of the Ibera Marsh is certainly wild, located 10 hours from Buenos Aires by bus, and features nearly three million acres of untainted, natural landscape. The marsh ecosystem has, without doubt, one of Argentina's most impressive biota, composed of an extensive system of wetlands. With a remarkable diversity of plant and animal species, the Ibera Marsh constitute a substantial part of the natural heritage of Corrientes Province. Among the most distinctive animal species in the system are caimans (small alligators), southern river otters, capybaras (the world's largest living rodent and much more adorable than that sounds), marsh deer and armadillos.
The Traditional Charm of Pira Lodge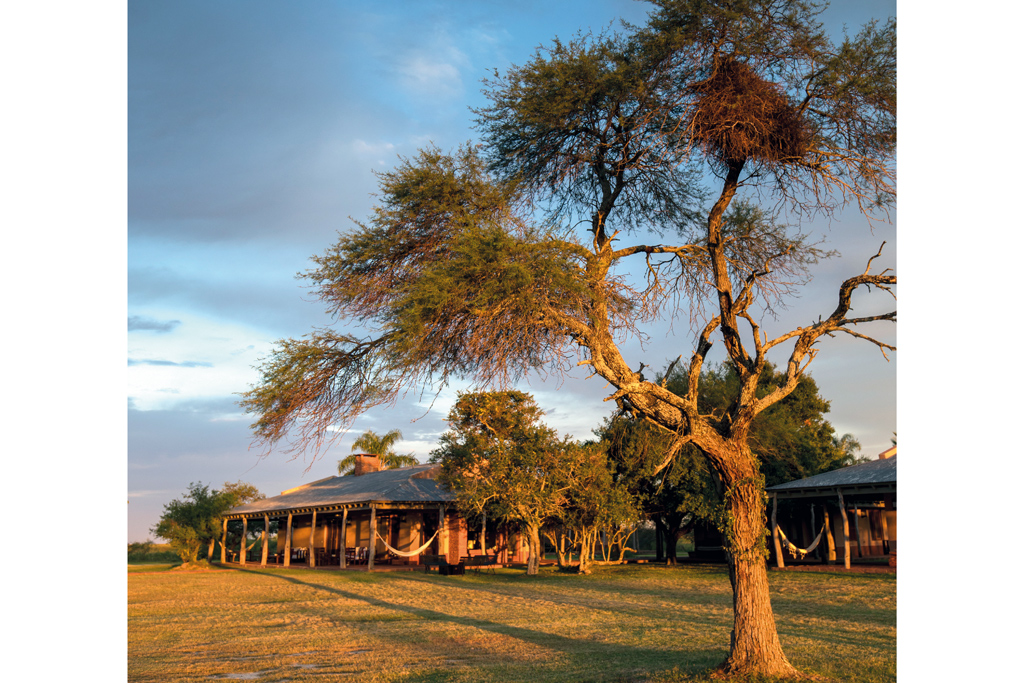 It is here that Pira Lodge, where I stayed throughout this thrilling week, is found. Ultra-traditional in style, it has been build in the Corrientes style which emphasises earthy tones and textured material such as terracotta and treated wood. The sprawling series if buildings blend in seamlessly with the raw, unkempt backdrop of the river system with its winding channels of diverse marshland, pockets of overgrown brush and leaves teeming with wildlife.
10 Properties on the Market with Glorious Gardens
For our first attempt at snaring our slippery prey, Francois Botha, our guide, was keen to get us into a thus far unexplored region. Our boat navigated nimbly through the roughage, but his work was cut out as Francois polled hard to get us through the toughest finally made it to our destination deep in the marshland, where the water was as smooth and transparent as cut glass.
As we rafted through a channel barely wide enough to fit the boat, Francois asked me to get out and stand bankside. Fishing for golden dorado from the bank? My chalkstream brain switched on and my trout-stalking instincts came alive. Through that clear water, I could see the distinct flash of gold with a black stripe darting down below.
In such calm water, it was hard to land the heavy streamer delicately and not spook the fish, When I placed the fly a bit to harshly, my target took one look and was off. Without a hint of dejection, Francois simply brought me back to the boat and off we motored on to the main channel where the sun bathed the river in a beautiful peachy tint.
A Race Against Time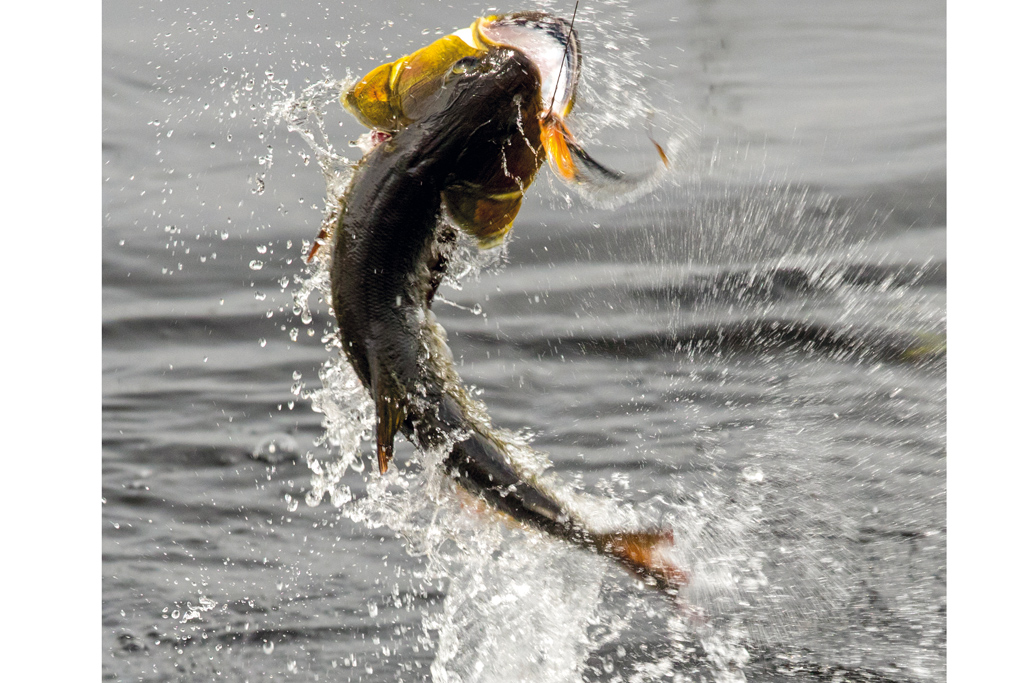 Francois advised me to get as much line out as possible, retrieving the fly long and fast in this slightly deeper, more complex water where the fish might have trouble seeing it. We were racing against time, as we were miles from the lodge and the light was fading. Just as I thought I would have to wait another day before meeting my first golden dorado, I felt a distinctive jerk on the line.
10 of the Best Waterproof Autumn Boots
Without a moment to spare, I kept stripping mechanically, desperate to hold that line tight. 'Wait for the jump!' Francois called, as giddy with excitement as I was. In a slightly over-dramatic fashion, I bowed as I had watched anglers do with a leaping tarpon, and despite my theatrical flair, the line held and I had my first golden dorado in the boat for a quick picture. Just in time too, as the sun was disappearing over the horizon. We cracked open the beer and sped back to the lodge to share the news.
Reflecting On Success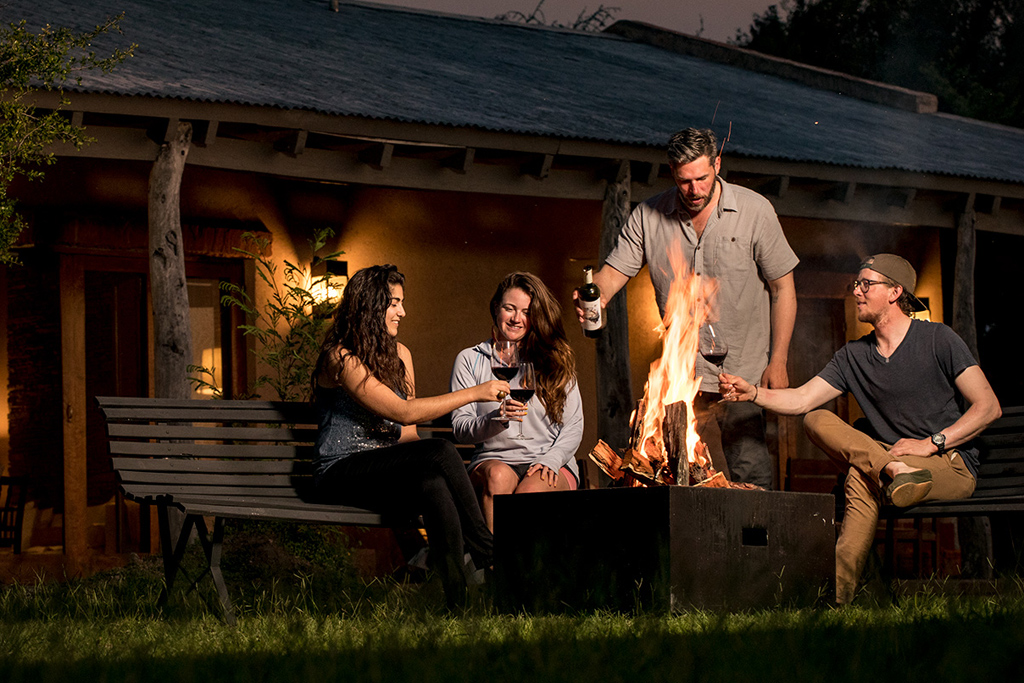 The best moment though came a few days later, when we headed out to fish the river system which has faster moving water and is seperate from the marshland. Reflecting again on the advice from the experts, I found myself fishing this water like I would for salmon, casting as far as possible and letting the line sweet across the water and moving it slowly to let the fly sink.
Francois was attentive and focused as he instructed my technique carefully, advising me to wait until the very last minute to strip in so the fly moved along the bankside where he was confident the fish would sit. Sure enough, I was in to a number of smaller dorado, but we wanted a bigger prize.
Suddenly, when I was fishing a bit deeper, letting my fly sink a bit longer, I felt a jerk on my line that was stronger than anything I'd felt before. Desperate not to lost it, I lowered my hand and put all my focus into strong methodical retrieves that would set the hook. A neighbouring boat cheered me on, yelling, 'Strip!' over and over again in unison. I did not let my team down, and we had an 11lb dorado in the net and submerged in the water so as to protect this beautiful bar of solid gold.
Glorious Golden Dorado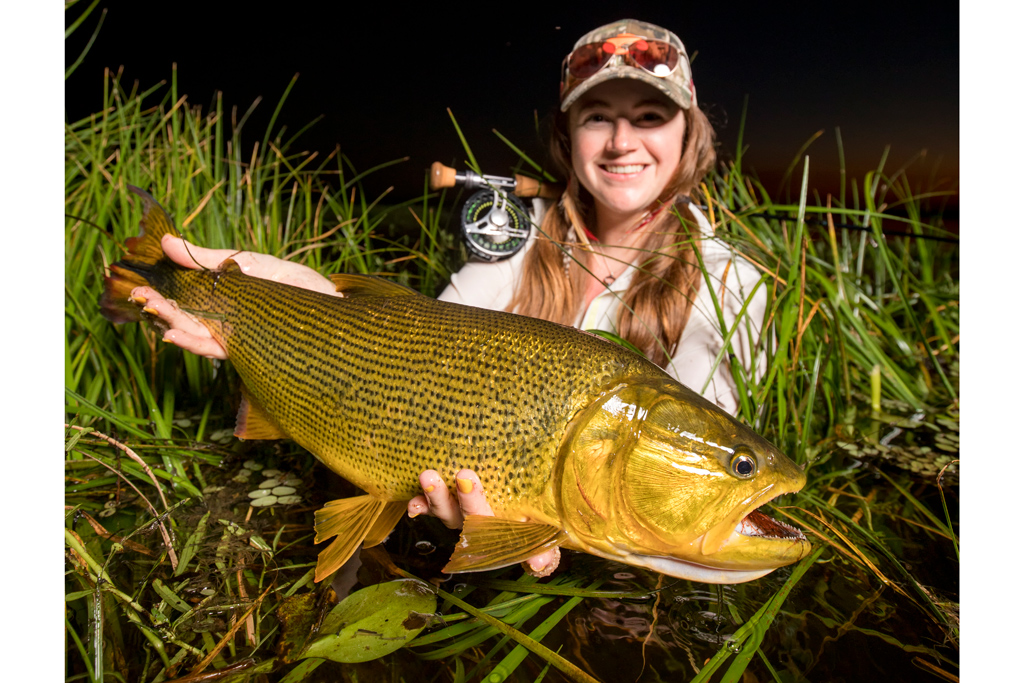 Golden dorado grow more and more golden in colour as they grow, and this fish was a glorious gilded hunk of flesh. The early afternoon sun sat high int he sky, and the rays caught the glinting scales perfectly, sending beams into the crystal clear water, bouncing off and creating a mirror image of dancing light. Sitting there in the water with this gorgeous fish glowing in my arms, was breathtaking. After so many encounters where I was forced to learn quickly the versatile behavement of my quarry, this was without a doubt my biggest catch yet.
For booking enquiries at Pira Lodge, visit piralodge.com
---