Hit the African wilderness for some wild adventures in 2018, but be sure to rest your head in style in one of the best African safari lodges for 2018…
Best Luxury African Safari Lodges
Livingstone Victoria Falls Zambia Hotel By Anantara, Zambia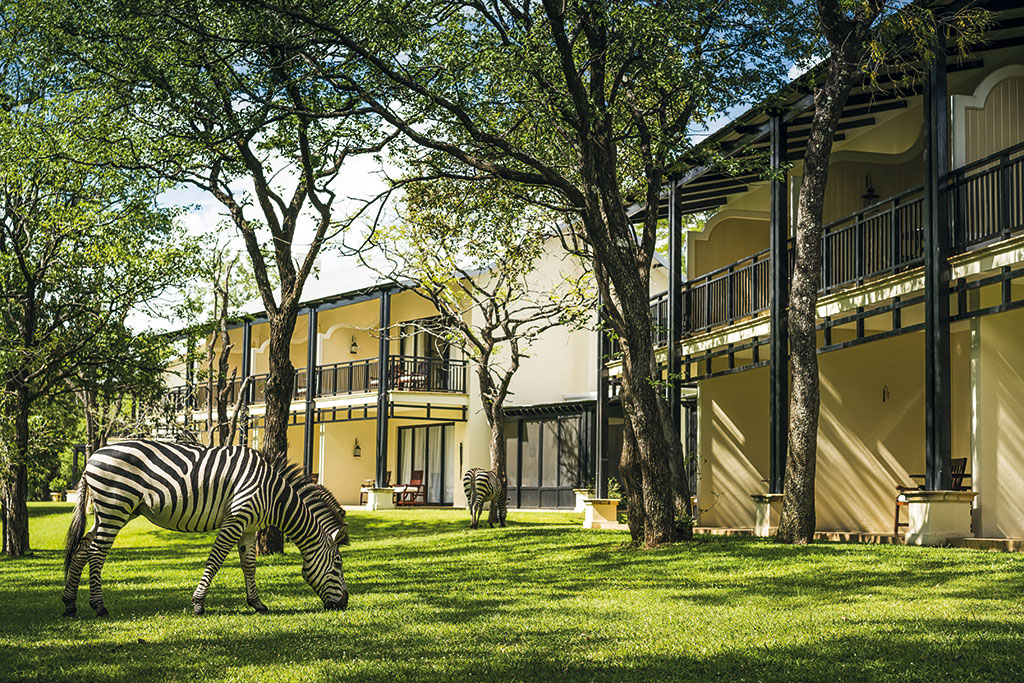 Before stepping foot on the manicured lawn of this hotel on the Zambezi river, guest are greeted by wallowing hippos, sleeping crocodiles and vultures on the wind-in-hair boat ride to the hotel. Arriving here is an adventure worthy of its namesake: zebras nibble lush grass beside the waterside bar and impala loll in the shade near poolside sunbathers. The hotel is named after Dr David Livingstone, who campaigned to overthrow the Arab-Swahili slave trade and gave the nearby Victoria Falls its British name. Inside it's all colonial-style dark teak. Plush, plumped-up cream sofas and oversized lamps fill large vaulted rooms and spill out onto a deck beside the clipped lawn. Spa treatments are given in gazebos next to the river. From this close, the nearby Victoria Falls lives up to its local name, 'The Smoke That Thunders'. Tourists can swim across to the Devil's Pool, a Jacuzzi-sized nook that appears at the top of the waterfall when the river is low. With just 11 inches of rock between you and the 100m drop – the term 'safe' might be a stretch, but no one has fallen over the edge yet. Cruises along the Zambezi river to see roaring hippos are a must, as is whitewater rafting on the Batoka Gorge, which is a huge rush.
BOOK IT: Doubles from £554 per night B&B (rates subject to change). royal-livingstone.anantara.com
Bisate Lodge, Rwanda
There is simply nowhere else like this in Rwanda. The stunning six villa Wilderness Safaris lodge has been built on the side of a hill just outside the Volcanoes National Park from where days are spent trekking to see the chubby-cheeked golden monkeys and human-like mountain gorillas. Inspired by the old Royal Palace in Nyanza, each villa at the lodge is round in design, with a tipped thatch roof and locally woven matting on the ceiling. The food is delicious – broccoli soup with lemon tahini, tilapia with a side of mango salad and passion fruit cheesecake for dessert – and the enthusiasm of the staff infectious. Don't miss a morning nature walk with in-house guide Aline Umutoni (at the highest point of the trail, you can see six volcanoes at once) or pass up meeting nearby villagers. And before you leave, there's the chance to take part in the hotel's pioneering reforestation programme by planting a tree with agronomist Jean-Moise Habimana. Note down the exact co-ordinates, so you can find it if you return. Which you'll want to immediately.
BOOK IT: Doubles from US$2,310 per night. wilderness-safaris.com
20 Places to Sleep Before you Die
The Highlands, Tanzania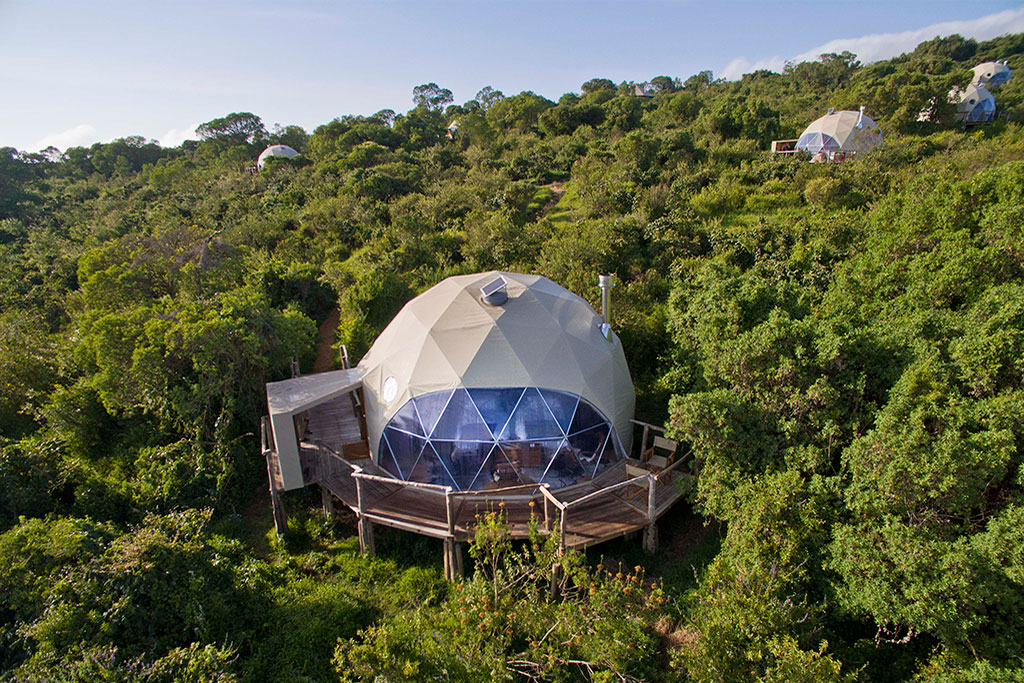 Set in the remote Ngorongoro conservation area, surrounded by rolling hills that could almost pass for the Scottish Highlands, this is the latest opening from Asilia and its first in this part of Tanzania. There are eight dome-shaped canvas and teak tents, each with striking black and white portraits of Masai women hanging above huge beds, layered with cosy blankets and tartan cushions. Cow hide rugs on the floor and a wood-burning stove, which is lit at night, make it snug as a bug. Communal spaces have been strategically placed to make the most of the light at different times of day: sunrise from the dining room at breakfast and sunset in the bar, while sipping a hot 'savannah banana' cocktail (black coffee, banana liquor and dark rum), are both spectacular. But what makes this place really special – other than the landscape – is the people. Many of the staff and guides are from the Masai and they can tell you everything, from the traditional way to cure toothache with sodom apple berries to the age of elephant dung on the road. Magic.
BOOK IT: Audley Travel offers a nine-day trip, including two nights at The Highlands, from £4,995pp, including flights, meals, game drives, transfers, fees and some drinks. audleytravel.com
Victoria Falls Safari Club, Zimbabwe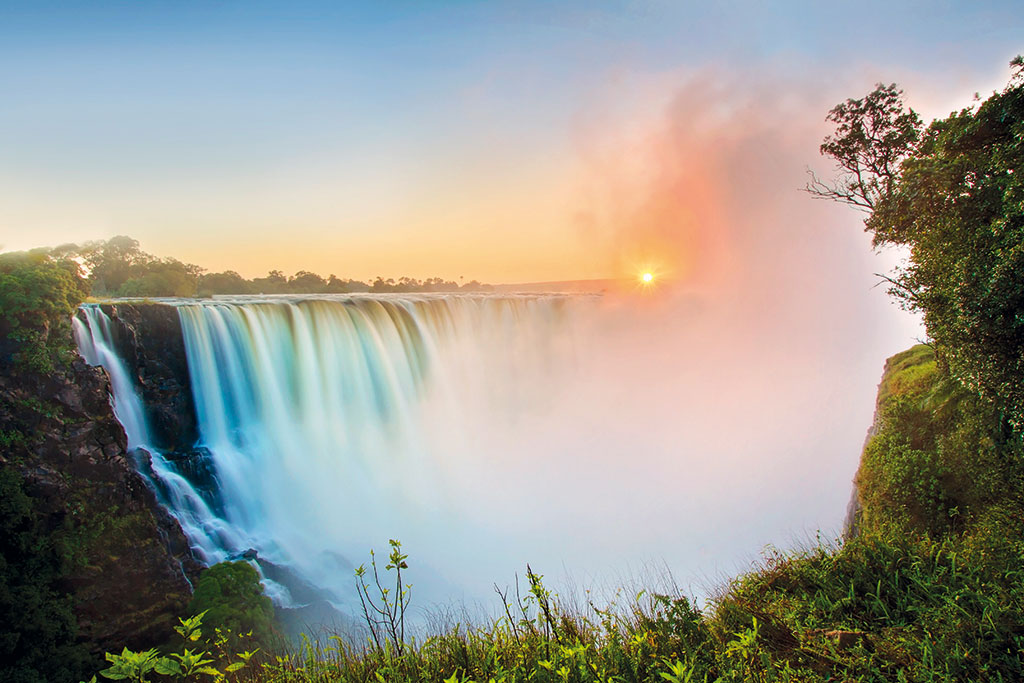 Just 10 minutes from the Victoria Falls in northern Zimbabwe, this hotel is close enough for white water rafting, but far enough for silence (wildlife excluded), as you never hear any helicopters that circle the Falls area. The hotel encompasses three sections: the Victoria Falls Safari Lodge, the Lokuthula Lodges for self-catered groups and the Victoria Falls Safari Club, a VIP nook of the hotel with a more exclusive, grown-up edge. With its three distinctive sections, this grassy idyll suits all kinds of traveller (although children younger than 10 are gently discouraged.) At the Safari Club, breakfast and sundown toasts are on a deck specifically for club guests (only about 40 people if all the rooms are full) and overlooks the Zambezi National Park where herds of elephants gather to drink at a watering hole and warthogs fight over a disputed sweetheart. There's a pool too, also overlooking the vast green landscape, so swims can be taken overlooking the animals and the sunset beyond it. A few minutes walk away, the Victoria Falls Safari Lodge has a restaurant that feels like an enormous tree house, and serves an a la carte dinner under its huge vaulted wooden ceiling, while elephants amble past, and is open to everyone. For a traditional Zimbabwean experience, The Boma is also open to everyone and lays on a buffet in an enormous thatched building held up by tree trunks. Crocodile steak, warthog and impala curries followed by fried worms for the truly adventurous equip everyone for the after-dinner drum show. Diners take turns to accompany the double-pace beat; Zimbabwean toddlers take up the dancing gauntlet quite naturally. By day, zip line over the Zambezi gorge, catch a game drive or witness hippos fighting from a sunset river cruise. Adrenaline and elegance aplenty here. BEST FOR: Families with teenagers, honeymooners
BOOK IT: Doubles from £146pp, B&B. africaalbidatourism.com
Ngoma Safari Lodge, Botswana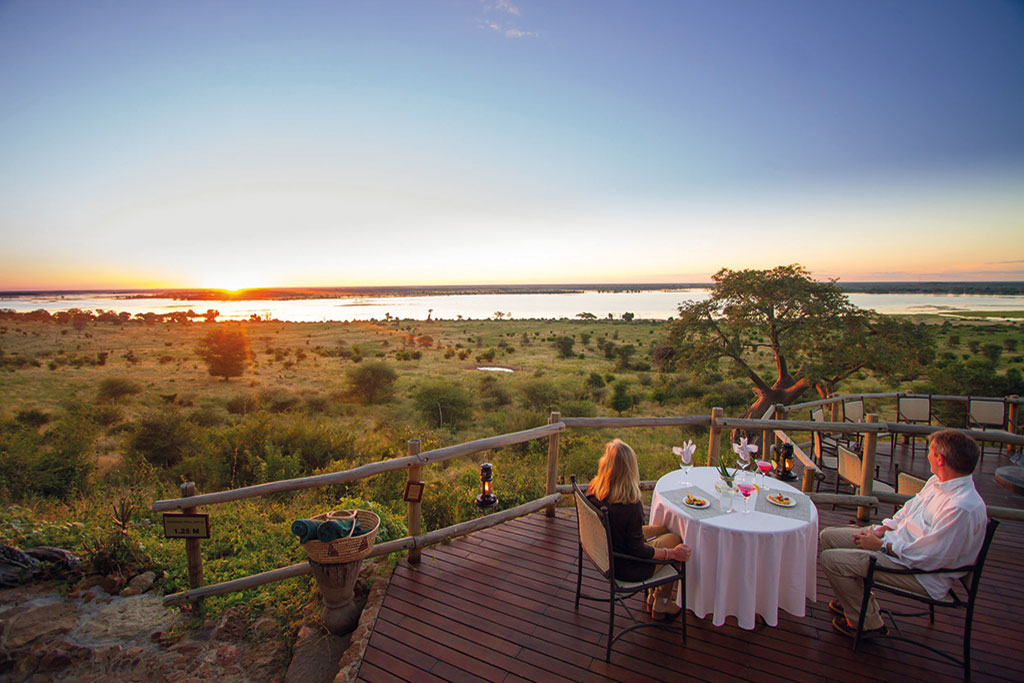 Waterbuck, impala and zebra graze on the vast plain that flanks this tiny boutique lodge. Comprised of just eight swanky thatched huts, everyone wakes up to the epic view of the Chobe River (which separates Botswana from Namibia). The lodge is three kilometres from the wild and wonderful Chobe National Park with its lions, cheetah, wildebeest – and its bounty of beautiful elephants (129,000 in all). Meals are served in a grand rattan and wooden pavilion decked out in fabric from the Ndebele tribe in southeast Zimbabwe. A barbecue area surrounded by a wall of branches with a huge bonfire at its centre make for a decadent and earthy dinner. Sand brushes underfoot while chefs fry sirloin steak to order. Days spent spying giraffe, elephants and lions with the lodge's safari guide are a thrill – but by night, the nocturnal and intrepid can pile into a Land Rover to experience a cheetah's orange eyes shining out of the pitch dark as it lounges in a tree. Most impressively, the Ngoma enterprise is owned by the local community who can claim it back when the 25-year lease finishes, and all the staff – bar two – are hired in equal numbers from local tribes.
BOOK IT: Doubles from £416pp fully inclusive, including transfers and four activities per day. africaalbidatourism.com 
UmSisi House,
Mpumalanga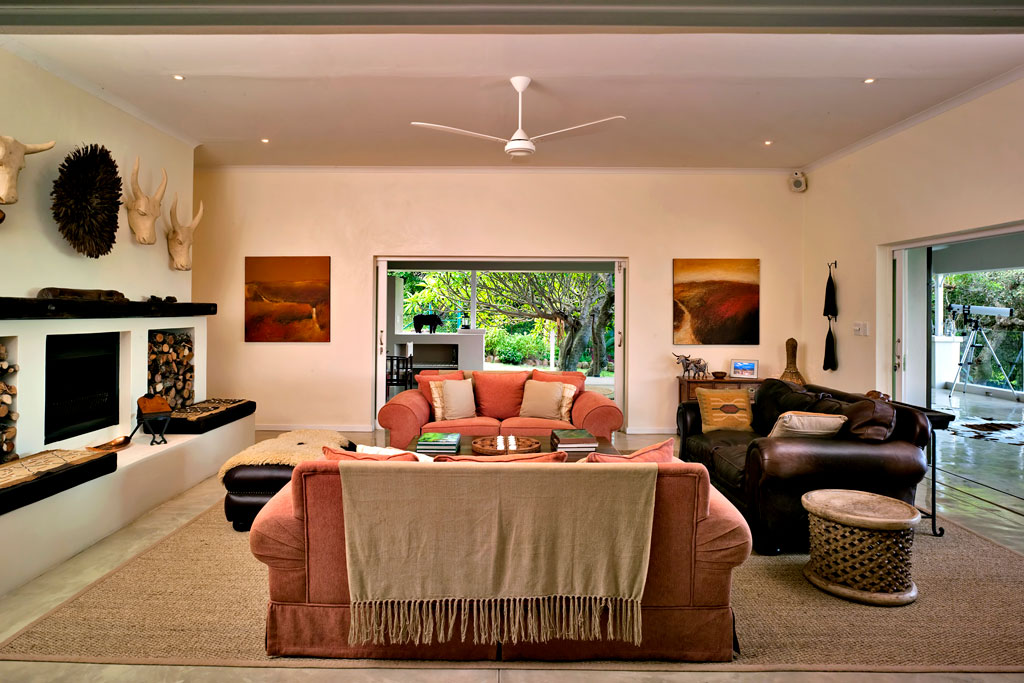 This privately owned 5-star country house in South Africa offers a truly unique and personalised stay for couples and families in a fabulous location between the towns of White River and the adventure activity capital, Hazyview. Offering easy access to the world-renowned Kruger National Park as well as boutique shopping destination Casterbridge Lifestyle Centre, it's also perfectly placed for exploring the extraordinary Panorama Route. Nestled within 60 hectares of pristine bush, it's the perfect opportunity to explore everything the Kruger Lowveld region has to offer. Wake up to panoramic views of Legogote Mountain and the village of Masoyi and take a stroll around the stunning gardens which are home only the most majestic trees and an abundance of wildlife. Take a seat in the relaxing Jacuzzi and watch the day go by or dip yourself in the pool to cool down. Book a bespoke Kruger safari for the family (with no age restrictions for children) so you can truly embrace the essence of the place described as 'a world in one country'. Choose between dinner, bed and breakfast, fully inclusive or even self-catering – either way you'll be sure to experience the finest luxury accommodation in the heart of Africa, with a personalised service unlike anywhere else for miles.
Long Hope Villa At River Bend Lodge
Addo Elephant Park, Port Elizabeth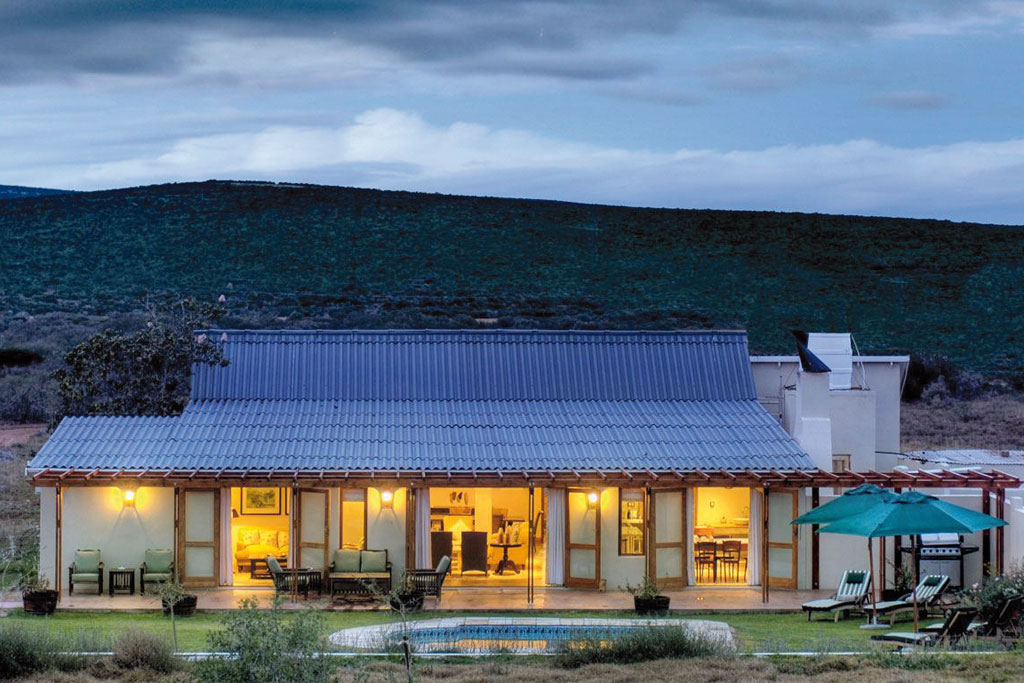 Long Hope Villa is a 1930s original homestead, in traditional colonial style, bang slap in the bush, outside of whose fence you're at your own risk (unless you fancy your chances against a lion), but from its shady verandah, G&T in hand, you can watch any type of indigenous game – zebras, warthogs, kudus… the only backdrop sound being the symphony of grasshoppers and maybe, if you listen hard enough, the mild chomping of the resident tortoise. With three bedrooms, it's perfect for a family or group of friends (River Bend is one of a handful of African lodges that welcome children of any age and has just won Best Luxury Lodge in Africa for the second year running), the main lodge is a few hundred metres down the road and accommodates 16 guests. Addo Elephant Park is a national park, meaning every creature within its 40,000 acres is native, and unlike private game reserves, which can be known to truck in ample supplies of the Big Five for gawping tourists, you won't find an animal out of place here. So that means no giraffe, no hippo, no springbok, but does mean elephant, white-tailed mongoose, buffalo, lion and, if you're very lucky, a sighting of the rare black rhino. Take a game drive in a big open-topped 4×4 with Darlington and have a nature lesson like no other. Find out why zebras have stripes; the critical role of the dung beetle and why the Addo female elephants are the only type not to have tusks; you'll follow fresh lion prints and stop on the mountain top for sundowners and a view stretching as far as the eye can see. All of this without almost any other vehicle around. River Bend is the only lodge in the park to have access to its own private 14,000 acres. Back home, tuck into a home-cooked meal from Sam, while Moses liberally fills your wine glass. This is a taste of old-fashioned Africa at its very best, albeit with some of the best wifi in the country.
BOOK IT: From 19,469 ZAR (around £1,155) per night (sleeps up to six) fully inclusive, with two daily game drives. longhopevilla.co.za
Morukuru Ocean House
De Hoop Nature Reserve, Swellendam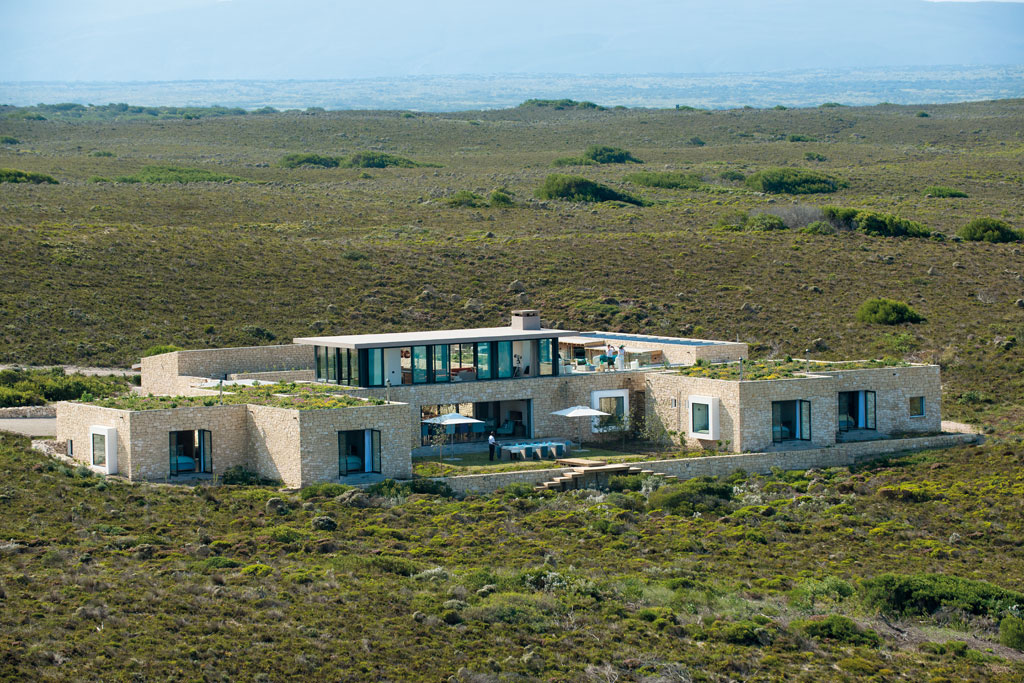 You're literally at the edge of the earth when you reach Morukuru Ocean House having negotiated a long gravel road (ideally in a 4×4), to an off-grid, four-bedroom, private eco hideaway in De Hoop Nature Reserve on the southern tip of the Cape. Three thousand miles across the Indian Ocean straight ahead and you'll hit Antartica. Constructed just four years ago, the interiors, by Dutch designer Janine Feikes-Butter, are exquisite; a build of minimal footprint but maximum impact from its driftwood sculptures with opaque glass jar ends suspended from them and a wall of South African sculptor Lionel Smit's African faces to its huge open fires, detached baths and endless cosy seating areas to soak in that awe-inspiring view, which is all yours. You may not realise it but you will when you head out for a walk with Calvin who, along with his wife Cheré and a crack team, tend to your every need, that you're in a very unique environment indeed. The Cape Floral Kingdom is just one of the world's 18 biodiversity hot spots, taking up only 0.04 percent of the world's land area, yet containing an incredible three percent of its plant species, making it one of the richest areas for plants in the world. It's not just the land that's protected around here, the sea is too, so during the season from around June to November, whale watching will become your sport, with no interference from tourist or fishing boats. Days here will be spent being as active or lazy as you like, but you should be encouraged to go rock pooling with Calvin, sandsurfing on the dunes followed by a sundowner and a homemade samosa, and then top it all off with a soak in the southernmost hot tub in Africa before dinner of rack of lamb, potatoes dauphinoise and seasonal veg, eaten outside in front of a crackling fire. A short drive away, and opening this July, you'll find Morukuru Beach Lodge, a five-room lodge along the same ethos as the house, so now more visitors will get to sample this other-worldly environment. Lucky them.
BOOK IT: Exclusive use at Morukuru Ocean House from approx. 34,000 SAR (around £6,472) per night for six guests, fully inclusive. morukuru.com
The Best Resorts in the Maldives
La Clé Des Montagnes
Franschhoek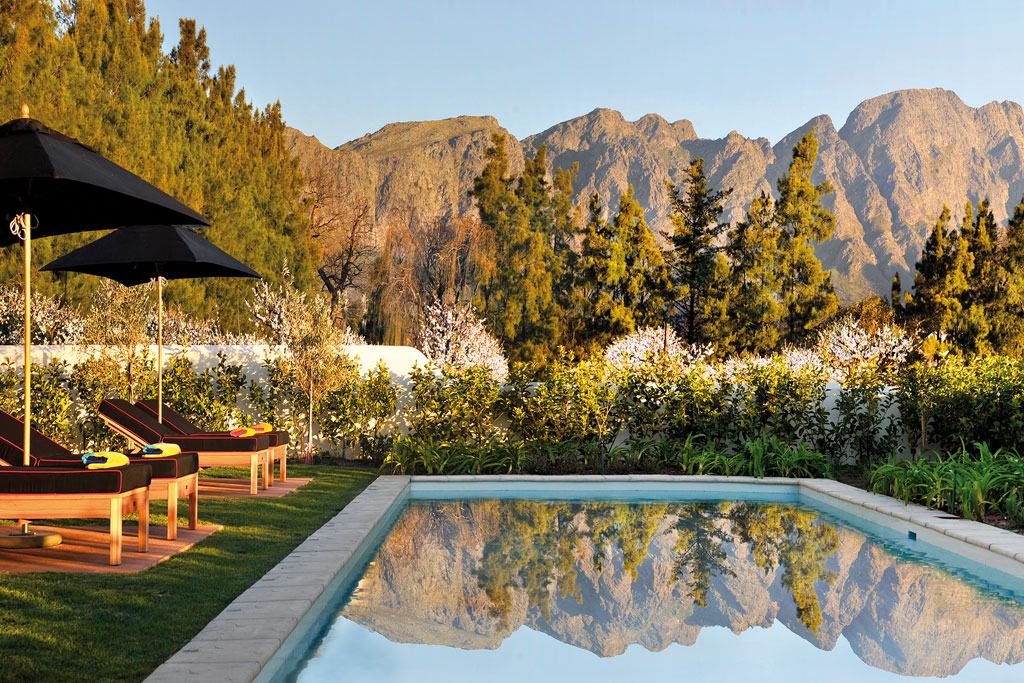 Pin drop silence punctuated by glorious birdsong (in particular the unmistakable squawk of the Hadeda Ibis) and a landscape unrivalled in beauty (vineyards, mountains, fruit trees, all in lush, lush green), welcome to South Africa's wine region, and more specifically La Clé des Montagnes, and its four impeccably stylish Franschhoek villas, where you can settle down in peace and privacy amid a working wine estate. It's no wonder Annie Lennox books in faithfully every year, it's a pinch- yourself-that-you're-not-dreaming kind of place with Instagram-worthy interiors: think ikat-covered sofas, wicker chairs with squashy cushions, a rich palette of burnt sienna, ochre and mustard yellow with punchy coloured accents and rich textures, inside-outside living, coffee tables piled high with hardback books, agapanthus- filled borders, gardens and a swimming pool. Charming staff are there to provide as much or as little as you like – they whip up some mean French toast and bacon for breakfast, along with Greek yoghurt, fresh fruit salad and warm croissants and can cater for a dinner party or pick up a takeaway pizza from the local Italian, the choice is yours. Food and, of course, wine, are at the heart of any visit here and you'll be spoilt for choice (if, that is, you can bear to tear yourself away from your villa). Just five minutes' walk away and you're in the heart of the chichi little town with more than its fair share of South Africa's 100 best restaurants. Our pick? La Petit Ferme (brilliant for children), and slightly further afield, Babel, at glorious working farm Babylonstoren – but you must book in advance. You really cannot fail here.
BOOK IT: Timbuktu allows travellers to add La Clé Villas to any of its itineraries, from £330pp per night. timbuktutravel.com
Cape Town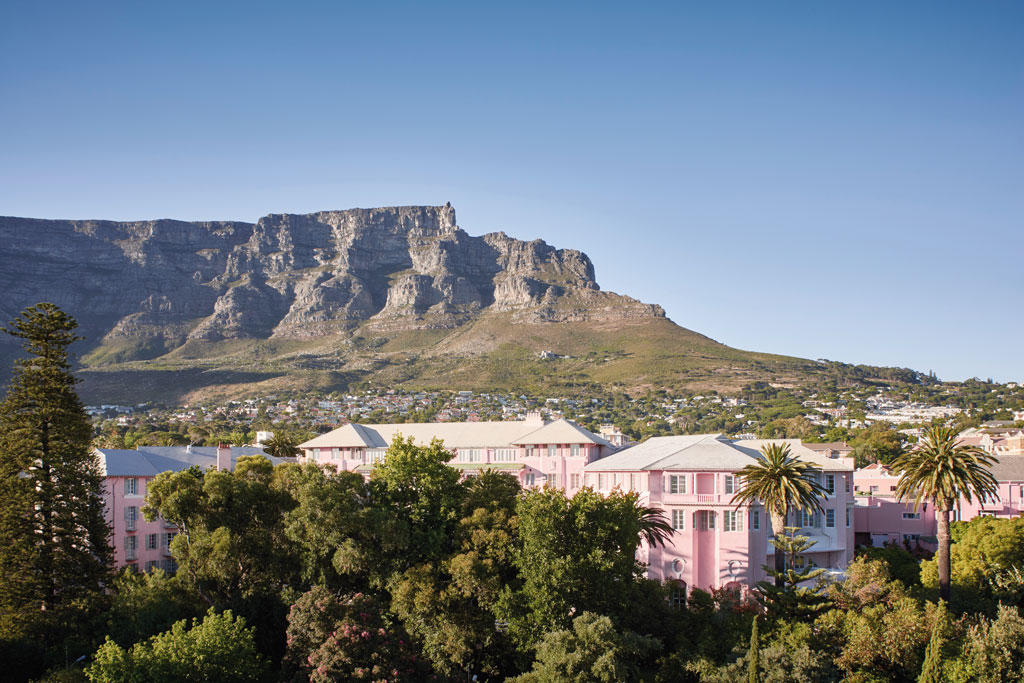 A vast green lung in the middle of the city, the 'Nelly' is a marshmallow pink oasis set in nine acres of beautiful gardens dotted with sculptures and local wildfowl, and crawling with white roses and floribunda hibiscus trees; there are two swimming pools (one adults only), tennis courts and magnificent views of Table Mountain from some of its 196 rooms. It feels more like a country club than a city hotel thanks to its English afternoon tea on the terrace that rivals that of the Ritz (better weather guaranteed and you should try their Tea Sommelier experience; who knew there was so much to know about the humble cuppa?) and its overwhelming sense of space. For something stronger, take a pink gin cocktail – this year, the hotel celebrates 100 years since it was daubed pink in celebration of the end of the Second World War – and soak in all that history that seeps through pretty much every nook and cranny. Wander into the Churchill Writing Room, where the former PM spent time during the Boer War as a war correspondent and then inspect the portrait of Nelson Mandela by resident artist Cyril Coetzee, who can paint your portrait too should you wish. For nearly 120 years, this gentle grande dame has attracted everyone from local movers and shakers to the world's A-listers, drawn to its innate sense of gracious ease, an iconic background to over a century of history.
BOOK IT: Doubles from £350 B&B. belmond.com
MORE TRAVEL: The Best Places to Meditate in 2018| Spa Guide 2017| The Best Resorts in the Maldives 
---