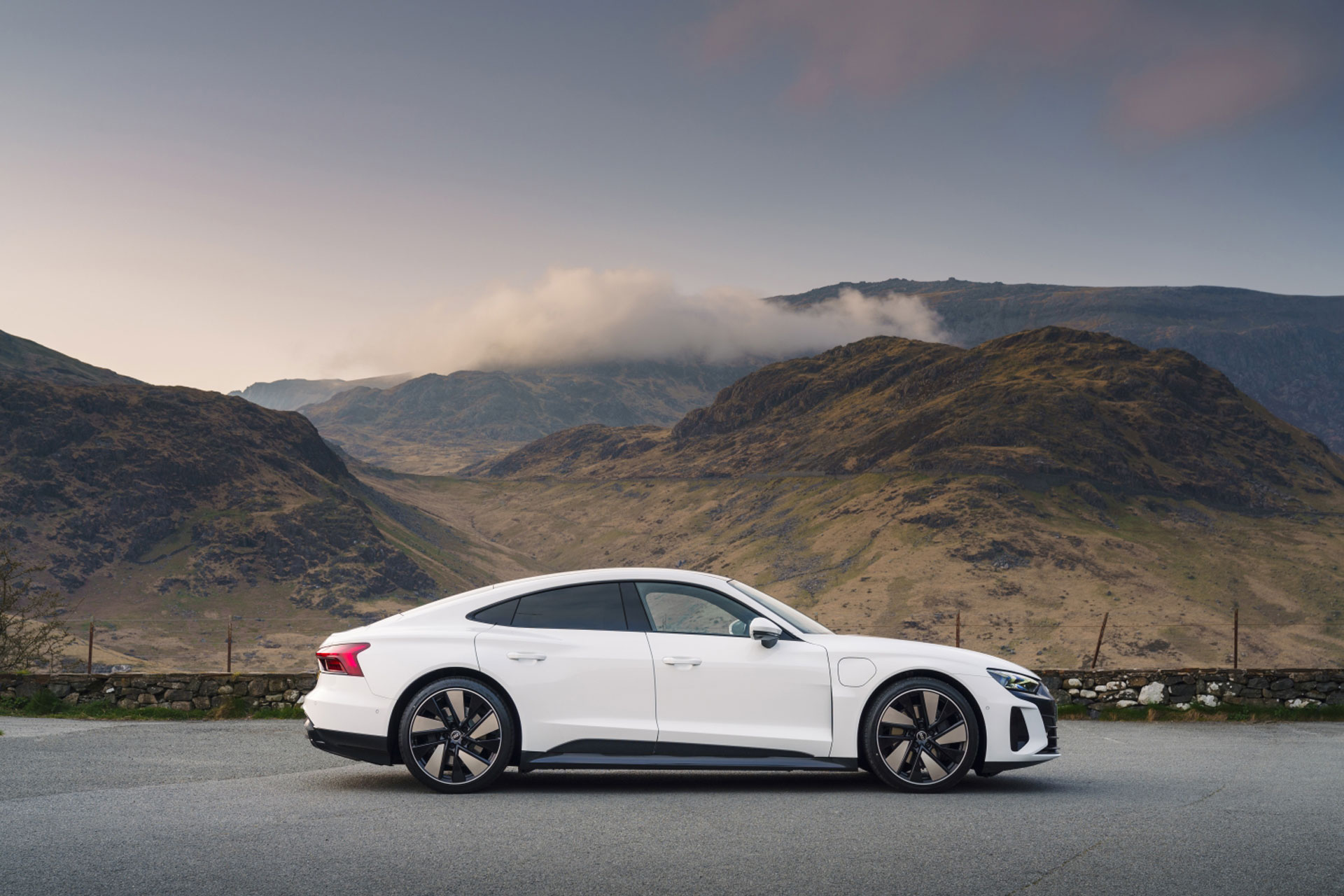 Audi e-tron GT — The Green Lane
---
'I think noise pollution will be a thing of the past with the EV revolution'
Motoring editor Jeremy Taylor and sustainable fashion expert Jessica Saunders ponder the all-electric Audi coupe; the Audi e-tron GT.
Audi e-tron GT — The Green Lane
JT – On a scorching hot day last week I peered out of my office window and watched a heat haze coming from the roof of our e-tron GT test car. The grass was scorched and it looked like a scene from Mad Max.
JS – I've been meaning to ask you. Do any cars have solar panels? After this last heatwave you wonder if manufacturers aren't missing a trick.
Well, that's not such a daft question as it happens. A few years back, I took part in the World Solar Challenge in Australia, driving 2,000 mile through the Red Centre of the outback in a vehicle powered only by the sun.
Cool!
Not in the slightest. It was so hot in the car without air conditioning that I left a small pool of sweat in the seat. I had to be lifted out of the cockpit after an hour.
So, has nobody thought about solar cars?
Several companies have used solar technology. The Toyota Prius displayed panels on the roof. It wasn't enough to charge the batteries but allowed the air con to pre-cool the car before getting in. Past versions of the Nissan Leaf and Audi A8 also employed sun power as a unique selling point.
But not the Audi e-tron GT! Still, it's quite a car isn't it. We drove the sportier, RS version earlier this year but that was very expensive at over £115,000.
This 'standard' version still costs more than £83,000 but has the same spectacular acceleration – 0-62mph in 4.1 seconds – and is beautifully appointed inside. The GT also sports one of the best profiles of any car, in my opinion.
I completely agree. If you know anybody with deep pockets who still isn't in to buying an electric vehicle, this and the Porsche Taycan are the cars that will change their mind.
Both cars are built on the same platform, so that may have something to do with it. The 523bhp Audi has more performance than most people will ever need. It only falls down on battery range, which is around 235 miles in the real world – much less than key rival, the Tesla Model S.
Thanks to that elegant, sloping rear roof, headroom in the back is also a bit tight for adults. But the GT is comfortable and with four doors, a proper family car.
Plus, with a climate-changed winter soon upon us, the e-tron uses two electric motors to provide four-wheel drive, for better grip. The cabin is, naturally, very quiet but owners can add a suitable electronic soundtrack to increase the drama. The dashboard is a little 'reserved' compared to a Taycan – but the Audi does have physical buttons for the climate control, which I wholeheartedly approve of.
I think and hope car noise pollution will be a thing of the past with the EV revolution! And yes, let's have buttons to change the ventilation settings because scrolling through a screen menu is far more distracting for a driver.
And there's plenty of room for some solar panels on the roof too…
Jessica Saunders is Director of Programmes at London College of Fashion, studying for a PhD in sustainable e-textile design.
SEE MORE
Mercedes-Benz EQS Review / Polestar 1 Review / The Hispano Suiza Carmen/Audi RS e-tron GT