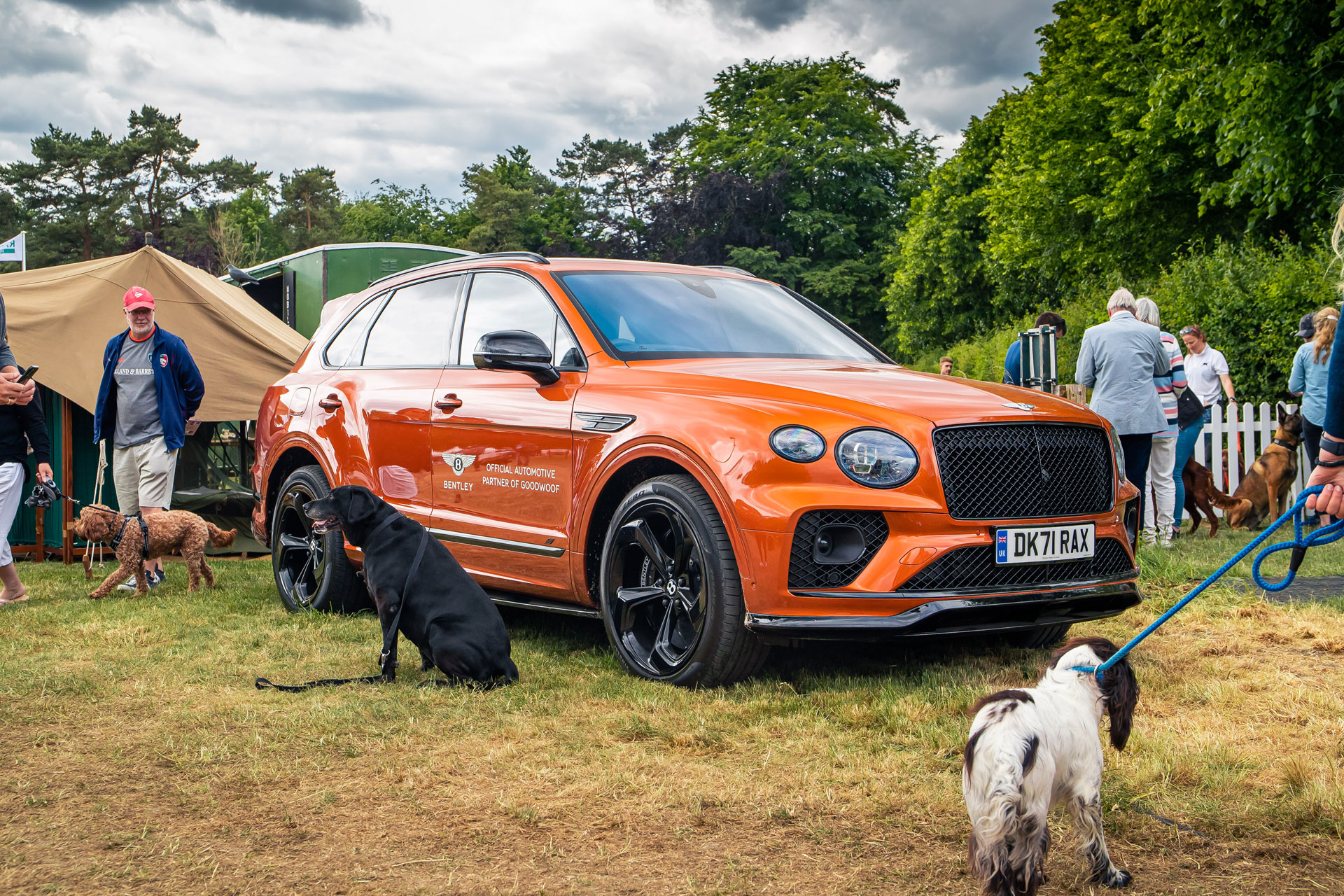 Bentley Bentayga Hybrid at GoodWoof Festival
---
'So many different choices of wood and leather for your pooch to ponder'
Motoring editor Jeremy Taylor and sustainable fashion expert Jessica Saunders visit the first Goodwoof festival in a canine-friendly car, the Bentley Bentayga Hybrid.
The Green lane: Bentley Bentayga Hybrid
JS – It was bound to happen wasn't it – somebody had to establish a dog show with a difference. So many pets were bought during the pandemic!
The Social Calendar: Dates For Your Diary
JT – Yes, and trust the opportunistic Duke of Richmond, founder of the Goodwood Festival of Speed, as well as the Goodwood Revival, to be the genius behind it. That said, the prospect of 2,000 dogs in a field outside your stately pile would likely put a few off the idea.
JS – That's an awful lot of poo bags but let's not go there! Goodwoof with an F seems to have been a barking success – a fantastic celebration of all things dogs and supporting the Dogs Trust charity. Roughly 4,000 dog owners over two days in the Sussex countryside –
fantastic.
JS – And appropriately, it all took place outside the Kennels club, which is where the country's first ever hunt took place in 1739. Not very PC now but it started at 7.45am and finished in total darkness almost 11 hours later.
How to do Goodwood Festival of Speed in Style 
JT – Bentley was the automotive sponsor of this first Goodwoof – which may be historic too. Its most dog-friendly model is the Bentayga SUV, a practical Bentley that costs from an eye-popping £146,000
JS – Yikes. Bentayga's not that pretty on the outside either but at least the interior is the best I've seen in an SUV. It's beautifully handcrafted, with so many different choices of wood and leather for your pooch to ponder.
JT – Bentley don't offer an all-electric version yet but there is Hybrid model, with 31 miles of tax-busting, all-electric range for short commutes.
JS – It has to be the pick of the range because the V8 and W12 petrol engines aren't exactly environmentally friendly.
JT – Indeed but Bentley has promised one new electric car, every year for five years from 2025 onwards. They've also done a good job of creating one of the greenest car factories in the world at their Crewe headquarters. The plant features more than 30,000 solar panels, logistics vehicles are electric and, in a bid to go paperless, it's even frowned upon if staff use a printer for documents!
JT – Sustainability is the buzz word at Bentley right now. The whole business plans to be carbon neutral by 2030 and carbon positive thereafter. Every aspect of the business is being transformed to that end. They keep bees on the roof, recycle water and have a 'green wall' at the factory, with 2,600 plants.
JS – And they also like dogs too, so no doubt Goodwoof II – The Sequel will be a big success in 2023.
Bentley at Goodwoof 2022: More Pictures