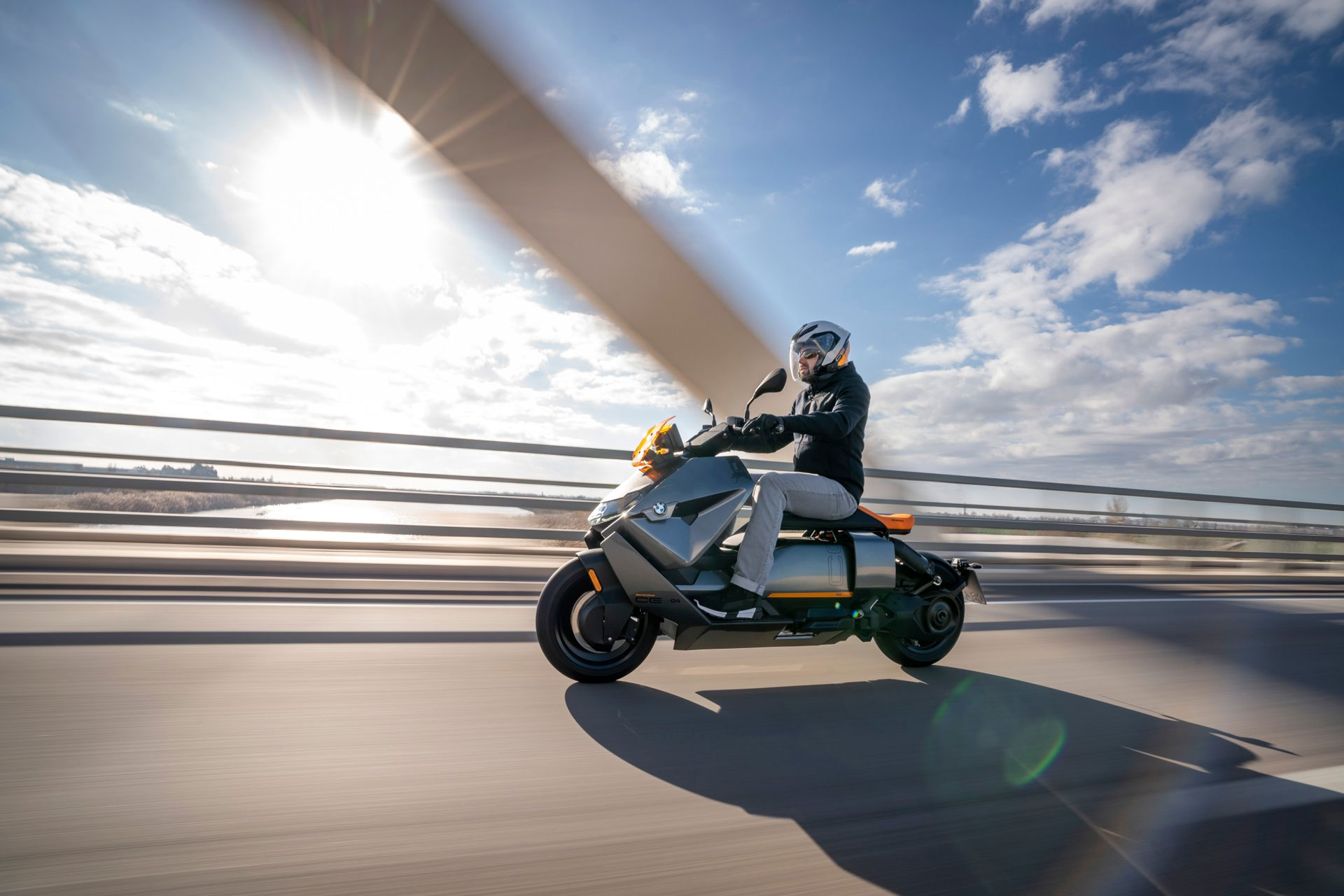 BMW CE 04 — The Green Lane
---
'There's a big glovebox. You won't find a cupholder though'
Motoring editor Jeremy Taylor tries to persuade sustainable fashion expert Jessica Saunders to saddle up on an all-electric scooter BMW CE 04 moped
BMW CE 04 — The Green Lane
JS – There's no way you will get me out on a motorbike – even if it is electric!
JT – Well, you have been on a motorbike with me before and in the interests of research, and all that, perhaps you might reconsider?
Sadly, it's still a no. That said, I don't think I've ever seen a scooter like this one. Was it built as a one-off for Blade Runner or Star Wars?
Neither but as the traffic is likely to be a bit Mad Max in London due to the rail strikes, the BMW will work very well for commuters. Thanks to rapid, silent acceleration, it's the perfect tool for urban riders who also want to cut a dash.
Helmets off to BMW for building something that really stands out from the crowd. With heavy batteries to lug around, it can't be that much fun, can it?
It is actually. Admittedly, the CE 04 is heavier than a conventional scooter but with a 42bhp electric motor, it can also travel at motorway speeds. The BMW is really designed for city use, to make the most of the 80-mile range.
Presumably that range will be cut dramatically if you ride it hard?
Indeed, but owners can charge the scooter to full in four hours and 20 minutes from a standard wall socket, or one hour and 40 minutes with a home charger.
Okay, so where do I store my Pret sandwich and latte? The trouble with motorbikes in this country is that you have to consider carrying extra clothing for bad weather too.
BMW has thought of that. The CE 04 has a helmet-sized space, accessed via a side panel, that takes quite a lot of gear – and there's a big glovebox. You won't find a cupholder though.
What's it like to ride?
It's narrower than most scooters and is therefore great for squeezing between gaps. 0-31mph takes just 2.6 seconds, more than enough to get ahead of the pack at traffic lights. Riders can choose from three ride modes, depending on conditions and BMW offer a range of options, from lean-sensitive automatic headlight, to a sporty, "Dynamic' package.
So, is it just a case of twist the throttle and 'go'?
Simple as that. Choose the ride mode – Eco offers maximum battery recuperation from engine braking – and the CE 04 will whisk you from Pret to the office in no time. There's also a reverse gear, which is really handy parking in tight spaces.
I fear there might be a 'but' coming?
Well, futuristic styling the advanced technology doesn't come cheap. The 10-inch infotainment screen is bigger than many in-car units and can be linked to a BMW phone app for crystal clear navigation. Sadly, it's not a user-friendly system, which is the only letdown.
But?
The CE 04 isn't cheap. The base model is £11,700 – almost double a BMW scooter. Our test bike was loaded with so much kit it topped out at over £13,000. BMW offer PCP deals from around £140 a month. That's a lot of Pret sandwiches…
Jessica Saunders is Director of Programmes at London College of Fashion, studying for a PhD in sustainable e-textile design.
Mercedes-Benz EQS Review / Polestar 1 Review / The Hispano Suiza Carmen/Audi RS e-tron GT