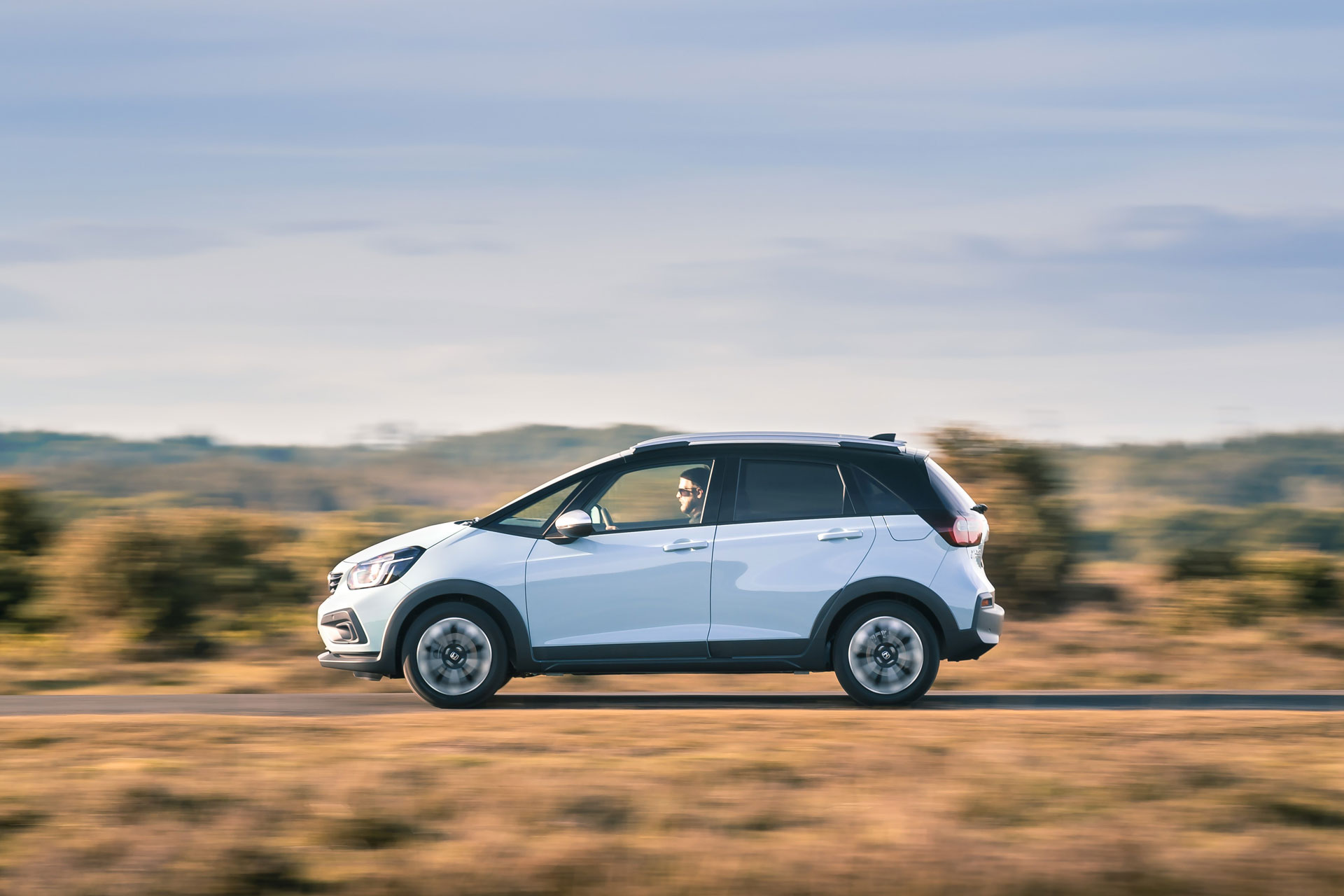 Honda Jazz 1.5i-MMD Crosstar EX — The Green Lane
---
'She's not bonkers at all but a septuagenarian force of nature'
Is the Honda Jazz Crosstar the right car for 'Batty Aunt Mina'? Motoring editor Jeremy Taylor and sustainable fashion expert Jessica Saunders discuss
Honda Jazz 1.5i-MMD Crosstar EX — The Green Lane
JT – We should make it clear to readers that BAM – or Batty Aunt Mina– actually came up with the name herself. She's not bonkers at all but a septuagenarian force of nature who should actually be one of the contenders to take over at Number 10. Liz Truss look out.
JS – Yes, I'd vote for her. And she'd get rid of all those diesel-guzzling official government cars and replace them with frugal runabouts like the Jazz, which are perfect for city traffic.
As in Parliament, we should declare that she has a personal interest her because she already drives a Jazz hatchback, albeit remodelled on the outside due to her unique parking habits!
Better not mention that. So, what's the deal with the Crosstar? It looks like a taller, more 'lifestyle-friendly' version of her car with a more practical interior.
Yes, it's what Honda call 'SUV-inspired ruggedness'. But it's not a four-wheel drive and
remarkably, BAM's hatchback actually has a slightly larger boot. I'd say the taller styling is questionable but that's down to personal taste.
The original Jazz is a favourite of mine. It seems to run on fresh air and is super-reliable too. Do we really need to rugged off-road look?
The boom in SUV sales in recent years seems to suggest so. But Crosstar buyers probably
want a bit more style than a regular Jazz and are willing to cough up for water resistant seats, a fancy 9-inch touchscreen stereo and those rather pointless roof rails.
What's under the bonnet? The Jazz is hybrid-only, with a 1.5-litre petrol engine and two electric motors.
Crosstar is just the same, which means regular 50mpg jaunts, annual road tax of £160 and a modest 0-62mph time of 9.4 seconds. It also makes a fairly alarming squeal if you decide to accelerate hard. However, that's not what the Crosstar is designed for. It has three drive modes, depending on traffic conditions but is best at home around town or on a country A-road.
I love the uncluttered dashboard and durable feel to the trim. The Crosstar also has great visibility, a surprising amount of cabin space and is so easy to drive.
I think BAM would like the 'Magic Seats too for when she's ferrying a vat of her homemade marmalade to the needy. They shape in all directions and can fold up like a cinema chair to free space in the backseat footwell.
I expect you're now going to tell me BAM won't be able to afford one on her pension?
Well, there's the problem. Our EX spec test car cost over £25,000, which puts it up against other high-riding small car rivals like the Ford Fiesta Active and Audi A1 Citycarver. Tough competition.
Maybe we should have asked BAM to test drive our car?
Not sure Honda would have welcomed the redesigned bumpers but maybe next time!
SEE MORE 
Polestar 5 / Audi RS e-tron GT
Main Image: Courtesy of Honda