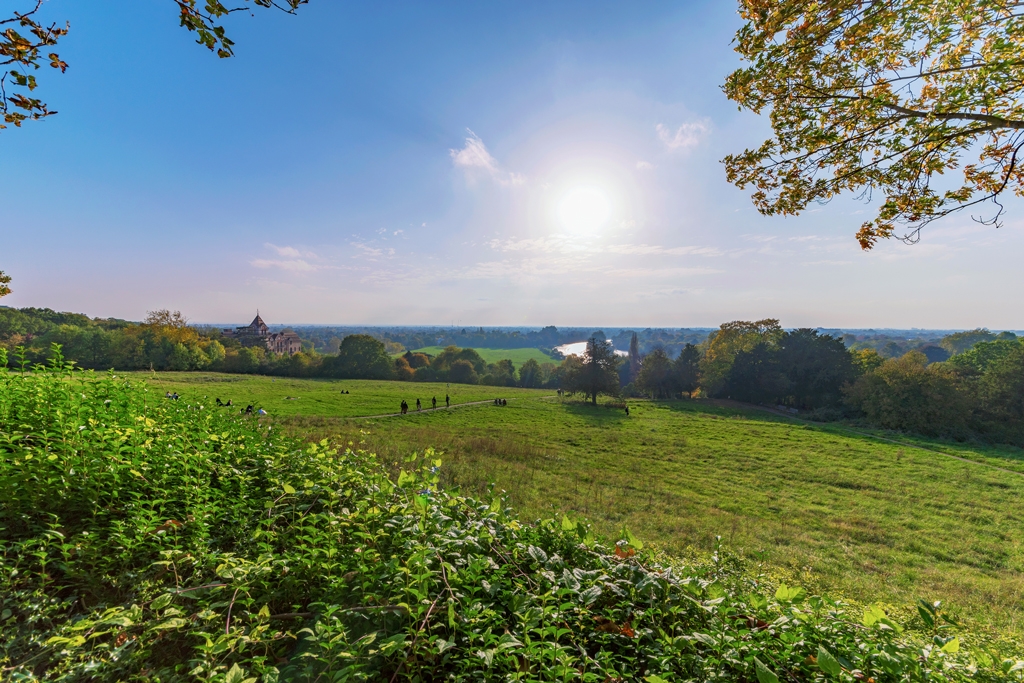 These Are London's Best Running Routes
New Year, new view?
Whether you're a New Year newbie to the world of running, a pro athlete training for a marathon or somewhere in between, we've got you covered with our round up of London's best running routes. From scenic jogs around green spaces to quaint riverside runs through Little Venice to tours of the capital's most famous landmarks, these runs will make exercising a pleasure.
Visit The C&TH London Fitness Hub: Gyms, Studios & Classes
Best Running Routes in London
Richmond Park
Run among the local deer and dog-walkers in the beautiful Richmond Park, perfect for a crisp morning. London's largest open space, Richmond Park is a countryside treasure within the city, offering plenty of mileage for joggers and marathon-runners alike. A popular route is the Tamsin Trail, a gentle jaunt around the perimeter of the park. Start from any of the main entrances to join the trail, which is clearly sign-posted as it crosses your path. Along the way there are plenty of opportunities to leave the track and explore grassy trails through the lakes, woods and rolling parkland. 7 miles
Two Bridges
For a short riverside run with great views, begin by running north over either of the Golden Jubilee Bridges. Cross over the South Bank and run east until you reach the Tate Modern, then take the Millennium Bridge back over and follow the Thames Path back to your starting point. 3.4 miles 
The Princess Diana Run
Looking for a scenic jaunt around central London? There is a marked route built in honour of Princess Diana, who did a fair amount of jogging in London parks herself. You'll journey through the four big inner city parks, following the outer perimeter of Kensington Gardens, Hyde Park and Green Park, and passing by numerous London landmarks on the way including Buckingham Palace, Marble Arch and Big Ben. Use the marked rose brass plates in the pavement as your guide. 7.2 miles
Hampstead Heath
Known for its variety of terrain, Hampstead Heath is a good spot for trail runners looking to get some practise in. Start at the Merton Lane entrance and work your way westward around the park, finishing at the same location. Fancy a challenge? Run up Parliament Hill to finish ­­– the stunning views from the top will be worth the pain. During the summer, you can cool down afterwards with a dip in the Hampstead ponds. Around 4.8 miles
Regent's Canal
Begin at the picturesque Little Venice, run past the brightly coloured boats and follow the canal through Kentish Town and Camden. Emerge at Kings Cross, and stop in Granary Square for a well-deserved brunch – we recommend Caravan, Granger & Co. or Grain Store.
Thames River Path: Hampton Court Palace to Kew Bridge
Keen to get some miles in? Give this one a go on a fresh spring morning. Begin at Hampton Court Palace and run through Twickenham, Kingston and Richmond, weaving around each bend in the river until you reach Kew Bridge. 11 miles 
Victoria Park
One of London's oldest public parks, Victoria Park is a popular spot for runners due to its pretty, tree-lined, paved paths. Another lure is the lovely Pavillion Café, ideal for post-run refreshments. With more than 80 hectares of open space, runners can choose from a variety of routes and distances here. For a steady 5-miler, start at The Crown Gates and do a loop of the park, before running along Regent's Canal to the arched Acton Mews Bridge. 4.8 miles
Regent's Park and Primrose Hill
The paved paths of Regent's Park are perfect for those looking for a flat tempo run. But if you want to add in a little extra challenge at the end – or just fancy a really good view – run up Primrose Hill after doing a loop of the park. Start and finish near the Hub, where you'll find shower facilities and a café. 3.3 miles
Tour of Southwark
Looking for a mixture of city sights and green landscapes? This route's for you. Follow the Thames Path on the South Bank all the way past Tower Bridge and weave through the Dickensian alleys and docks of Bermondsey. When you reach the King's Stairs Gardens, run south through the leafy Southwark Park, Burgess Park and Kennington Park through to Vauxhall Bridge. Cross the river here and head back to the start. 9.8 miles
Battersea Park
If you're looking for a short run, Battersea Park is a nice option. Start at any of the entrances and run round the perimeter of the park twice for a gentle 3k route, featuring picturesque views of the river. 1.8 miles
Featured image: Richmond Park