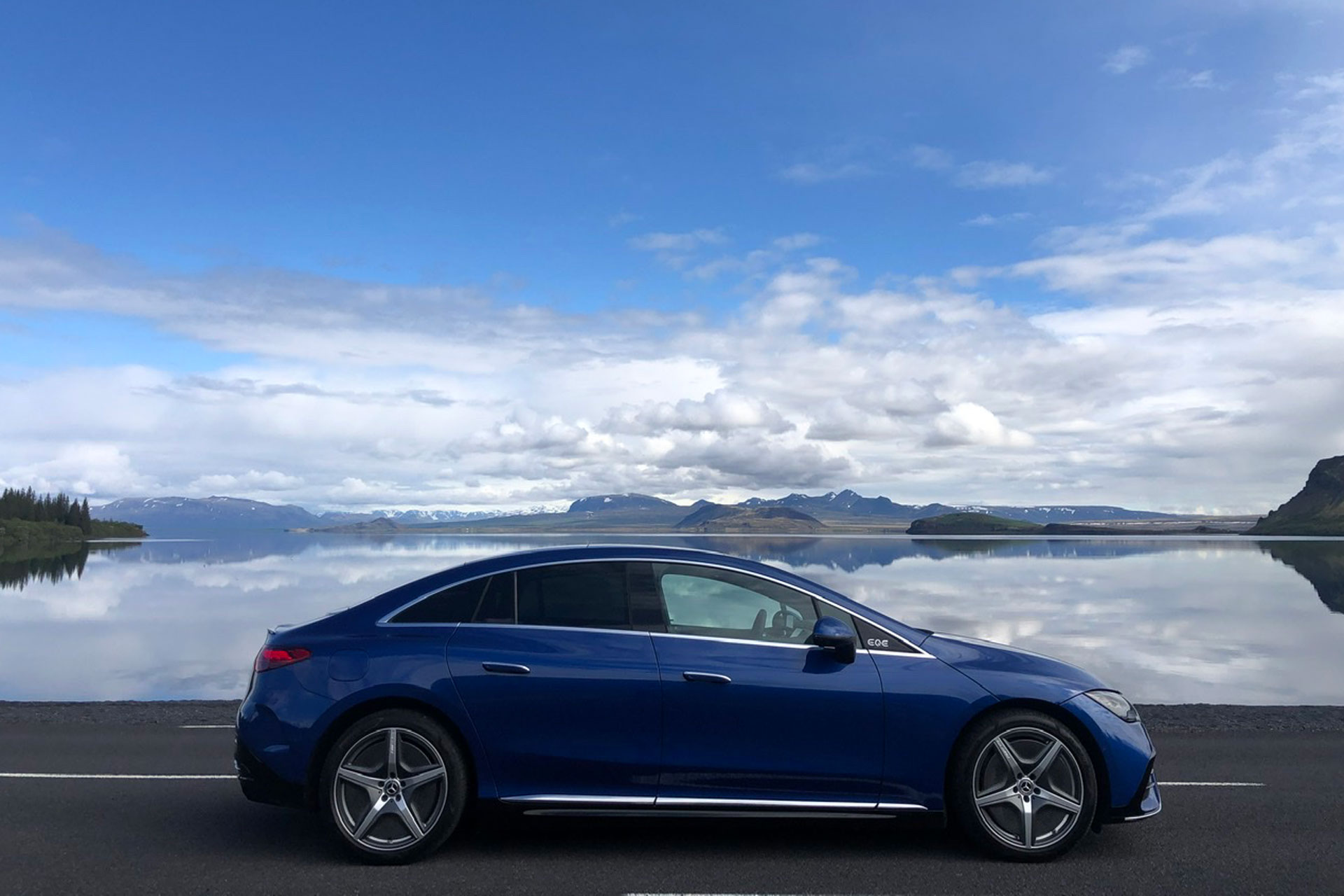 Green Lane: Mercedes EQE 350+
---
'I can't say the EQE looks that ground-breaking – more like an upturned jelly mould'
Motoring editor Jeremy Taylor and sustainable fashion expert Jessica Saunders on the Icelandic launch of the all-electric Mercedes EQE 350+
Green Lane: Mercedes EQE 350+
JS – So why has Mercedes chosen Iceland to launch their slippery new EQE – it's a wild place that should have been twinned with Valhalla.
JT – Good question. It's odd when manufacturers decide to create a massive carbon footprint flying a bunch of hacks to a remote place to show off an all-electric, sustainable car.
JS – Tricky. I suppose Iceland has massive eco credentials and a cool chic that's hard to match at Mercedes' UK base near Milton Keynes!
JT – Iceland is, literally, a melting pot of volcanic activity. It's also one of the world's newest land forms and most of it is heated by very sustainable geothermal activity. There is lots of hydro power too. Iceland sends out all the right messages.
JS – So what else did you do out there?
JT – Well, naturally there were various Michelin-starred eateries. Each boasted minimalist modern design, odd-shaped plates and small portions of fish at eye-watering Icelandic prices. Just what you'd expect.
JS – I can't say the EQE looks that ground-breaking – more like an upturned jelly mould. You know, like a 1980s Ford Sierra.
JT – I see your point. EQE is the spitting image of the larger, Mercedes EQS we tested for this column in April too. It's instantly forgettable on the outside but, fortunately, the interior is where the fun starts.
JS – The EQS was a technology tour de force, I'm guessing this one is just the same?
JT – It is but let's quickly look at the rest of the EQE. The 430-litre boot is pretty small for this class of car, while the bonnet doesn't open to put extra luggage in the space where the engine used to be. Tall adults will find rear-seat headroom restricted, thanks to the aerodynamically styled, low profile roof. Battery weight makes the Merc feel heavy at times but it still has a neat turn of speed and handles a fast corner with aplomb, thanks to air suspension.
JS – Sounds like there is a but coming?
JT – No, it's a very good, mid-size electric executive saloon. The interior finish is streets ahead of a Tesla Model S – a key rival – but it's nowhere near as enjoyable to drive, if you like a car with a sporty edge. The EQE is a luxurious, eerily silent cruiser laden with advanced toys. It's the second car on Mercedes' dedicated, all-electric platform and is even built from recycled steel. EQE can also be specified with the 55-inch, door-to-door hyperscreen, stretching right across the dashboard.
JS – Do you need a degree in nuclear physics to actually use it?
JT – No but it's not a car you can just jump in and go. Pretty much every function is operated from one of the screens and there's an awful lot to explore. Most memorable is the in-car, personal assistant, the Mercedes version of Siri or Alexa, always on hand to help. Just say 'Hey Mercedes' and she's right there. You need never be alone in a car again.
JS – I remember in the EQS that you can actually have a conversation, ask her to tell a joke or provide more useful information. Does the system work seamlessly?
JT – It does when the car has an internet signal but unfortunately for Mercedes, large slices of Iceland don't! The concept is brilliant in a car, even though Alexa and Siri aren't welcome in my house.
JS – What else does the hyperscreen do? I know it's an option but should I consider adding one to the must have list?
JT – To be honest, the standard car has most of the useful functions you might need. But even Mercedes say they are surprised at how popular the hyperscreen has become. It's the EQE's unique selling point and probably a 'must have' for many buyers. There's a ton of other tech to explore too – it's very futuristic.
JS – And the stats?
JT – The entry level 350+ AMG Line I drove offers 292bhp and an impressive battery range of up to 394 miles – or roughly 330 in the real world. It costs from £75,000 before options. The top spec Exclusive Luxury tops out at £88,500, while more powerful versions of the EQE will available too.
JS – Ready to get your order in then?
JT – I love the technology and interior design ethos but I'd rather spend a few dollars more for the stunning Audi e-tron GT – although, of course, beauty is the eye of the beholder.
Jessica Saunders is Director of Programmes at London College of Fashion, studying for a PhD in sustainable e-textile design.
SEE MORE
Mercedes-Benz EQS Review / Polestar 1 Review / The Hispano Suiza Carmen/Audi RS e-tron GT