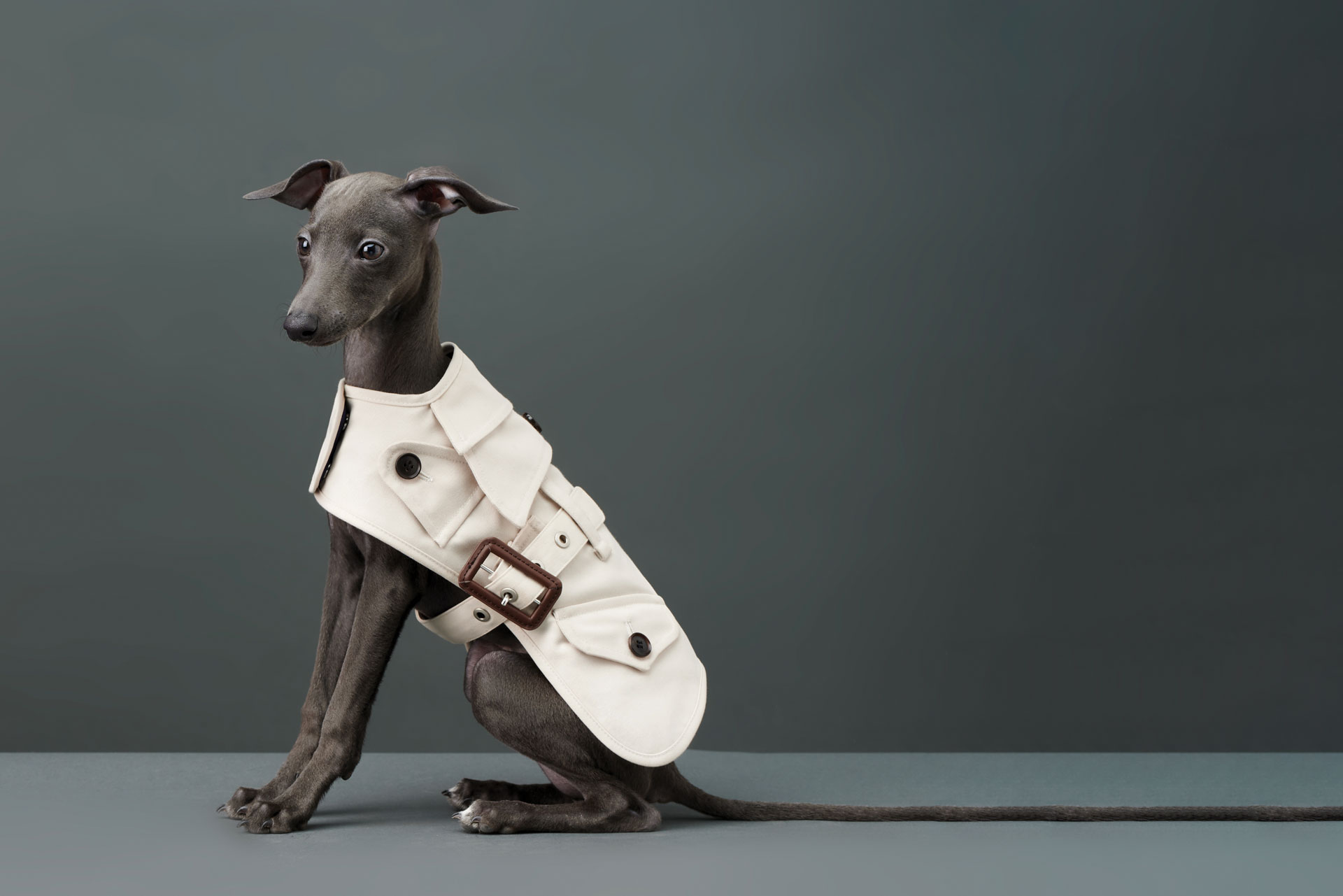 The Unstoppable Rise of Canine Couture
---
A new breed of stylish attire for modish mutts is guaranteed to turn every dog walk into a catwalk, says Marc Abbott
Social media looks very different in 2021. Gone are the photos of Balearic sundowners and restaurant tables, now replaced by portraits of our suave Staffies, fanciful Frenchies and impeccable Italian greyhounds. The inexorable rise of the Instagram dog account highlights an explosion in the popularity of canine couture. Yes, these are strange times indeed. But thankfully, aspiring dog owners-cum-stylists are well catered for: the choice when it comes to dressing our pups for walking, lounging, or simply wagging from home, is wider than a lurcher's yawn.
With ever limited opportunities for stepping out in style, if we're going to leave the house right now we'd better be sure we're looking our best. And since regular walks are one of the few activities we're actively encouraged to partake in during this peculiar pandemic period, we're blessed with an ideal opportunity to show off not only ourselves but also those fluffy four-legged extensions of our own personas.
'People tend to choose a dog based on a desire to display their own personality – just look at Audrey Hepburn's miniature Yorkshire Terrier, Mr Famous,' says Chelsea-based stylist Jasmin Nissa Shaw. 'So it naturally follows that you'd style your canine companion according to your personal look.'
'The act of dressing your dog is definitely veering away from the gimmicky and trending towards understated chic,' she adds. 'And just like their owners, dogs are being dressed according to their location, with different styles for the town or the countryside.'
Jasmin's own dog Yvie is a cairn terrier, a dead ringer for Dorothy's Toto and rarely happier than when she's on a Barbour-clad country walk. Pastoral pups are perfectly pandered to by some delightful cotton creations from this great British brand – arguably the perfect match for our waxed coat and welly-booted traipses across farm and field.
Pep up your rural Rover's wardrobe with Barbour's matt waxed coat (£39.95) with de rigueur corduroy collar and metal waist buckle, or its cosy quilted coat (£39.95) to keep your pooch's tummy toasty. The waterproof tartan coat (£49.95) will also keep the worst of April showers at bay.
For lengthy walks on higher ground, Italian skiwear company Moncler has partnered with canine outfitter Poldo to create quilted Mondog duvet gilets (from £305) and hooded Mondog cloaks (from £285). The latter might be more Tiffany-from-Eastenders than Breakfast at Tiffany's but it's certainly a statement piece that gives paws for thought.
'What I've seen on my lockdown walks in London's Hyde Park and Kensington Gardens is that dog walks are almost turning into a competition to see whose is the best dressed,' says Jasmin. And the wide choice of outerwear for town and city gives your fluffy pal every chance to turn that parkland dog walk into a catwalk.
Milanese master of four-legged tailoring, Temellini, has a Dog À Porter collection to inject some elegance into urban exercise. Its wool or cashmere Sherlock coat (€156-€420) befits a chic saluki, the upturned collar marvellously evoking the Baker Street detective's sleuthing cape. The perfect ensemble for sniffing out tasty treats?
On the flip side, you might imbue your faithful friend with attitude by opting for street stylings from DSquared2, whose range of doggie denim (from £265), hoodies for hounds (£180) and even baseball caps (£70) is bang on trend.
Belgravia-based Mungo & Maud is a one-stop shop for town hounds, with items like the Brindle coat (£175) adding panache to city-dwelling fur babies, with its classy houndstooth design and merino knit chest. The brand's cashmere pullovers (£172.50) also cater to the new demand for stylish loungewear, reflecting the way so many of us have been dressing for the past year. What better way to introduce your four-legged friend to colleagues on a Zoom call than in a matching sweater?
Loungewear fever has caught on at New York's The Barkers, whose cosy outfits include the cable cashmere Fido turtleneck ($89). Temellini has Netflix and pizza all wrapped up with its Peppa Felpa sweatshirt (from €153.50) and perfectly preppy Sugar Bomber cardigan (from €125). Even luxury brands like Ralph Lauren cater for the hairiest member of the family, with a polo shirt (from £45) and a delightful teddy bear-motif jumper (£149).
Indeed, for those of us with expensive tastes it's possible to lavish your Lassie with the finest goods known to man (and man's best friend). Dior has a jacquard collar (£330) bearing the French fashion house's 'oblique' motif and a decorative padlock. Louis Vuitton has the Baxter collar, available in standard or extra small fit (£220-£260), embellished with the cutest leather bow. Versace offers a world of luxuries, from the Crete de Fleur Print dog T-shirt (£135) and raincoat (£225) to the Medusa leather leash and collar set (£495) or the sumptuous Barocco print dog bed (£930).
'When people update their seasonal wardrobe they're also updating their dogs' accessories, especially their leatherwear,' observes Jasmin. The final word in luxury leather collars goes to Sirius, whose exceptional Parisian artisans hand-fashion the Italian leather collars, Baloo (£345) and Charlie (£297) in limited quantities for discerning customers.
When all that peacocking has become a bit too much for your puffed-out pooch, there's always the Louis Vuitton monogrammed canvas dog carrier (from £1880), or Mungo & Maud's more conservatively priced Tortue bag (£289.50).
What can we learn from this rise in chic canine clothing? If you want to be the talk of the town – or even the village – teaching your dog the importance of dressing to impress is a sure-fire way to get tongues and tails wagging. It might even convince us to step out of our own baggy joggers and sweatshirts…
Imagery Credit: Bram Schilling
DISCOVER MORE:
Fashionable Dogs To Follow On Instagram / Expert Tips for Self-Isolating Dogs And Owners
Pick of the Pooches
In the spirit of updating Crufts for the Insta generation, here's the C&TH pick of the most eye-catching looks for discerning dogs…