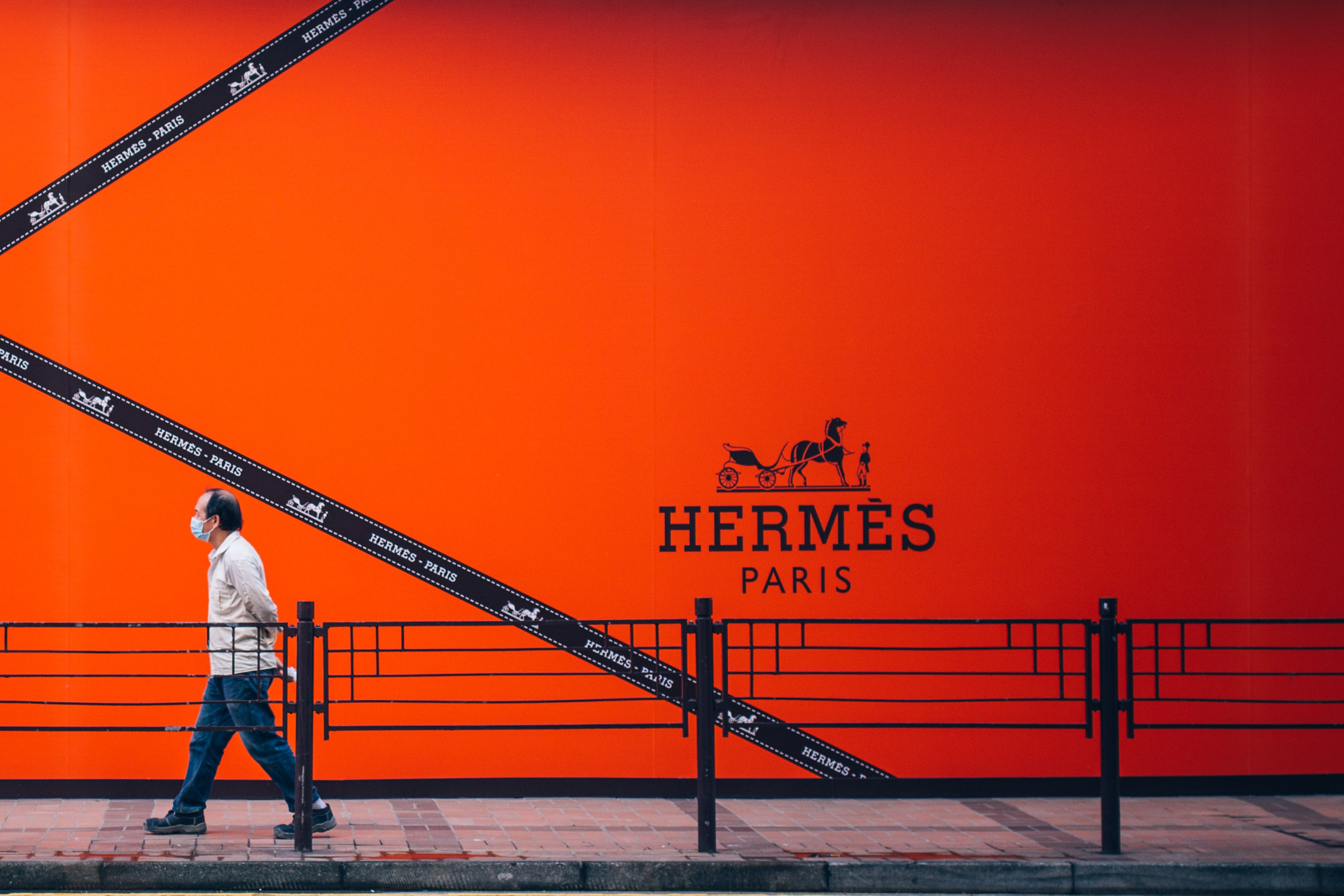 12 Facts About The Legendary Hermès Birkin (That You Didn't Know Before)
Some Birkin trivia to start your day
It's arguably the most iconic bag in the world, worn (and collected) by people all over the world – but how much do you really know about the Hermès Birkin? Here's 12 Hermès Birkin facts you might not have known.
The Country & Town House Responsible Buyers' Guide
What Is A Hermès Birkin?
First things first, what is a Birkin? A bag created by Hermès for its namesake, mid-century pop icon Jane Birkin, the classic Birkin features two rolled handles, a flap top, a touret, a clochette and four clou or 'feet'. It's a classic design that will be celebrating its 20th birthday come 2024.
12 Facts About The Legendary Hermès Birkin
1. The First Birkin Was Sketched Out On A Plane Sick Bag
Very glamorous. While you might already be aware that British actress and singer Jane Birkin was the muse for the iconic handbag, few know that the first sketch for the design was done on an airplane sick bag.
During an Air France flight to London in 1984, the cabin crew upgraded the seat of a 34-year-old Jane Birkin. Her new seat neighbour? Artistic director and chairman of Hermès, Jean-Louis Dumas. It's said that everything fell out of the singer's bag at one point during the journey (she was known for carrying basket bags), and Dumas offered to design her a new one. As Jane told Vogue in a 2012 interview, 'When everything fell out of whatever bag I had, the man next to me said, "you should have one with pockets." I said, "the day Hermès makes one with pockets I will have that." And he said: "but I am Hermès, and I will put pockets in for you."'
Jane then asked Dumas: '"why don't you make a handbag that is bigger than the Kelly but smaller than Serge's suitcase?" And he said "well, what would it be like?" And I think I drew it on the sick bag – or the not-be-sick bag. And he said "I'll make it for you."'
The rest, as they say, is history.
2. Jane Birkin Owned Just Five Of Her Namesake Bags
Despite being the muse for the iconic bag, it's said that Jane Birkin herself only owned five or six Birkin bags in her lifetime. She would use just one at a time, donating the old bag to charity for auction before replacing it.
In contrast, the biggest (and most expensive) collection of Hermès bags is said to be owned by Singaporean influencer Jamie Chua. The socialite and YouTuber had over 200 Hermès bags in her wardrobe as of 2022, many of these being multi-thousand pound Birkins.
3. Hermès Gave Jane Birkin A Nominal Royalty For The Use Of Her Name
As we mentioned, Jane helped Hermès create the iconic Birkin – hence why she was named after it. Initially, Jane was happy to accept a free bag for the use of her name, but over time the brand started to give her an annual payment each year which she donated to charities of her choice. It's indicated that Hermès paid her around $40,000 in royalties annually.
4. Every Birkin Is Handmade & Hand-Stitched
The creation process of an individual Birkin has been made into an art form by Hermès. The fashion house employs a team of artisans – each armed with their own personal tool set, which many take with them when they retire – who individually spend over 48 working hours crafting just one bag.
While different variations of the Birkin have their own quirky design elements, the original shape has largely remained the same throughout the bag's history. Although, it's said the first Birkin came with a nail clipper attached to it, which we could probably still do with today…
5. You Can't Just Buy A Birkin In A Hermès Boutique
The buying process is quite complications when it comes to the Hermès Birkin. While the official waiting list at physical stores no longer exists, you can't just walk in and hand over the money for a bag. Most customers need to build a purchase history with Hermès beforehand, or know someone who already has one. This will open the door to help you order the bag – although there might still be a waiting list.
So it's worth making friends with the sales team at your local Hermès, as they can inform you of any upcoming deliveries and have you on a list of prospective buyers to call when new stock comes in.
6. There Are Only 200,000 Birkin Bags In Circulation
The demand for Birkins is still high, but Hermès continues to produce a very limited amount each year to keep up the value of its designs. It's estimated that there are roughly 12,000 to 70,000 Birkin bags made each year – although the true number remains a closely guarded secret – and there are just 200,000 in circulation overall. This is partly why the resale value of a Birkin is so high.
7. A Birkin Will Set You Back Around $10,000 Today
It's indicated that 'cheaper' Birkins (those without the fancy bells and whistles) will set you back anywhere between $8,500 and $10,000, while the more high-end designs can fetch up to $250,000. Their value has only gone up over the years; for a marker, a 2001 episode of Sex and the City showed us that a leather Birkin cost $4,000 at the time.
8. Birkin Names Come From The Size, Colour & Texture Of The Bag
The name of each bag typically reads as 'Hermès, size, bag type, texture, colour'. So, a 'Hermès 25 Birkin Bag Togo in black' would read as a Birkin that measures 25 centimetres, that has been crafted from togo leather (a signature material for the brand) and comes in black.
9. The Birkin Craze Still Thrives Amongst Gen Z
The icon status of the Birkin persists to this day, with a new generation of shoppers and influences snapping up bags for their personal collections – or watching others unbox them online. The rising interest in luxury brands has grown on social media, with trending hashtags like #hermesunboxing and #unboxingofbirkin have 236.3 million and 82.1 billion views on TikTok respectively, while the more general search term #luxuryunboxing has just over 29 billion views.
'At Sellier, we have seen a sharp rise in TikTok stars buying Hermès bags, to later reveal the process through their social media platforms,' says Hanushka Toni, founder and CEO of Sellier. 'It's not uncommon for customers in our Monaco store to spend over £100k in one visit. In January this year, a 19-year-old TikTok star spent £18k on two bags. They documented the purchase process from the store, and the unboxing video was on their page within 24 hours, amassing thousands of likes and views.'
10. The Most Expensive Handbag Ever Sold At Auction Was A Birkin
While we knew the Birkin wasn't a cheap handbag, it turns out it takes the cake as the most expensive to be sold at auction. Back in 2022, Sotheby's sold a Diamond Himalaya Birkin 30 for over $450,000 USD – its estimated retail price was $300,000 USD.
Outside of auction, the most expensive Birkin to be created by Hermès was a one-off design by Japanese designer Ginza Tanaka. Created in 2008, the Ginza Tanaka Hermès Birkin featured an all-platinum body covered in 2,000 diamonds (including a eight karat, pear-shaped diamond on the front), and was priced at $1.9 million.
11. A Vintage Hermès Birkin Is Twice As Valuable As A New One
Shocked? You shouldn't be. Secondhand luxury platform Sellier noted that while a classic Hermès Birkin retails around the £9,000 region, its vintage counterpart can fetch over £20,000 at resale. 'Consumers tend to be drawn to iconic vintage items because there is an element of rarity that comes with owning a highly sought after item,' explains Hanushka. 'Hermès bags represent the most desirable bags in the category and derive their value from the scarcity of supply coupled with incredible demand in the resale market.'
In our interview with Hanushka, she revealed that Sellier recently obtained a Hermès Birkin Faubourg in 'So Black', which retailed for £30,000, and resold it for £230,000 – that's just over six times higher than the original retail value.
So, if you're keen to invest (and can afford it), a Hermès Birkin is a good place to start.
12. You Can Rent A Birkin For As Little As £58
Don't want to commit to a several thousand pound purchase? Luckily for you, rental platforms are thriving right now – making it easy to bag a bargain and borrow designer items for a couple of days, without breaking the bank.
If you're on the hunt for Hermès, it might be a little tricky (this is a very in-demand brand, after all). But you'll be able to find some variations of the Birkin on rental sites like By Rotation. The best value option on there is this classic Hermès Birkin 35 in a deep khaki, listed at £58 for a three-day rental period. More expensive rentals include this red JPG 42 Shoulder Birkin on loan for £345 and this black, medium-sized Birkin renting for £575.
Featured image: Chi Lok Tsang, Unsplash