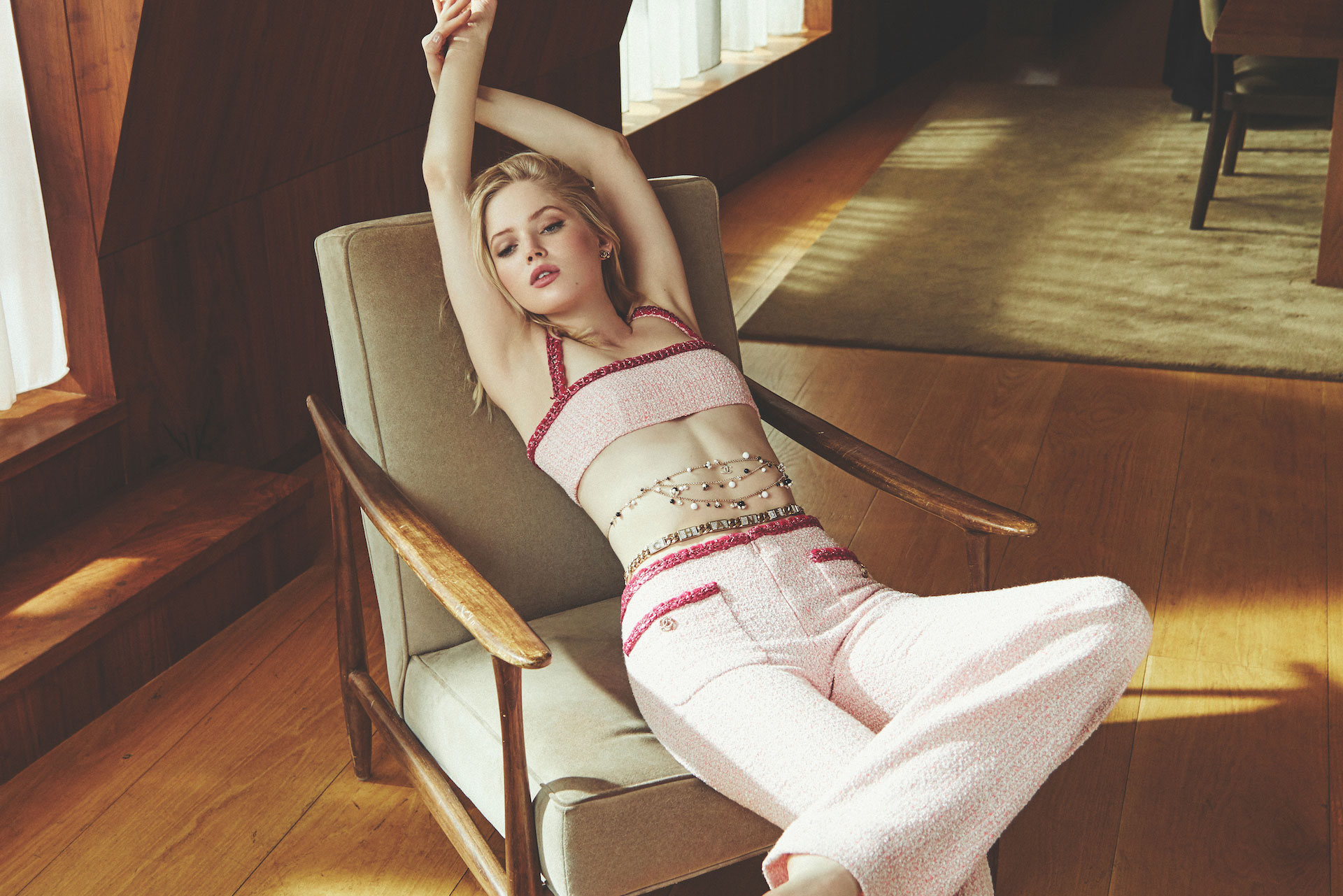 Ellie Bamber: A Shot in the Dark
---
Why 2021 is Ellie Bamber's year
When it comes to choosing roles, Ellie Bamber is unafraid to examine the depths of the human psyche. Harriet Compston discovers why she's drawn to the dark side.
Ellie Bamber: A Shot in the Dark
'Go for the crumpets, they're home-made,' enthuses Ellie Bamber, looking especially elegant in a Stand Studio faux-fur cream coat. We're surveying the menu at La Fromagerie – her favourite spot in Bloomsbury, just around the corner from her flat. 'This is the first place I came to after lockdown 2.0 ended,' she says, chatting away about the cheese (her favourite food), the fruit, the veg. It soon becomes clear that, while this 23-year-old may be one of Britain's most in-demand actresses, she's also one of the most down-to-earth.
It's a freezing cold Monday morning in December, but Bamber is glowing, fresh from filming Prisoners of Paradise in Mauritius, due out this summer. 'Mauritius is really cool. The island is Covid-free so everyone walks around as if it's life as usual. They have great music such as sega [traditional Creole dance music]. I went to a festival, so crazy, it was like being in a very strange time capsule,' she recalls. The time capsule being the 1920s setting of the film, in which Bamber plays Lucy, an orphan sent to live with her violent uncle (Rupert Penry-Jones). However, she falls deeply and dangerously in love with a labourer (The Messiah's Mehdi Dehbi) on a nearby plantation.
Bamber certainly lucks out with filming locations. She recently spent three months in Bangkok for the BBC series The Serpent – on air now and the true story of serial killer Charles Sobhraj, who committed a spree of murders throughout Asia in the 1970s. Bamber plays Angela Knippenberg, the wife of the Dutch diplomat who is instrumental in bringing Sobhraj to justice. 'Angela is so strong, so intelligent. She speaks four or five languages and is now very high up in the UN.' To help get into character, Bamber had several Zoom calls with Knippenberg, who sent over nearly 100 personal photographs so the costume department could replicate her outfits.
The role of Angela required a German accent – and an ability to speak Thai. 'It was definitely a hard one,' admits Bamber. 'Thai is very tonal and musical so I ended up learning the language like a song. Very bizarre. I would say things and my Thai teacher would say, "No, you're saying frog, saying the wrong thing!" I was like, "why?", and she'd say, "because your voice needs to go up in a very particular kind of way". It was fascinating.' The cast – including Jenna Coleman, Billy Howle and Tim McInnerny – were also a big draw. 'Billy [who plays Angela's husband] and I had so much fun on set. Such a giggle. In between filming, we explored the city, trying all the amazing local cuisine.'
Not stopping there, Bamber also has The Show coming up, a trippy thriller starring Tom Burke. 'I have a small role but being involved in an Alan Moore production was mad, he's an absolute genius,' she says. Then there's The Seven Sorrows of Mary, the true story of an American exchange student who, after being kidnapped in Brazil, endures a horrific gang rape.
Why the dark roles? 'I am really interested in exploring the human psyche and how we, as human beings, work,' she explains. 'I'm intrigued by all types of characters who have different types of flaws and [experiences of] human suffering. I am not afraid of getting too dark because I can separate it in my mind.'
Books or watching films are Bamber's means of escape. She's currently reading Patti Smith's memoir Just Kids and likes 'quite deep' movies, such as Wong Kar-Wai's In the Mood for Love – 'the use of imagery to reflect the story is beautiful,' she comments.
Otherwise, it's her family who keep her grounded, and they all spent lockdown together in her London flat. A big foodie, Bamber often cooks with her father. 'We usually make curries but we made a lot of pizzas and fresh pasta during lockdown. We would figure out what to cook, then I would source everything from our little local shop. It was special.'
Bamber had an 'outdoorsy' upbringing in Berkshire with her younger brother Lucas. Her father manages private investments and her mother is a producer who doubles as her 'momager'. Bamber's love for acting started at school. Thanks to a 'super- enthusiastic' drama teacher, she began performing at the local theatre aged 12 and, just a year later, was spotted to star in Sir Trevor Nunn's Aspects Of Love in London. Her first television role was in the ITV mini-series A Mother's Son in 2012, after which she went on to West End roles in High Society at the Old Vic and The Lady From The Sea at the Donmar.
Bamber's defining moment, however, was her chilling performance in Tom Ford's exquisite psychological thriller Nocturnal Animals in 2016. She played the Texan daughter of Jake Gyllenhaal's Tony and Isla Fisher's Laura, who is brutally murdered. Ford famously said of Bamber, 'I had an immediate crush on her the first time I met her'. It was mutual: 'It was amazing to work with Tom,' she avers. 'Jake also gave me loads of advice, just in the moments when we were on set. He always made great choices within the scenes. I learnt a lot from all the actors – particularly about commitment to the shoot.'
The leading role of Cosette in the BBC's Les Miserables in 2018 further highlighted Bamber as a force to be reckoned with. The Trial of Christine Keeler, about the Profumo affair, sealed the deal in 2019, since she played Keeler's confidante Mandy Rice-Davies with eerie accuracy. Not only was it a meaty role, the fashion was fabulous to wear, says Bamber. 'The clothes were amazing. I have this pink suit which I kept because it was so gorgeous. The fashion and make-up I got to explore were incredible. We wanted to do poppy colours for Mandy, which was also part of her armour when she went to court.'
Indeed, fashion plays a big part in Bamber's own life. 'I love fashion because it is an outward reflection of my mood of the day. It can transform you and take you to a different place – particularly with acting.' So it was a dream come true when Chanel invited Bamber to be an ambassador and lead their 2017 runway show.
'Chanel's garments are pieces of art. Their archives, ateliers and the way they work is so fascinating. I once went to a Chanel show where I was wearing this incredible embroidered dress. A woman came up to me and said, "I made your dress!". We then had this long conversation about how long it took her and what went into it. It was such a privilege to meet her.' This season Bamber watched the Chanel show, under new creative director Virginie Viard, from her sofa. 'The show was beautiful, so sexy, with a very fresh new direction.' Off the catwalk, she describes her style as 'erratic'. 'I'll go from wearing trainers and tracksuit bottoms to being very dressed up. I go with how I feel on the day, it can sometimes be very pretty, other times hard and edgy.'
She loves shopping with mobile app Depop. 'It's great for finding cool, vintage pieces. I think it is important to buy second-hand and not just wear and discard. Fast fashion is so damaging to the environment. We need to protect the planet for future generations.'
Bamber is very private about her love life – not surprising after the run of headlines in 2019 when she broke up with Bodyguard star Richard Madden. Instead, she uses the spotlight to campaign on issues she cares about – particularly the Black Lives Matter movement, for which she attended a 'really powerful' march in Trafalgar Square. 'We need to confront these racial biases and look at ourselves, do the work and bring up these conversations with friends and families so we can stand up to racism. There is a lot of work to be done. I have been reading up on it, watching films and educating myself because systemic racism is a real crisis.'
What are Bamber's future ambitions? 'I just want to keep on doing what I am doing, working hard and being vocal and spreading awareness of the issues I am really passionate about.' It seems she's already well on her way.
Ellie Bamber stars in The Serpent, which is available to watch on BBC iPlayer now. 
This interview is from Country & Town House's January/February 2021 issue.
READ MORE
Inside the Jan/Feb Issue  / A First Look at Great British Brands 2021: What Next?