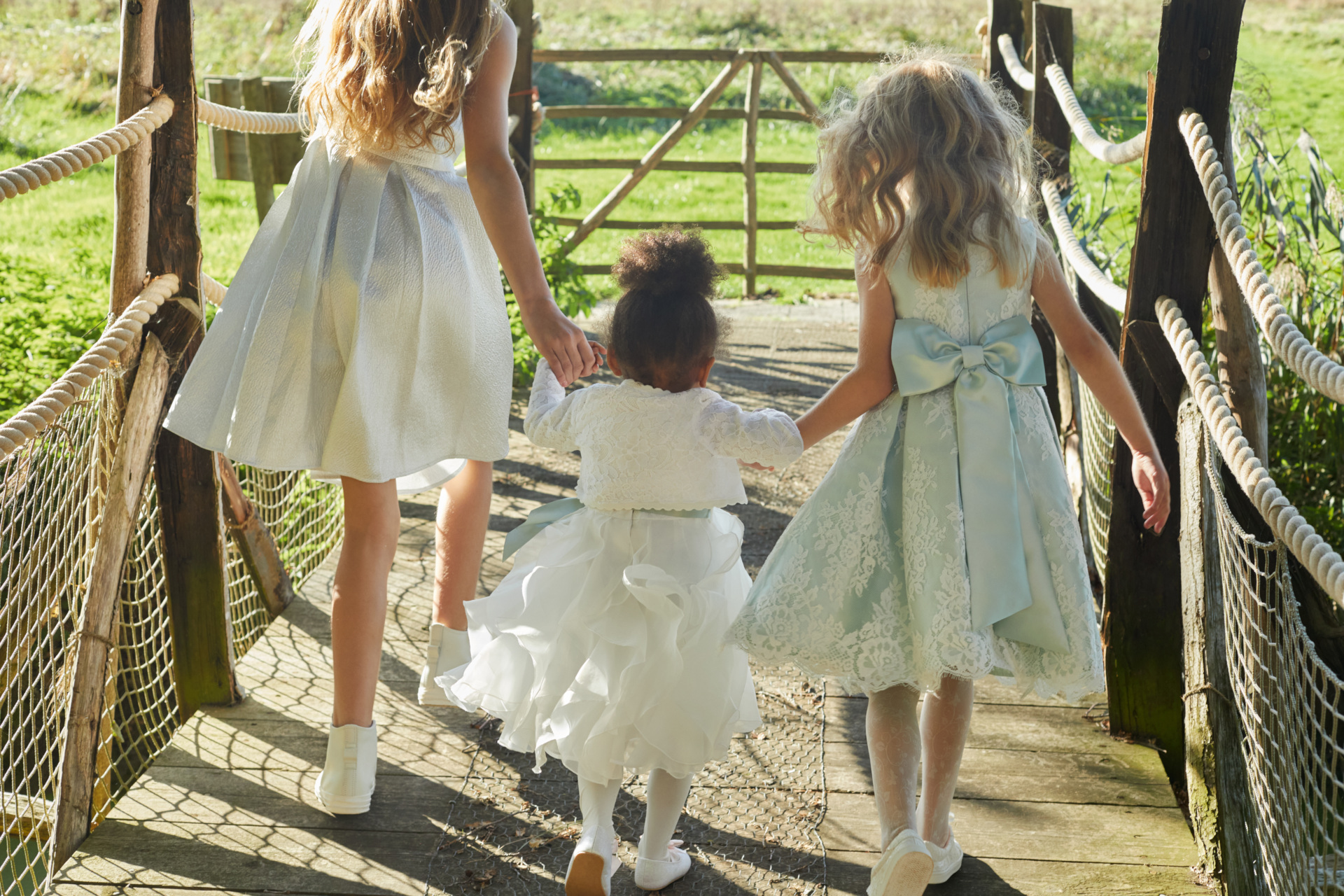 15 of the Most Beautiful Flower Girl Dresses
For the little helpers in your wedding party
With wedding season well under way, we wouldn't be surprised if you found yourself eager to get some ideas for your own big day. While your bridal gown, venue and flower arrangements may already be sorted, there's still the very big question of what the little ones will be wearing on the day. If you're welcoming children to take part in the ceremony, then you'll probably need a bridesmaid dress or two. Fear not, we've brought together some of our favourite flower girl dresses of 2022 below, with picks from Monsoon, Pepa & Co. and My Wardrobe HQ.
What to Consider
Before we get into the thick of it, there are probably a few things you should keep in mind when looking for a flower girl dress. 'A perfect flower girl dress should fit the occasion and 'feel' of the wedding, suit the personality of the little girl, be comfortable and most importantly fun for her to wear, all day long,' says Helen Wall, Head of Brand Communication at Monsoon. 'I would recommend the dresses aren't ordered until nearer your big day, as so often little girls have growth spurts and this will ensure the size is perfect. It's also worth having a couple of try-on sessions in the run up, especially for little ones, to ensure they are comfortable and get used to the idea of wearing their dresses with the perfect sparkly shoe.'
Colour
Traditionally, girls in the wedding party wore white to match the bride, but these days you'll see flower girls wearing every colour of the rainbow down the aisle. From blush pink, summery yellow and something blue to florals and swirls, the modern flower girl can very easily bring a youthful splash of colour to the ceremony – and maybe a bit of sparkle, if you're a fan of glitter.
Fabrics
As we all know, kids don't sit still for very long. A haphazard slouch can quite easily undo any work done by an iron or steamer, so when picking out dresses try to go for fabrics that are less likely to crease. Possible contenders include tulle, crepe and lace.
Comfort
There's a certain magic that kids can bring to a wedding, but if they're not happy about something it won't take long for things to go a little awry. The last thing you want on the day are tears over uncomfortable dresses, itchy fabrics or cold limbs. It's probably best to do your research beforehand, like checking the weather conditions of the season (and deciding if short or long sleeves are needed), thinking about how old the kids will be by then (and how much taller), and making sure dresses are lined with softer materials to avoid irritating skin.
Setting
You may also want to think about where you'll be getting married when it comes to finding the right dresses. If you've opted for a countryside wedding on a sprawling manor estate, for example, you could opt for more whimsical styles that fit in with the romance of the setting, or if you're thinking of doing something in town, you might want to could consider vibrant colours that will stand out in photos.
Buy, Rent or Reuse
As always, before you buy, check to see if you or someone you know has something at home that fits the bill. Kids quickly outgrow clothing, making it hard for them to re-wear the same thing over and over again. Repurposing an old party dress, borrowing something from a friend or using a rental platform can easily fit into your need for 'something borrowed', and buying second-hand could even become your 'something old'. Re-wearing old clothes is the best way to be sustainable, but if you can't avoid it then try to shop at responsible retailers where possible.
The Most Beautiful Flower Girl Dresses