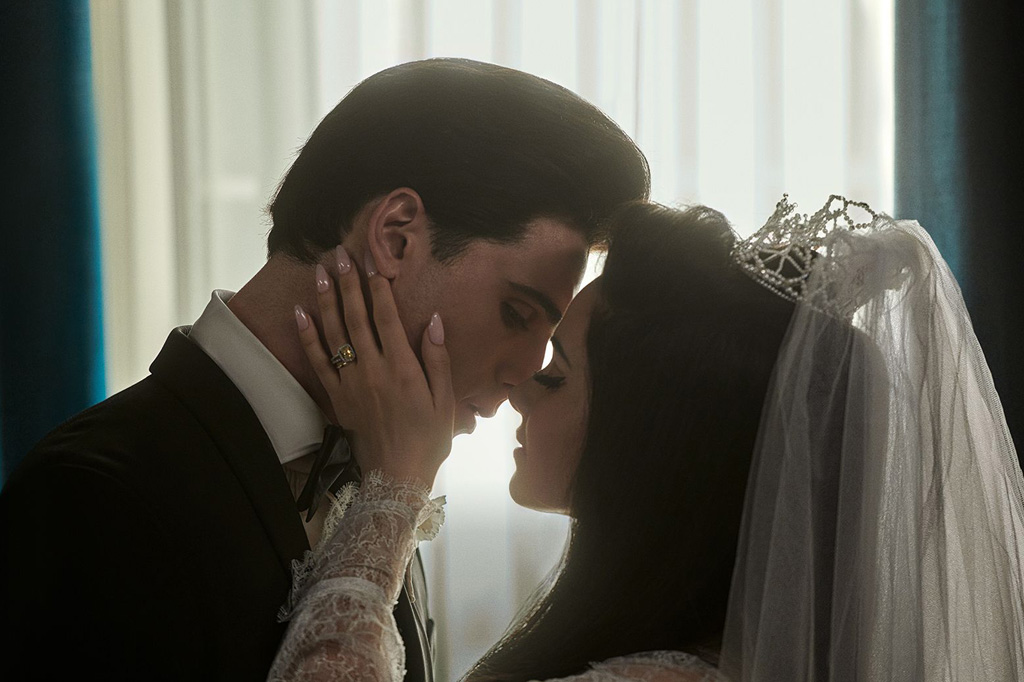 10 Of The Most Iconic Movie Wedding Dresses Ever
These bridal movie moments never go out of style
Ever wondered how the big day makes it onto the big screen? While ceremony and a lovey-dovey atmosphere are certainly important, it's the dress that really seals the deal for audiences. From SATC and Twilight to Bride Wars and Crazy Rich Asians, these are some of the most iconic wedding dresses in movie history – and how they came to be.
The Country & Town House Responsible Buyers' Guide
The Most Iconic Movie Wedding Dresses Ever
Priscilla (2023)
While we still have to wait a little longer for Sofia Coppola's Priscilla to hit UK cinemas, we're already obsessed with the film's costume design. Many of the looks we see onscreen were modelled after real-life events (which costume designer Stacey Battat brought to life for the 21st century), such as Priscilla's famous wedding dress from 1967. The real-life, long, loose-fitting, lace-sleeved gown was adorned with pearls and purchased off the rack at American department store Westwood and teamed up with a tiara and a ginormous veil. So far, trailers and teaser stills from the film have hinted that biopic Priscilla's (played by Cailee Spaeny) wedding dress will stay largely true to history, so expect to be wowed.
Shotgun Wedding (2022)
What's the worst that can happen on your wedding day? For the characters in Shotgun Wedding, it would have to be getting hijacked by pirates. Unlike most wedding-focused movies, Darcy (Jennifer Lopez) is in her gown for pretty much the entire thing – in fact, costume designer Mitchell Travers and wedding dress designer Galia Lahav decked out Lopez in 28 versions of the bridal ballgown her character wears, so that they could show it in various states of wear and tear. The dress is meant to be one owned by Darcy's mother-in-law (Jennifer Coolidge), so was aged with a rosy blush colour, but features more contemporary notes such as an off-the-shoulder top, sheer sleeves and heaps of tulle. It's a more romantic design, meant to evoke a more classic feel, which quickly gets turned on its head as the wild plot unfurls.
Crazy Rich Asians (2018)
Extravagance came in spades with the Crazy Rich Asians wardrobe. Emulating high end designer labels and uber expensive materials, clothing for the film was created by costume designer Mary Vogt – who went all out, despite the production's low costume budget. The bridal moment of the hour in Crazy Rich Asians came from Araminta Lee (Sonoya Mizuno), who walked down a flower-strewn aisle in a gold-dusted bodysuit and tiered skirt (you can see her gold-clad legs peeking out from the bottom). It took Vogt and a team of 30 people three weeks to stone the wedding dress with gold Swarovski crystals, as she told InStyle: 'We made the dress in Kuala Lumpur and there were 30 women putting crystals on the dress for three weeks. Then I took the dress to Singapore, and we kept fussing with the dress every day until it worked, adding crystals to it and adding embroidery on the skirt.
'I can't even imagine [how many crystals were used] because people who are beaders are really fast. There had to be several thousand crystals,' she added.
Twilight: Breaking Dawn Part 1 (2011)
There were two major wedding dresses we were dying to see in 2011: that of the future Princess of Wales, Kate Middleton's, and Bella Swan's. The penultimate instalment in the Twilight franchise had fans desperately guessing at what Bella's bridal gown would look like, with the production team quite literally shrouding the dress in secrecy (actress Kristen Stewart was reportedly instructed to wear a cloak in between takes to avoid being spotted by paps while filming).
The dress itself was custom-made specifically for the film by designer Carolina Herrera, who worked with a team of four seamstresses over six months to create the design. Cut from crepe satin and French Chantilly lace, the Carolina Herrera gown featured a sheer, button-up back decorated with lace, with matching detailing on the long sleeves. Speaking on the dress, the designer commented to Vogue: 'Being a big follower of The Twilight Saga, I was very flattered to be a part of this fantastic project,' she said. 'I read the books and saw the first film and have been a fan ever since. You can't walk down the street and run into someone who doesn't know what Twilight is anymore, whether it be the books or the movie. Our bridal collections always possess a timeless elegance and sophistication and I found the same elements in Stephenie Meyer's descriptions of Bella's dress.' You can still shop Bella's dress at Herrera boutiques in New York, Los Angeles, Bal Harbour and Dallas.
Bride Wars (2009)
In the immortal words of Kate Hudson, 'You don't alter Vera Wang to fit you, you alter yourself to fit Vera! What do boys even learn in school?' While the statement stands as slightly more problematic these days, Liv's wedding dress in Bride Wars is anything but. The larger-than-life ballgown featured a delicate lace bodice, a sweetheart neckline, a puffed up tulle skirt and a purple sash – and can still be spotted at various Vera Wang boutiques today.
Sex And The City: The Movie (2008)
And what would a list of iconic fashion moment be without style queen herself, Carrie Bradshaw? In the first Sex and the City movie, Carrie's (Sarah Jessica Parker) upcoming nuptials – and eventual jilting at the altar – play a huge role in the plotline, rewarding us with a drool-worthy bridal montage which sees Carrie trying on a multitude of dresses from famous fashion houses. But it was a Vivienne Westwood gown that stole Carrie's heart; the Vivienne Westwood Gold Labe dress came from the label's autumn/winter 2007 collection, 'Wake Up Cave Girl', and was inspired by diamond cutting techniques. The dress was such a hit with SATC fans that, when a cocktail version of the dress hit Net-A-Porter, it sold out within just a few hours.
Avid watchers of And Just Like That will have noticed that Carrie dons her Vivienne Westwood wedding dress again (this time to the Met Gala), teamed up with teal feathers for an extravagant ballgown look. 'Carrie's modern update of teal accessories breathes new life into the original bridal gown, transforming the champagne bridal dress into an opera ballgown that exudes baroque grandeur,' said Brigitte Stepputtis, head of couture at Vivienne Westwood, in a conversation with Vogue.
Mamma Mia! (2008)
Fans of boho chic styles would likely have been obsessed with Sophie's dress in Mamma Mia! (as well as the Grecian wedding venue on the island). The dress is revealed on Sophie's (Amanda Seyfried) wedding morning, as she prepares for the ceremony with the help of her mother Donna (Meryl Streep). Brought to life by costume designer Ann Roth, the bridal gown featured a wrapped, asymmetrical bodice and a loosely ruffled, floor-length skirt – giving some subtle Greek goddess toga vibes. When paired up with a flower crown veil and Sophie's golden curls, the dress presented the perfect free-spirited bridal look.
The Princess Diaries 2: Royal Engagement (2004)
A royal entry on the list comes from the The Princess Diaries cinematic universe, specifically from the Genovian monarch Princess Mia Thermopolis (Anne Hathaway). Modelled after modern royals, Mia's wardrobe throughout the film takes style notes from various European royals – and her wedding dress is no different. A modest gown with lace sleeves, a dropped waist and a plain silk skirt, it's suggested that the design might have been borrowed from Princess Claire of Belgium, who wore an almost identical dress on her wedding day in 2003. Teamed up with a matching lace veil and trailing vine bouquet, Mia looked very much the royal bride (even if she does call the whole thing off moments later).
Love Actually (2003)
While you might have been paying closer attention to the musical montage during the wedding scene in Richard Curtis's Love Actually, it's safe to say that the wedding dress worn by Juliet (Keira Knightley) was somewhat derisive in the early noughties. Wanting the character to be sexy – even on her wedding day – Curtis originally envisaged Juliet wearing a crop top for the party element of the big day, but costume designer Joanna Johnston stepped in ('I told Richard, "You don't want a bare tummy going into church,"' she tells Grazia) and added the gauzy overlay decked out in petals and feathers to make the outfit more wedding-ready.
The Parent Trap (1998)
Whether you saw it once, twice or 10 times, The Parent Trap ranks highly when it comes to nostalgia-ridden rom-coms – and while we don't really witness any kind of wedding ceremony in the film, there is one bridal moment that continues to have a chokehold on us. That's right: we're talking about THAT wedding dress photoshoot scene, top hat and all.
Set to the upbeat anthem of Jakaranda's 'Never Let You Go', the scene sees Hallie (Lindsay Lohan) accompany her wedding dress designer mother Elizabeth James (Natasha Richardson) to her studio where she's needed for a photoshoot. Here, we see Norwegian-Swedish model and actress Vendela Kirsebom dressed in a gorgeous wedding dress featuring drop-waist ballgown silhouette, sequinned bodice, high neckline and surprise sheer back. Courtesy of costume designer Penny Rose, the gown was a suitably chic and elegant design that resonated with Elizabeth's character in the film. And the top hat? We're glad Hallie chose the white hat instead of the black one, but it's not something we'll likely be wearing down the aisle ourselves (even if it is mildly iconic).
Featured image: Priscilla (c) A24