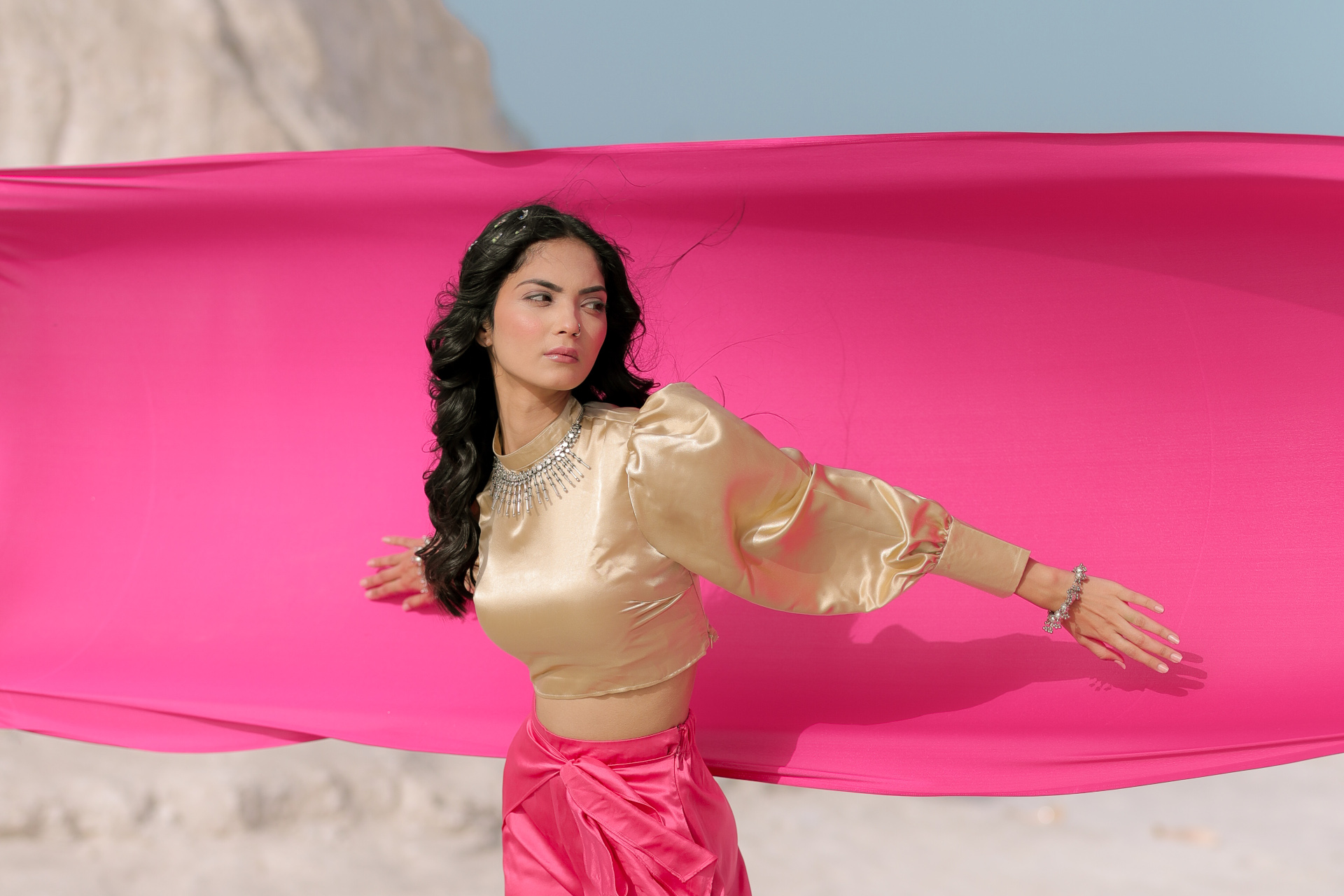 Nikita Ladwa on her Brand, Heritage & Diwali Memories
---
Find out what the founder of The Naked Laundry does for the Festival of Lights
One of the biggest festivals of the year, Diwali (otherwise known as the Festival of Lights) is celebrated all over the world by families as they come together to pray, prepare feasts, watch fireworks and more. Nikita Ladwa, founder of contemporary fashion brand The Naked Laundry, will also be celebrating the festivities this year when they kick off on Monday 24 October. Nikita, who is known for creating designs that bridge Western and Indian markets, sat down with us to share the story behind her brand and what her plans are for Diwali 2022. 
Q&A with Nikita Ladwa, Founder of The Naked Laundry
What led you to creating The Naked Laundry?
While at university, I faced a huge wardrobe malfunction. I needed a last-minute blouse to match a lehenga (skirt), and my mum posted a sari-blouse which ended up being too small. With no other options available, I was left with a half-open blouse, held together with some safety pins. With many saris, lehengas and other South Asian outfits, each component is made to match with each other, leaving no room for mix-and-matching or fluctuation in sizing – and ultimately leaving that outfit sitting in your wardrobe. This sparked the idea of creating a brand which specialises in crop tops that can be worn as sari blouses, along with my western wardrobe.
Describe The Naked Laundry in three words.
Versatile, elegant and…naked (in terms of our colour palette, of course).
We heard you come from a family of tailors – can you tell us a little about your background?
That's right! I grew up watching my mum design sari blouses, which ignited my interest in fashion. I was fortunate to learn skills from my mum and watch the beautiful creation of blouses and outfits.
My professional background started off fairly corporate. I graduated with a degree in Business Management and Economics, but it was very early on that I realised that I did not want to work in this field. I was getting rejected by graduate jobs in fashion, left, right and centre, and it was even more difficult for someone who had no 'fashion' qualifications to prove their worth. So, I went old school and sent out my CVs in bright pink envelopes to all major and upcoming fashion houses, in hopes of landing a role in one of their marketing departments. Some incredibly well-known brands offered me interviews, which eventually led to an internship with a fashion house.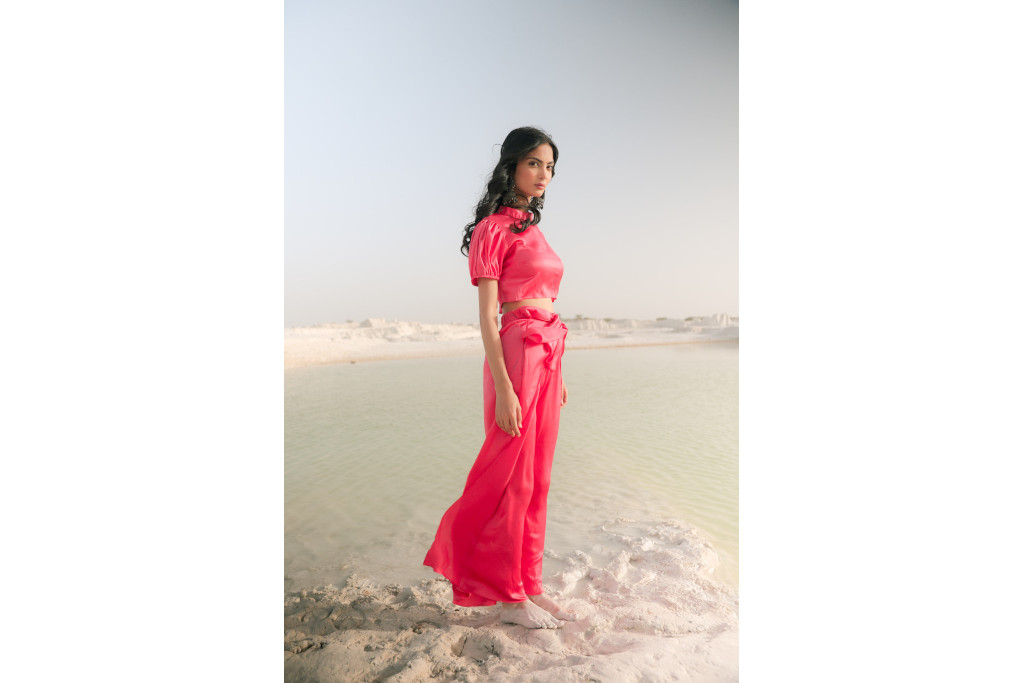 What role does heritage play in your design process?
Each of our designs is created with three moments in mind – style, silhouette and tradition. With each piece, we envision how our customers would style that particular crop top; whether that be with a sari, a traditional lehenga or jeans. Silhouettes are also important to us; our latest Rani Collection was inspired by trends and shapes worn by my mum and grandmother in 1970s India. At The Naked Laundry our core Indian heritage is at the forefront of everything we do. We aim to bring all elements of Indian tradition together with a modern twist to find the perfect blend that suits the needs of our growing British South Asian community.
How do Asian and Western fashion coexist in your collections?
We treat our styles as a blank canvas, where you can easily dress them up or down to make each piece personal to you. The Naked Laundry's styles are simple and timeless, making it easy to mix and match in a variety of ways. One of our best sellers is our Petal Cami Top, which our customers love to wear as a sari blouse or a nice 'out-out' top with jeans or a midi skirt for the festive period.
Are there any standout pieces from your brand that you would happily steal for your wardrobe?
One of my favourite styles and think it will always be my favourite is the Tie on Bow Crop Top, which now comes in multiple colours. I just love how it sits on me and how easy the ribbons offer a comfortable and flattering look. It's the perfect piece you need that shapes any size elegantly.
What are your plans for Diwali this year? Do you have an outfit lined up?
I like to keep things quite low key, so will visit the temple with my family followed by good food and of course, some fireworks! My Diwali outfit this year will be my favourite One Shoulder Bow Crop Top in Red with our Palazzo Pants and some heavy embellished jewellery. I know it's going to be a relaxed day, so what better way to celebrate than wearing something comfy that you can quite easily dress up.
Favourite Diwali memory?
I've always said that if I wasn't in fashion, I would be in food. So, that goes without saying, my favourite Diwali memory is all about the food. My mum makes the best Indian meals every Diwali, from Bhajias, Paneer and Pea Curry and of course, Rasmalai… I can't wait to indulge!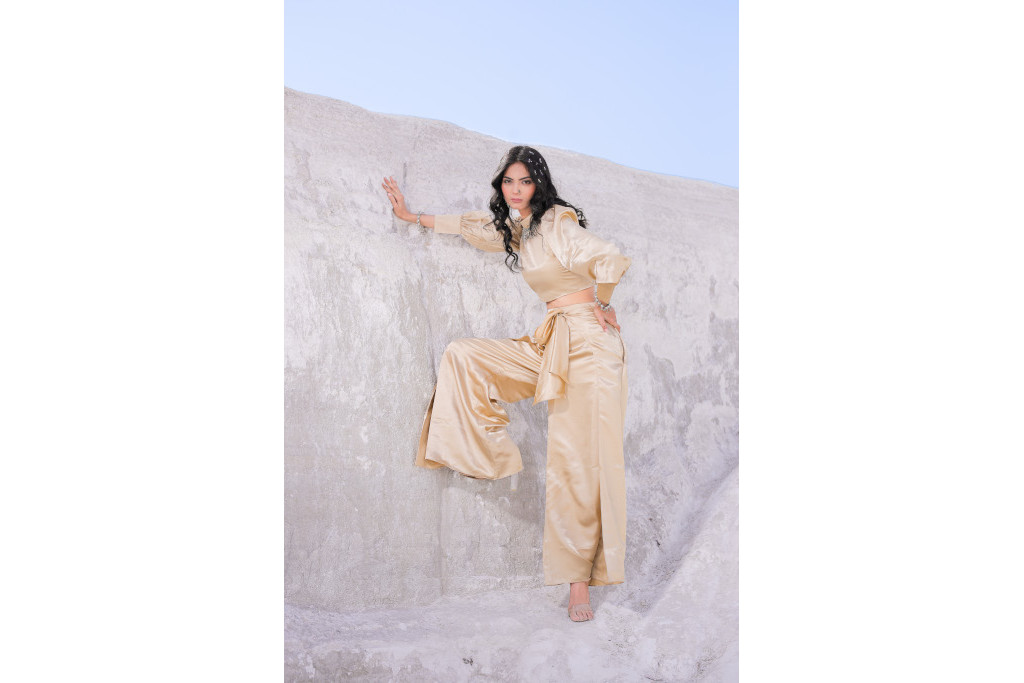 Do you have any tips when it comes to finding an outfit for Diwali?
Wear and buy items which you can repurpose again and again. Mix-and-matching outfits can truly offer more outfit looks than you could imagine, and no one will ever know you've worn it twice. If you already have a sari at home and your blouse doesn't fit, invest in a crop top that you could see yourself wearing out for a nice dinner, a night out or a party.
DISCOVER
Images courtesy of The Naked Laundry