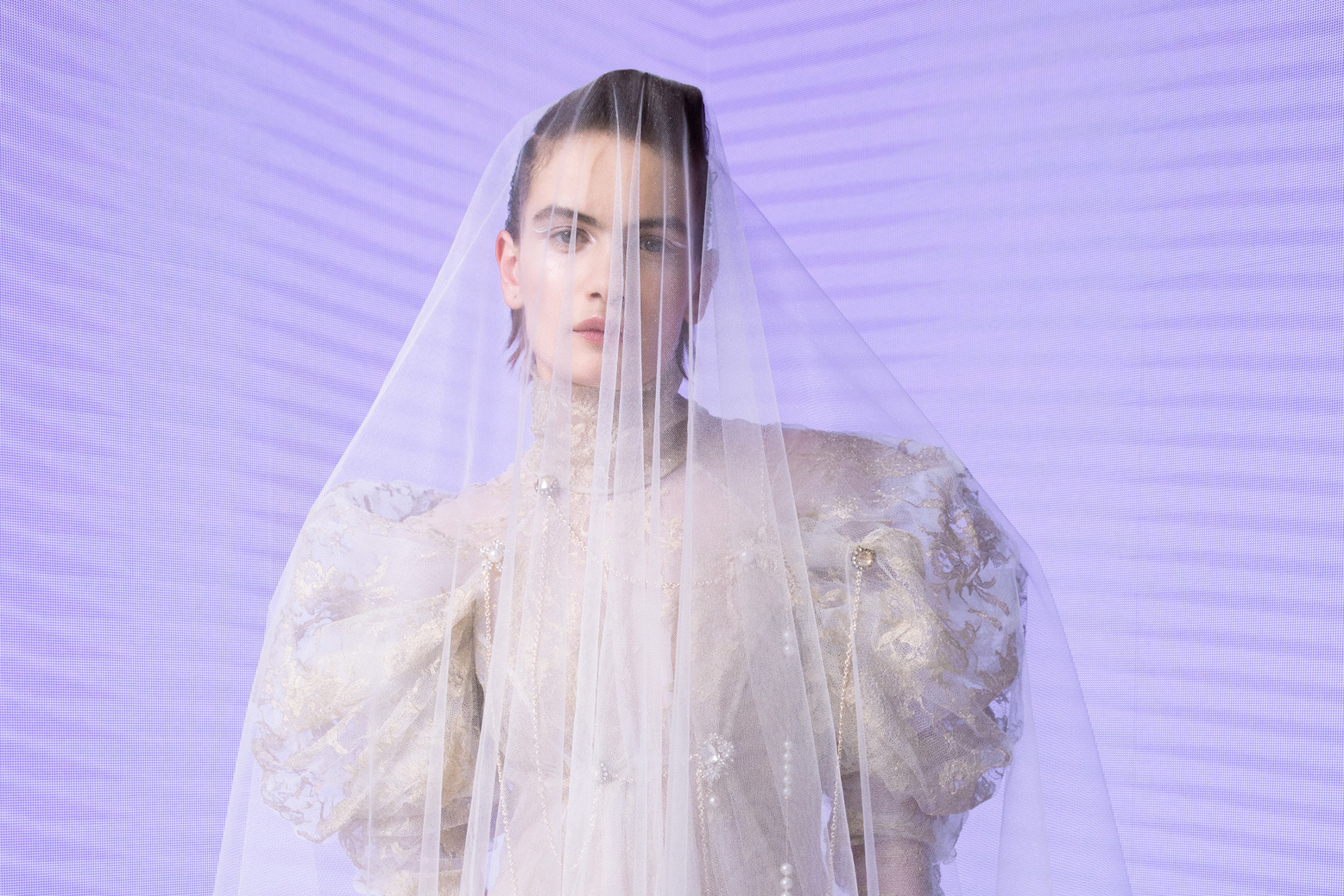 Vivienne Westwood Debuts Bridal 2023 Collection
---
The luxury label takes to the skies for 2023's wedding season
In case you missed the memo: wedding season is well and truly upon us. British fashion label Vivienne Westwood is the latest to join the party with its yearly bridal collection, which take brides on a journey through space and back… 
Vivienne Westwood Debuts Bridal 2023 Collection
While we've been eagerly awaiting the arrival of Vivienne Westwood's latest bridal offering, nothing could have prepared us for the brand's 2023 collection. Split into Made To Order and Bespoke Couture, the collection takes inspiration from the night sky ('the shapes, colours and explosions of the cosmos,' notes the label). The brand, known for its somewhat ethereal take on bridal, goes a step further this year by combining pearlescent textures ('an astral luminosity') with artfully draped fabrics, sculptural silhouettes and pops of colour.
Comprised of 12 gowns, the Made To Order collection comes in shades of silvery white, blush pink and gold – 'the nebulas' – with notes of red, aquamarine and sapphire blue for a colour pop. Designs are characterised by sharp silhouettes, corsetry decked out in silky fabrics, ribbons and lace, and asymmetrical hemlines.
Vivienne Westwood also tried a more 'transformative' approach with the collection, opting for details that could be removed or adjusted based on the bride's wishes. Capes are detachable from the dress, trains can be bustled up or worn over the shoulders and belted at the waist, and skirts can be removed entirely so that the top can be worn on its own (a great way to still wear your dress after the big day).
The Bespoke Couture collection, made up of a smaller selection of nine gowns, are a much more extravagant of the celestial theme (each dress comes with its own celestial reference). Highlights include a corseted column gown, 'Interstellar', decked in metallic silver lace knitted in a rippling pattern echoing the orbit patterns of planets, as well as a floaty dress, 'Angelica Cloud', crafted from layers of tulle and fitted with spiral sleeves.
Musings On Sustainability
What Is The 2023 Bridal Collection Made From?
As is common for the brand, Vivienne Westwood has crafted its 2023 bridal collection from lower-impact fabric options – including GRS-certified recycled textiles (specifically polyester, tulle, sequins, lace and taffeta) and responsibly-sourced materials (think FSC-certified viscose and acetate crepe satin, georgette and stretch satin).
A number of dresses across both collections also feature lining created using materials left over from previous seasons, in a bid to reduce the label's waste output; where surplus fabric is unavoidable for certain designs, leftovers are repurposed in new ways for future collections.
Where Is The Collection Made?
While Vivienne Westwood continues to seek out eco-conscious alternatives with its new offerings, the brand doesn't want to stop at material innovation – it also looks at its means of production itself. Every gown has been designed, sampled and hand-crafted locally in England, nurturing traditional, smaller scale dressmaking through bespoke craftsmanship. The craftspeople working on Vivienne Westwood's collection work with traditional tailoring techniques, combined with historical and experimental pattern cutting.
Can We Only Wear The Gowns Once?
Unlike last year's collection, some of 2023's gowns come in different colours – giving brides the option to invest in a timeless dress they can wear for multiple occasions. The creative choice comes with the growing trend among brides to find something with longevity, that they can wear for years to come and pass on to future generations.
When Will The Collection Be Available?
Vivienne Westwood's Made To Order and Bespoke Couture 2023 bridal collections are available to shop now. viviennewestwood.com
Images courtesy of Vivienne Westwood