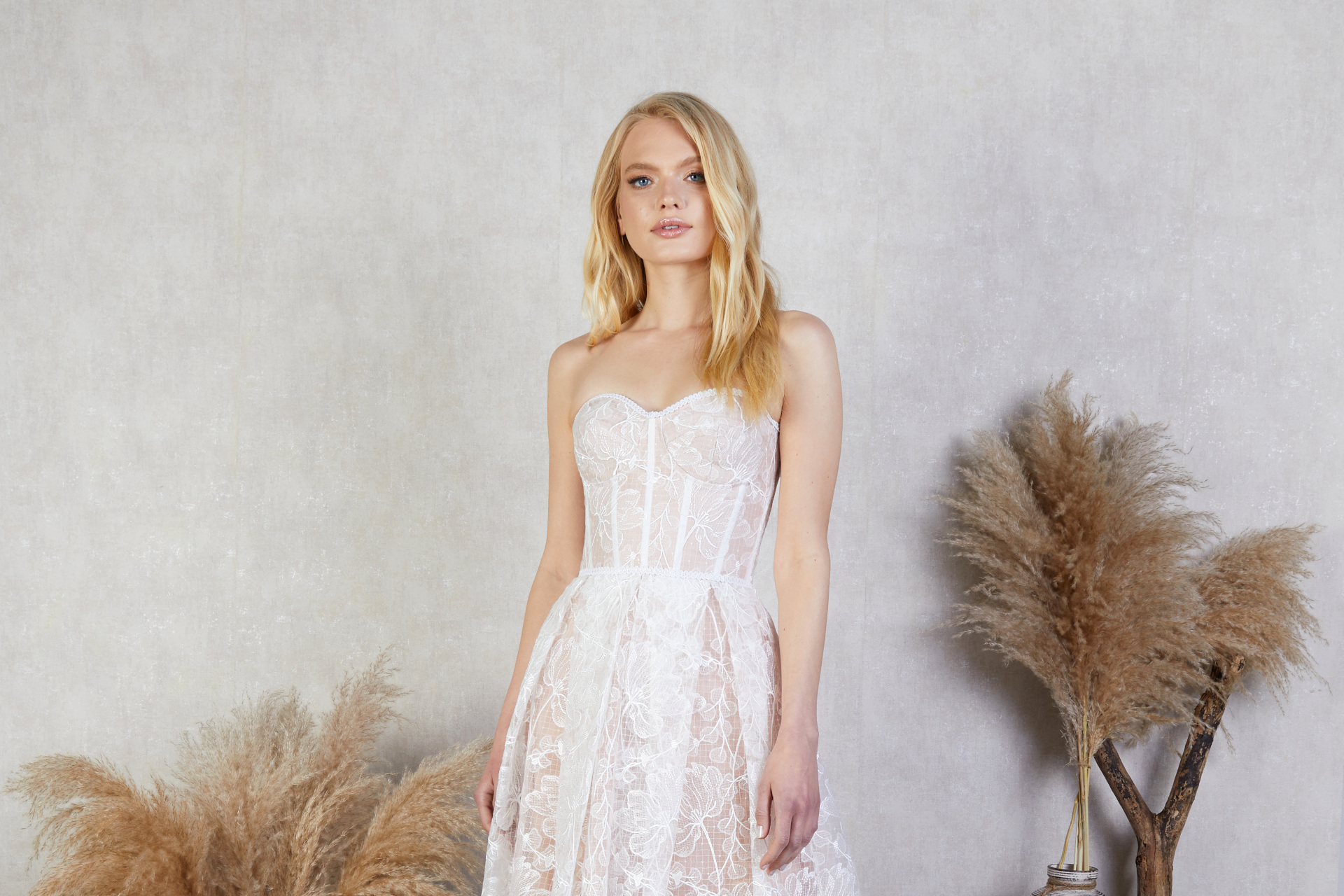 From Hen Party To Honeymoon: Your Wedding Wardrobe Sorted
---
Be the best dressed bride every step of the way
Have a wedding on the cards? Whether you're prepping for your engagement party, looking for your dream dress or thinking about what to pack for your honeymoon, luxury fashion brand NADINE MERABI has got you covered. To get some wedding wardrobe inspiration, we spoke to the brand's design team, who have picked out some of their best looks to take you through your bridal journey.
The Country & Town House Responsible Buyers' Guide
Wedding Wardrobe Ideas For Every Occasion
Engagement Party
So, the news is out: you're engaged. Congratulations! Now you can get started on some celebratory party planning – and for the engagement party, you can go all out. This is a celebration for you, after all.
When it comes to choosing the perfect outfit for the occasion, look no further than NADINE MERABI's crisp Charlotte suit (in wedding white, of course). 'The ease of the Charlotte set is a modern take on bridal,' says the brand's design team. 'This highly sophisticated set features a white blazer, bra and pant crafted from our exclusive crepe and satin mix, with pearl detailing down the shoulders and chest to introduce some textural depth and really draw the eye to the silhouette. This is a fantastic outfit if you want to make a statement entrance on arrival. Simply pair with a pearl mini handbag, white satin heels and a subtle hair accessory and you're all good to go.'
Perhaps the best part of the set is its versatility; it can be mix-and-matched and worn with multiple other pieces in the NADINE MERABI catalogue ('the Charlotte trouser can be styled with our Faye top, to add more drama, or something like our Ella corset for more structure'). But what we love the most is that it can be worn again for future events, bridal and non-bridal. Whip the set out again for your rehearsal dinner, evening reception or even just on a night out or dress-up dinner.
Hen Party
Where an engagement party is a bit more of a sophisticated affair with family and friends, a hen party is the perfect setting to really have some fun with your wedding wardrobe. Tune into Jazz Age glamour with the Lottie dress, which the NADINE MERABI team have dubbed 'a full-on glitz moment'.
Layered with fringe, feathers and beads, this is a great dress for a party – or a night on the town. 'Lottie is one of our best sellers for a reason, it's made for those special "wow" moments. The dress has been individually hand embellished with white crystal waterfall beading to create a mesmerising body contour illusion when worn, and features our signature satin on the straps. The feathers have similarly been individually hand sewn, creating a lovely fullness that look fantastic when the person wearing the dress is walking or dancing.'
But how should we style such a statement dress? 'This is the ultimate show-stopping party dress, designed to make you stand out for all the right reasons,' says the NADINE MERABI design team. 'It deserves a statement shoe, whether that's a satin bow detail or a diamante moment, and can be accessorised with our Leona feather jacket for a glamourous little cover up.'
Bridal Morning
Time flies by quickly, and it's finally the morning of. If you're following tradition and plan to get ready with your bridesmaids, then you might want to consider a full bridal morning makeover.
'The best way to start your day is wearing our signature PJs,' says the NADINE MERABI team. 'The Darcie is our most sought out style, and is perfect for the morning of your big day. A gorgeous set both for the bride and her bridal party, the Darcie is made from our exclusive, beautifully designed silk-satin blend and features fluffy feather trim. The set is also loose-fitting and has an elasticated waistband, so you can avoid leaving any marks around the legs and shoulders from seams and straps.
'We see many of our girls wearing the Darcie in very different ways, from a comfy pair of slippers to a glam heel. As well as white, the set comes in an additional eight colours, making them the perfect for bridesmaids to accompany the bride – and create a cohesive experience for the full bridal party!'
Wedding Ceremony
With preparations all set and complete, it's time to walk down the aisle. What will you be wearing? If it's understated sophistication with a bit of modern flair that you're after, then NADINE MERABI suggest you try the Olivia gown: 'This dress is made of dreams and will make you feel like a princess on your special day.
'Featuring an elegant style with embroidered flower detailing, the Olivia boasts a lace trim around the top bodice and waistline, a scalloped floral hem and our infamous corset bodice boning to cinch the waist. The dress is cut for a close fit to enhance your figure, and includes inner padded cups and underwire so that its wearer feels supported. The full skirt is also pleated with layers of mesh to give a perfect hourglass silhouette, giving the full-looking effect of an A-line gown without the added length.'
The calf-length hemline, forecasted to be a major bridal trend for 2023, also gives the perfect opportunity to show off your wedding shoes. The NADINE MERABI team suggest 'a classic white satin heel as the perfect accompaniment', but these can easily be swapped out for something bolder if you want to make more a statement with your lower half.
Wedding Reception
With the ceremony out of the way, the party can finally begin. Many of today's brides change into a new outfit for the reception, whether so that they can dance more freely in the evening or avoid dirtying their main dress. It's also a chance to wear something more party-ready.
The first recommendation to come from the NADINE MERABI team is the Leah dress: 'Worn to be seen, whether at bridal dinner or wedding reception, the Leah is a real show stopper. With structured shoulders and a floor sweeping drape, this hand embellished white sequin dress is made to fit and flatter your body shape.'
Fit for drama, the dress comes with a cascading drape that echoes the train of a traditional wedding gown (so you can still have your bridal moment) as well as a form-fitting wrap over the bust to help create a sexy silhouette. 'This style will hug you in all the right places, and is made with our white beaded fabric which has a slight stretch to allow its wearer a bit more flexibility and comfort – perfect for dancing!'
But if you're bored of dresses by this point, or just fancy something more modern, then maybe you should opt for a jumpsuit moment. 'A MERABI staple in any modern wardrobe is always a jumpsuit, and Amelia is guaranteed to wow. This feather trim cuff jumpsuit is made from our exclusively designed embellished pearl mesh with a contrast lining to provide coverage (and accentuate those gorgeous pearls), as well as a trouser made from crepe fabric.
'The Amelia jumpsuit comes with a belt to add the extra little cinch to accentuate your natural waist, but looks equally as good paired with or without it. If you have a sash from your ceremony dress, you could even tie that around your waist to carry over the sentiment into the latter part of your day.'
What makes this outfit a real statement piece, however, is the attention to detail – from the pearls and feathers to the crisp tailoring on the pant leg. 'Our fluffy hand sewn feather trim is a key MERABI detail, and a soft additional detail for that big entrance moment. Due to its versatility as partywear, you can also easily wear the jumpsuit to a number of your bridal events (and beyond).'
Honeymoon
Once you've performed your nuptials, packed up the venue and bid your guests goodbye, there's only one step left: the honeymoon. Whether you're jetting off abroad to warmer climates or planning an extravagant city break, chances are you'll want to keep a little bridal glow in your wardrobe.
The top recommendation from NADINE MERABI is the Maya minidress: 'This is the perfect honeymoon dress, a stunning pearl beaded and embellished dress that encapsulates the magic of your wedding day without being too on the nose. It has just the right balance of sexiness and sophistication, with blouson exaggerated sleeves (for that little illusion of floating glitter), a gathered wrap over the bust and figure-hugging silhouette around the hip. Ideal for evenings out with your new spouse, this dress can be teamed up with a micro handbag and glitzy heels to create a gorgeous honeymoon glow.'
EXPLORE
Whatever stage of your bridal journey, NADINE MERABI will ensure you have the perfect wedding wardrobe to make you feel your very best – and most glamorous – self. For more style inspiration for your big day, visit nadinemerabi.com
Images courtesy of NADINE MERABI