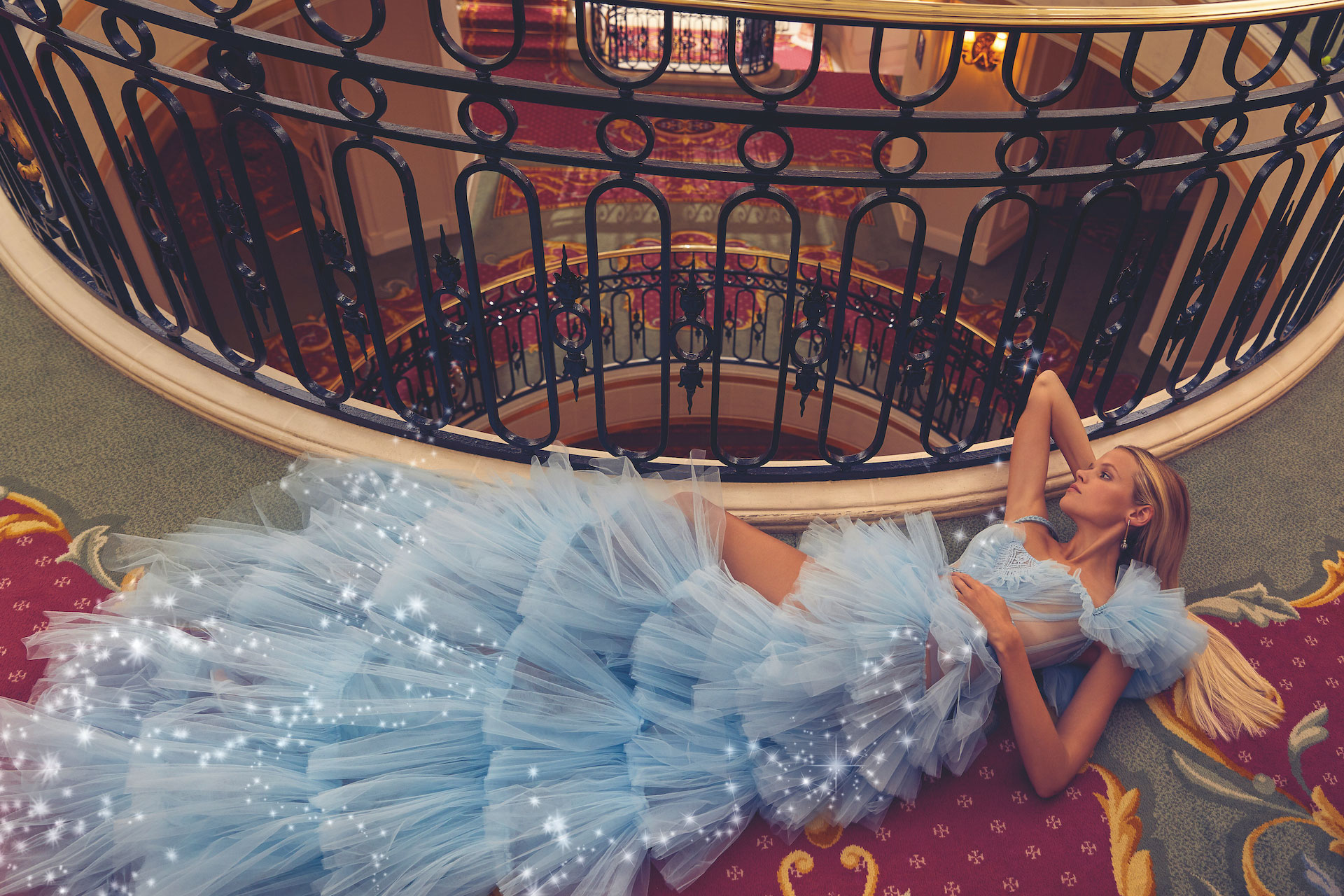 Gabriella Wilde Lights Up The Ritz
---
The Poldark and Wonder Woman 1984 actor opens up about motherhood, success and her 'fraught' relationship with social media
The C&TH team took Gabriella Wilde, star of Poldark and Wonder Woman 1984, to The Ritz for the cover shoot of our Nov/Dec issue. Harriet Compston spoke to her about breastfeeding on set, desert island reads and her love of Lucien Freud.
Into The Wilde
Favourite role to date?
Caroline in Poldark. I loved her spark, vulnerability and bravery. One of my favourite scenes was when Caroline and Dr Enys found out their daughter was going to die. Obviously a really sad scene but I thought it was written beautifully and very authentically.
What demands do you have on set?
I have never been one for making demands. The only time I have is when I brought my baby on set. He was four months old when we started filming the third series of Poldark. Brilliantly the entire filming schedule was laid around his feeding times. My costumes were especially designed so I could feed him. He was sick on me nearly every day, which gave the costume designers a bit of a heart attack, since you can't really wash these elaborate costumes.
What qualities do you think have made you successful?
Who knows…? It all feels rather random and possibly just a stroke of luck. But being kind and respectful to everyone helps. I have observed how older actors have conducted themselves, their commitment to working hard and the understanding that we are all essentially another cog in a huge production where everyone's role is vital. I've always been impressed by Eleanor [Tomlinson] on Poldark, who is incredibly hard-working, open and thoughtful.
Film you think everyone in the world should see?
Becoming Nobody, a very moving documentary about Ram Dass and his teachings. In light of everything that has been happening this year, it was particularly comforting and gave me a mindset to get outside the worry.
What's your relationship with social media like?
Fraught. I don't like to be on it too much because, for all of its pluses, it has a negative, addictive nature, which takes you away from real life. As a mother, that's quite pertinent to me. I don't want to catch myself on social media rather than with my kids, but yet – like everyone – I find myself doing that.
What did you want to be when you were a little girl?
A painter. Art was a big part of my childhood and a real solace at school. It was the path I wanted to follow so I went to study fine art at college. I still like to paint but don't do it very often. I love to do portraiture and Lucien Freud has always been one of my favourite artists.
If you could give advice to your 15-year-old self, what would it be?
Stop worrying. Be yourself unashamedly. When you look back as an adult, you realise how carefree you could have been. The things you thought were life-and-death situations really weren't. Although I know that worrying is a pointless exercise and doesn't fix anything, it's hard to put it into practice. I was like most teenage girls, desperately trying to work out how I fitted in. But, as you get older, you learn that not fitting in means you're in the wrong place, not that there is anything wrong with you.
What does it mean to be a mother?
From having one child to three, I definitely worried how I was going to love another child or give them what they require. With each child, you are pushed to your edges in a wonderful and extreme way. It requires all of who you are and every reserve you have but, from somewhere within, you find what they need. It's a constant search. So, being a mother is a journey of self-discovery and learning who you are, your limits and how much love you have to give.
What principles do you instil in your children?
You are special, just like everyone else. Be kind. Be kind. Be kind.
Which five books would you take to a desert island?
Untamed by Glennon Doyle – a memoir about being a woman in the world. The author is a really inspiring woman, everything she said resonated with me and rings with such truth. The Bhagavad Gita – a spiritual [Hindu] text. A desert island would be the type of time and place where I could read something hefty like that and fully digest it. The Body Keeps the Score by Bessel van der Kolk – to me, it's important to spend time understanding the connection between mind and body. Devotions: The Selected Poems of Mary Oliver – I love Mary Oliver. On a desert island, it would be nice to have something to dip in and out of, just read one poem and think about it for a while. Being Mortal: Medicine and What Matters in the End by Atul Gawande – I have always been drawn to the relationship between mortality and death, not in a morbid way, more in a life-affirming way.
The most challenging moment of your life?
Giving birth to my first son. I was quite young – 24. I hadn't been around friends having babies so I felt that I was going into it a bit blind. I ended up having a great birth. I had him naturally, which I wanted, but it was obviously a very intense experience. It was the first time I've been challenged in that way and known wholeheartedly that nobody could do it but me.
Are you conscious of what you put in your body?
I am very aware of what is healthy and what I should be doing, but I am also a total sugar addict. I guess it's a balance. I think being obsessively healthy is bad for your mind (although maybe good for your body) so allow yourself to have a bit of both. Don't be overly critical of yourself, be a little joyful, don't worry too much about eating chocolate and doing the right thing.
What is your current beauty regime?
I like to use as much natural stuff as possible – particularly Weleda. I also love Wildsmith Skin and Tata Harper. The more I read about what you put on your skin and the way your body absorbs it, I start to think, 'Would I want to eat what I am putting on my skin?'
How do you relax?
I love being by the sea. I hope one day to live by it. It's such a calming place to be. My favourite beach is Eco del Mare in Italy. My husband has been going there every summer since he was young. We got married on that beach. I've been there every year with my kids. It's really beautiful and I adore Italy.
What's your interior design style?
Minimal, practical and comfortable. I've moved a lot and seeing all your life possessions packed up in a big pile of boxes made me want to get rid of everything. I thought, 'Why do we have all this stuff?' And also lockdown, where I was home 24 hours a day with three kids, seven days a week; I didn't want to have anything more to clean and look after. But I am also a real homebody and my home is a sanctuary. It's important that I love the things I have and that they are beautiful. I like to have the odd thing around that is meaningful and tells a story.
If we come to Somerset for the day, what should we do?
My number one place is Stourhead, a big National Trust estate. It's unbelievably beautiful, with ancient woods. Then there's the river at Tellisford, which is wonderful for wild swimming. I go a lot in the summer with my kids. For lunch, I would order half a chicken and chips in the Roth Bar & Grill, or there's amazing pizza at At The Chapel. Both are in Bruton. There are wonderful shops on St Catherine's Hill in Frome including The Dandy Lion for vintage clothing. A designer called White Doe, makes lovely sustainable clothing that is stocked at Seed. High Pavement, a tiny restaurant in Frome, is great for supper with delicious North African sharing food.
How will you be celebrating Christmas?
At home with my boys. We always go to the Christmas tree farm, where the kids run around and pick a tree. It still feels quite a novelty to be at home, just with my kids, and be the grown-up at Christmas. I find it a moment of realising where I am in my life – I still feel like a child most of the time. But now I have to realise that Christmas Day is down to me, I need to organise it and turn it into this special day. When you are a kid it's this magical event but for parents it's exhausting.
What are you hoping for under the tree this year?
Honestly nothing. Just time with the people I love.
What's your secret to a happy marriage?
As a natural control freak, I think the answer is just 'let go'. Not 'let go' so that the other person can take control of your autonomy, more that if you both operate from that place then you will allow each other to be who they are and your lives will go as they go. That's the happiest place.
Fashion Director: Nicole Smallwood
Photographer: Carla Guler
Fashion assistant: Daisy Bryson
Photo assistant:Tristan Fennell
Hair and make-up: Alexis Day using Evo and Chantecaille
Video: Magda Jano
Video Editor: Tracer Ital @adrenalinphotographic 
Digital Artist: Meg Dowson @adrenalinphotographic
Read more from Gabriella Wilde here