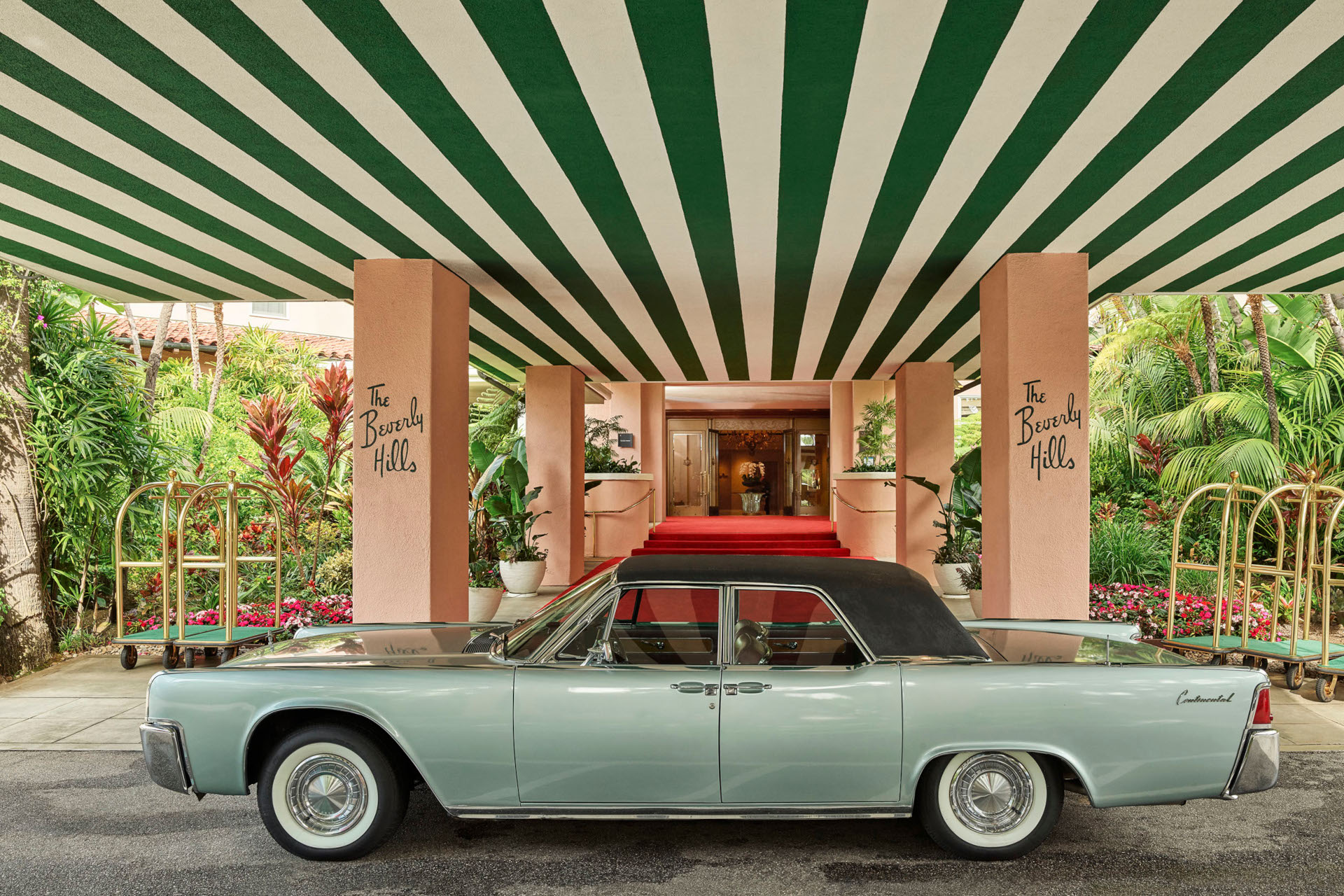 The Best Day Spas In LA to Book Now
---
Find your very own heavenly experience in the City of Angels
Los Angeles is home to many a good thing – from delicious grub and snazzy vintage stores to gorgeous beaches and, of course, its A-list inhabitants. This is undeniably the place to be if glamour is what you seek, but don't let the bright lights and fast pace drain your energy before you can truly get going. If you're planning a trip to the City of Angels anytime soon, make sure to sneak in a slice of You Time with a trip to one of the best day spas in LA.
The Country & Town House Responsible Tourism Guide
The Best Day Spas In LA
The Spa at The Beverley Hills Hotel
Where? The Beverly Hills Hotel, 9641 Sunset Boulevard, Beverly Hills, CA 90210
What? A lavish oasis nestled on Sunset Boulevard, Beverly Hills Hotel is known as the original 90210 and boasts a private setting from its 12-acre gardens. The spa, which underwent renovations in 2021, is the vision of Champalimaud Design – which sought to blend together the hotel's playful and chic atmosphere while maintaining an air of relaxation. There's four treatment rooms available to book out, as well as a duet suite for couples, family and friends, where guests can receive body and facial therapies from the spa's menu (and get cosy on warmed-up treatment tables). There's also a snazzy new nail suite with pedicure chairs and a manicure area, which looks out onto the hotel's citrus garden.
Treatments: The spa, which offers almost 40 treatments in total, divides its menu into three categories: massages, facials and nail care. Over 20 product lines are used, including big names like Natura Bisse, NuFace, Valmont, UMA, Skin Authority and Knesko Skin, alongside a combination of natural ingredients, advanced technology and internationally-inspired wellness rituals. You'll be hard pressed to pick one treatment, so it's best to flit between the three categories. Want to feel deeply relaxed? Start things off with a relaxing Pink Himalayan Salt Stone Massage to simultaneously sooth and purify skin. Want to try the latest ant-aging technology? Try the Power Glo Facial, which uses LED light therapy to stimulate collagen and contour the face. Want the ultimate pampering session? Let the talented beauty technicians scrub and massage you into a puddle of happiness with the Power Manicue and Pedicure. And as if the regular treatments aren't enough, you can even opt for 'enhancements' that add an extra layer of luxury to your experience.
BOOK: dorchestercollection.com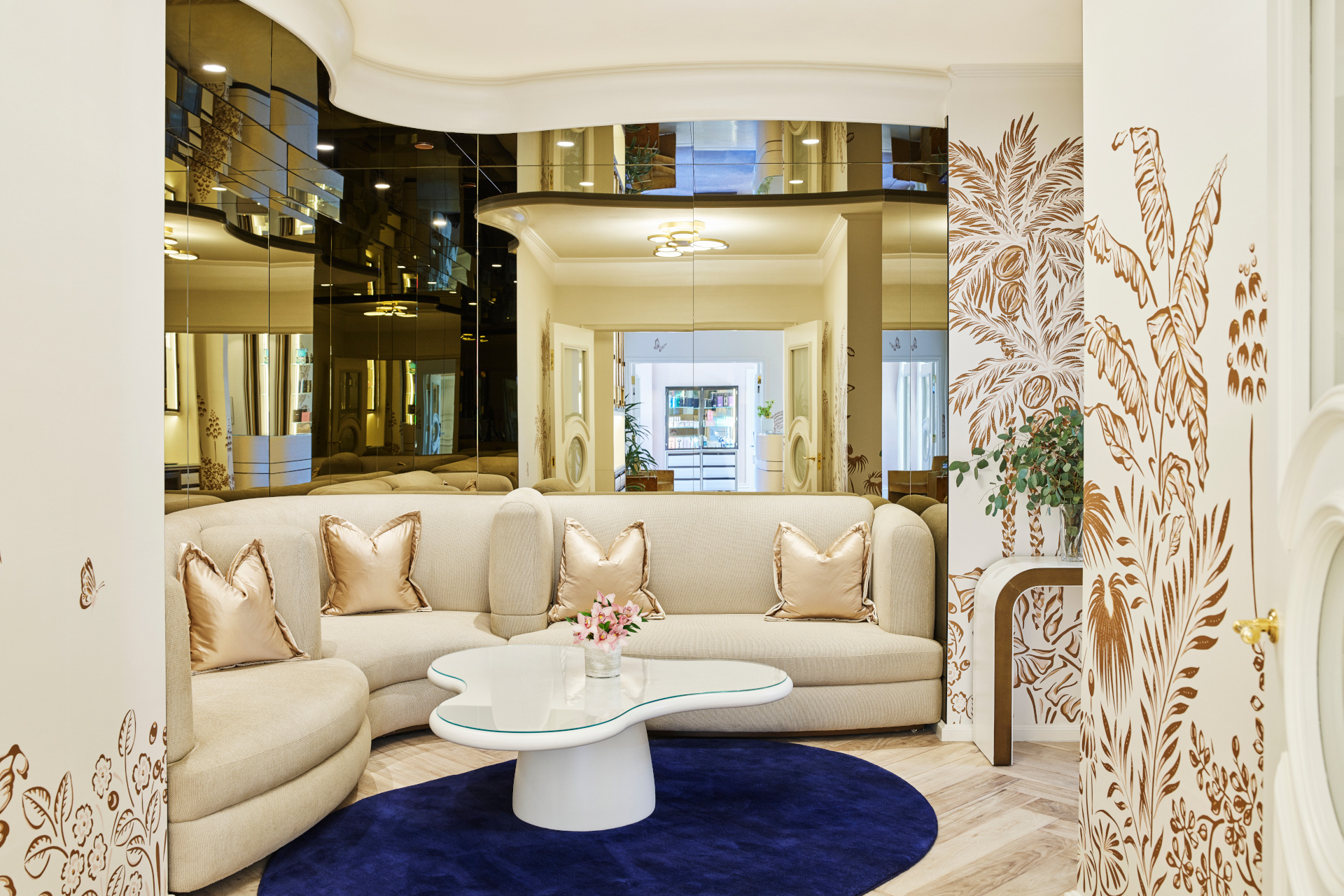 The Spa at Hotel Bel-Air
Where? Hotel Bel-Air, 701 Stone Canyon Road, Los Angeles, CA 90077
What? Those wanting a taste of the high life can a take trip out to the California hills to try out the intimate spa at Hotel Bel-Air. This is one of the most famous hotels in the area, known throughout the years to have hosted the likes of King Charles III, The Beatles and Grace Kelly, and will make you feel every bit the A-lister. The spa has been dubbed 'a restorative oasis' and features seven treatment rooms, a relaxation lounge and a nail suite with multiple manicure and pedicure stations. Couples also have the opportunity to have a slice of paradise for themselves in the Enclave Suite, which has two treatment beds, a marble soaking tub, private patio and waterfall – super dreamy.
Treatments: Hotel Bel-Air has an impressive list of treatments on its menu, spanning facials, massages, body treatments, nail care and full-blown retreat packages. The spa is currently partnered with Swiss skincare expert Valmont, using products from its line that blend scientific research and natural resources for powerful results. While there's plenty of highlights from the menu that you'll no doubt be dying to try, we suggest trying one of the immersive retreat experiences so that you can try out multiple treatments in one. The Bel-Air Beauty package, for example, offers four whole hours of relaxation with a head-to-toe pampering session that includes a facial, manicure and pedicure.
BOOK: dorchestercollection.com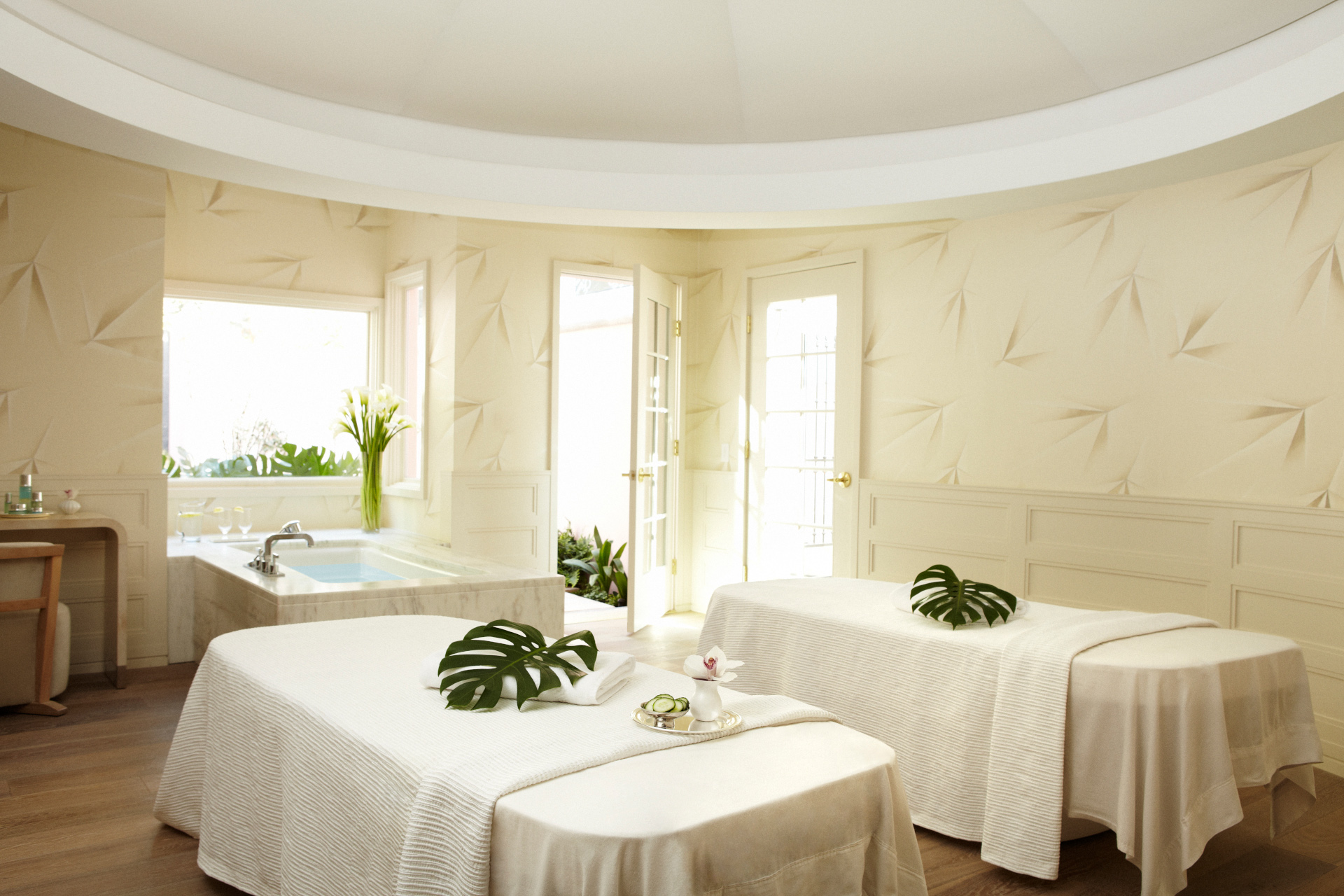 Conrad Spa
Where? Corad Los Angeles, 100 South Grand Ave., Los Angeles, California, 90012, USA
What? Having just opened in the summer of 2022, Conrad Los Angeles is the new kid on the block that everyone is keen to meet. The hotel, which is located in downtown LA, features a full-service spa that takes an approach of 'boundary-free wellness'. Alongside private treatment rooms, guests can enjoy the spa's dry sauna and enlightenment lounge before and after any treatments they have booked in. And those who have spent over $200 at the spa can even take a dip in the hotel's rooftop pool (or sit poolside with a drink in hand, if that's more their speed).
Treatments: Conrad Spa leans more on the side of modernity and technology when it comes to its treatments, with an innovative selection of high-tech wellness therapies and performance tools to choose from – including LED Light Therapy, Normatec Compression Therapy, Quantum Harmonic Therapy, Core Meditation and more. Those after instant results can also try out one of smart skincare services listed on the menu, which uses emerging technology in the industry to help you look your most radiant. If you're more into traditional treatments, the spa also offers therapeutic massages (think Ashiatsu and Thai) to restore balance and amp up the relaxation factor.
BOOK: hilton.com
View this post on Instagram
Chuan Spa
Where? The Langham Huntington Hotel, 1401 South Oak Knoll Avenue, Pasadena, California 91106, USA
What? Fancy a mini-break from your mini-break? Or maybe you're a local wanting to escape the city for a bit? Either way, a trip out to the residential neighbourhoods of Pasadena can do you no wrong – especially when it means a stop by The Langham Huntington Hotel and its award-winning spa. Nestled on the hotel's grounds, Chuan Spa, which offers an international experience underpinned by the ancient traditions of the Orient, features 12 treatment rooms as well as a VIP suite, sauna, herbal steam and whirlpool and a state-of-the-art fitness centre.
Treatments: Chuan Spa's signature massage and facial treatments are inspired by Traditional Chinese Medicine, which when combined with cutting-edge skincare technology deliver refreshing results that will stay with you long after you've stepped out of Pasadena. All treatments are inspired by the Five Elements theory, used to identify basic disharmonies within and direct you to the best products for your needs. Choose from a range of massages, facials, body treatments and hand and foot therapies (with maternity, men's and custom options available), or try out one of the packages for a full whammy.
BOOK: langhamhotels.com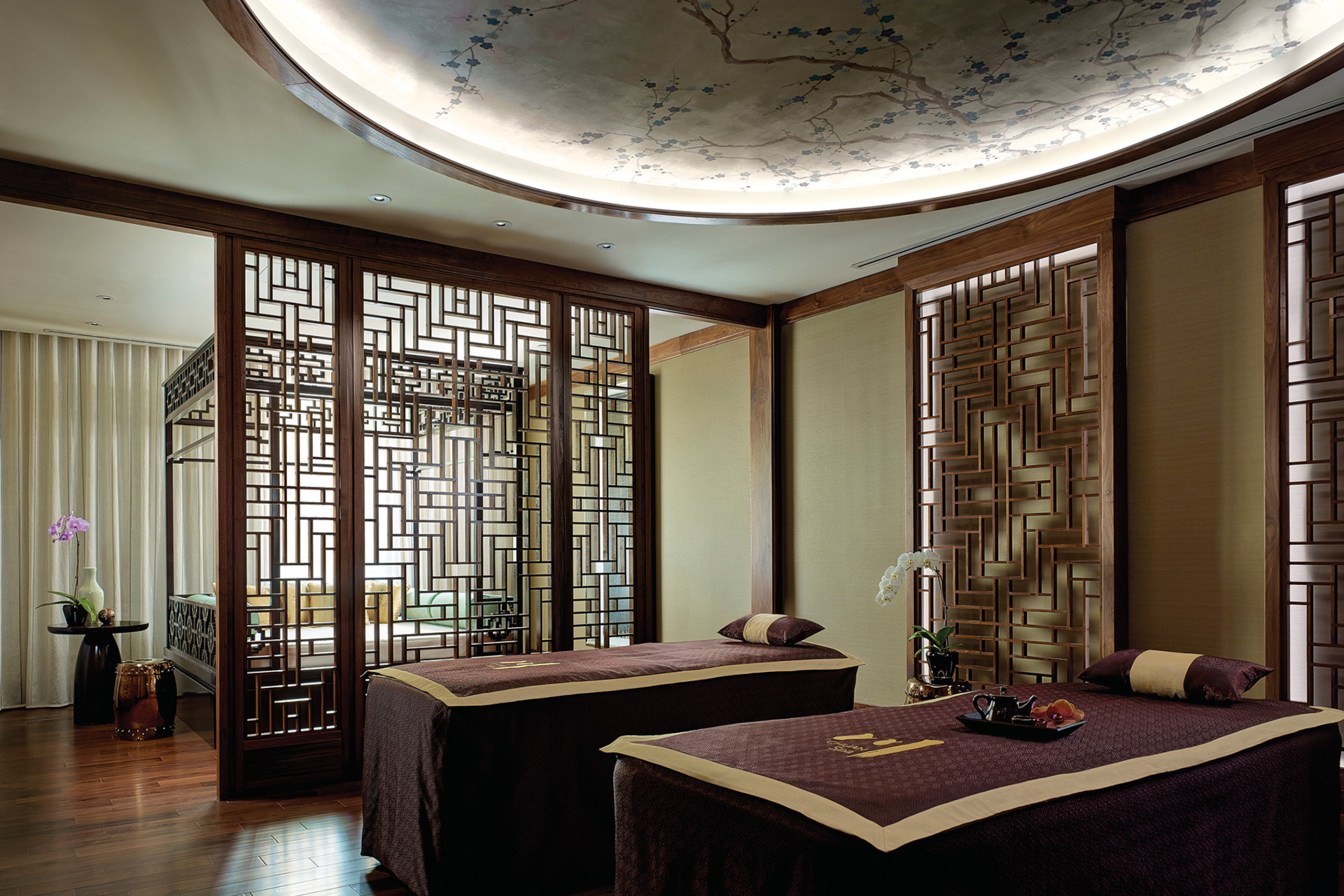 Larchmont Sanctuary Day Spa
Where? 331 N Larchmont Blvd, Los Angeles, CA 90004
What? This award-winning boutique spa has a prime spot in LA's historic Larchmont Village, where celebrities Muhammad Ali, Shecky Greene and Nat King Cole once called home. The spa, which boasts an ethos of ecologically responsible wellness, offers both indoor and outdoor spaces for guests to explore and relax in. A visit is underpinned by a holistic approach, both in body and space (Larchmont Sanctuary Day Spa was once blessed by nine Tibetan monks from the Garden Shartse Monastery to achieve the ultimate zen experience), with an emphasis on intimacy and internationally-inspired treatments.
Treatments: East meets West at the Larchmont Day Spa, where an emphasis is placed on products that are free of chemical preservatives, artificial fragrances and are completely cruelty-free. Relaxation is the main highlight on the menu, with treatments spanning massages, facials, waxing, full-body, hydrotherapy, CBD and salt therapies. The goal? To heal, detox and invigorate. One of the must-try treatments for newcomers to try is the Illuminating Body Detox, a three-step full-body experience that features a detoxifying scalp massage and foot massage with a Himalayan salt scrub, followed by a Hungarian Moor mud wrap.
BOOK: larchmontsanctuary.com
View this post on Instagram
Ciel Spa at SLS Hotel
Where? SLS Hotel, 465 La Cienega Blvd, Los Angeles, CA 90048
What? Tucked away from the busy hubbub La Cienaga is SLS Hotel, a Luxury Collection Hotel, and its uber-luxurious spa. The Ciel Spa is the creation of Pearl Recovery Retreat and Wellness, LA's leading hub for cosmetic post-op services and recovery, and boasts treatments led by some of the finest therapists in the world. Some famous faces that have dropped by the hotel in recent years include Olympic diver Tom Daley, actress Kat McNamara and TV personality Rodney Wallace.
Treatments: Ciel Spa's menu is nothing if not expansive, designed to cater to your every whim and need. Treatments cover pretty much everything you could think of, from endermologie, massages, facials and body treatments to hair care, nail care, waxing and makeup application. Some of the most coveted options on the menu, however, are the Biologique Recherche facial and anti-aging treatments (Ciel Spa is one of the only establishments in LA to offer these treatments), which even have their own exclusive product range, available to buy onsite after you've tried them out with a therapist – and ultimately gotten the bug for more.
BOOK: sbe.com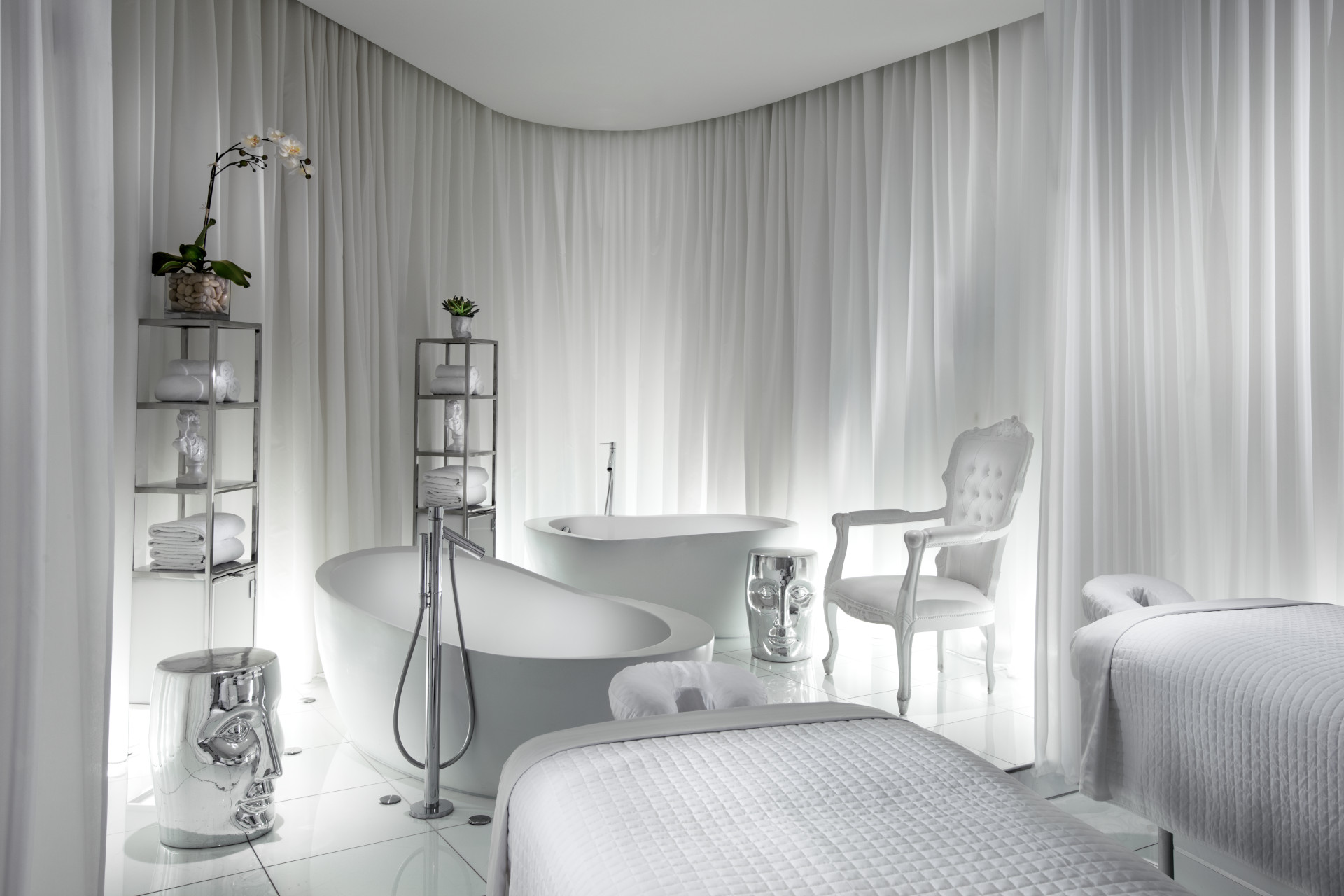 Featured image: The Beverley Hills Hotel