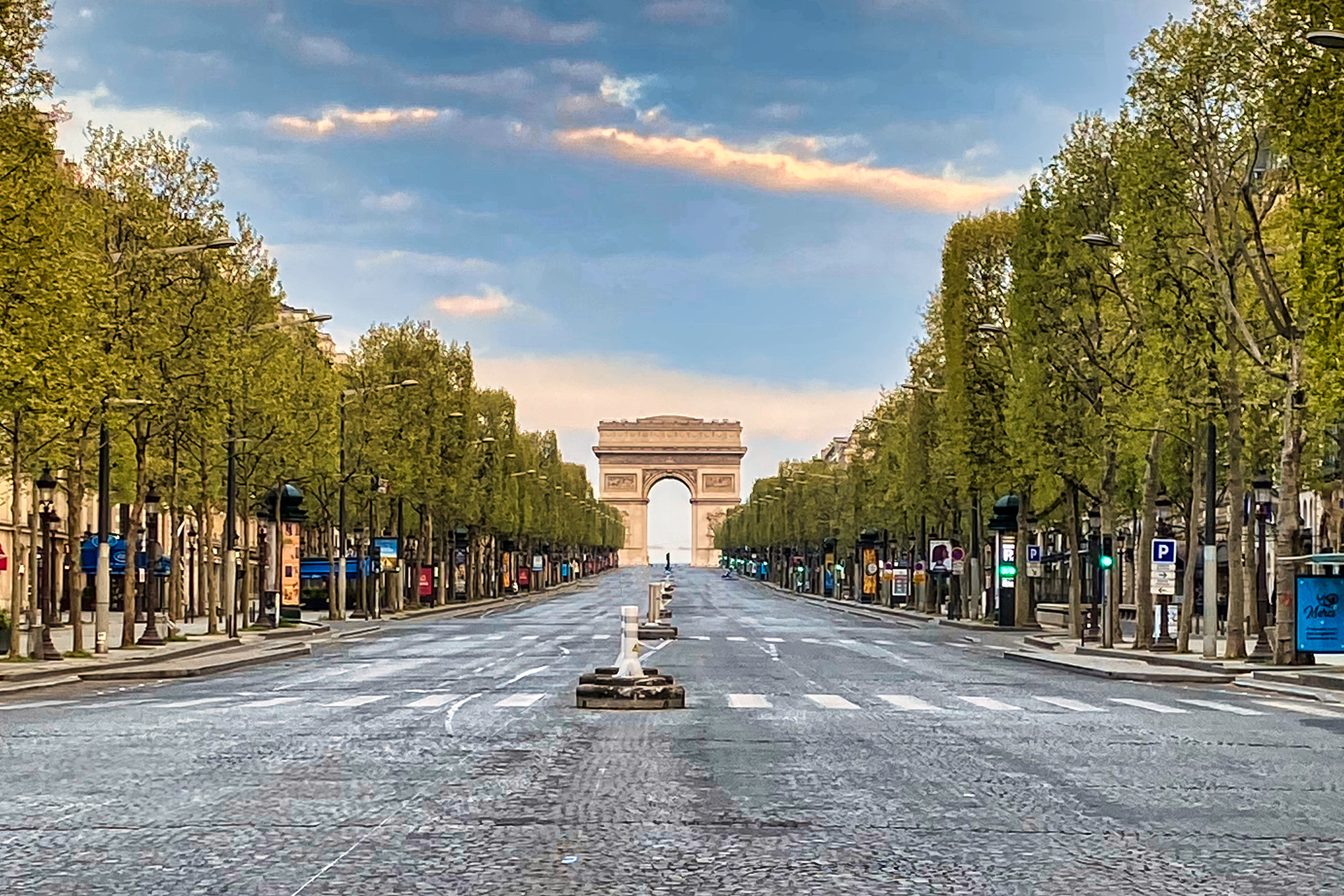 The Best Day Spas In Paris
---
Live like the locals and indulge in a little luxury
Looking to kick your feet up after a long weekend break exploring the city of love? Take a trip to one of these luxurious Paris day spas to really indulge in relaxation, writes Jessica Harris
Read the C&TH Responsible Tourism Guide
Le Louvre, the Eiffel Tower and endless patisseries – there's plenty to do in Paris to satisfy the explorer (and hunger) in you. But when your legs are tired from walking and you're looking to escape the crowds, visiting a chic day spa is high up on the list of to-do's. 
The Parisian salons have long been a staple for the most stylish residents of the city as a way to relax, socialise with friends and get some much needed skin TLC. So, grab your towel turban and swimsuit because we've found five of the best day spas in Paris.
The Best Day Spas In Paris
The Spa at Mandarin Oriental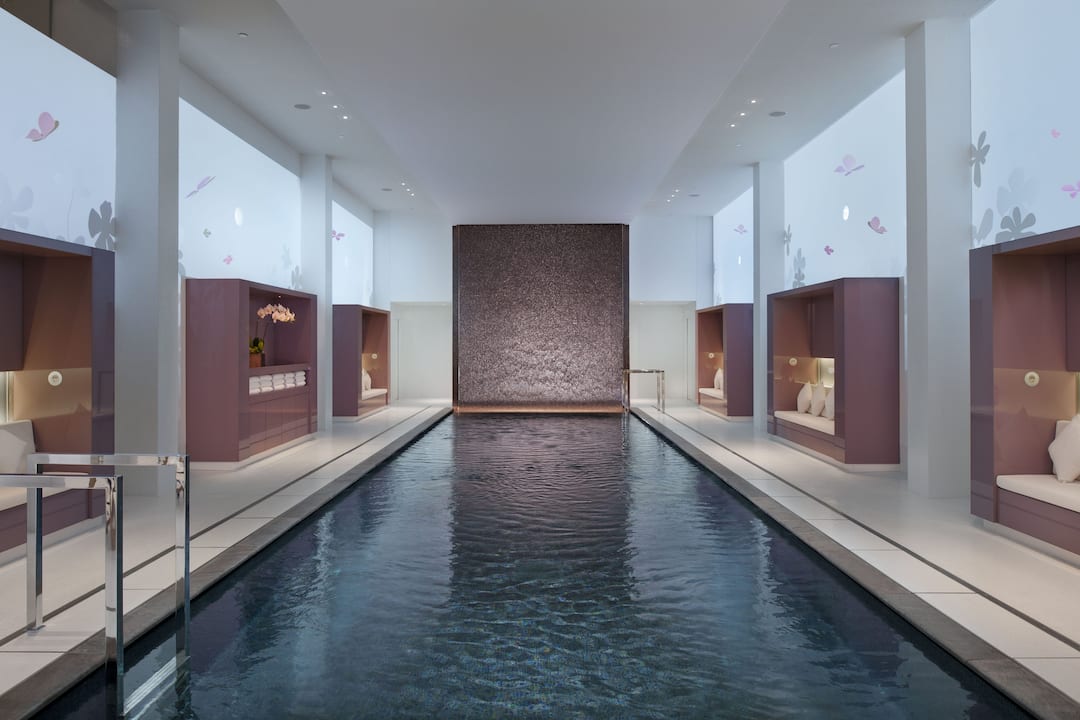 It may be one of the largest spas in Paris – boasting 900 square metres – but you'll never notice: each guest has their own private spa suite complete with a changing area, treatment room, shower and WC. With a personal therapist, bespoke consultation and poolside cabanas, you'll be in your own little relaxation pod. If you do feel like mixing with the masses, there's a 14 metre pool to enjoy, or the Oriental herbal steam room is a must (you may also spot the odd celeb in there).
Mixing traditional Chinese treatments with more contemporary methods, the treatment menu is a comprehensive offering of relaxing treats. By incorporating aromatherapy, acupuncture pressure, bamboo and tiger eye rollers, you can be sure that whatever you choose will be laden with surprises.
Not sure where to start? The full body massage is incredible – you'll feel like a Parisian local in no time. mandarinoriental.com
La Maison Valmont pour Le Meurice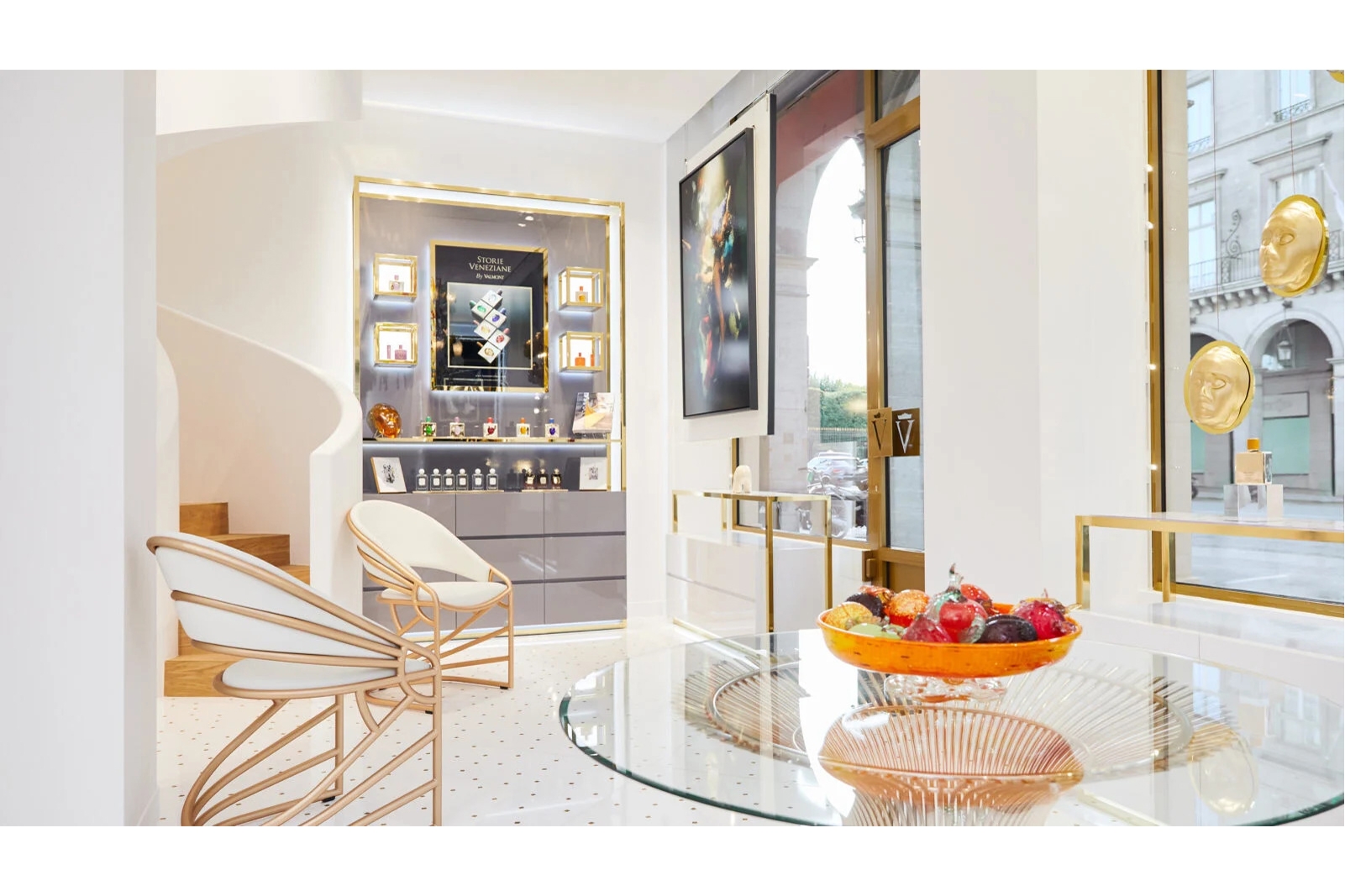 An iconic hotel that's considered a Parisian landmark in its own right, La Maison Valmont pour Le Meurice is home to Spa Valmont – a popular choice for tourists and locals alike looking to unwind and escape the bustle of city life. 
Surrounded by the 5-star palace's famous garden, the spa does a stand-up job of immersing guests in a tranquil oasis far from the traffic and crowds. Using products from Swiss skincare brand Valmont, you can expect more targeted skin treatments that focus on anti-ageing and luminosity over mere relaxation. Using mostly natural ingredients, Valmont's mind-body connection adds an extra level of wellness to the treatment menu – you'll find it difficult to leave without a purchase or two.
White walls, clean lines and gold accents: the spa décor is classic Le Meurice, and gives a glimpse of old school Parisian glamour in a contemporary setting. Although there's no pool or heat facilities (keeping with very typical day spa traditions), there's a relaxation room and a pretty terrace on which to enjoy a cup of tea or fruit juice post-treatment. lamaisonvalmont.com
Maison Souquet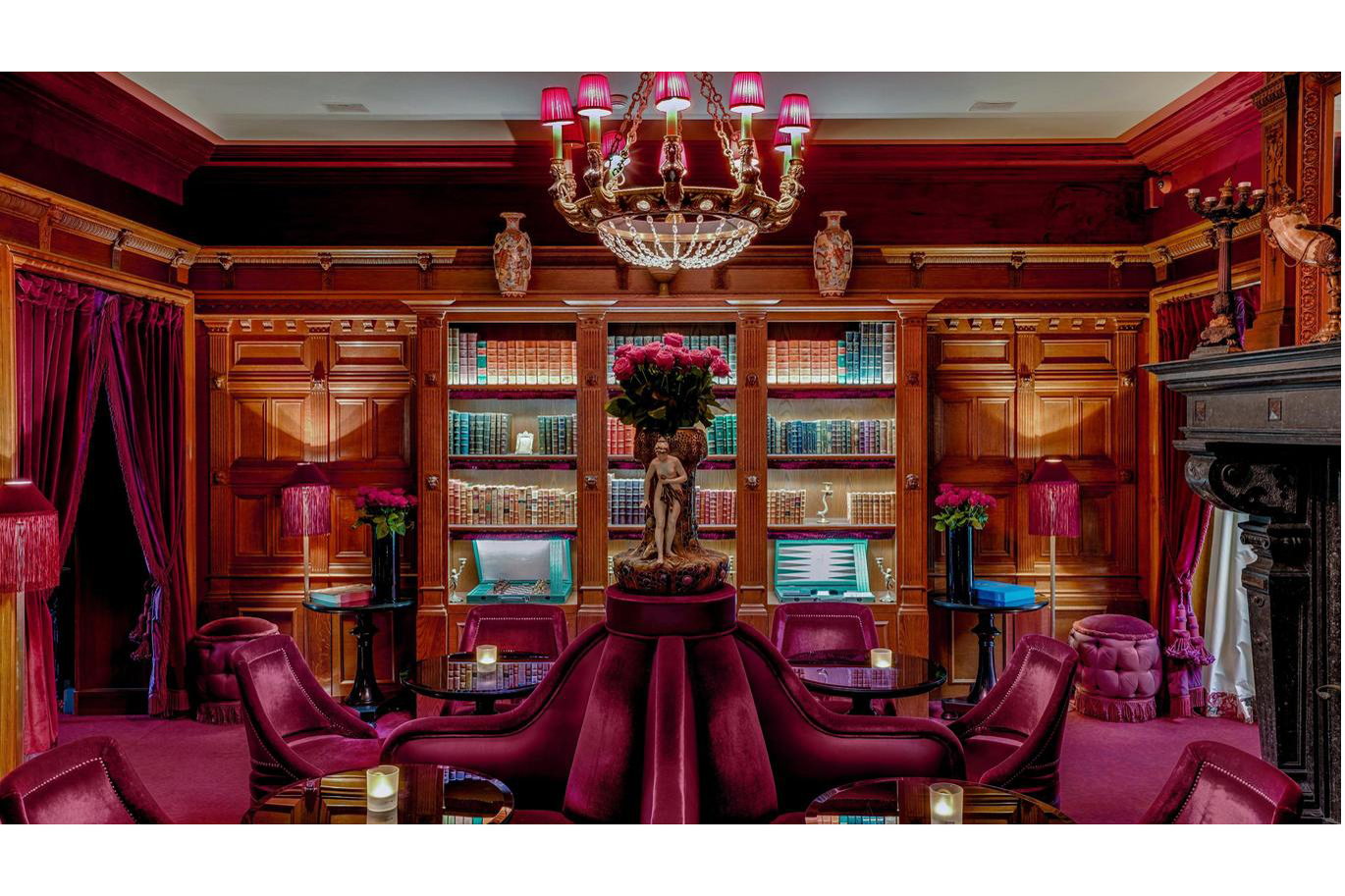 The impossibly chic boutique hotel that is Maison Souquet is home to one of Paris' most exclusive spas. A former, ahem, 'pleasure house', it is located just a minute from the Moulin Rouge, and features eclectic décor and a decadent spirit.
Nestled away in a private corner of the maison, the spa is reserved for guests who request the key, saturating the whole experience with a sense of secrecy, enigma and intrigue. Once inside the basement chamber, you'll be treated to what has to be the most aesthetically appealing wellness retreat on our list. The spa's ceiling is celestially inspired, featuring gold stars glinting across a cobalt blue sky. You can lie on your back in the 10-metre swimming pool and pretend you're swimming in the ocean on a cloudless night. It's like something out of a fairy tale and has a definite wow-factor.
There's also a hammam where you can enjoy a massage to wake up weary limbs, and a beautiful mosaic steam room where you can decompress and destress. Treatments include a facial spa, manicures and pedicures, make-up, and hairstyling. maisonsouquet.com
Dior Spa at Cheval Blanc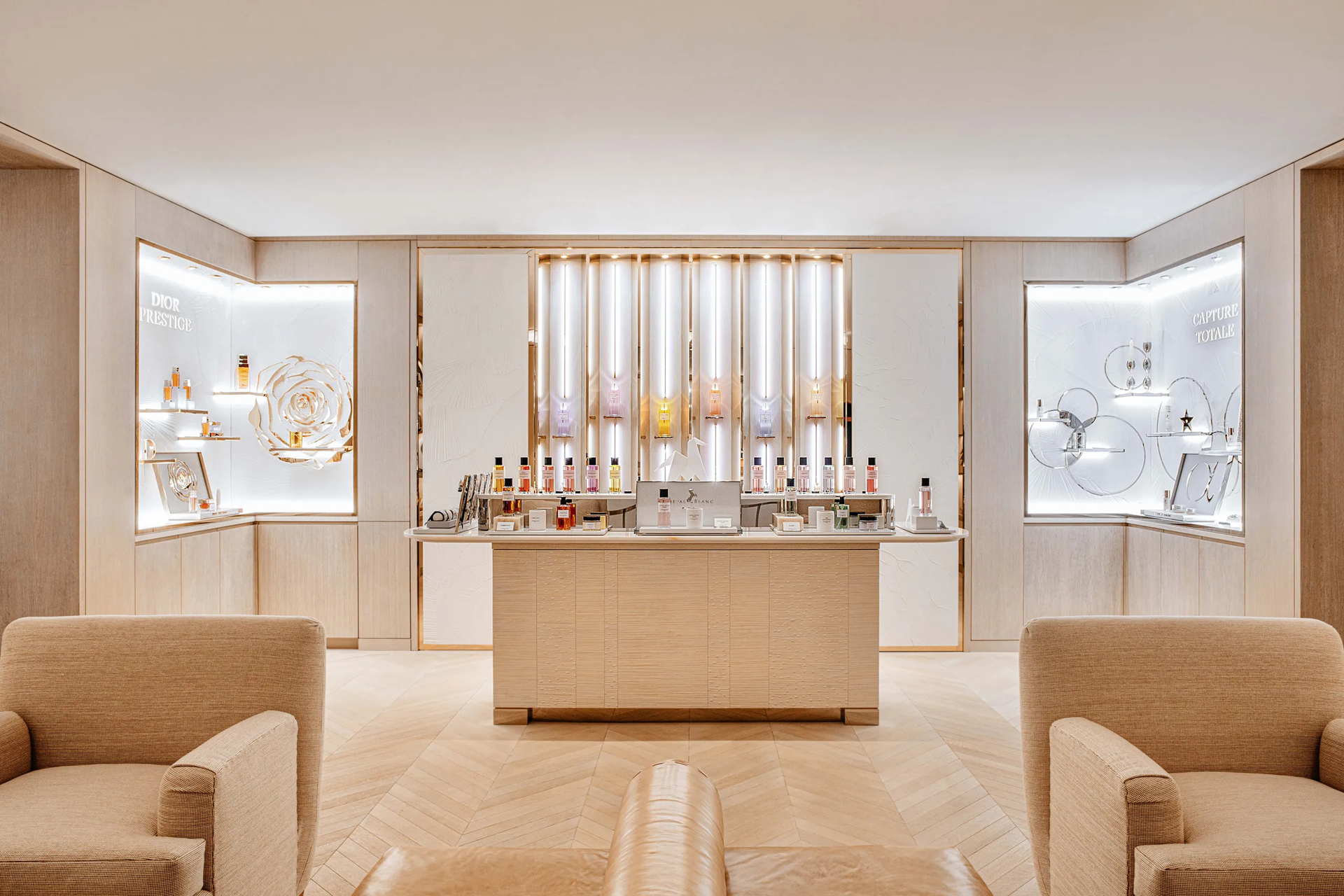 When you think of Paris, it's impossible not to think of Dior. Synonymous with the capital of fashion, the luxury design house has partnered with the impeccable Cheval Blanc boutique hotel group to create a spa that's every inch as elegant as you'd expect. 
Housed in a refurbished Art Deco building located on the banks of the Seine, the serene and intimate hotel and spa space is home to an exclusive client base that value quiet discretion above all else. This may explain why the fitness suite and mirage-adorned swimming pool is for exclusive use of hotel guests and local residents only – to maintain the air of elite we've come to know and love from Dior. The spa, however, is open to new visitors, and provides an unforgettable experience.
Once you make your way down the cascading staircase, through the butterfly-adorned hallway and past examples of Maria Grazia Chiuri's couture designs, you'll be greeted by a calming scene of buttery soft furnishings, boucle chairs and Dior printed blankets. You'll need to take a seat to peruse through the extensive treatment menu, complete with 50 offerings (no wonder it took five years to create).
Just one of the highlights is the exclusive Sapphire Crystal Micro-abrasion facial. Using a specialist tool coated with sapphire particles (what else?) that vibrates across the surface of the skin, this treatment gently exfoliates the skin and promotes healthy cell turnover to reveal glowing, plump, smooth skin. A bespoke concoction of sheet masks, lymphatic massage and hydrating serums later, you'll be left with a visage that continues to improve weeks after the treatment has ended. chevalblanc.com
L'Institut Guerlain, Champs-Elysees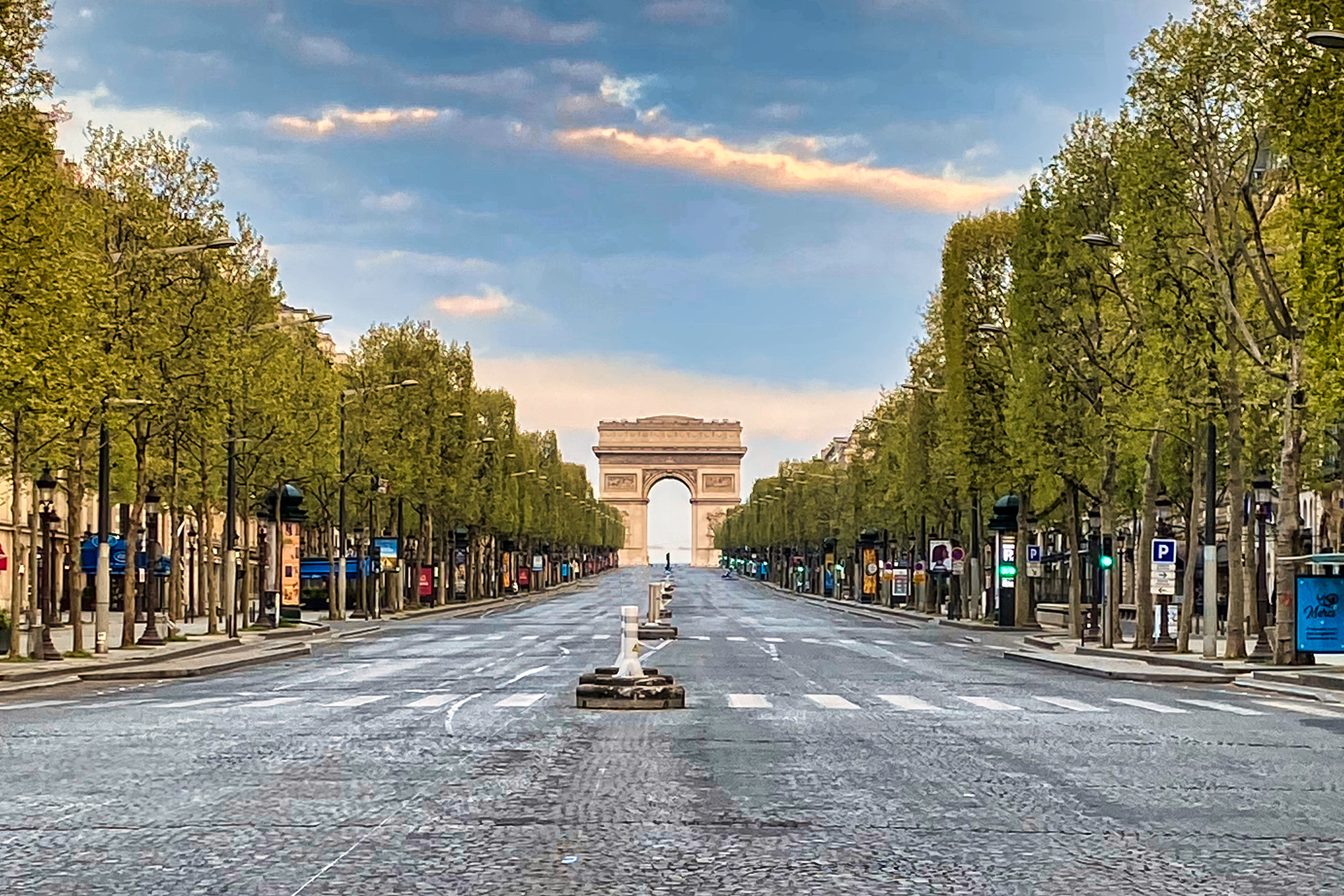 As the oldest perfume maker in France, dating back to 1828, it's fair to say that Guerlain knows a thing or two about beauty. Taking residence within the iconic Champs-Elysees flagship boutique, the brand is as well-known for its bespoke treatments as its iconic heritage. 
A calming oasis with neutral décor, upon entry, you are greeted by the spa's famous winter garden with orchids in a bow window overlooking the beautiful Champs Elysées. Here, you'll be introduced to the ritual of soft cotton slippers before being invited to try a selection of Guerlain teas, accompanied by sweets from chef Guy Martin.
When you embark on your personal treatment, you can settle in to one of the spa's nine treatment rooms – complete with opulent wall muruals, luxurious marble accents and all-white linens. Private vanity stations give the impression that you're in your own Parisian abode, while the subtle scent of  Eau de Cologne Imperiale, one of Guerlain's top fragrances, fills the air. guerlain.com