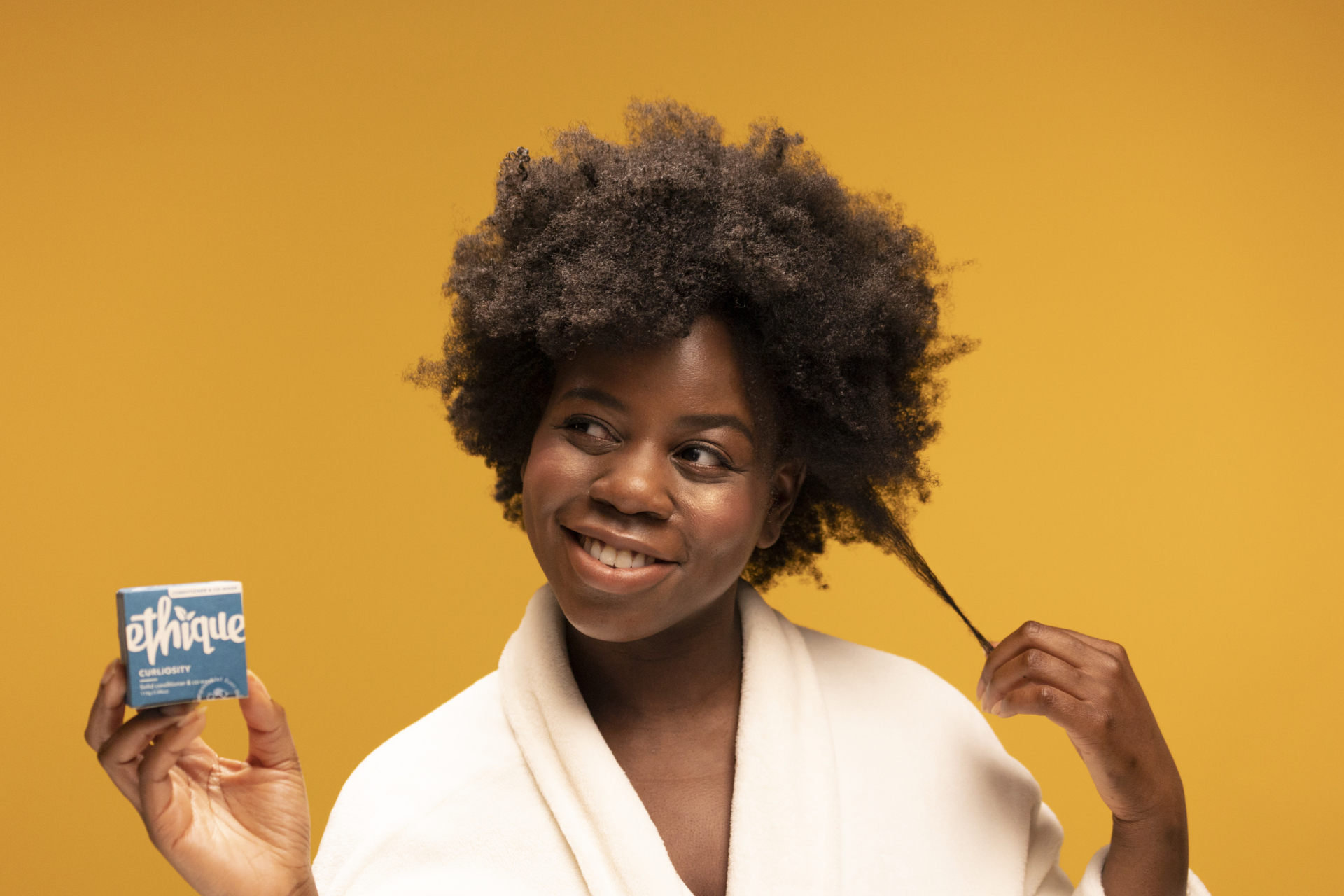 The Best Eco-Friendly Hair Brands
---
Think zero waste, plastic free and carbon neutral
Our hair is an important part of our identity. It can fill us with confidence, make us feel beautiful and connect us to our roots (pun fully intended). So, when it comes to haircare, we want to get it right. Whether you're looking for a brand that's kind to people and planet, proactive on cutting its carbon footprint, keen on refillable products or all of the above, we can get you clued in on the names to know. From Rahua and Davines to Neal's Yard Remedies, these are the best eco-friendly hair brands to know now.
As we're coming to realise more and more everyday, we have a much bigger impact on our planet than we realise – both as individuals and as industries. 'The beauty industry is responsible for horrifying amounts of waste – an estimated 18 billion items of packaging per year, much of it made of plastic,' says Brianne West, founder and CEO of regenerative beauty brand Ethique. 'Unfortunately, despite the best intentions of consumers, just nine per cent of plastic ever produced gets recycled – often because packaging is not easily recyclable, or the systems in place aren't adequately set up to handle the sheer volume of plastic.'
But while this is a rather bleak reality, there are some brands and organisations taking the steps to tackle waste and give back to the planet. 'Opting for low-waste or plastic-free options can be a good way of helping reduce the amount of plastic out there, particularly now environmental conscious options are so varied and such good quality.
'Ten years ago it was almost impossible to find even one vegan, cruelty-free or plastic-free haircare option. As people have become more interested in brands which care for the world around them, more and more options have become available and it's easier than ever to make conscious choices in your beauty routine.'
Faith tentatively restored, we must ask: how can we do our bit and know that a brand is truly doing good things? 'Look for options which offer more than a vegan or plastic-free tag – though these are a great start! For most impact, choose brands which can demonstrate a genuine commitment to people and planet through commitments to carbon reduction, direct and fair trade, considerate supply chains, paying a living wage and supporting charities working to tackle environmental challenges.'
The Best Eco-Friendly Hair Brands
Highlights: Symbiotic® Certified / Carbon Neutral / Reusable Bottles
Haircare brand Rahua has been making waves in the industry for years. The brand is Symbiotic® Certified, meaning it uses ingredients that are grown deep in the forest without any chemicals or harmful farming methods and engages in philanthropic projects to help Native Amazonian Indigenous Communities achieve a self-sustained economy. As of 2022, Rahua has preserved nearly 40,000 hectares of biodiverse tribal lands deep in the Amazon Rainforest, and are currently carbon neutral. Additionally, all plastic packaging from products is recyclable, and products can be refilled at the bottle with recyclable pouches. These pouches are made from 60 per cent renewable plant-based resources, which break down to healthy, biodegradable compost.
Highlights: Carbon Neutral / Certified Organic Ingredients / Recycled Packaging
The world's first carbon neutral high street retailer, Neal's Yard Remedies has been serving customers since 1981. The brand pays close attention to the ingredients it uses, with over 90 per cent certified organic as per COSMOS Organic and the Soil Association. Neal's Yard also actively avoids animal testing, has raised over £165,000 for bee friendly causes since 2011 and uses renewable energy to power its factories and stores. Additionally, all plastic bottles up to 200ml are made from recycled plastic (the brand wants to switch to using entirely recycled plastic bottles by 2025).
Highlights: Climate Positive / Plastic Free / Plants Trees
Since March 2021, Ethique has been climate positive, offsetting 120 per cent of its carbon emissions and creating plastic free alternatives to traditional haircare products with its shampoo bars (one bar has just 8 per cent of the carbon footprint of the equivalent liquid product). All products are vegan, avoid the use of palm oil and are cruelty-free. Ethique's office is also completely powered by renewable energy, with the team's business and personal travel also offset with the help of Sustainabletravel.org and Ecologi. The brand works with Ecologi in particular, which in turn works with NGOS, indigenous people and locals, to plant seedlings in places like Madagascar and Sri Lanka.
Highlights: Refillable Products / Ingredients Transparency / Philanthropic Projects
Manhattan-based hair brand Hairstory aims to debunk the idea that we need both shampoo and conditioner for healthy hair, offering an alternative cleanser that allegedly works for all hair types. The brand has narrowed down its lines to three different cleansers, doesn't use distributors (word of mouth is the new vogue), lists every ingredient on the back of its products and uses refillable packaging to minimise as much waste and energy usage as possible. Hairstory's studio is home to a small team, who 'share a passion for individual expression and environmental stewardship'. The brand is also part of the 1% for the Planet initiative.
Highlights: Working to Become Plastic Neutral / Vegan / Cruelty-Free
Founded in 2016, Noughty boasts naturally-derived, ethically-conscious haircare products for all hair types (especially curls). A minimum of 97 per cent of each bottle contains natural ingredients, all of which are vegan and cruelty-free. As of 2020, the brand also uses part bio-plastic sugarcane and part Post Consumer Recycled (PCR) plastic, the former of which has been proven to remove CO2 from the air when manufactured. Committed to being plastic neutral, Noughty has teamed up with CleanHub to help clean up and protect our oceans; for every product produced, Noughty promises to remove its plastic equivalent from the ocean.
Speaking on the brand, CEO Rachel Parsonage commented: 'At Noughty, we are committed to supporting, respecting, and preserving natural resources. From day one our goal was always to strive for continual progression towards a better and more sustainable future. Transparency is at the heart of Noughty with our Cruelty Free Leaping Bunny certification and Vegan Society approval. Alongside this, packaging is a critical and evolving part of our holistic value chain decision making. Noughty has made the commitment to collect 51,701.53kg of plastic waste by working with CleanHub, which supports a positive environmental and social change… Being plastic neutral helps to demonstrate our commitment as we continue to challenge and evolve our decisions in packaging and our evolving sustainability journey. Beauty should never come at the price of people, planet, or paws.'
Highlights: B Corp Certified / Plastic Neutral / Regenerative Farming Projects
Davines became a certified B Corp back in 2016, and has since aligned itself with the Sustainable Development Goals defined in the UN's 2030 agenda. All of the brand's products are certified plastic neutral by the Plastic Bank, meaning that for every product sold, an equal amount of ocean-bound plastic is collected and removed from coastal locations in Brazil, Indonesia and the Philippines. In 2021, Davines also set up the first International Regenerative Organic Research & Education Center in Parma, where the Davines Village will collaborate with the Rodale Institute to convert a 10-hectare area of land into a space for regenerative organic farming as well as an agricultural research and education hub.
Highlights: Refillable Products / Carbon Neutral / Closed Loop
UK beauty brand Fiils works under the ethos that honesty and transparency is the key to achieving sustainable practices. The brand, which is carbon neutral, has so far offset enough CO2 emissions to heat a home for 100 years and on the whole reduced 30 per cent more emissions and 70 per cent more plastic waste than the typical shampoo supply chain. Ingredients are natural, vegan and cruelty-free, and products are refillable (pumps and bottles are all reusable) and low waste. Fiils has also partnered with Ecologi, so with every purchase made it can plant another tree to help replace any resources used.
Highlights: Powered By Renewable Energy / Traceable Ingredients / Vegan
Aveda continues to make its products with the ethos that it is 'working toward a more sustainable future, each and every day'. All products are manufactured with wind power through renewable energy credits and carbon offsets, and more than 80 per cent of the brand's waste is reused or recycled. On the sourcing side of the business, 90 per cent of Aveda's botanical ingredients are traceable to their country of origin, and everything is cruelty-free and vegan. The brand also gives back to the communities it sources its ingredients from, creating jobs for locals and teaching them sustainable farming techniques.
Where To Refill Your Beauty Products In London
Highlights: Biodegradable & Bio-Based Ingredients / Vegan / Cruelty-Free
Another big-name retailer on our list, Garnier doesn't have the greenest history but it is actively working to change its future. Since 2019, the brand has sourced 85 per cent of its bio-based ingredients sustainably, switched almost entirely to vegan ingredients, brought up the biodegradability score of its haircare formulas by 90 per cent, and has saved over 9,000 tons of virgin plastic by using recycled plastic. Garnier has also been certified cruelty-free by the Leaping Bunny Program since March 2021. And the brand isn't slowing down its transformation any time soon, with more goals laid out for 2025 in its sustainability report.
Highlights: Refillable Products / Zero Waste / Closed Loop
With sustainability having been at the forefront of Faith in Nature's plan of action for over forty years, it's safe to say that the brand is hot on the tail of what needs to be done to be a green hair brand. The number of ingredients are kept to a minimum, all products are made here in the UK and bottles have been recycled and recyclable since 1999. Bigger bottles have been designed to be refilled over and over again, but any bottles you don't want to keep can be returned to Faith in Nature so that the brand can refill them for new customers or repurposed. And if bottles aren't your thing, the brand's shampoo and conditioner bars contain zero plastics or sulphates and come in a range of fruity scents.
Featured image: Ethique
DISCOVER MORE