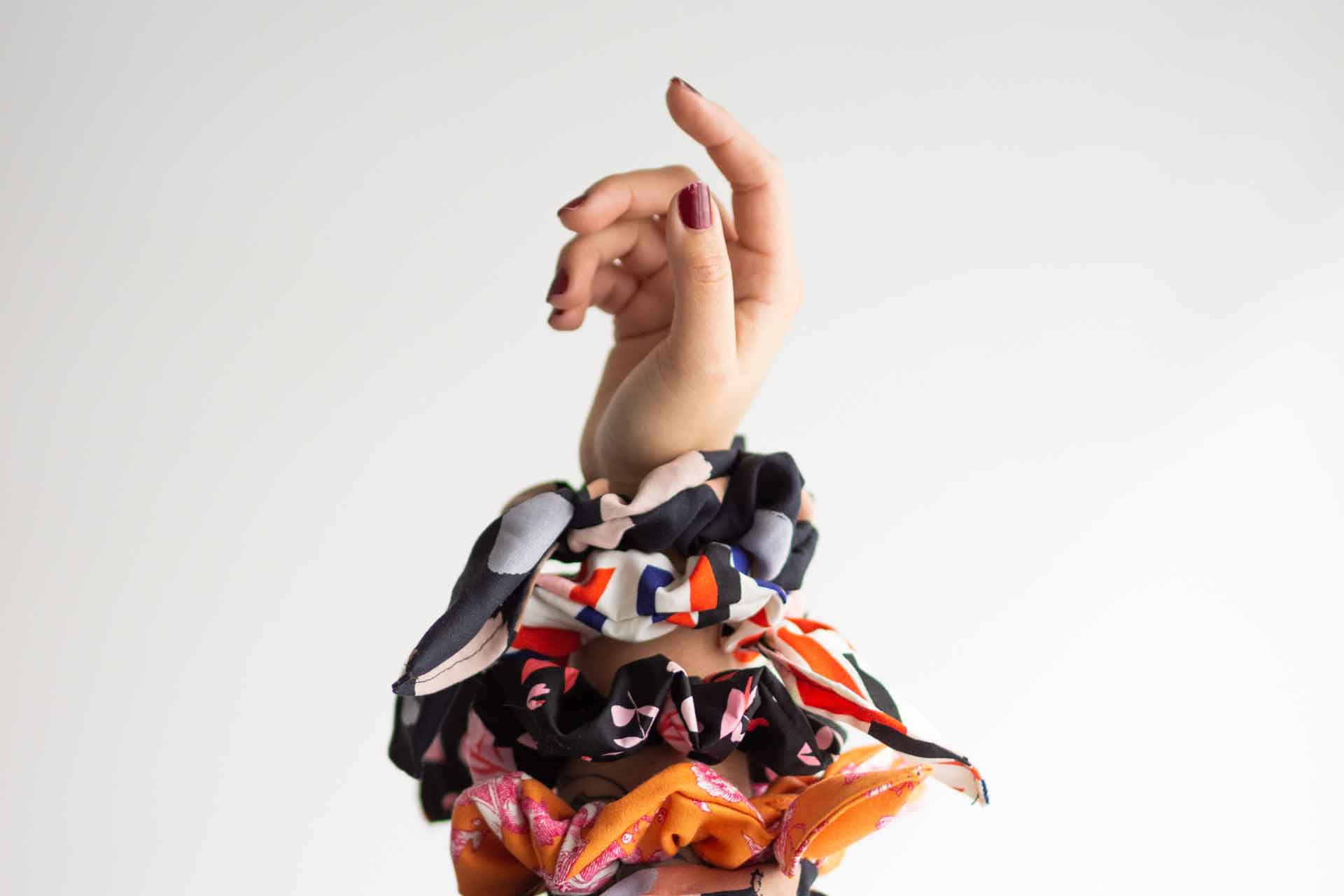 Hair We Go Again: The Best Super-Sized Scrunchies For AW23
What goes around (your ponytail) comes around.
Sex Education's Ruby Matthews (Mimi Keene) is the girl you want to be (or at least be liked by) at school. She is the girl who sets trends more important than those that emerge from the catwalk season. Her stand-out style from the latest season? A statement pink scrunchie, so pretty it's kick-started (or re-booted) a hair trend that hasn't been seen on the runways since 2017. Here are the best super-sized scrunchies for AW23. 
Trending: Super-Sized Scrunchies AW23
The scrunchie never really went away. The snazzy 80s hair accessory essential has pretty much been a must-have for every long-haired human on the planet for the last 40 years, but fashion dictates whether it makes it out of the confines of the bathroom at any given time. Silk scrunchies have had their moment, too, as the most hair-friendly tie solution, and a luxe silk hair tie is a night-time must-have for many-a-mane. 
So why now? Opinions will differ on how public-appropriate scrunchies have been for the last few years. As a millennial, I have a bad case of school-style-ick when it comes to these fabric-y friends, having fallen victim to the late-90s trend for layering multiple scrunchies of different colours and fabrics around a ponytail or bun. This fan effect not only looked terrible, but it was quite painful, too. This trend was instantly killed with the airing of the Sex And The City Pick-a-Little, Talk-a-Little episode in 2003, when Carrie declared that no New York woman would ever be seen dead in public with a scrunchie. 
But if the 00s kids took Carrie's TV fashion word as law, Ruby Matthews is the 2020s answer, and one strawberry pink broderie anglaise scrunchie has turned the whole thing on its head. Her sleek high ponytail (again against-the-grain from the catwalk approved SS24 low pony) and pretty pink accessory is set to be the most recreated hairstyle of the season: perfect for party season. 
Where is Ruby Matthews' Sex Education Scrunchie from?
The Sex Education: Baby Blumberg in Strawberry Soup is by Good Squish, a Hackney-based hair accessories brand. Good Squish hand-makes its supersized accessories from deadstock fabrics to order. (Far too special to confine to the bathroom.)
View this post on Instagram
More Super-Sized Scrunchies For AW23
Dust off that giant velvet scrunchie, reuse that school gingham hair tie or treat yourself to a designer version to see you through the fall. Just take it from an old timer: whatever you do, wear them one at a time.