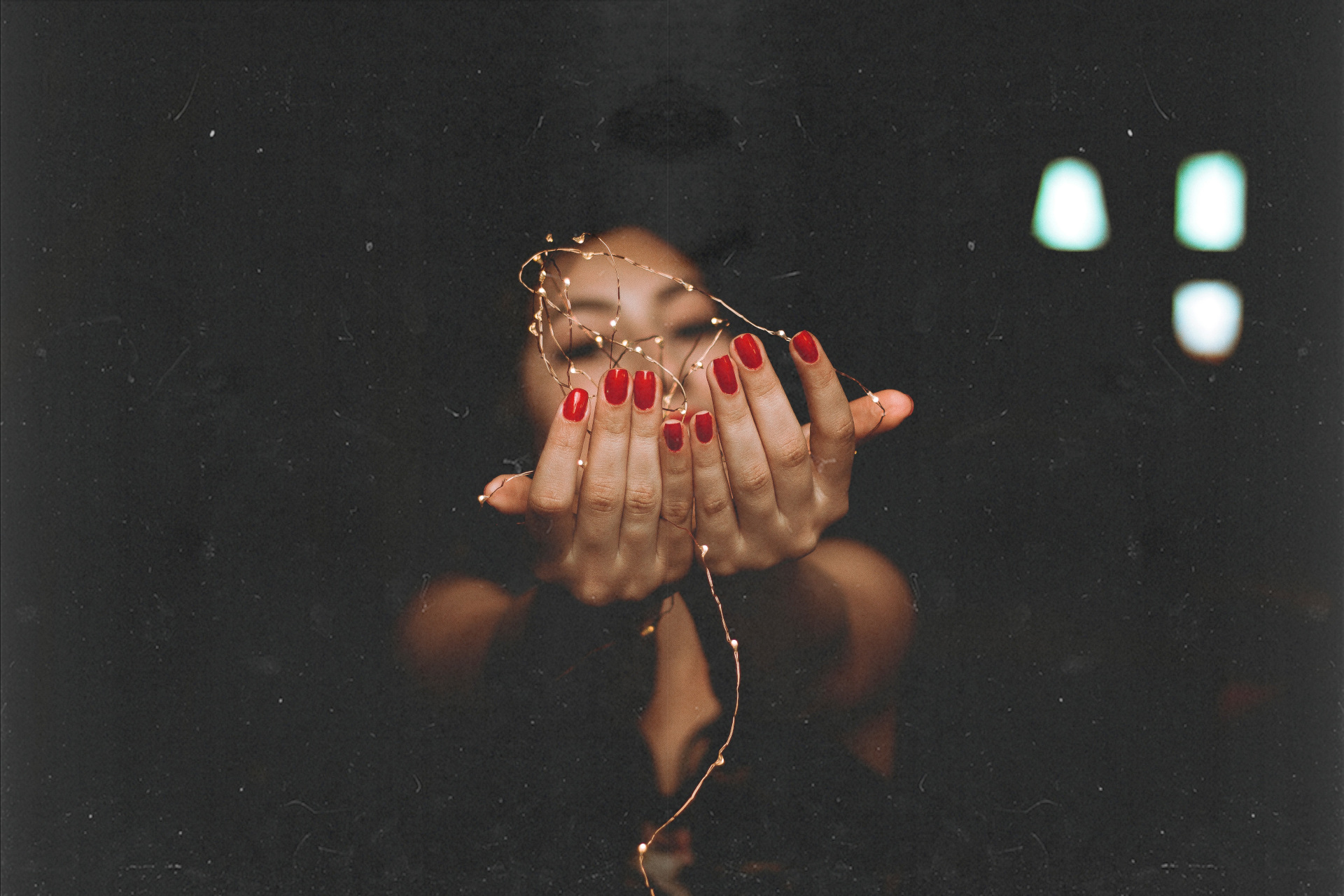 Red Velvet Beauty: The Delicious New Trend Taking Over Salons
And we want a slice of the action
Time for a new look? Sink your teeth into red velvet nails and makeup, the latest food-beauty trend to hit salons this season. 
What Are Red Velvet Nails?
'Red velvet nails are inspired by the rich and luxurious appearance of red velvet cake,' says Holly Wolff, a nail technician at Neville Hair & Beauty. 'They typically feature a deep, velvety red colour with a smooth, plush texture that resembles the look and feel of actual velvet fabric. The texture is achieved by using a special powder or flocking powder, which creates that soft, tactile finish.'
The trend is yet another chapter in the food-beauty saga, following in the footsteps of tomato, milk, strawberry and latte-themed style trends – and with the rich hues of autumn now in mind, trendsetters are after a more complex shade of red to embrace this season. 'The trend has become quite popular among fashion-forward individuals who love to make a statement with their nails,' Holly tells us. 'Celebrities, fashion bloggers and influencers have all been spotted rocking red velvet nails, making it a trendy choice for those who want to add a touch of glamour to their manicures.'
How To Get The Look At The Salon
As always, if you have a theme or design in mind when getting your nails done, it's best to have some kind of mood board to show your technician. 'If you're interested in getting red velvet nails at the salon, the best way to ask for them is to show your nail technician a picture or provide a clear description of the look you're going for,' confirms Holly. 'Mention that you want the velvety texture and specify the shade of red you prefer, whether it's a classic crimson or a deeper burgundy.'
DIY Red Velvet Nails
'If you'd like to recreate the look at home, you'll need a few essential items,' says Holly. The two main things you'll need are red nail varnish and flocking powder: 'Start with a high-quality red nail polish in your chosen shade, and paint your nails as normal. After your nails are painted and dried, you can achieve the velvet texture by using a nail flocking powder. Simply sprinkle the powder onto your wet nails, gently press it down, and let it dry for that luxurious finish. You can find nail flocking powder and application kits at most beauty supply stores or online retailers.'
Red Varnishes To Try Now
How Will The Trend Evolve In The Future?
The beauty of the red velvet nail trend is its flexibility – they can be worn on their own with the natural nail underneath, shaped into pointed talons (perfect for Halloween) or even decorated with gems and nail art. 'I think we'll continue to see variations and creative twists on the classic red velvet nails,' agrees Holly. 'Nail artists are always coming up with innovative designs and colour combinations, so we might see different textures, embellishments, or even ombre effects added to the red velvet base. It's an exciting trend that's likely to evolve and stay on the radar of nail enthusiasts for years to come. So, don't be surprised if you see even more glamorous and unique interpretations of red velvet nails in the future!'
10 Ideas: Red Velvet Nails Inspiration
1.
2.
3.
4.
5.
6.
7.
8.
9.
10.
What Is Red Velvet Makeup?
Nail art isn't the only thing receiving the red velvet treatment: red velvet makeup has officially arrived. As we enter the chillier months and head towards the Christmas season, why not upgrade your classic red lip and go for rich crimson textures, often with a subtle sheen. Whether you opt for ombre red or a statement merlot shade, there's plenty of ways to try out the red velvet trend – and it's the perfect festive look.
View this post on Instagram
Featured image: Allef Vinicius, Unsplash