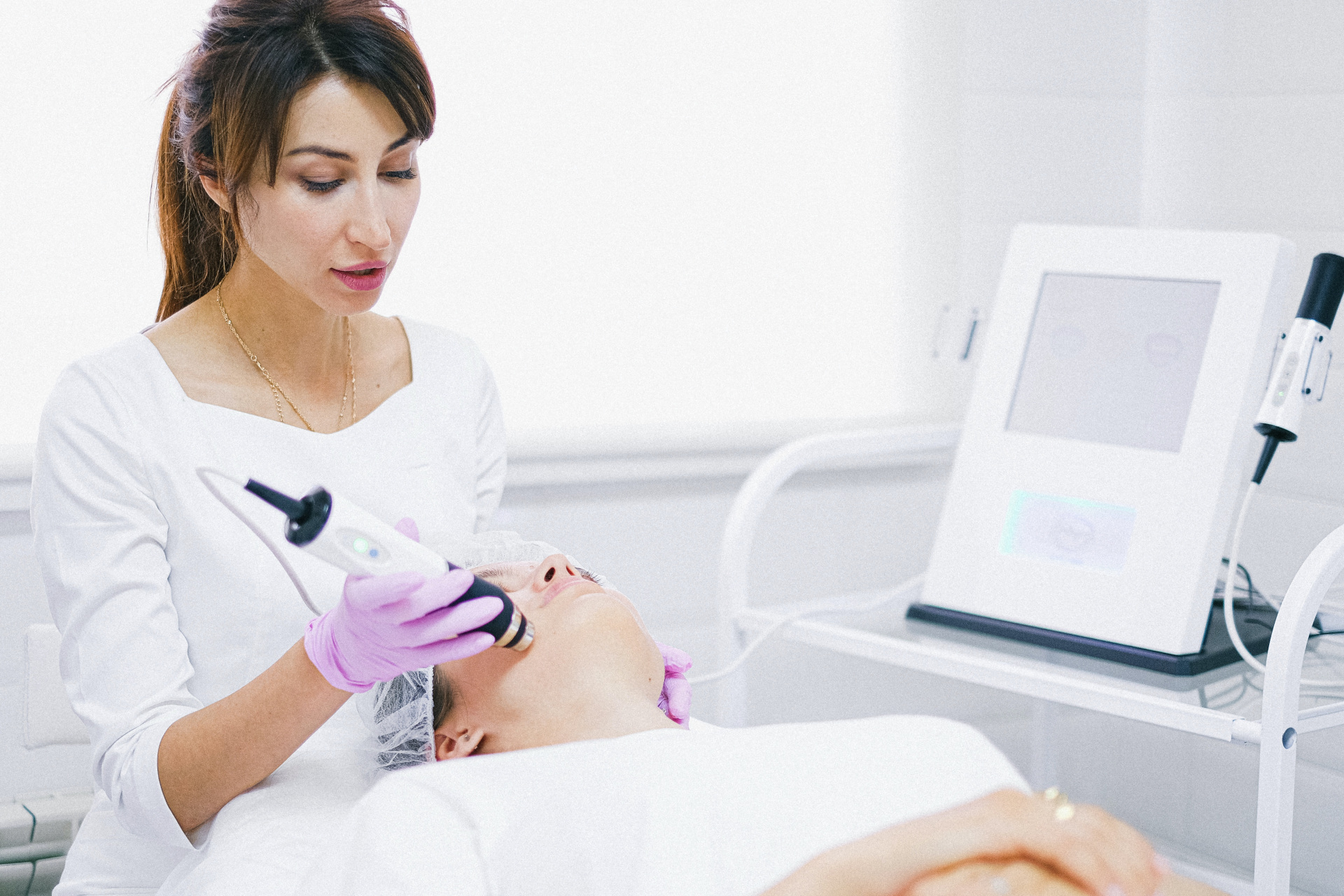 Trending Beauty Treatments For AW23, As Told By The Experts
The treatments we're all going to be talking about this season
Ready for a change this season? Put self-care at the top of your list and treat yourself to a high-tech beauty treatment. Whether it's facials, BBLs, eyebrow extensions or body sculpting, make sure you're on trend with our guide to AW23's buzziest treatments.
The Country & Town House Responsible Buyers' Guide
The Biggest Treatment Trends For AW23
This season, we're going techy with our treatments. The latest beauty and wellness gadgets are leading the way, introducing non-invasive treatments with little downtime. We're also seeing a shift towards more natural-looking procedures, with softer results that prolong a summery glow. Sound like your kinda thing? These are the biggest treatment trends for AW23:
Top Trends At A Glance
Broad-Band Light
Eyebrow Extensions
Body Sculpting
Intimate Wellness Treatments
Male Tweakments
Exosomes
Pared-Back Lashes
Barely There Tanning
Skin-Tox Facials
Freeze & Firm Facials
1. Broad-Band Light
Struggling with an uneven skin tone? Not anymore, thanks Broad-Band Light therapy, which uses high-intensity light to repair conditions like acne, rosacea, fine lines and wrinkles. 'Broad-Band Light is the latest technology for your skin,' says Cecilia Ross, skincare expert, facialist and founder of Cecilia London. 'Think of it as an upgrade to IPL (Intense Pulse Light). This treatment is great for pigmentation (including hormonal), uneven skin tone, aged skin, pores and general skin health and brightness. Every treatment is fully customisable, minimal downtime and results after just one session. And since the skin glow trend is here to stay for AW23, this is a treatment that should sit at the top of your priority list.'
2. Eyebrow Extensions
Fuller, fluffier brows have been on-trend for a while now, but the latest take will see us extending brows for a more dramatic look. 'I believe eyebrow extensions are going to blow up in beauty salons,' says Cecilia. 'Currently, microblading and makeup are the best ways to achieve a full brow look, but makeup application can be time consuming and microblading can be expensive and too invasive for some. Eyebrow extensions (when done well) look very natural and are non-invasive, making them a much more appealing option.'
3. Body Sculpting
Beauty trends will also go beyond the face this season, with the arrival of body sculpting treatments. 'Morpheus8 Body for example has become increasingly popular for its ability to tighten, firm, and contour the skin on the body, as well as target fat and cellulite,' explains Mona Mirza, founder and CEO of Biolite Clinic. 'This minimally invasive procedure combines radiofrequency (RF) energy with micro-needling to effectively reduce fat and tighten skin in various stubborn areas such as the abdomen, knees, bra areas, arms, thighs and buttocks. This outcome is especially appealing to individuals who seek non-surgical alternatives to address these concerns without undergoing more invasive surgical procedures. With celebrity fans such as Kim Kardashian and Eva Longoria, patients are drawn to procedures that offer minimal downtime and reduced risk of complications compared to traditional surgical options. Morpheus8's combination of RF energy and micro-needling offers a way to achieve significant skin tightening and firming with less discomfort and recovery time.'
4. Intimate Wellness Treatments
Women's wellness (and in turn, sexual wellness) is also coming into its own this season, says Charlyn Oyakhilome, founder of BodyCrush. 'We're witnessing a real surge in demand for women's intimate wellness treatments, such as EMSELLA by BTL. This advanced technology employs high-intensity focused electromagnetic energy to engage the pelvic floor muscles by causing them to contract rapidly – which in turn tightens the pelvic floor. A single EMSELLA session stimulates thousands of contractions, and just 30 minutes is equivalent to 11,000 Kegel exercises. It's an excellent choice for individuals dealing with incontinence, and it also enhances the intimate experience, leading to quicker climaxes and an improved vaginal sensation.'
5. Male Tweakments
And it's not just the ladies dipping their toes into the wellness sphere. 'As autumn draws near, more and more men are turning to treatments to achieve a refined, youthful appearance,' says Sara Waterman, Senior Aesthetician at Young LDN. 'Young LDN has been at the forefront of this trend, offering subtle enhancements that accentuate masculine features. Men's growing interest in skincare and self-care reflects a desire to maintain a polished, sophisticated look that exudes confidence and timeless charm. With the changing season comes a renewed focus on personal presentation, tweakments provide a discreet yet impactful way to embrace autumn with confidence. Young LDN's skilled aestheticians provide a range of advanced procedures, including derma planning, micro-needling, chemical peels and IPL to help enhance and benefit any man's features.'
6. Exosomes
A buzzword hitting the beauty arena this season is 'exosome', says Izabela Pawlitka, skin specialist and Head Aesthetician at Dr David Jack. 'Exosomes are becoming big in advanced aesthetics. Exosomes, nanoparticles that carry messages from one cell to another and are secreted by every cell in the body,' she explains. 'Exosomes have regenerative abilities that are proving to be more effective than other methods currently available on the market. They can repair injured or aging cells, with greater benefits including skin rejuvenation, tissue repair and hair restoration. Plant-derived exosomes in the form of rose stem cell-derived exosomes are becoming very popular, as they have more efficacy than human cell-derived exosomes.
'Exosomes are only approved for topical application to support skin at cellular level,' she continues. 'They are super effective as a stand alone treatment or can be combined with other energy treatments like Morpheus 8 or Forma to enhance the desired results.'
7. Pared-Back Lashes
While brows may be having a more dramatic moment, we'll adopting a more minimal look when it comes to our eyelashes this season. 'It's been a while since dramatic lash extensions have been in style, but lashes are still an important element of feeling put together,' says Amanda Lee, owner and founder of Iris Avenue. 'And more people are seeking out natural alternatives. Lash lift techniques have been slightly adjusted, so instead of tinting with a black tint we opt for dark brown for a sultry "barely there" look. If there isn't a lot to lift, you can try religiously applying a lash serum everyday a couple of months prior to lifting your lashes.'
8. Barely There Tanning
We'll also be carrying our summer glow straight through to winter, with the help of a little tanning formula. 'Tanning is no longer just for summer holidays and special occasions, with people opting for an all year round glow,' says Amanda. 'However, this isn't the traditional deep golden stereotype, it's a barely there natural look that evens out skin tone and provides only a gentle, healthy glow. Ask your therapist to go for half to one shade darker to achieve this look.'
9. Skin-Tox Facials
We've all been there: we get a facial, enjoy the glow for a few days and then immediately crave another a week later when the effects have seemingly worn off. This is where a Skin-Tox facial comes in. 'Skin-Tox is unlike traditional facials, where the effects wear off within a few days,' says Shelly Woods, advanced aesthetics practitioner and founder of Skin Techniques. 'Skin-Tox is a combination treatment that involves microneedling and micro-infusion, delivering a personalised cocktail of Botox, hyaluronic acid, vitamins, minerals and anti-oxidants into the skin via twenty microfine gold plated needles to a depth of 0.6mm. The facial helps stimulate collagen, improve tone and texture, lift the skin and reduce the production of oil and the appearance of pores.
'The glow from the nutrients shows up within 12 to 24 hours, while the full effect of new collagen growth – a result of both the needling process itself and hyaluronic acid – can take up to 10 days to appear and last for three to four months,' she continues. 'You literally wake up to better looking skin each day!'
10. Freeze & Firm Facials
Speaking of facials, it's also predicted there will be an uptick in non-invasive lifts come AW23. 'Cryo treatments continue to take the beauty industry by storm,' says Shelly. 'The Cryo21 "Freeze & Firm" facial involves holistic non-invasive anti-aging and lifting treatments designed especially for the face and neck area to stimulate the renewal of skin cells and lymph circulation, improving the skin's blood supply and the production of collagen and elastin deep in skin layers. Cryo can also be used to treat acne and blemishes, redness and inflammation, pigmentation and ageing. The result is younger, softer and more firmer skin.
'Cryo21 is a unique method that uses below-zero temperatures to remarkably improve the skin's blood supply, which in turn brings additional oxygen and healing enzymes to the tissues. The process of producing collagen and elastin is activated in the skin and it will become lifted and tighter with improved skin tone and texture,' she continues. 'It's recommended two to three times per week for an intensive revitalising programme, but even once a month as maintenance will see brightening and tightening results. They're also non-invasive and pain free, with no side effects or downtime.'
Featured image: