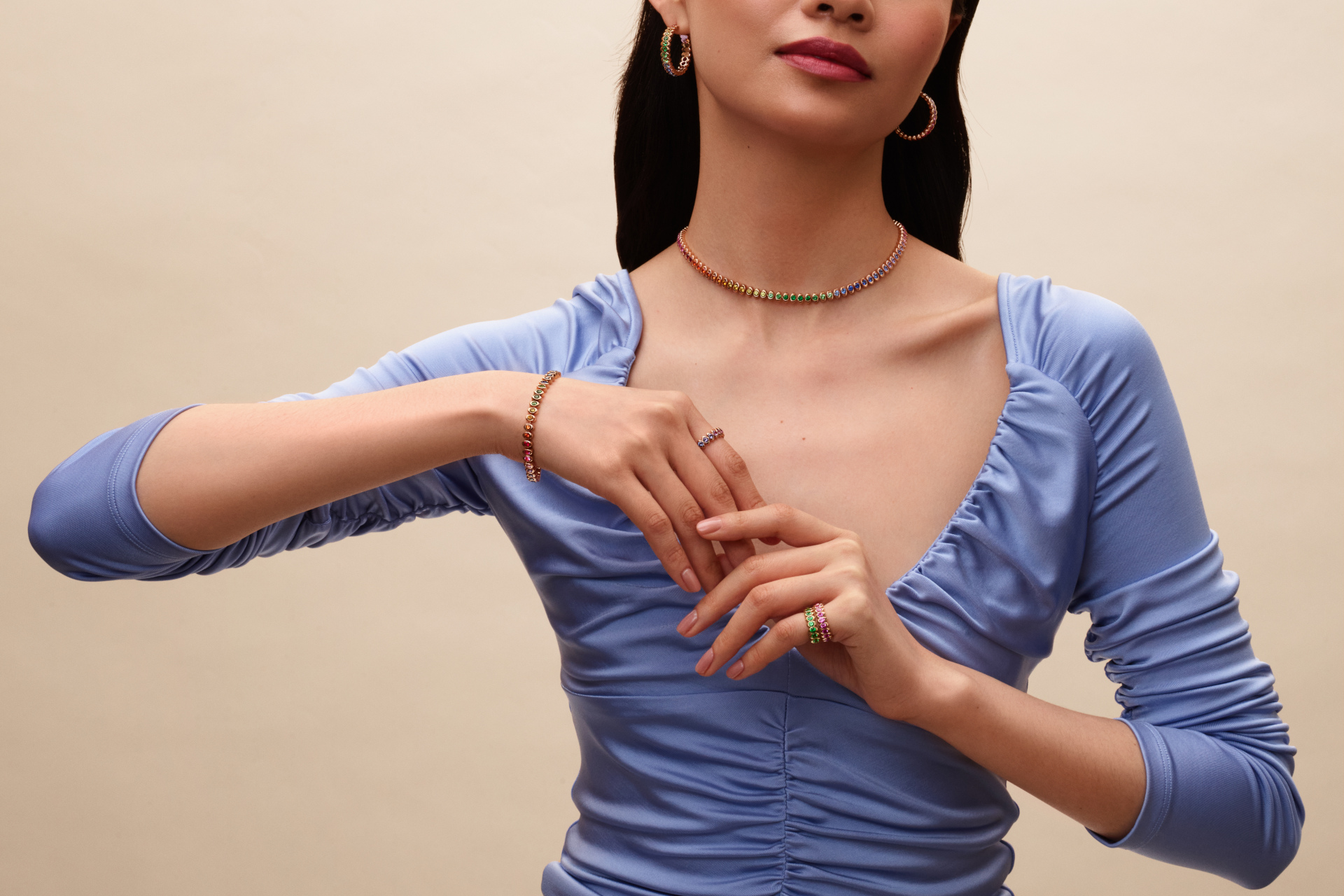 HOME
JEWELLERY & WATCHES
Autumn-Winter Wonders: Gorgeous Jewellery Trends For AW23
Seasonal sparkles
Fancy mixing up your jewellery box this season? Lucky for you, we've enlisted the help of some of our favourite jewellers to round up some of the biggest jewellery trends for AW23.
The Country & Town House Responsible Buyers' Guide
The Biggest Jewellery Trends For AW23
Jewellery is here to make a statement this season. From the loud shouts of vibrant colours, chunky sizes and overall quirkiness to the quiet whisperings of luxe materials and minimalist design, our accessories have something to say. While there are many trends fighting for the top spot, one movement stands out: the need for personal pieces that tell a story. Below, we outline some of the biggest jewellery trends for AW23:
Top Trends At A Glance
Personalised Pieces
Mix & Match Stacking
Colourful Gems
Dopamine Dressing
Interchangeability
Quiet Luxury
Bright & Blue
White Gold
Chunky Rings
Asymmetry
Oval-Shaped Stones
Pinkie Rings
Chunky Chains
Celestial Fragility
1. Personalised Pieces
One thing we can't enough of in 2023 is putting our own unique stamp on our possessions – especially when it comes to our jewellery. 'We're continuing to see a strong consumer trend for personalisation and bespoke jewellery,' says Josina von dem Bussche-Kessell, creative director at Fabergé. 'This could be as simple as changing the colour of the gold, or something more complex like picking a particular selection of gemstones which reflect your own favourite colour palette for the season.'
'Customising jewellery has remained an enduring trend, but the concept of personalisation has evolved far beyond the rudimentary realm of engravings, initials, and zodiac symbols,' adds Emily Newman and Laura Chavez, head designer and founder of Lark & Berry respectively. 'The contemporary "make it your own" trend has elevated this practice to unprecedented heights. Lark & Berry, with this evolution in mind, presents an innovative cocktail collection, inviting you to infuse your distinctive taste into each piece. Select the metal, colour, and gemstone that resonate with you. The allure of this collection is not only its inherent beauty, but also its potential as a heartfelt personalised gift.'
2. Mix & Match Stacking
Awards season is likely the biggest inspiration for this trend, says Josina. 'Stacking and layering jewellery is very much here to stay for autumn, mixing different styles from different collection to create an individual story,' she says. 'On the red carpet, celebrities often lean toward heavy layering with larger pieces when it comes to jewellery. We find our clients take inspiration from this while making everything look a little more 'everyday' to ensure wearability.'
3. Colourful Gems
Jewellery boxes are also set to be more vibrant than ever. 'Colour still influences jewellery preferences,' says Josina. 'When thinking of colour, it doesn't always have to mean loud and garish – as simple settings can be used to balance colourful choices in jewellery – although it's something that can really create impact. Our Colours of Love collections are the perfect example of how this can be achieved.'
4. Dopamine Dressing
And speaking of colour, our obsession with all things bright and rainbow will tie in with the growing dopamine dressing trend. 'The surge in dopamine dressing has reached its zenith this summer; dressing to feel good that is by injecting your life and ensemble with bright colours,' say Emily and Laura. 'We've seen a lot of this recently with people embracing the vibrant essence of Barbie-core. Whilst the initial frenzy of pink may have faded after its cinematic debut in Barbie, its influence on fine jewellery trends has lingered. We confidently project that the trend of bold and colourful gemstones will continue to shine through the winter months.
'As the clothing palette shifts from the lively orange short suits, harmonising flawlessly with sun-kissed skin, to a more subdued and autumnal range of hues, colourful jewellery steps up as the realm of boundless enjoyment, offering that essential dopamine infusion to your ensemble,' they continue. 'Moreover, a striking pair of statement earrings will effortlessly elevate your black dress or suit, making them ideal choices for post-office soirées.'
5. Interchangeability
Something of an anti-trend, this movement is about finding jewellery that resonates with you and that you feel comfortable wearing for any occasion. 'I hate the idea of prescribing the way my jewellery should be worn – jewellery should become so much a part of you that it never looks out of place,' says British luxury jeweller Annoushka. 'There are no rules, no restrictions. My new chain collection, Knuckle, is designed to be worn by anyone and for any occasion. The styling codes are minimal, and the focus is on the diverse ways in which it can be used and worn.'
6. Quiet Luxury
Jewellery will also be taking its cues from fashion trends this season, with Quiet Luxury taking the lead on how we wear and style our accessories. 'One trend that is really prominent right now is Quiet Luxury, which we've seen blow up on TikTok over the summer when to comes to fashion,' says Irish fine jeweller Chupi. 'Jewellery is no different. From solitaire diamond necklaces worn on a shorter chain to elegant eternity rings, you want your jewellery to whisper, not scream.'
7. Bright & Blue
Feeling a little blue? You're not the only one. 'A huge trend flagged at all of the jewellery shows and fairs was the return of blue,' says Chupi. 'While sapphires spring to mind, we are seeing tanzanite as the real star of the show. An almost iridescent chameleon, tanzanite is mined only in Tanzania and offers a beautiful blue pop of colour as we go into the darker months.'
8. White Gold
In terms of metals themselves, it's forecasted that white gold will have a resurgence this season. 'I have noticed a sharp increase in customers looking for white gold jewellery,' says Jessie Thomas, founder of Jessie Thomas Jewellery. 'There's been a big uptake in white gold engagement rings, especially using coloured stones such as aquamarine and sapphires, which lend themselves well to the neutrality of white.
'There's also been more interest in white gold chains,' she adds. 'Lots of people no longer want rhodium plated metals, so you get more of a brushed grey appearance. It's quite a cool utilitarian look that I find people are looking for. I'm also black rhodium plating white gold a lot as it feels modern and really makes the diamonds pop.'
9. Chunky Rings
Speaking of rings, the consensus seems to be the chunkier, the better. 'The demand for chunky rings is still going strong,' agrees Jessie. 'People really want to invest in strong, heavy pieces that make a big impact, that are to be worn every day and layered up. They feel fairly individual: I bespoke make them for people depending on how chunky they want to go and often they feature large coloured stones.'
10. Asymmetry
Falling within the vein of wanting more personal, bespoke pieces, another trend hitting our radar this season is asymmetry. 'This trend takes pieces that seem quite classic, but incorporate either an asymmetric stone layout or sizing to create a slightly unusual feeling and an edge of individuality,' says Jessie. 'Recently, I have made a lot of two stone bombe rings, whereas traditionally they would be designed in a three stone layout. It's definitely quite subtle but adds a contemporary and individual feel to pieces that could otherwise seem quite traditional.'
11. Oval-Shaped Stones
Popping the question sometime soon? Keep in mind that the trendiest stone shape this season is oval. 'We have seen a huge rise in the popularity of oval solitaire engagement rings,' says Eliza Walter, founder of Lylie Jewellery. 'The beautiful shape elongates the finger and it can be made with a plain band or a diamond set band for those looking for some extra sparkle.'
12. Pinkie Rings
It's not just the ring finger getting the special treatment for AW23, either. As Eliza notes, 'Pinkie rings are having a huge moment right now, whether it's a traditional signet ring or something more modern and eye catching like our Dodola ring. These are especially popular when the weather gets colder and the only bit of your body showing is your hands.'
13. Chunky Chains
Most trends this season point towards statement pieces with lots of wearability and fun detailing. Designs are bigger and bolder – reflecting quite literally on the size of jewellery items themselves. 'We have been loving chunky chains this summer, all layered up with pops of colour,' says Lucy Crowther, founder of Minka Jewels. 'And this season they'll really come to the forefront. Chunky chains over knitted jumpers with gorgeous pendants to add that pop of colour are forever popular as they can be worn so many ways.'
14. Celestial Fragility
And finally, with days getting shorter and darkness settling in earlier, this season we're going to find inspiration in the stars. 'As the nights grow longer, jewellery finds inspiration in the vast expanse of the night sky,' says Emily and Laura. 'Our prognostication for this year remains unchanged – celestial influences will once again shape the jewellery landscape. Enter Lark & Berry Match's new brand, Starry Nights, a delicate assemblage of growing collections inspired by the farthest reaches of space and starry symbolism. This collection seamlessly blends into daily wear, perfect for layering to your heart's desire. Constellation-themed pieces are expected to captivate the audience, presenting an enticing option for gifting.'
Featured image courtesy of Fabergé