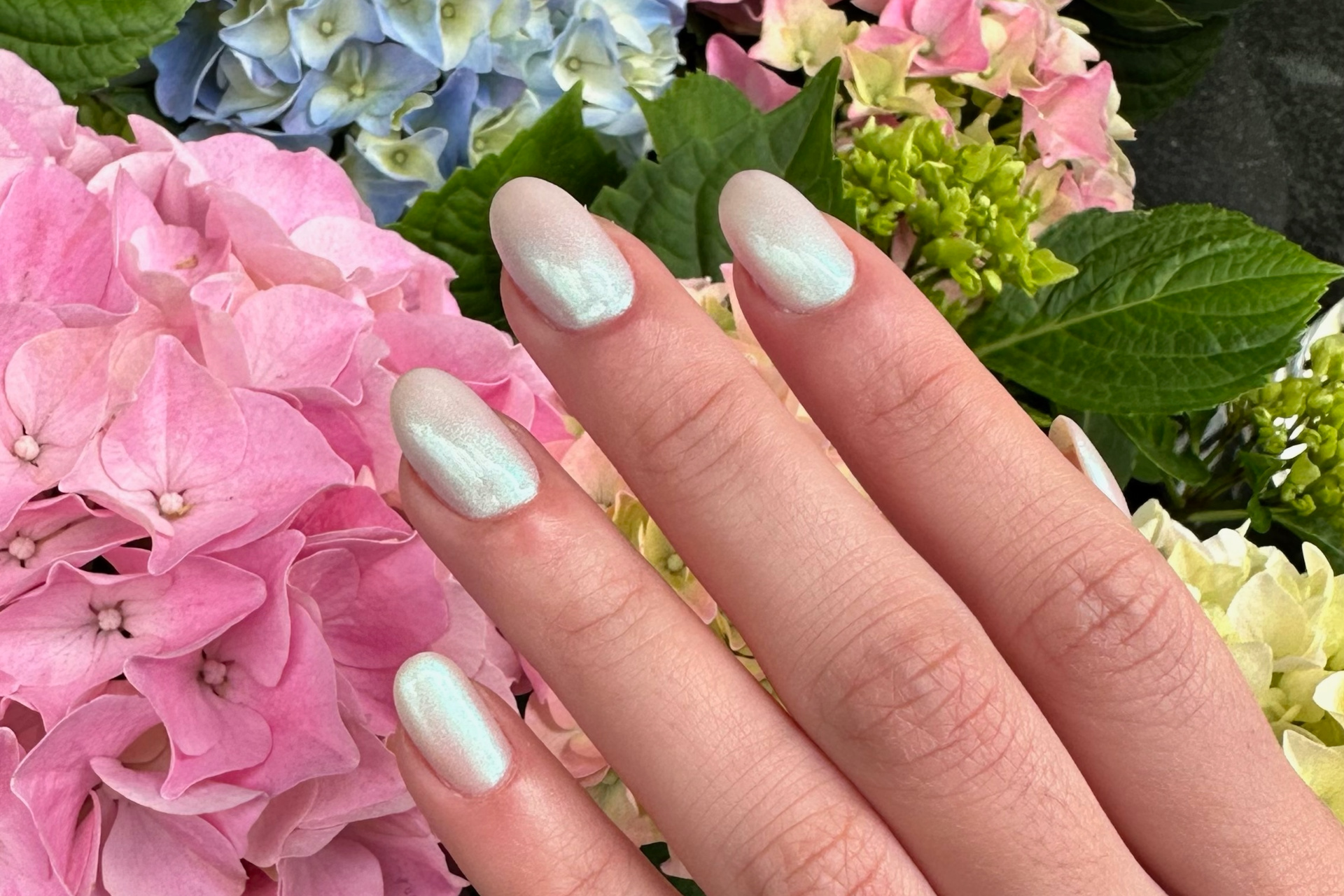 10 Wedding Nails Ideas To Show Off On The Big Day
---
Prepping for the big day? While you may have thought of your dress and hair, there's still one more thing to take into consideration: your nails. 'When choosing your nails its best to go for a manicure that's timeless but that matches the wedding and your aesthetic – whether that's the wedding colour theme, your dress or the setting,' suggests Tinu Bello, celebrity manicurist and Senior Brand Ambassador for Mylee. Not sure where to start? Below we highlight some of our favourite classic, trendy and show-stopping wedding nails for 2023.
10 Wedding Nails Ideas To Show Off On The Big Day
1. Glazed Peach
'The glazed doughnut trend is perfect for a wedding because the iridescence offers a beautiful and elegant finish to any shade,' says Tinu. 'The beauty of this look is that it gives a sheen and diffuses the shade to create a sophisticated offering. For this look I suggest picking a peachy shade and layering with an iridescent top coat. The result: a delicious shade that's timeless.'
View this post on Instagram
2. Double Micro French Manicure
Tinu also recommends this new take on a classic. 'For an extra "je nais se quois", try this update on the iconic French. This look adds a parallel line underneath the tip for a sleek but interesting take on the classic manicure.'
View this post on Instagram
3. Confetti Hearts
'Weddings are a day of love, so why not let your manicure reflect that with a heart manicure? This look is a fun manicure that you can go bold with. You can opt to layer your confetti hearts on to pinks and reds for a truly romantic affair.' Tinu also recommends opting for shades of pink and red to build up your hearts.
View this post on Instagram
4. Milky Mani
'A trend that has been huge this year is the milky mani, and the shimmering white nail design is so fittingly bridal,' explains Tinu. 'It's a softer version of a stark white manicure, but adds a bit more colour than a sheer nude. Plus, you don't need to grow out your natural nails or sign up for extensions for milky nails to look great. Top tip: mix some of your colour with base coat to sheer it out and give a milkier effect.'
View this post on Instagram
5. Blushed Floral
This springtime favourite is also perfect for weddings, says Tinu: 'Florals for spring may not be groundbreaking, but they are a gorgeous nod to all things bridal and this blushed version is a beautiful way to add some a pop of colour to nails. Top tip: although blush is beautiful, you can also opt for a shade that matches your bouquet.'
View this post on Instagram
6. Clean Girl
Tinu also mentions that those keen to for a more minimal look can embrace their natural nail: 'The current clean girl trend celebrates the simplicity of a natural nail. This is perfect for those brides or those in the bridal party that want healthy looking nails that are understated. The key is to keep nails neatly filed and use a building gel for healthy and strong nails.'
View this post on Instagram
7. Pearl Detail
'Pearl accent nails are the perfect way to add some interest to your manicure without stealing attention away from the ring,' says Amanda Lee, owner and founder of Iris Avenue. 'They can be applied randomly, or along the cuticle to give your mani a subtle pop. We recommend applying them in salon encapsulated in a gel manicure, as at home options such as nail glue work well but aren't as likely to last very long.'
8. Raindrop Accents
'3D nails have been a big trend recently,' explains Amanda. 'Raindrops are the perfect option to tap into the 3D trend in a delicate way. They're a lovely look for the whimsical brides that want to subtly catch the eye. Ask your manicurist to create the raindrop look by using a dotting tool and some hard gel.'
9. Chrome Nude
Another one for those who like a textural pop, says Amanda: 'After the glazed donut trend, chrome powder is here to stay. Elevate your traditional nude manicure with some chrome powder to create a mirror-like iridescent finish. Ask your manicurist for either a barely there nude base or a milky white base (for a mani with a pop) and top with chrome powder.'
10. Something Blue
A great way to work tradition into your big day is through your nail art, says celebrity nail artist and Essie UK partner Michelle Humphrey. 'Brides have been known to pop a blue pedicure on to tick this box, or add a small nod to the 'something blue' tradition in the manicure. This could be a french tip, a minimal dot or even all-over coverage in a soft shade of blue.'
View this post on Instagram
Featured image: Iris Avenue