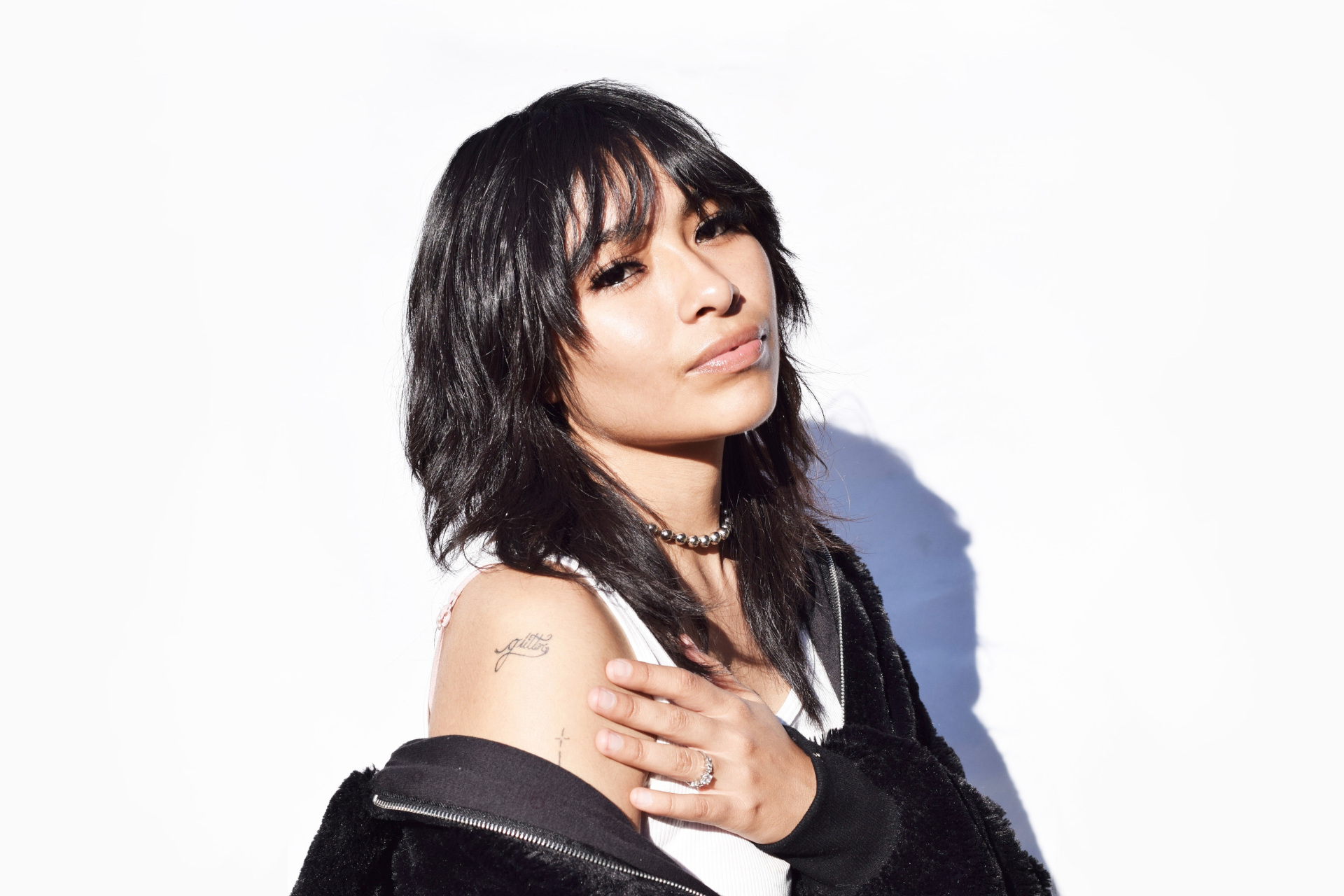 Why The Wolf Cut Is Still Thriving In 2023
---
The TikTok haircut doing the rounds this season
In need of a new do? Simmering on our Pinterest boards is the wolf cut, a rockstar-worthy hairstyle that boasts a 90's-inspired shaggy look. Fusing the mullet and shag into one, this is THE haircut for making a statement. To find out more about the wolf cut, we sit down with hair stylist and founder of MAYFIVE Hair, Katie Allan.
Why The Wolf Cut Is The Edgy Hairstyle We're All Dying To Try
What Is A Wolf Cut?
'The wolf cut is a combination of the mullet and shag haircut,' says Katie. 'It is typically a mullet with its short layers and shag with its heavy fringe, and even though the shape is discounted it still flows.' While wolf cuts are more generally created using longer hair, it's a style that can recreated for any length as long as it keeps the signature wild shape.
Is It A Mullet?
While aspects of the mullet can be seen in the wolf cut, it is not a mullet. This new style has been inspired by the choppier texture and pattern of a mullet ('business in the front, party in the back' and all that), but is overall a lot softer in appearance. It's not as jarring as a mullet due to the inclusion of the shag, which allows it to have many more layers running through it and keep a more consistent length than the 'short front, long back' formula.
View this post on Instagram
How Do You Create The Look?
Katie tells us just how: 'To create a wolf cut, you take a zig zag section around the occipital bone and isolate this out as your length. Using a razor, you then segment pivotal sections from the crown and slice the hair from the crown down in a concave manor. You can then release the underneath lower section, cut the base using the razor and slice the ends with a concave layer to give some texture.
'You need to make sure that you allow enough hair to fall forward around the face to have length to play with, allowing the bang to softly frame the face. Check your client's recession first to make sure there is plenty of hair there to allow for this.'
It's always best to get this haircut done professionally, as it involves the creation of lots of layers. Book a consultation with your favourite hairdresser and show them a Pinterest board or a hair style you really like. It's important at this stage to communicate exactly what you want so you can work together to get a look you're happy with.
Who Suits A Wolf Cut?
The short answer is everyone, really. Katie tells us that anyone can try a wolf cut for themselves, they'll just need to consider how the style will work with their hair type. 'This is definitely an ideal style for both smooth and textured hair, however it works best with the latter. If someones hair is very "glassy" and "straight" it will be very difficult to achieve the right finish in the hair easily. It will need to be manipulated a lot with staying products and tools.
'Wolf cuts can also work for both men and women. It isn't a gendered look so there is absolutely no reason why this haircut isn't an option for everyone.'
View this post on Instagram
How Can We Look After A Wolf Cut At Home?
Less is more, says Katie: 'Don't attempt to cut it yourself! Leave it to the experts. Most hair salons offer a complimentary fringe trim service in between appointments which will allow you to maintain your style.'
Why Is It Trending Again?
The wolf cut may have crept onto our feeds sometime during 2020, but the buzz surrounding the hair style has certainly not fizzled out. In an era where many people are facing more restrictions than ever, expressing ourselves in ways that are fun, youthful and 'untameable' seems inevitable.
'With key celebrities like Billie Eilish and Miley Cyrus rocking this look, it's easy to see how the wolf cut has filtered through to TikTok and other social platforms which in turn have set a trend for younger audiences – especially those looking to get that 90's nostalgia look.'
There's only one thing left to ask: will you brave the wolf cut?
Wolf Cut Inspiration
1. Jenna Ortega
View this post on Instagram
2. Billie Eilish
View this post on Instagram
3. Camilla Cabello
View this post on Instagram
4. Bretman Rock
View this post on Instagram
5. Wendy
View this post on Instagram
6. Lizzo
View this post on Instagram
7. Barbie Ferreira
View this post on Instagram
8. Hoyeon Jung
View this post on Instagram
9. Micah Barnes
View this post on Instagram
10. Jin
View this post on Instagram
11. Miley Cyrus
View this post on Instagram
Featured image: Jonathan Meza, Pexels